Witch Silhouette Cake- A Halloween Cake Video
In this free Halloween Cake Video, I'm going to demonstrate a few fun techniques, including creating a buttercream striped cake, a witch silhouette, BOO cake topper, and flying bats!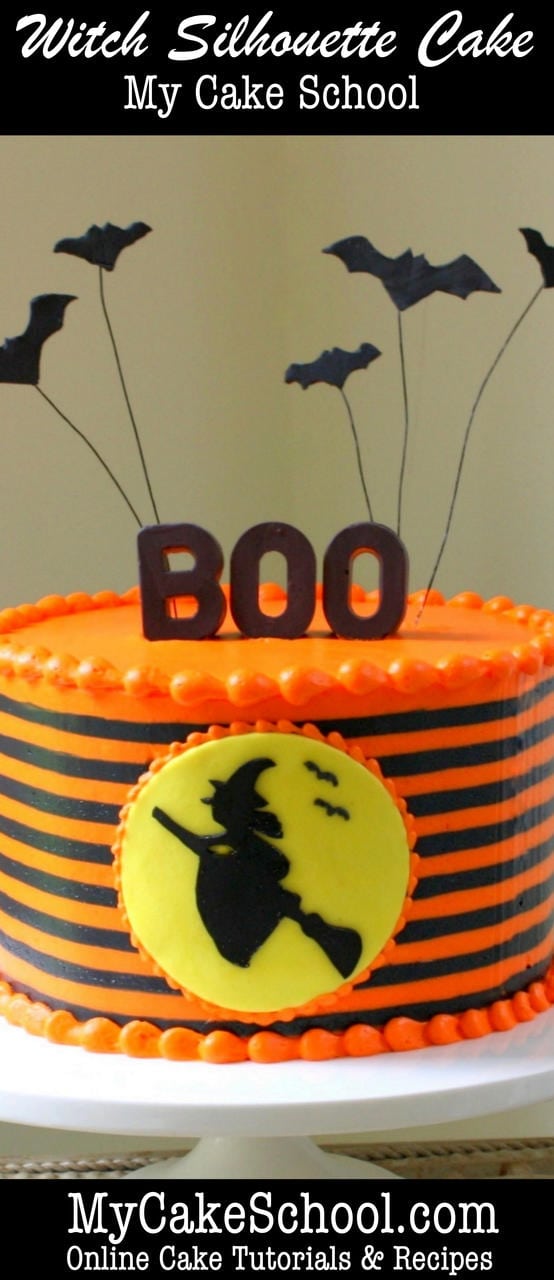 We hope that you enjoy this Halloween witch cake tutorial!
First, we will be creating a black and orange buttercream striped cake for a dramatic effect. (For even more detail about this technique, you can see our free video on How to Make Buttercream Stripes here: How to Make Buttercream Stripes.)
Next, I'll demonstrate how to create the focal point of the design which is our silhouette and moon plaque. And finally, we'll add a little height with chocolate letters and flying bats! We hope that you enjoy the video! Make sure to check our Materials list below for more details.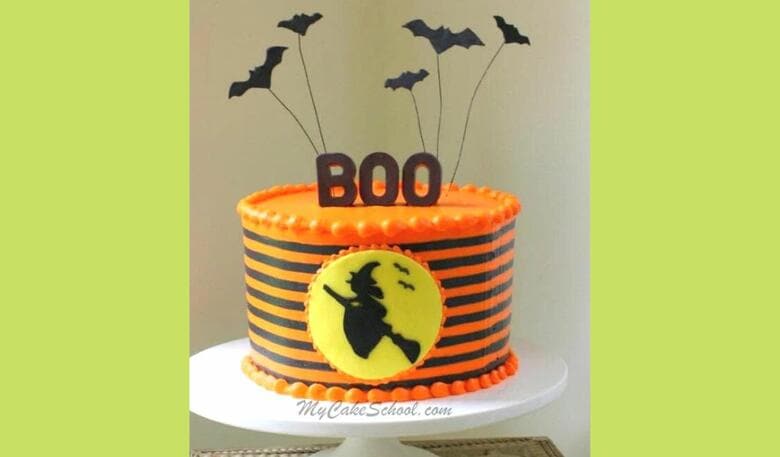 Materials for Halloween Cake:
Our tier is a 3 layer 8 inch round that stands about 5 inches tall (we doubled our doctored cake mix White Almond Sour Cream recipe. If you do this, you'll have a little batter leftover which you can use for an additional layer or cupcakes.)
Templates for witch and bats
Buttercream: I would recommend a butter based recipe like our Classic Vanilla recipe.
Cake Comb for the Stripes- (Ours was from a set of Wilton Cake Combs)
Piping tips: We used a Tip 10 for the stripes and bead border, and a tip 4 for the smaller bead border around the silhouette plaque.
Coloring Gel: We used Americolor Orange, Super Black, and Lemon Yellow
Fondant: Black (22g) and Yellow (4og). (We kneaded a bit of Tylose Powder into the fondant to speed up the dry time.)
Waxed Paper -optional, but I find the waxed paper transfer method easy to move the silhouette
Vegetable Shortening- Used with the waxed paper transfer method.
Piping Gel: Our "glue" of choice in this video
Floral Wire: We used white, paper covered wire which we painted black. It was 26 gauge wire although any gauge as fine as long as it is fairly thin but strong enough to hold the weight of the bats.
Straws or cocktail straws (to provide a barrier)
Circle Cutter for the moon (ours was 4 inches)
Black Candy Melts for the BOO letters.
Misc: Cake board beneath the tier, turntable, small paintbrush for applying piping gel,