Easy Halloween Pound Cake
In this CUTE and easy cake decorating video, I'm going to show you how to turn an ordinary pound cake into a Halloween Pound Cake!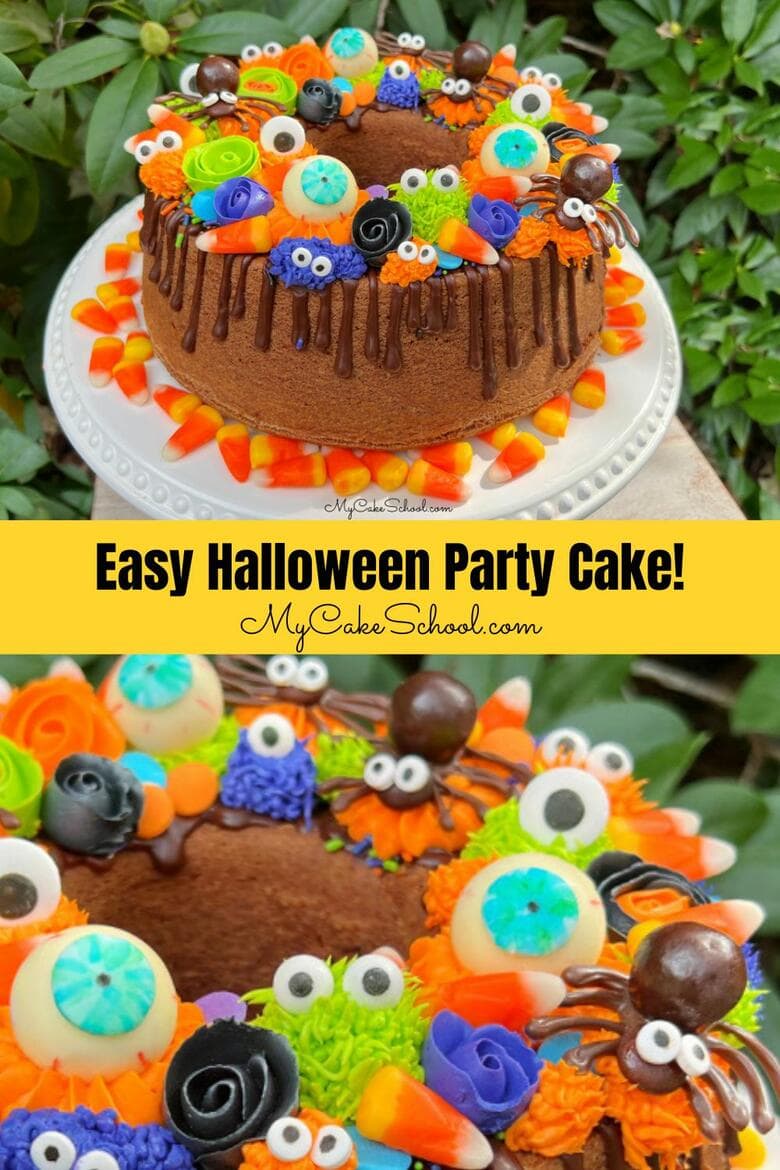 It's the season for spooky, festive Halloween desserts and today's Halloween Pound Cake design couldn't be easier.
We'll show you how to dress your pound cakes and bundt cakes with chocolate spiders, truffle eyeballs, brightly colored flowers and more in this fun and festisve Halloween cake tutorial!
How to Decorate a Pound Cake for Halloween
Pound Cakes and Bundt Cakes are often overlooked in cake decorating because usually they are very simply decorated with a glaze or a dusting a powdered sugar.
Not today! We'll show you how to decorate a pound cake that would be perfect for any Halloween gathering- and it's sure to bring smiles.
First, we added a ganache glaze to our chocolate pound cake. This is a completely optional step but you can find the recipe here if you would like to do the same: Easy Ganache Drip!
Next we added Halloween sprinkles! I chilled the cake in the refrigerator as I prepared the other decorations.
We did this to firm up the glaze so we could more easily pipe our buttercream decorations on top of it.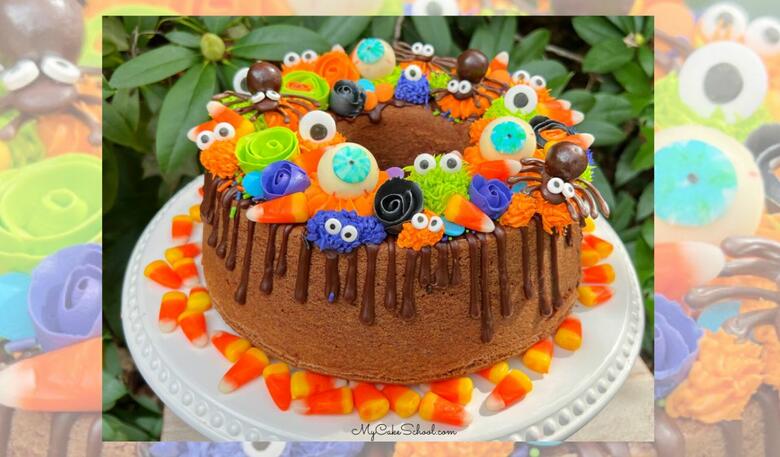 Let's Decorate the Cake!
You can find the full, printable directions further down in this post. Here is a quick rundown of our steps!
We filled our Halloween Pound cake with lots of fun, easy, and colorful decorations. I love how our cake came out!
We have white chocolate truffle eyeballs, chocolate candy coating spiders with candy bodies for lots of dimension, brightly colored buttercream ribbon roses, and tons of little buttercream "monsters".
I think that you can never have too many google eyes- that is definitely the case with today's cake!
More Halloween Cakes to Share
We've made so many fun Halloween cakes over the years! I'll post a few more of our favorites below, but don't miss our full Collection of Favorite Halloween Cake Tutorials!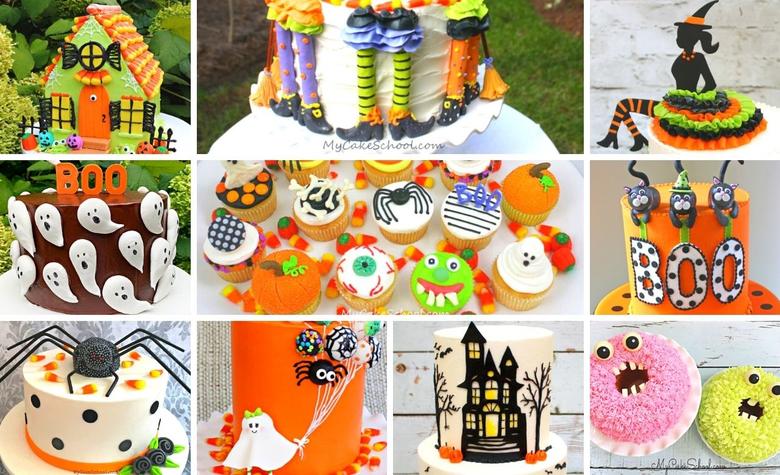 These are all free cake tutorials- from witchy cakes to pumpkins, ghosts, haunted houses, and more!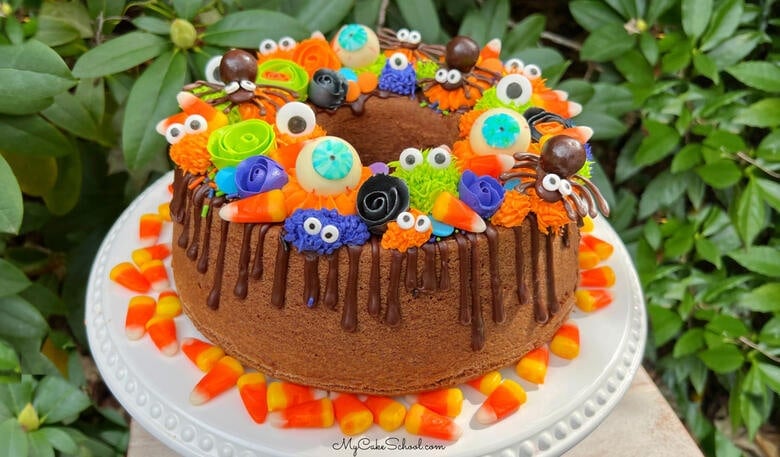 Favorite Pound Cakes and Bundt Cakes
We have so many pound cakes and bundt cakes for you to choose from for this cute Halloween cake design!
Our Chocolate Bundt Cake and Chocolate Whipping Cream Pound Cake are great options (with the bundt cake being the most dark and rich.)
We also love our Buttermilk Pound Cake, Marble Pound Cake, and Sour Cream Pound Cake recipes!
Make sure to scroll through our Cake Recipes section for many more delicious cake recipes! We also have hundreds of Free Cake Decorating Video Tutorials to share also!
Enjoy this Easy Halloween Cake!
We hope that you have fun making this easy Halloween Pound Cake! If you give it a try, we would love for you to leave a comment and photo below!
Have you made this Cake? We would LOVE for you to leave a ⭐️ rating as well as a comment and photo below! We really appreciate your feedback!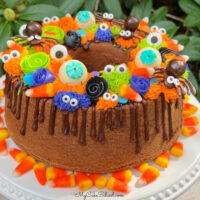 Easy Halloween Party Cake Design
Learn how to decorate a pound cake for Halloween cake with chocolate spiders, truffle eyeballs, buttercream flowers, funny monsters in this free cake decorating tutorial!
Print Recipe
Pin Recipe
Ingredients
Your Pound Cake or Bundt Cake of Choice (See Notes)
For the Eyes:
White Chocolate Truffles

we used Lindt Brand

Blue Fondant

small amount, thinly rolled

Piping tip for cutting the blue circles

any standard tip, we used a tip 12

Coloring gels: We used Sky Blue and Electric Green

Food Coloring Pen: Black and Red

Vodka or Everclear

to create "paint" for mixing with coloring gels- optional. Small paint brush.
For the Chocolate Spiders
Parchment or wax paper-lined cookie sheet

Assorted brown chocolate candies- I used M&Ms

Junior Mints, and Chocolate balls- anything goes! ;0)

Chocolate candy coating

we used almond bark coating, melted. We used two small blocks.

Disposable Piping Bags

Google Eyes- optional

Piping gel

corn syrup, frosting or edible glue of choice (for attaching fondant to truffle)
For the Buttercream Ribbon Roses
Coloring Gels: We used Americolor Orange

Super Black, Regal Purple+Deep Pink (to brighten the purple), Electric Green

Petal Tip 104

Rose nail

wax paper squares
Buttercream "Monsters"
Piping tip 233

grass tip/fur tip

Google eyes

various sizes
Miscellaneous
Halloween sprinkles

candy corn, confetti sprinkles, etc. are all great options for extra color!
Instructions
Bake and cool your Pound Cake or Bundt Cake of Choice
For the Truffle Eyes
Cut out thinly rolled blue fondant circles with piping tip. Paint (optional) with coloring gel mixed with a touch of vodka or everclear.

Add pupil with black food coloring pen. Attach fondant to truffle with a dot of piping gel or edible glue of choice (corn syrup, etc.). I only used three eyes- adjust. number to your liking.

For the Chocolate Spiders

Melt candy coating (we didn't use much, maybe two small squares of our almond bark) in microwave for 30 seconds, then 5-10 second increments as needed until almost completely melted. Stir until smooth.

Load melted coating into disposable piping bag with a small amount of the tip snipped away. Pipe chocolate legs connected to small blob of melted chocolate onto wax paper (lined cookie sheet). Add chocolate candy body to the center. Make several in different shapes and sizes.

Chill them on the tray before placing on the cake- 5 minutes or so in the freezer, or longer in the refrigerator. These are much more fragile if you handle them at room temperature.

For the Ribbon RosesWe used our Classic Vanilla Buttercream

Cut out several wax paper squares. Pipe a dot of buttercream onto rose nail and attach wax paper square.

Pipe ribbon rose onto square, rotating the rose nail as you pipe the tinted buttercream to form the rose. Pipe using a 104 tip. Small end of the tip should face up.

Make several colors of roses in different sizes. Freeze until firm, then place on the cake.

For the little Monsters

We used our Classic Vanilla Buttercream. Pipe the monsters directly onto the cake using a grass tip 233.

Pipe the little mounds here and there all over the cake in various colors- they have a round pom-pom look to them. Add google eyes!
Notes
Use any favorite Bundt Cake or Pound Cake for this cake design! Popular Choices would be our Chocolate Bundt Cake, Chocolate Whipping Cream Pound Cake, and Chocolate Cream Cheese Pound Cake. (Chocolate Bundt Cake is the most rich and dark.)
A butter-based buttercream (rather than shortening-based) is best for our buttercream flowers because it firms up very quickly when chilled. We chilled our flowers for about 15 minutes- chill until firm and easy to pick up and peel from wax paper.