Ghost with Balloons Cake for Halloween
Today's fun Halloween cake decorating video tutorial features a ghost with colorful, creepy chocolate balloons!
We loved creating this cake which would be perfect for Halloween parties!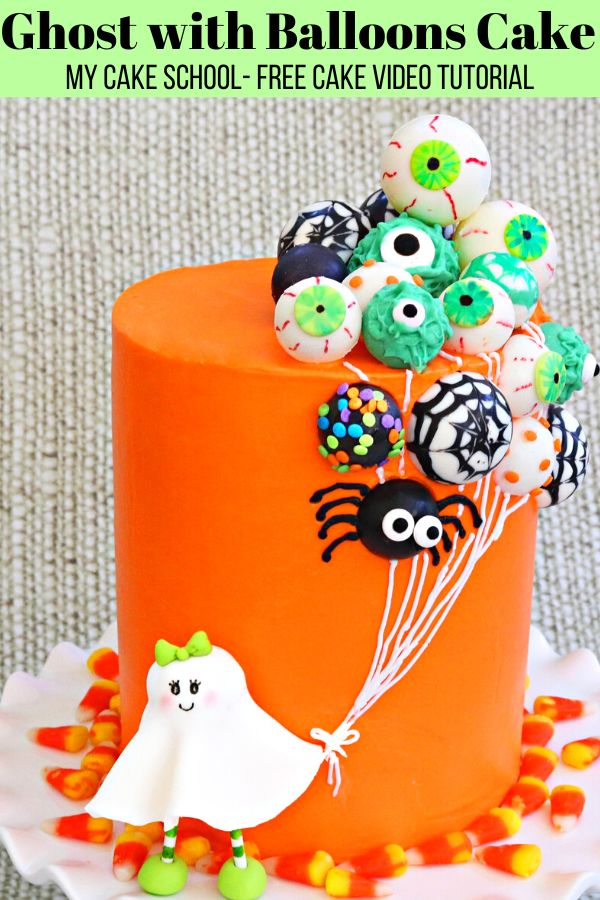 More Balloon Themed Cakes
I just love a balloon theme! We've made several free cake tutorials in the past that incorporate balloons in a variety of mediums (including our gelatin balloons cake, bicycle and balloons tutorial, "owl love you forever" cake tutorial, and more!
Today's cake is a fun Halloween twist on the balloon theme, and we also included a sweet little ghost which is similar to our popular Ghost Cake Topper from our blog tutorial!
Materials for Ghost Cake
(The cake that we decorated for this video is a 6 inch double barrel cake- it stands about 7 inches tall). However, the design could be adapted easily to other cake sizes and even tiered cake designs.
As usual, our double barrel cake consists of four cake layers divided by a cardboard cake circle halfway up with supports beneath the board to support the upper two cake layers.
I used 5 bubble tea straw supports cut to the height of the bottom two cake layers but you could use your supports of choice.) The cake is frosted in our classic vanilla buttercream.
Coloring Gels (I used Americolor brand) Electric Green, Orange
Candy Coating- You can use candy coating tinted with **Oil Based Candy Coloring* or you can use pre-tinted candy coating/candy melts. I find that candy coating/bark melts more easily.
Google Eyes-I used large a small sizes of Wilton google eyes because we had both on hand- you can also use fondant circles.
Silicone Mold for Chocolate Balloons (aff. link)
Candy Foodwriter Pens
Pink Petal Dust- Optional- used for rosy cheeks ;0)
Wilton tip 2- for buttercream balloon strings
Vodka/lemon extract for mixing with coloring gel to create "paint" for eyes (optional)
Lollipop stick for ghost legs
Rice Krispies Treat- I used part of a 22g. pre-made cereal treat for ghosts head. You can also use gum paste if working in advance.
Fondant (with tylose powder kneaded into it) or gum paste for ghost. Although I referred to gum paste in my tutorial, it was actually fondant with tylose kneaded into it.
Candy Corn, Sprinkles optional
Piping Gel or tylose powder plus a little warm water for glue.
Miscellaneous: disposable piping bags, turntable, spatula, bench scraper (helpful but optional for smoothing frosting), cake base/pedestal of choice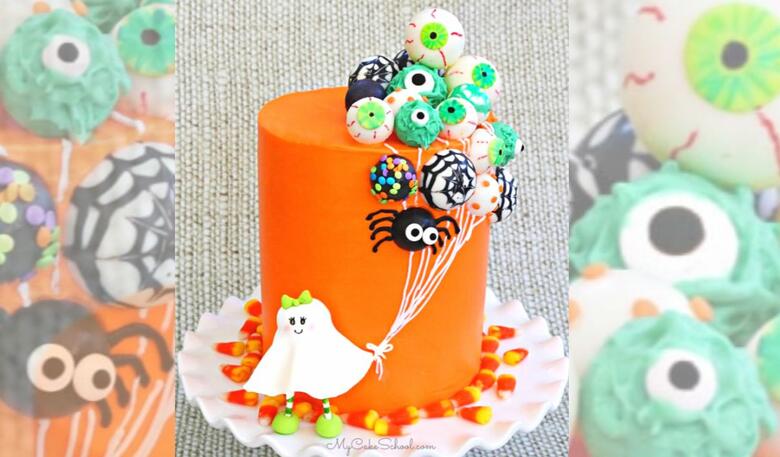 Helpful Hints for our Ghost with Balloons Cake:
As you saw in the video, I did not fill the wells of the silicone molds completely. However, if you are worried about them being too thin and fragile, you can chill after the first application of chocolate and then follow up with a second before chilling and removing from the molds.
Make sure that the chocolate balloons are chilled before handling.
You can glue the ghost's shoes to the pedestal or cake base or piping gel or candy melts in addition to gluing the ghost to the cake with buttercream for extra support.
More Halloween Cakes
Also, If you're interested in more Halloween cake designs, make sure to check out our roundup of Favorite Halloween Cake Tutorials!
Some of our most popular are our Halloween Cupcakes, Halloween Spider Cake, Haunted House Cake, and quick and easy Monster Bundt Cakes!
Cake Recipes
You can also find our favorite fall cake recipes here: The Best Fall Cakes! Some of our favorites are Pumpkin Spice Cake, Gingerbread Cake, Caramel Cake, and Sweet Potato Cake.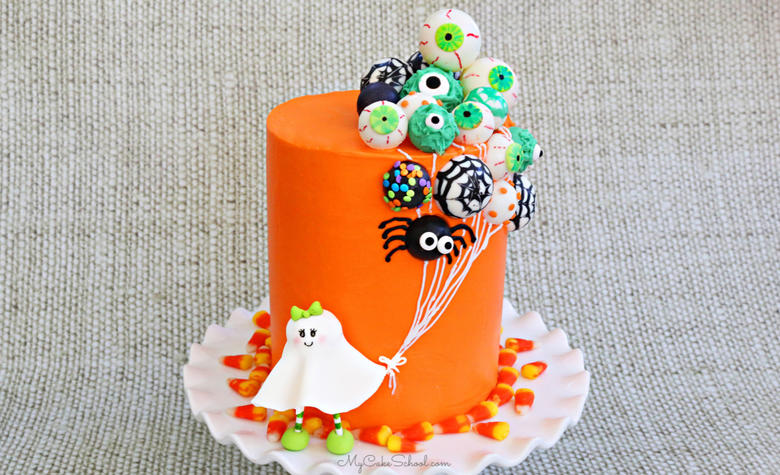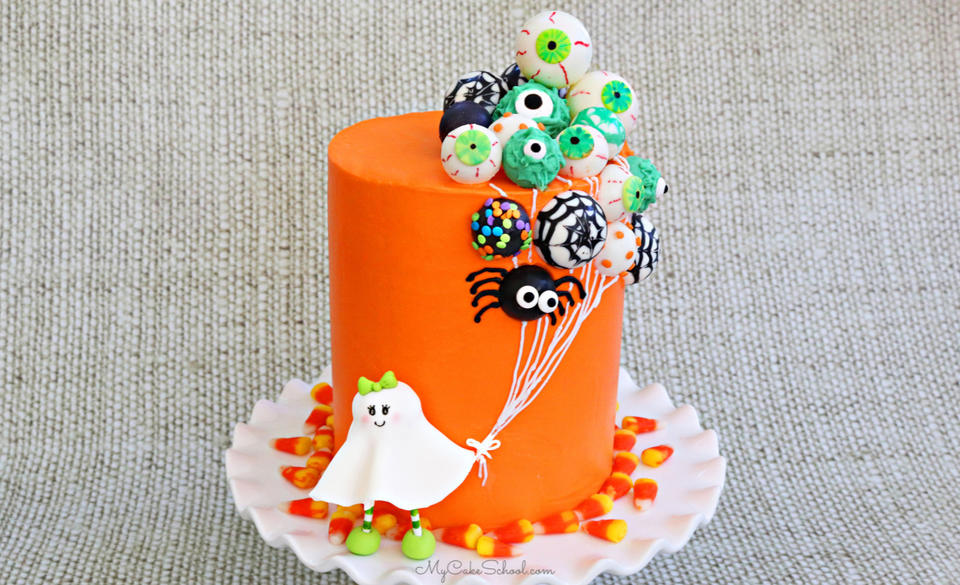 Enjoy the Video!