We are so excited to share this flavorful Pumpkin Praline Cake recipe with you!
This delicious pumpkin recipe is perfect for fall celebrations, fall birthdays, Thanksgiving, or just because.
If you love pumpkin spice cake, this cake belongs on your "must-make" list! It has wonderful pumpkin flavor, spices, a bit of sweetness, and a bit of crunch- yum!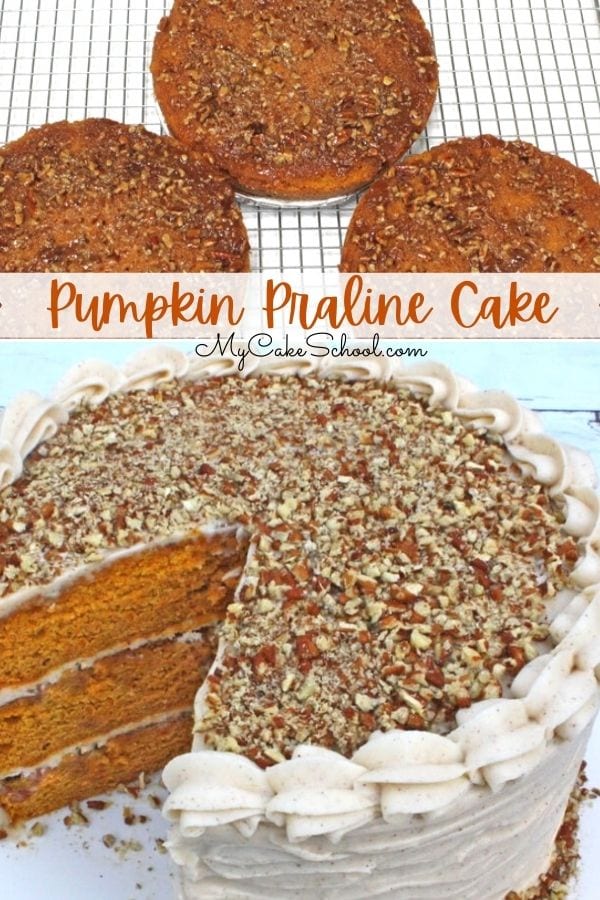 How to Make a Pecan Praline Cake
*Find our full, printable recipe below!
Our classic Pumpkin Spice Cake recipe is one of our absolute favorites for fall, but the addition of a praline topping to the batter just elevates the flavor to a new level, and adds a nice balance of sweetness and crunch which we just love!
The praline topping is a magical combination of chopped pecans, brown sugar, cream, and butter.
Important: Make sure to add a circle of parchment paper to the bottom of each pan, or the praline may stick.
After combining and heating the brown sugar, cream, and butter until the sugar has dissolved, we divided the mixture between our three cake pans, and sprinkled evenly with pecans.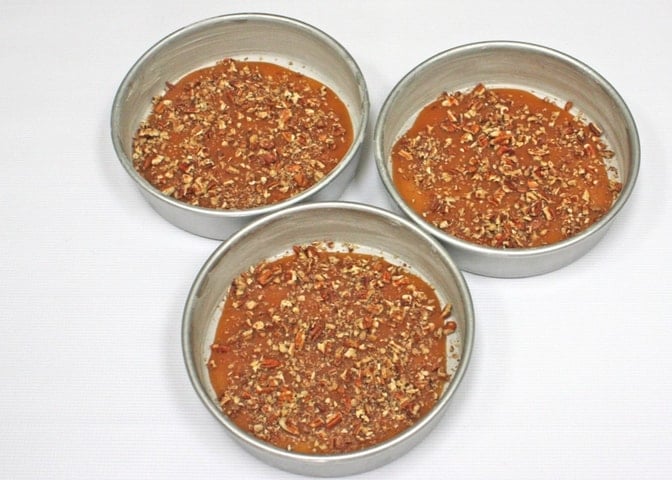 Next, we prepared the pumpkin cake batter and filled our pans, spreading it over the pecan mixture. You'll notice that the batter is nice and thick.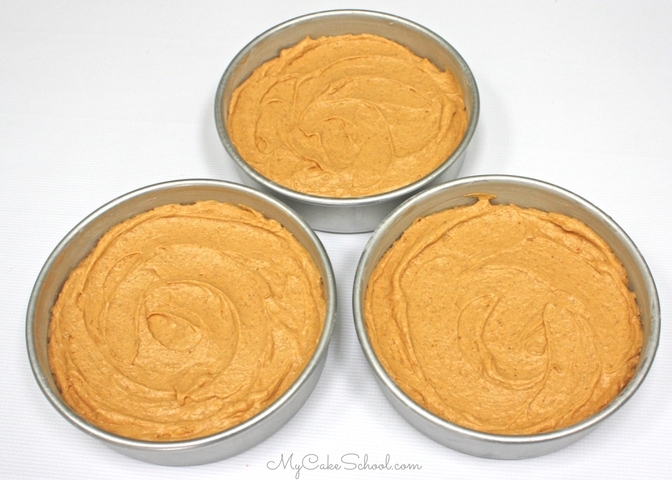 After a half hour or so in the oven, your kitchen is going to smell AMAZING! Just look at these gorgeous layers. I'm in love.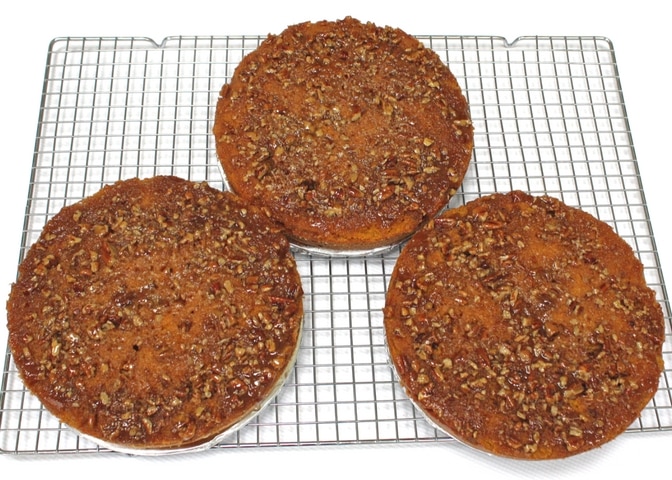 Bring on the Spiced Cream Cheese Frosting
As with most of our pumpkin cake recipes, we couldn't resist pairing this cake with a luscious cream cheese frosting.
Cream Cheese Frosting or Maple Cream Cheese Frostings would work perfectly but we decided to go with our Spiced Cream Cheese Frosting for an added flavor boost.
This spiced cream cheese frosting couldn't be simpler to make, and the flavor is fantastic!
Tips for working with Cream Cheese Frosting
Cream cheese frostings are softer than regular buttercream frosting recipes. I like to chill my freshly made cream cheese frosting in the refrigerator for several minutes before working with it so that the consistency will be a bit thicker and firmer.
If at any time you notice that the cream cheese frosting is a little too soft, whether you are frosting the cake or piping, pop the frosting bowl and piping bag in the refrigerator to firm it up.
I also like to chill my freshly crumb coated cake in the freezer for about 15 minutes or so before applying the second, final coat of frosting.
It is much easier to frost a cake that is nice and firm!
As always, cakes that are frosted or filled with cream cheese frosting should be refrigerated until closer to the time of the event.
Easy and Delicious Spiced Cream Cheese Frosting
Assembling the Pumpkin praline cake
To assemble and decorate the cake, I filled and frosted the layers (praline sides up) with our Spiced Cream Cheese Frosting.
I placed the cake on a turntable while I smoothed the frosted sides with a bench scraper, and then I created impressions with a small tapered spatula as I continued to rotate the cake.
I garnished over the top and around the border with finely chopped pecans, and then finished things off with a large shell border (1M piping tip).
No matter how you decorate the cake, you are going to fall in love with this recipe.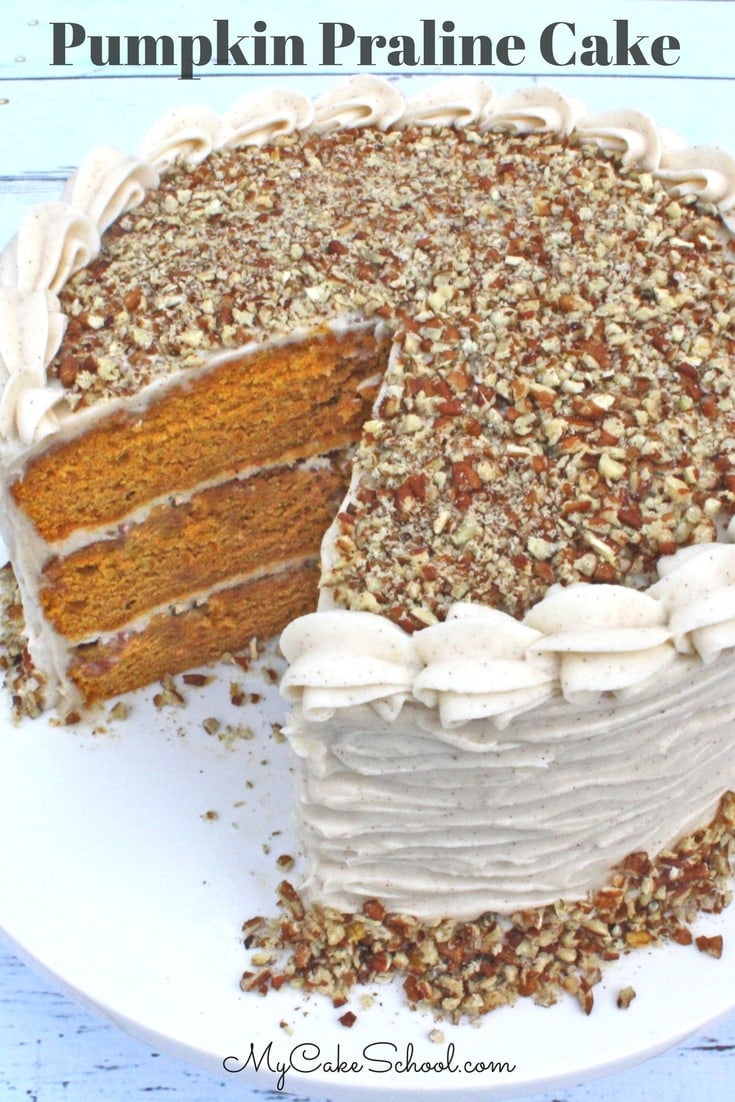 Prefer to Work with Cake Mixes?
**If you prefer to work with doctored cake mixes, you can still use the praline topping with our Doctored Cake Mix Pumpkin Spice Cake Recipe! Just as with the scratch version, this Pumpkin Spice Cake has amazing flavor and is perfectly moist!
More Favorite Fall and Thanksgiving Cake recipes
Looking for more Thanksgiving and Fall cake recipes and ideas? We've made so many fall cake recipes over the years.
Don't miss our roundup of favorites: Favorite Fall Cakes, featuring our Pumpkin Spice Latte Cake, Gingerbread Cake, Chocolate Pecan Pie Cake, Pumpkin Gingerbread Cake, and SO many more!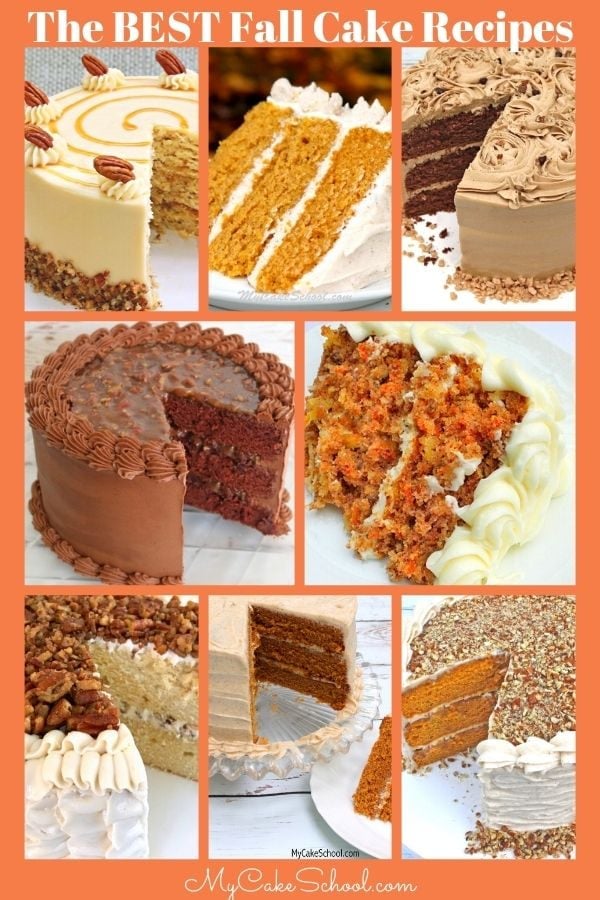 The Best cake Recipes & Tutorials
Don't miss our full collection of the BEST cake and frosting recipes as well as hundreds of free cake decorating tutorials in our Cake Recipes & Tutorials Section!
We have so many cakes to share with you for all occasions! Some of our favorite pumpkin cake recipes are Pumpkin Cupcakes, Pumpkin Gingerbread Cake, Pumpkin Roll Cake and Pumpkin Cheesecake Cake!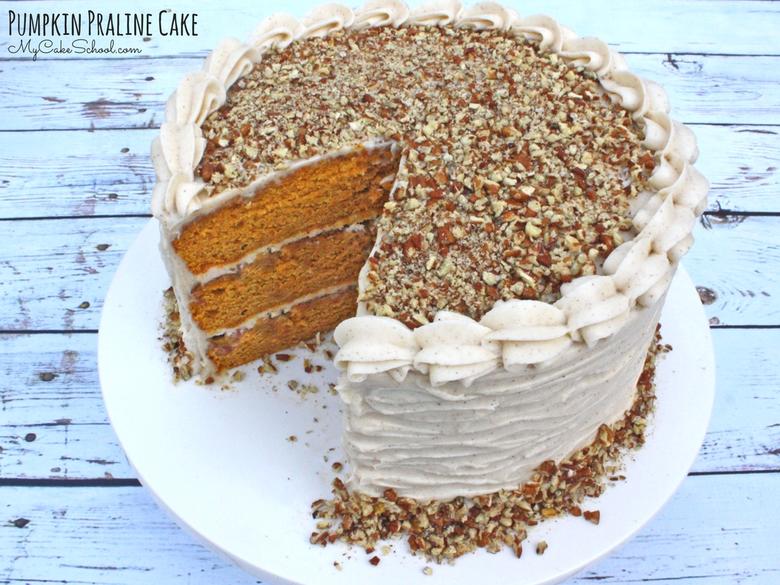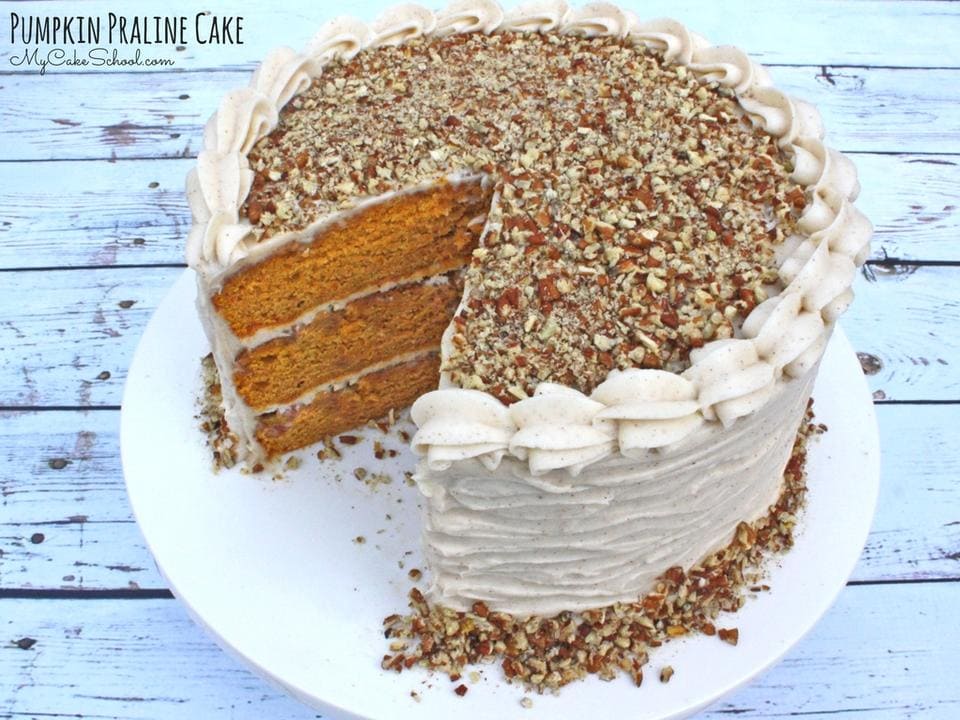 Enjoy the Recipe!
We hope that you enjoy this ultra moist pumpkin praline cake as much as we have!
The three pumpkin praline cake layers bake up nice and tall, and are sturdy enough to hold up to fondant.
If you give the cake recipe a try, we would love to hear what you think. Leave your comments and photos below!
Pumpkin Praline Cake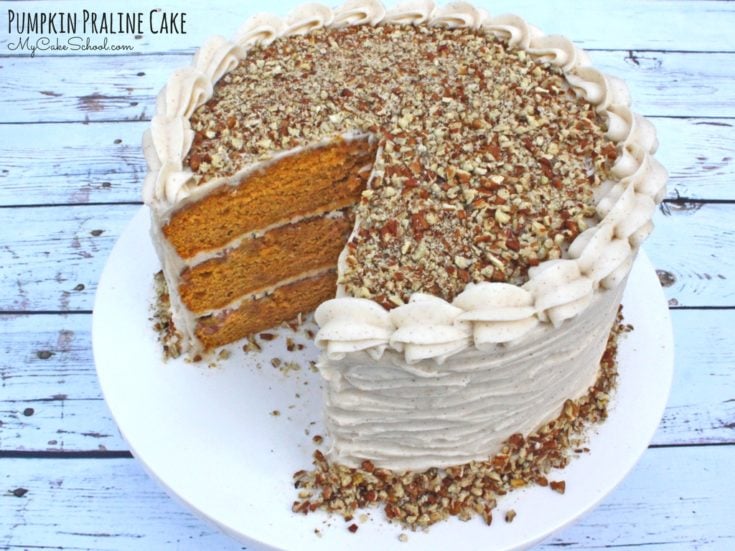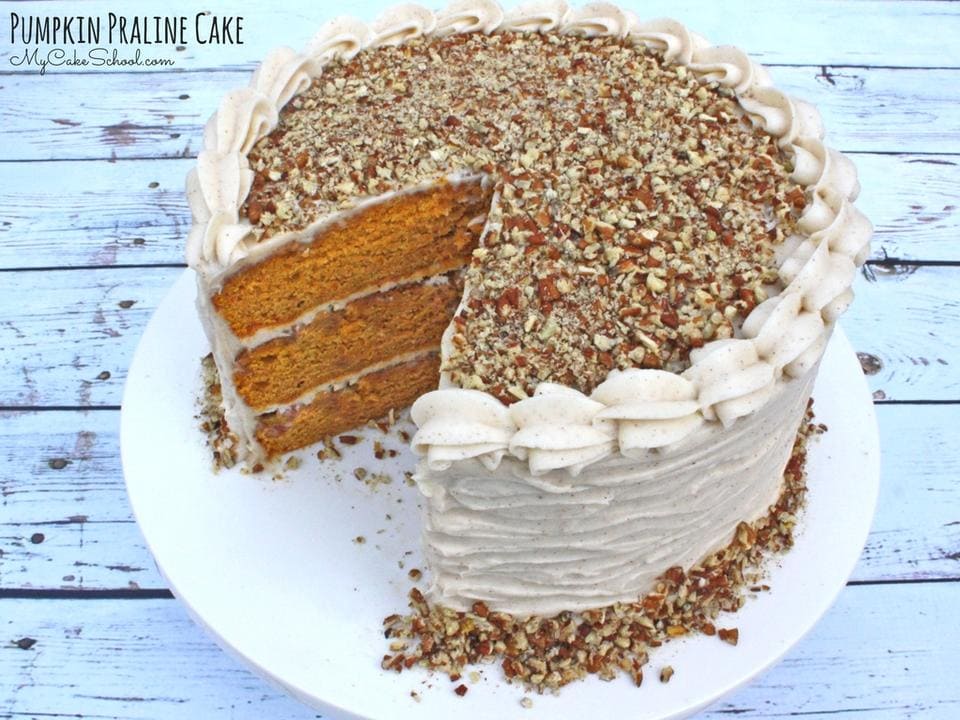 This delicious Pumpkin Praline Cake has amazing spiced flavor plus the crunch and flavor of the brown sugar pecan praline topping! Perfect for fall gatherings!
Ingredients
For the Praline Topping
1 cup (217g) light brown sugar, packed into measuring cup
½ cup (113g) butter
¼ cup (58g) heavy cream, or whipping cream
1 cup pecans (120g), chopped
For the Cake Layers
1 ½ sticks (170g) unsalted butter, slightly softened
2 cups (400g) sugar
¼ cup (54g) vegetable oil ( I use Canola oil)
4 eggs, room temperature
1 teaspoon (6g) vanilla extract
2 ¾ cups (360g) all purpose flour (plain in the UK)
1 Tablespoon (12g) baking powder
1 teaspoon (5g) baking soda
2 teaspoons (6g) cinnamon
1 teaspoon (2g) nutmeg
½ teaspoon ginger
½ teaspoon (3g) salt
1 can (15oz) (425g) pumpkin (not pumpkin pie filling
½ cup (121g) milk
**Instead of using the cinnamon, nutmeg, and ginger, you could also use 1 Tablespoon (6g) Pumpkin Pie Spice
For the Spiced Cream Cheese Frosting
2 sticks (1 cup) (226g) unsalted butter, softened slightly
2 (8oz.) ( 226g )packages cream cheese , softened very slightly - Use full fat cream cheese. Using reduced fat or the spreadable cream cheese will cause the frosting to be too soft.
2 teaspoons (8g) vanilla extract
1 teaspoon (3g) cinnamon
½ teaspoon (1g) nutmeg
¼ teaspoon ginger
½ teaspoon (2g) salt (optional - it will cut the sweetness, popcorn salt is the best to use as it is fine grained and will dissolve more quickly
6 to 6 ½ cups (690g - 747g) powdered sugar
**Instead of using the cinnamon, nutmeg, and ginger, you could use 2 teaspoons (4g) of Pumpkin Pie Spice instead.
Optional Garnish
1 cup chopped pecans for covering the top & base of the decorated cake
Instructions
For the Praline Topping
To a saucepan add the brown sugar, butter and cream. Cook over low heat until the brown sugar dissolves. After the sugar dissolves, cool for a bit and pour equally into the 3 prepared cake pans. Sprinkle evenly with the cup of chopped pecans. Let cool while you prepare the cake layers.
For the Cake
Preheat the oven to 350 degrees
Grease and flour three 8 x 2 inch round cake pans - Cut a waxed paper or parchment paper circle and place in the bottom of each pan.
In a medium size bowl add the flour, baking powder, baking soda, cinnamon, nutmeg, ginger and salt. Whisk at least 30 seconds to blend. Set aside.
In another bowl, add the pumpkin and milk. Stir to blend and set aside.
In the bowl of your mixer, beat the softened butter until smooth. Add the sugar and mix on medium speed 3 to 5 minutes or until light and fluffy. Add the vanilla and oil and blend.
Add the eggs one at a time, mixing until the yellow of the yolk disappears.
Add the flour mixture and the milk mixture alternately. Begin and end with the dry ingredients (3 additions of dry and 2 of wet).
Mix until just combined, do not mix above medium speed or over mix.
The batter will be thick. Spoon the batter evenly over the pecan mixture in the cake pans.
Bake at 350 degrees for 30 - 35 minutes or until a toothpick inserted in the center comes out clean. Cool the cakes in the pans for 10 minutes then turn out.
When assembling the cake, place the praline pecan side up for each layer.
For the Spiced Cream Cheese Frosting
Cut the butter into slices and add to the bowl of your mixer. Beat on low to medium speed until the butter is softened and smooth.
Cut the cream cheese into pieces and add to the butter, beating at low to medium speed until incorporated. If you are using a hand mixer you may need to soften the cream cheese a bit more.
Add the vanilla, cinnamon, nutmeg, ginger (and salt if using). Gradually add the powdered sugar beating on low speed until blended. Cover the bowl to keep down the cloud of powdered sugar. Don't over beat or it will become too soft. If it becomes too soft, just refrigerate a short while to firm it up a bit.
This frosting will pipe best if used while still chilled. You can make it in advance, refrigerate and when ready to use let it soften slightly and remix. Do not microwave to soften.
Makes approximately 5 cups frosting - will frost a 3 layer 8 or 9 inch cake.
Assembly of Pumpkin Praline Cake
We assembled the cake layers (praline side up) by filling and frosting with Spiced Cream Cheese Frosting. We garnished with about 1 cup chopped pecans over the top of the cake as well as for a border.