Halloween is almost here and we have one final cake tutorial to share for a cute and easy Witch Shoes Cake!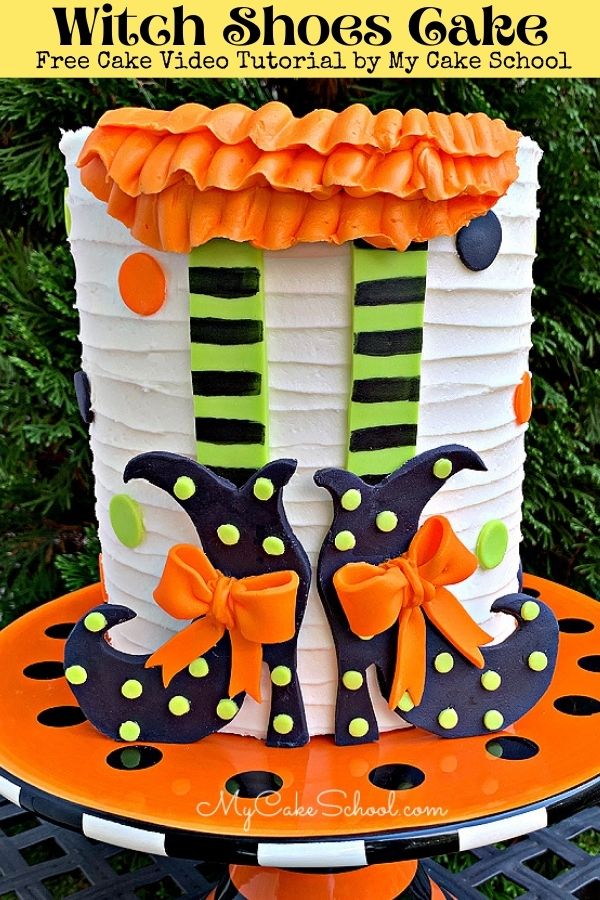 This cute and brightly colored Halloween cake features textured buttercream, striped witchy legs and her colorful polka dotted fondant witch shoes! (The bows are my favorite!)
We finished things off with a ruffled orange skirt for an added dose of cuteness.
We Have More Favorite Halloween Cakes to Share!
We've created tons of Halloween tutorials over the years, and this is one of my favorites!
If you'd like to see our full roundup of Halloween cake tutorials (both from our member section of tutorials as well as our free section), make sure to scroll through our roundup!: A collection of our FAVORITE Halloween Cake Tutorials and Ideas!
If you're looking for more witchy cakes, don't miss our Clumsy Witch Cake Tutorial, Witch Hats Cake, and Party Witch Cake tutorials!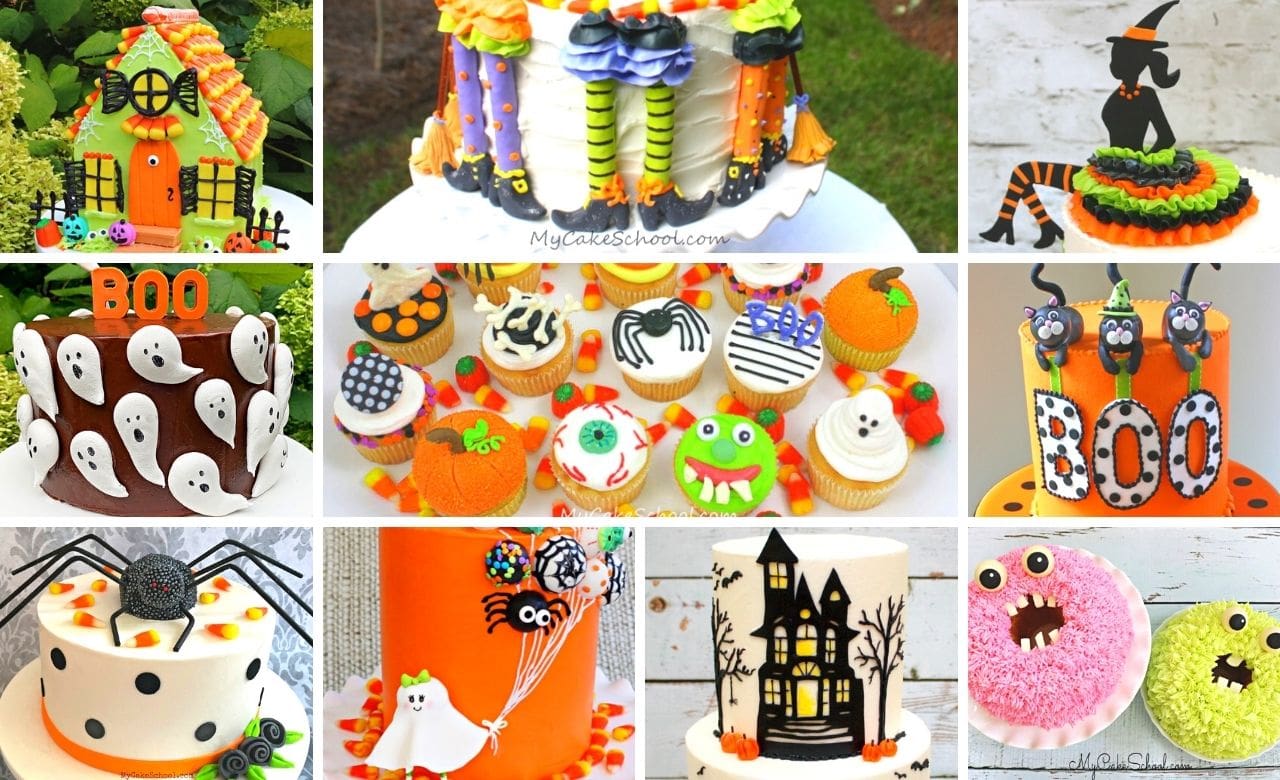 How to Make an Easy Witch Shoes Cake
*You can find the full, printable detailed instructions below in the card below, but here is a quick rundown!
Use whatever cake size you like! For this project, I used a 6 inch double barrel (tall!) cake which stood about 7 inches tall. My cake was four cake layers with a cake cardboard halfway up and four bubble tea straw supports beneath.
If you decide to use a different size of cake, you can simply adjust the size of your witch shoes and legs-- this would be great on top of a sheet cake also!
Roll out your black tinted (or pre-colored) fondant-- if you have any tylose powder on hand, you can knead a little into the fondant for faster, firmer drying but that is optional.
Cut out your shapes using our templates (also linked in the card below).
Allow the shoes, bows, and legs to dry until they've firmed up a bit- several hours or overnight is fine as the shoes are mainly supported from behind by the cake.
Add decorations to the shoes and paint stripes onto the witch legs
Add a buttercream ruffle using a large petal tip (Wilton 125 is a good option.)
Enjoy the Video!
We hope that you enjoy this Witch Shoes cake! We had so much fun making it. If you give it a try this Halloween, we would love for you to leave a comment and photo below!
Witch Shoes Cake- A Free Cake Decorating Tutorial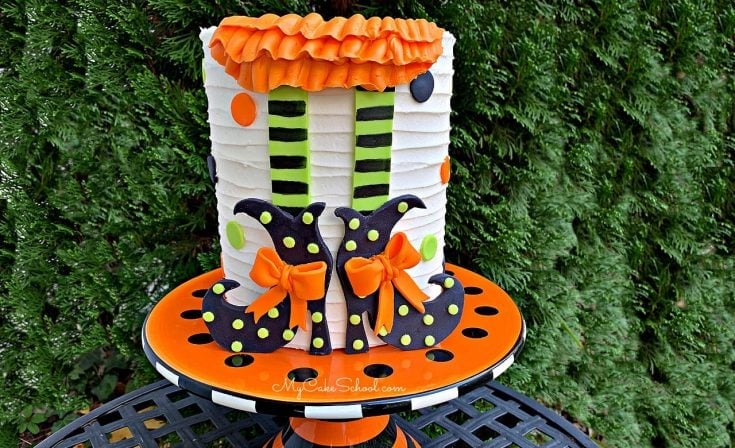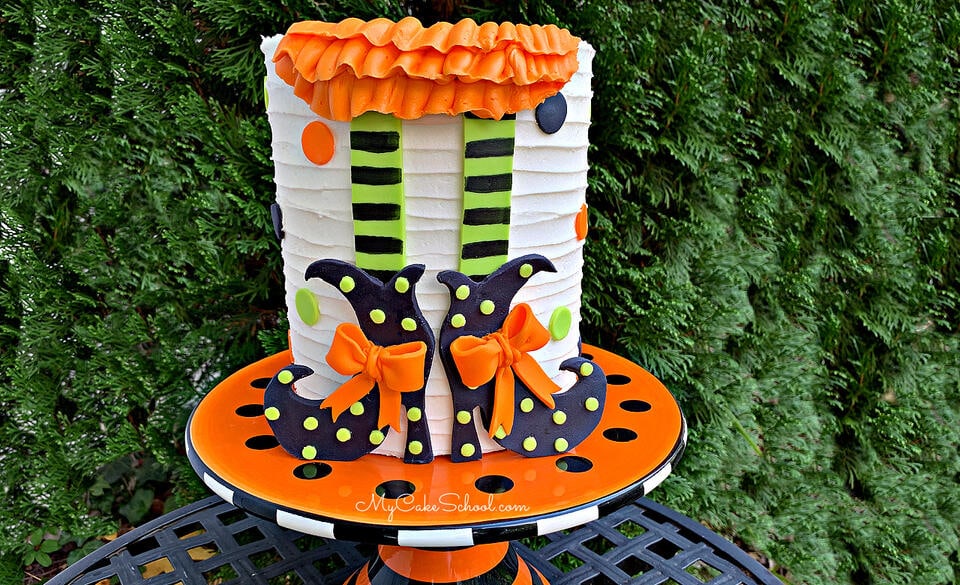 Learn how to make this cute and easy Witch Shoes Cake in our free cake decorating tutorial! This fun cake is perfect for Halloween parties!
Materials
6 Inch Double Barrel Cake
(Use whatever size cake/sheet cake you like and adjust template sizes as needed. We used a 6 inch double barrel cake which stood about 7 inches high. Our double barrel cakes are four 6 inch cake layers that have a cake cardboard halfway up with 4 supporting bubble tea straws beneath cut to the height of the first two stacked cake layers.) Our cake tier was also on it's own cake cardboard cut the the size of the cake.
Buttercream- We used our Fluffy Vanilla Buttercream Recipe. Our Classic Recipe is also a good choice.
Templates for Shoes and Legs
Piping Tips: We used a Tip 10 for the two sizes of polka dots
Large Petal Tip 125 for ruffled witch skirt. (You could also use a 104 tip for shorter ruffles).
Small rounded offset spatula if you'd like to create the same ridged buttercream effect
Turntable -Optional but helpful for cake decorating in general
Piping Bags - We use disposable
Coloring Gel: We used Americolor Super Black for stripes, Americolor Electric Green for legs & dots, Americolor Orange
Fondant- You could also use gum paste for the shoes & bows-- or, you could knead a little tylose powder into the fondant to help it set up more quickly.
Vodka or lemon extract (we used vodka) to combine with coloring gel for stripes.
Instructions
For the Shoes
Roll out black fondant (add a little tylose powder of use gum paste for faster drying) onto a countertop or work surface prepared with a light coating of vegetable shortening to prevent sticking. Print out Templates.
Roll out black fondantl to about ⅛ inch thickness. Use the witch shoe template to cut out two shoes with an xacto knife. Place on a lightly greased cookie sheet that has been dusted with powdered sugar, or you can also line with parchment instead. *If using parchment, check/move the shoes every so often so that the fondant doesn't develop wrinkles as the paper beneath the fondant often develops wrinkles over time.
If you want the shoes to be somewhat firm, allow to dry for at least a few hours or overnight. They will mostly be supported by the cake and so they don't have to be completely firm & dry before using.
Use template (or eyeball it) to cut out the green witch legs. Once the surface of the legs is dry, you can paint on stripes using black coloring gel mixed with a touch of vodka (or lemon extract).
Use bow loops/tails template to cut out orange fondant (add tylose to speed up dry times) bows for the shoes. Allow to dry/set before using.
Cut out polka dots using a tip 10 or 12-- We used a Tip 10 to create small dots for the shoes, and larger dots in green, orange, and black for the cake.
Once decorations have set up, attach to the cake with buttercream. Add orange buttercream ruffles to create the witch's skirt using a piping tip 125 or similar petal tip. Make sure that the small end of the tip is pointed downward so that the edge of the ruffles is thin.