In today's free cake video tutorial, I'm going to show you how to make a funny and super easy Monster Sheet Cake!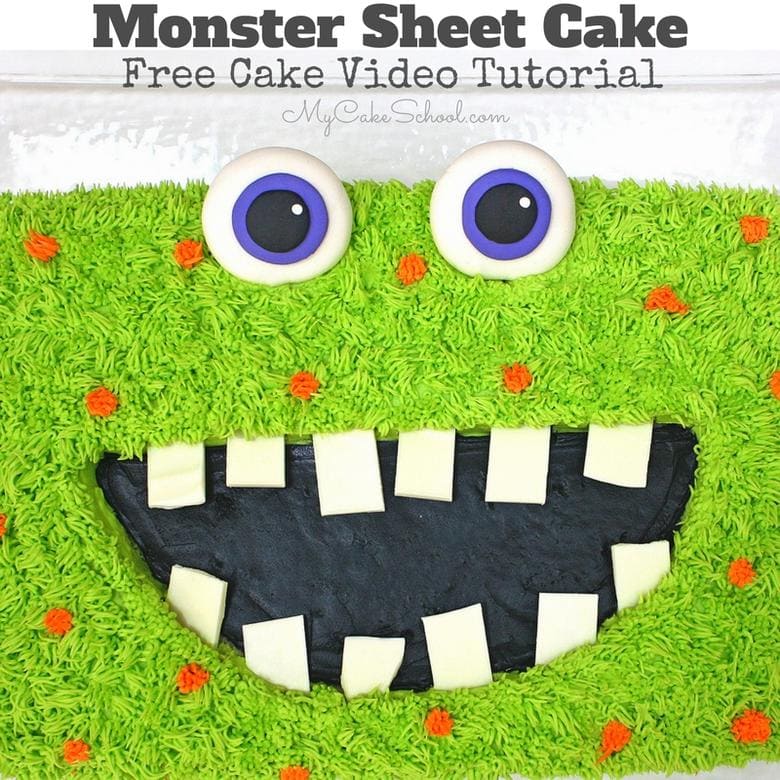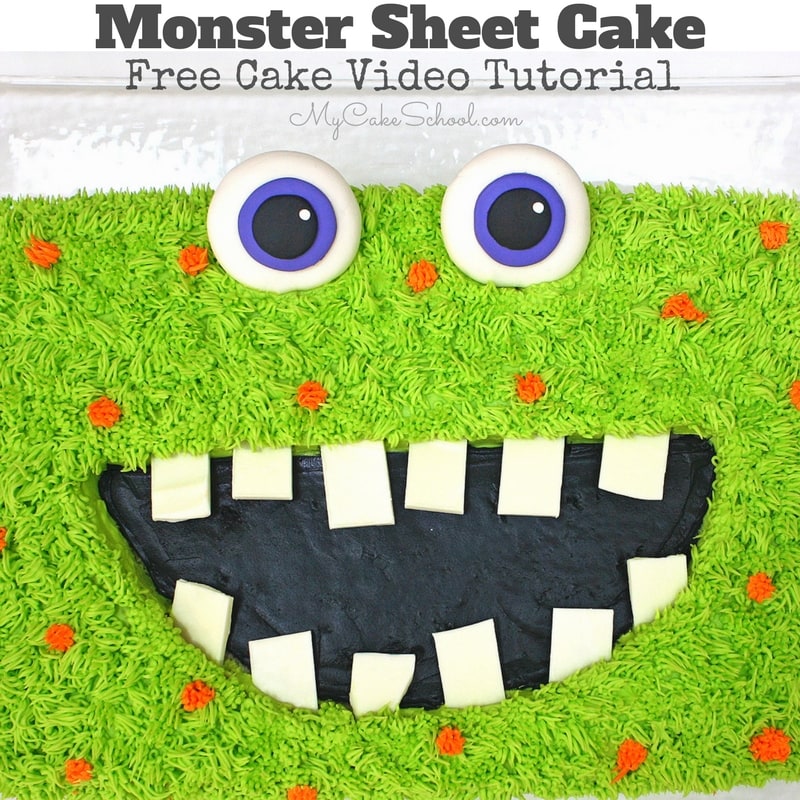 How to Make an Easy Monster Sheet Cake
This fun buttercream design is perfect for any skill level of cake decorating, and is great for kids' birthdays and Halloween parties!
I have never been into scary Halloween cakes, and so of course our monster today is a little on the goofy side with his crazy smile and funny teeth! One of the best things about monster (or alien) cakes is that absolutely anything goes.
You can change up the colors, add a few more eyes, change the teeth, add a nose or antenna ....the options are endless!
Piping buttercream fur with my grass piping tip didn't take nearly as long as usual because I wasn't worried about making the fur a uniform length. Just shaggy, crazy, buttercream fur piped in every direction.
It goes much more quickly that way, and the texture is perfect for a funny little monster. I mean, who wouldn't love this face?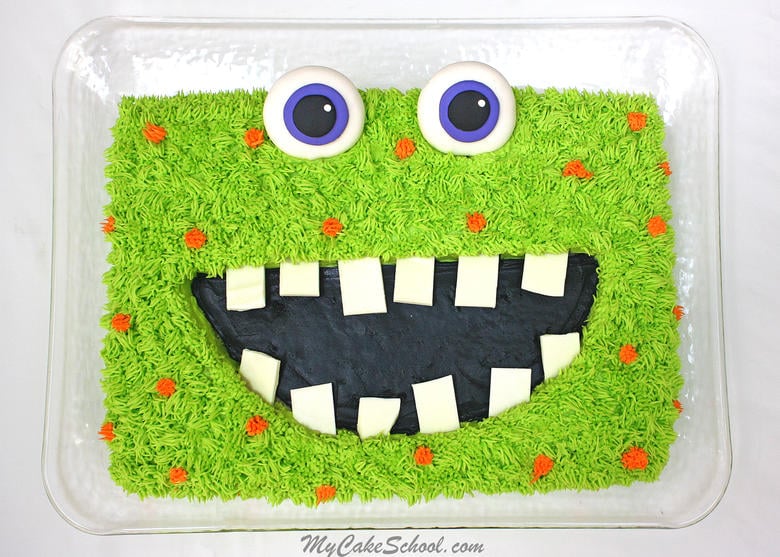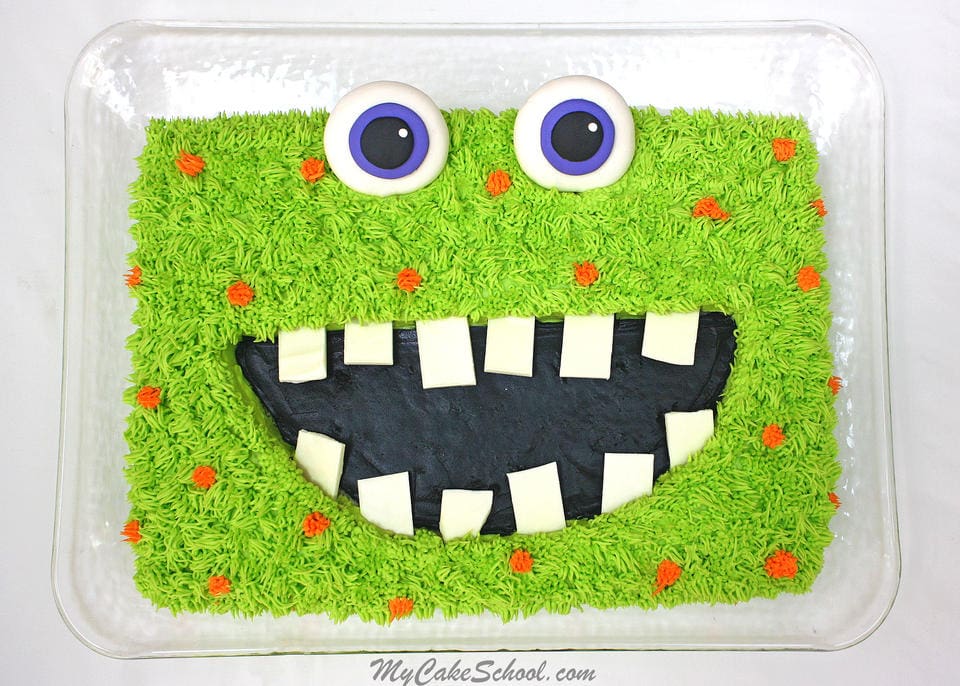 Materials:
9x13 Sheet Cake
Buttercream of Choice (We used our Fluffy Vanilla Buttercream Recipe- approx. 6 cups)
White Chocolate Bark/Candy Coating- Approx 2 oz. for teeth
Fondant- for eyes
Piping Tips: Grass Tip 233, tip 10
Coloring Gels: Americolor Super Black, Electric Green, Orange, Violet
Lollipop sticks- One for each eye
Piping Gel- Optional
Circle cutters/piping tips in different sizes for iris & pupil
Miscellaneous: Disposable piping bags, cake base/tray of choice (if using cake cardboards, use 2-3 stacked), knife, waxed paper or parchment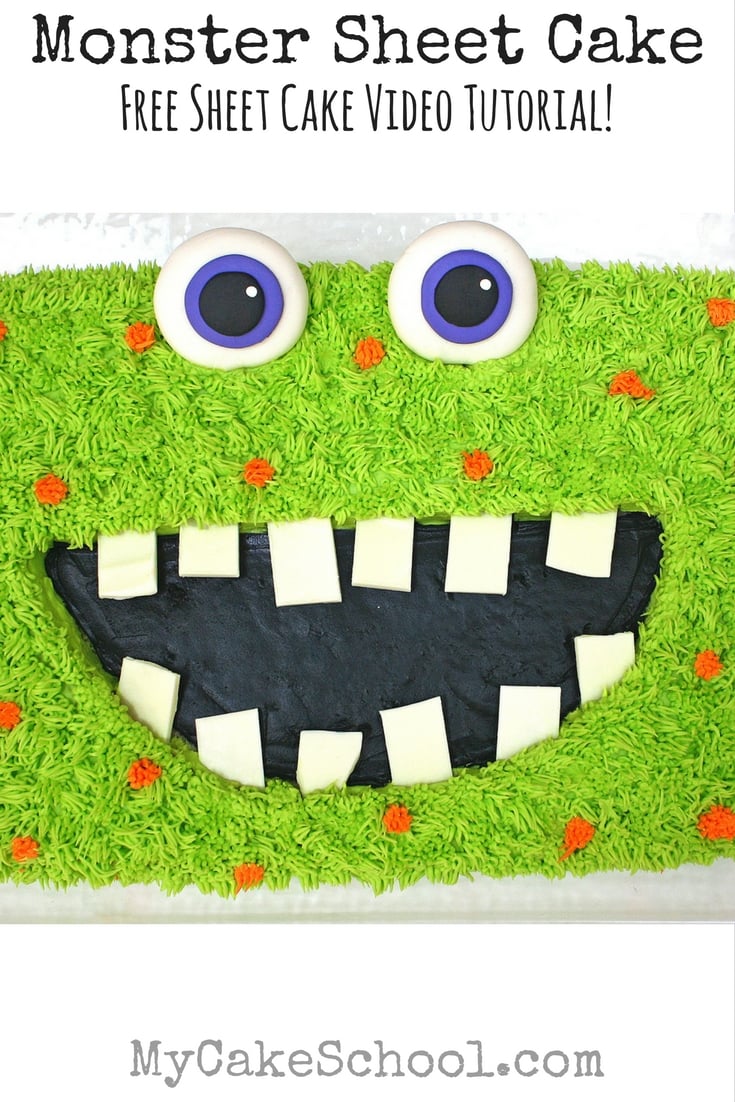 More Monster Cakes!
We have more free monster cake and cupcake tutorials to share! Check out these funny monster cake designs:
Enjoy the Video!
Thanks so much for stopping by! If you give our Monster Sheet Cake a try, we would love for you to leave a comment or photo below.
Kids will love this funny monster for birthdays and Halloween Parties! Don't miss our collection of favorite Halloween Cakes!