In this cake decorating video, we are going to show you how to make an adorable cat-themed Halloween cake!
You will learn how to model fondant cats as part of this cute and fun Halloween party cake design. We hope that you enjoy it!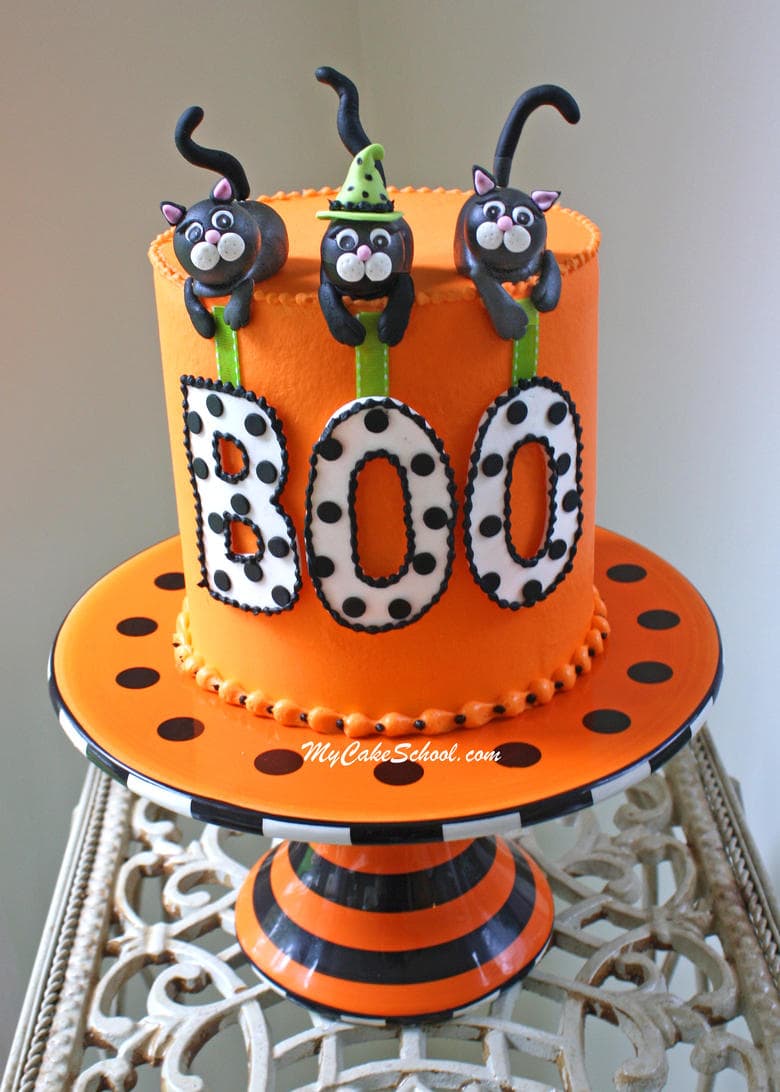 Materials:
This cake is a double barrel 6 inch cake- 4 cake layers. (This is 4 cake layers with cardboard cake circle halfway up, with dowels beneath for support. We used 4 bubble tea straws cut to the height of the bottom two stacked layers. You can find more info on double barrel cakes in our video tutorial.)
Fluffy Vanilla Buttercream (or your vanilla buttercream of choice -*If not using a crusting buttercream, apply your gum paste pieces as close to the event time as possible so that they do not become too soft.)
Templates for BOO Letters
Black Gum Paste/Fondant for cats (We used pre-colored black fondant with a little tylose kneaded into it).
Fondant for BOO letters (I kneaded a little tylose powder into it)
Coloring Gel: Americolor Orange, Electric Green, Deep Pink, Super Black
Toothpick/floral wire for anchor both heads and tails
Piping Gel (or your food safe adhesive of choice)
Black Food Coloring Pen for eyes & hat (You could also cut out small dots of black fondant with a small round piping tip.)
Piping Tips: We used Wilton 10, 12, and 3
Miscellaneous: Piping bags, turntable (optional but helpful in frosting the cake), Bench Scraper (optional, helpful for frosting the cake), small paint brushes for applying piping gel

Notes:
*Make the cats however large or small seems right for your cake. For me, each cat had a 10 g. head and 20g. body (plus small amounts for the ears and paws).
Eyes were cut from a piping tip 10..."cheeks" were cut from a tip 12.
Adding Tylose to Fondant
As mentioned in the video, I used pre-colored black fondant with tylose kneaded into it. This allows the cats to firm up more quickly than they would if I had only used straight fondant.
I add the tylose powder bit by bit (rather than actually measuring the tylose). You'll notice that the fondant becomes a bit more elastic and takes on the feel of gum paste as you knead in the tylose. The cats are not edible, however they could be if you'd like to work with straight fondant.
Dry Times
If working with straight fondant, the dry time is longer. To be on the safe side, dry the heads and bodies individually for a couple of days before piecing them together (although you'll need to make the holes for the head and tail anchor while the body is still soft.)
Anchoring the Figures
Also, if you think the toppers may be eaten by your customers/guests, you can try anchoring the heads & tails to the bodies with melted candy melts or bits of fondant made sticky by kneading a couple of drops of water into it.
You'll want to avoid using toothpicks if you're afraid someone may try to eat the toppers!
Smoothing the Buttercream
For this cake, I crumb coated and frosted my cake on a turntable as usual, removing the excess with a bench scraper while rotating. After the frosting had crusted (10-15 min), I smoothed over it with a Viva Paper Towel for an extra smooth finish.
More Modeled Animals!
We have more gum paste and fondant animal tutorials to share with you! You can find them in our Recipes & Tutorials Section, but here are a few favorites below!:
Jungle Cake (Modeled Giraffe, Lion, & Elephant)
Enjoy the Video!
We hope that you enjoy this Halloween Black Cat Cake! It was so much fun to make! If you give it a try, we would love for you to leave a comment and photo below!