In today's video tutorial, we're creating another fun monster-themed cake design- this time in the form of Monster Bundt Cakes!
I just LOVE how these funny monster cakes turned out, and the best part is that they are SO easy and quick to make! Keep this design in mind for Halloween Cakes, monster themed Birthday Cake Ideas, and more!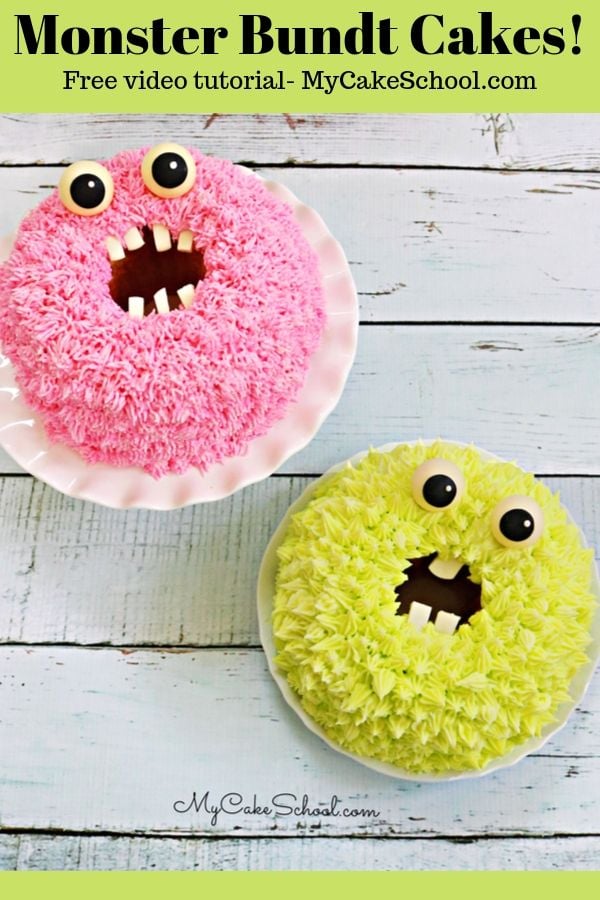 Why we Love it!
Super easy cake design that works for any skill level of cake decorating!
When it comes to monster cake designs, anything goes! We used truffles for google eyes, white chocolate candy coating teeth, and lots of buttercream fur. Have fun with it!
A great excuse to make a delicious Bundt Cake or Pound Cake recipe! Some of our favorites are Buttermilk Pound Cake, Lemon Pound Cake, and Cream Cheese Pound Cake!
How to make a Monster Bundt Cake
I love to feature easy cake designs on our site whenever possible because we all need a break sometimes, don't we? And maybe a nap too!
Well, THIS cake design might be one of the easiest that we've done, but the end result is so fun and funny. Kids will love these silly monster cakes.
Change it Up! You may like to change up the design a bit, whether you use different colors, piping tips or sprinkles, add horns or antennae, or change up the number of eyes or teeth.
These monsters could easily have a creepier look with a design and color change here and there! For me, I had to go with cute & funny!
Bake in a standard bundt pan if making one monster (or in our case, we divided the batter into two smaller 6 cup bundt pans for double the monster fun) ;0)
Tint your buttercream with your colors of choice and load into piping bags. (I used a grass tip 352 and star tip 21) and pipe over the cake. We used our Classic Vanilla Buttercream recipe.
Add google eyes (I used Lindor white chocolate truffles) but you could use fondant eyes if you prefer, or even white powdered donut holes.
Add teeth around the "mouth", which is the hole of the bundt cake.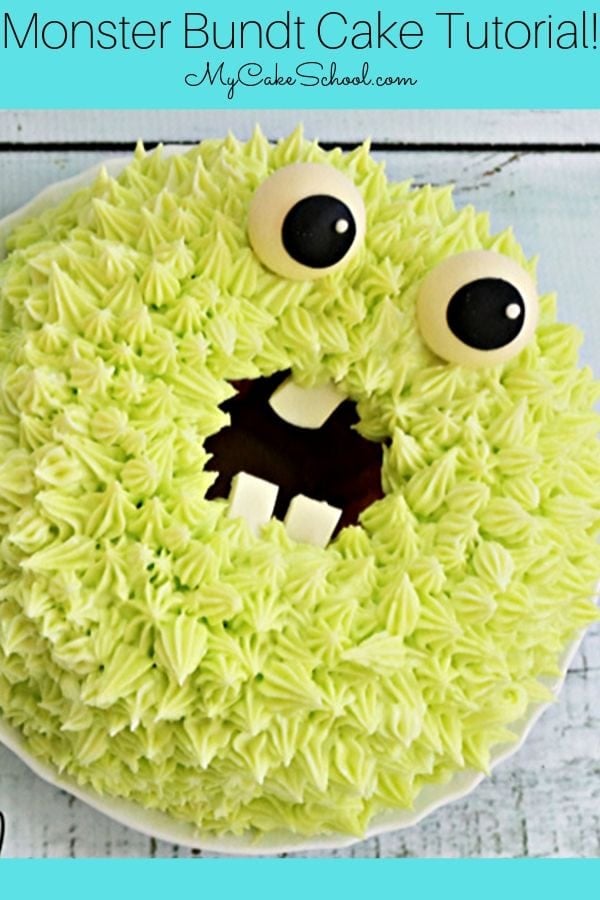 More Monster Cakes!
We love a fun Monster Theme! Here are a few more free tutorials that we've made over the years! My personal favorite aside from today's bundt cake monsters is our Pretzel Monster Cake- so much fun! But we love them all.
Our Monster Sheet Cake is perfect for a quick and easy Halloween cake!
*Searching for Easy Halloween Cakes? Be sure to check out our Roundup of Favorite Halloween Cakes and Cupcakes!
Enjoy the Video!
In addition to checking out our favorite bundt cake recipes and pound cake recipes, we hope you'll scroll through our full collection of Cake Recipes and Cake Decorating Tutorials!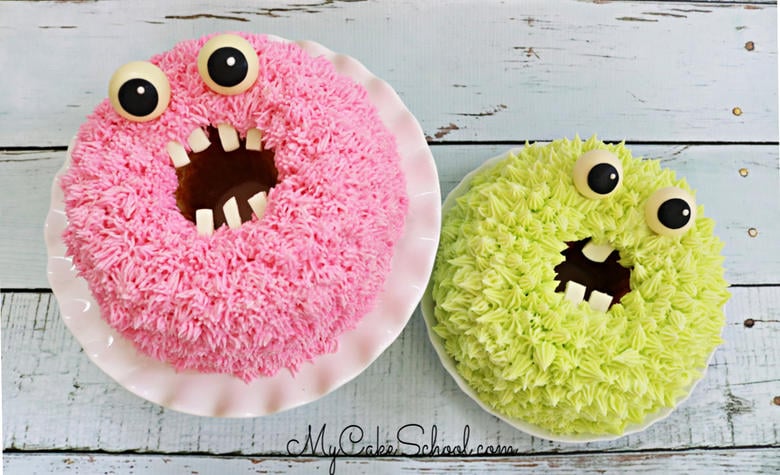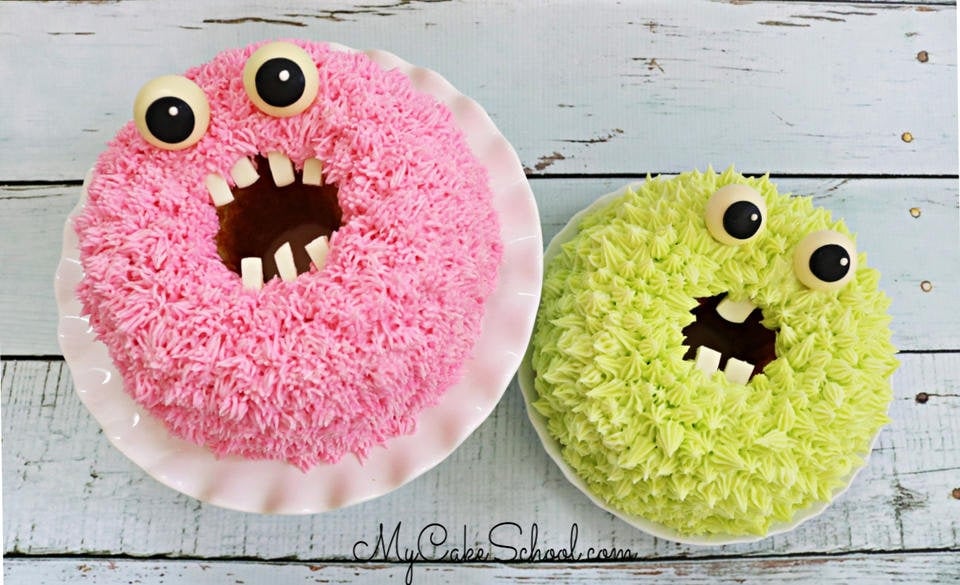 Monster Bundt Cakes- A Free Cake Tutorial!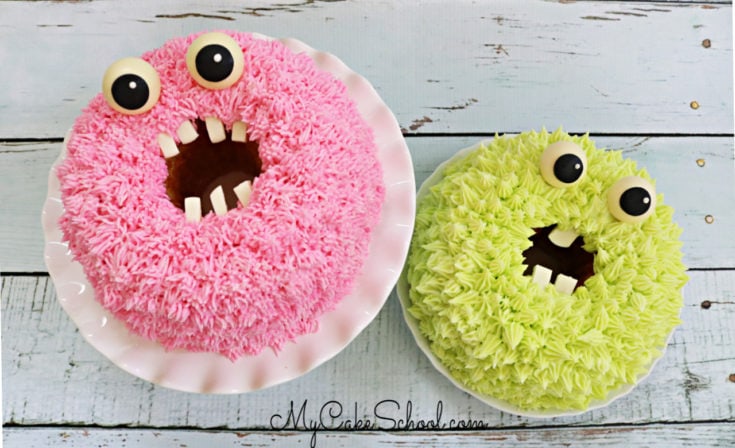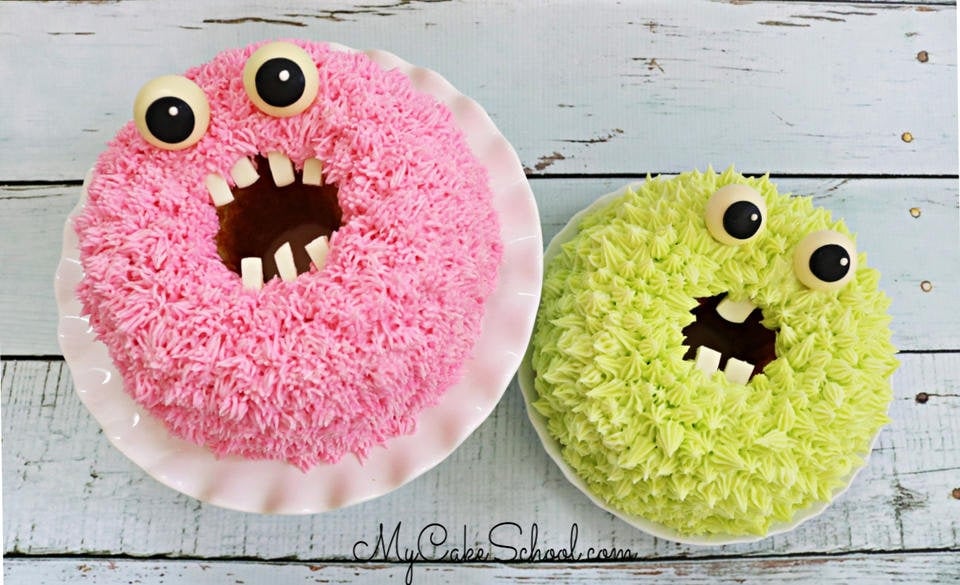 Learn how to make a CUTE monster bundt cakes in this free cake decorating video tutorial!
Materials
Bundt Cake(s)
Buttercream Frosting of Choice (we used our Classic Vanilla recipe)
Coloring Gels: Americolor Deep Pink, Electric Green
Black fondant for google eyes
White Chocolate Truffles for google eyes (you could also use fondant, white donut holes, etc.)
Piping Tips: Grass/Fur tip (233), Star tip 21, tip 3 (white dots in eyes)
White Chocolate Candy Coating Wafers/Disks/Melts- for teeth
Pedestal or Cake Base
Instructions
After baking your cake(s) and making the frosting, it's time to decorate!
Using your fur or star tip, cover the cake in frosting. I covered the entire cake but you could also just pipe on top over the cake and partially down if you do not wish too cover the entire cake.
Make eyes by "gluing" a black circles of fondant onto truffles with a little piping gel, add little white dots of buttercream to black circle, place eyes onto the cake, pushing into frosting to secure.
Slice up candy melts to create teeth. Press the teeth around the center opening of the bundt cake to create a mouth.
Notes
There are so many options with this monster cake design. You can increase or decrease the number of eyes, add antennae or horns, add sprinkles, change the piping tips or use multi-colored frosting or sprinkles. Have fun experimenting!