We've been wanting to do a tutorial on monster cupcakes, and today is finally the day. These easy, funny cupcakes are sure to be a hit with your family and friends.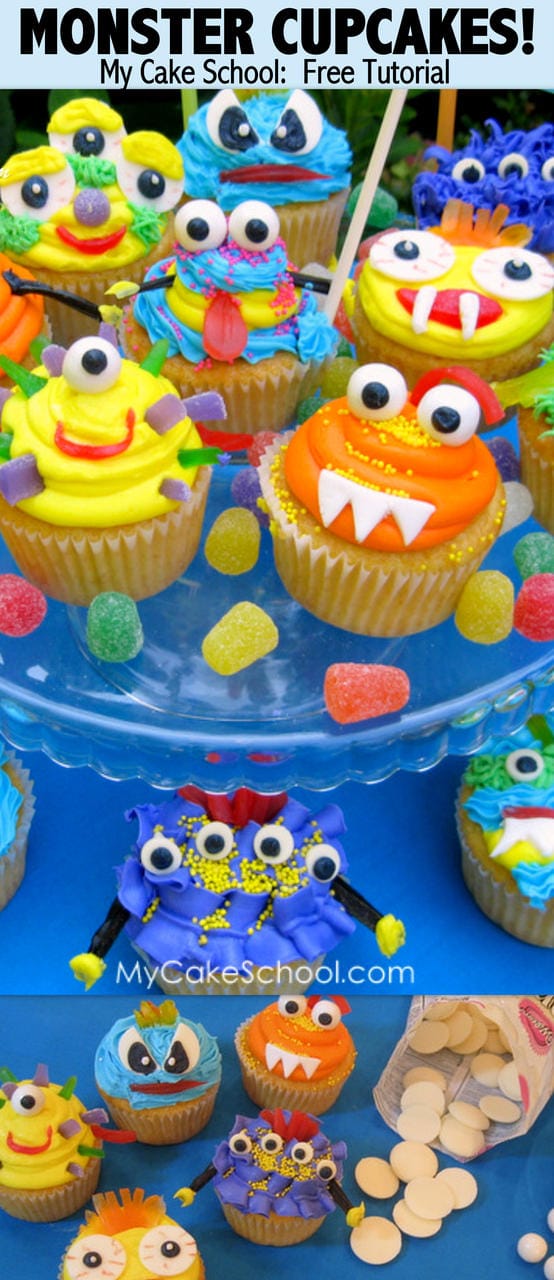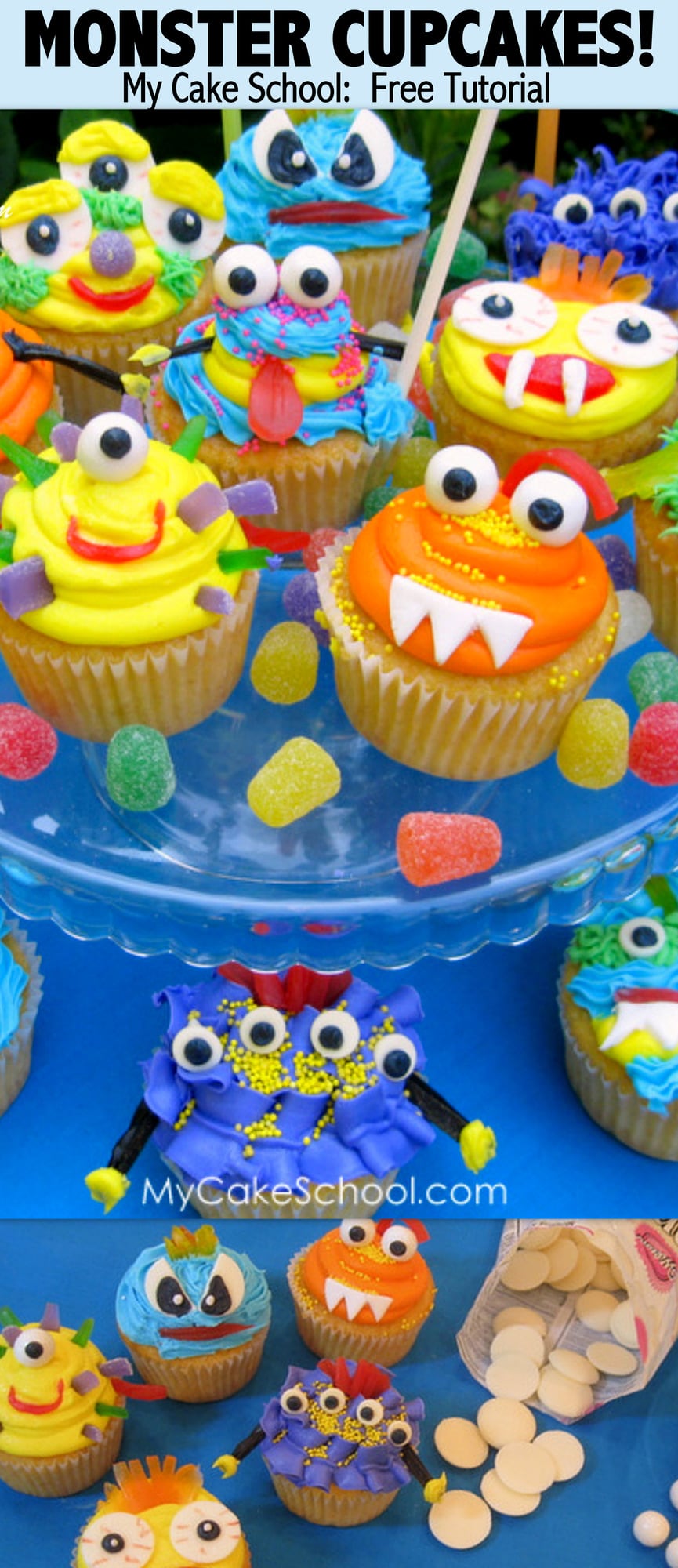 The best part of creating monster cupcakes is that anything goes! You can be as creative as you want to be. My vanilla buttercream monsters are a mix of fur and eyeballs and teeth and tongues--so easy, and kids are sure to love them!
Keep these in mind for monster-themed birthday parties and Halloween celebrations! Don't miss our full collection of favorite Halloween Cake Ideas!
How to Make Easy Monster Cupcakes
These cupcakes would be perfect for monster-themed birthday parties or Halloween!
Let's get started!
My monsters have yummy eyeballs---today, I used a combination of Wilton candy melts, white gumballs (Sixlets chocolate candies would be great too), and white chocolate chips.
Marshmallows are always a good choice too--The pupils are dots of black buttercream.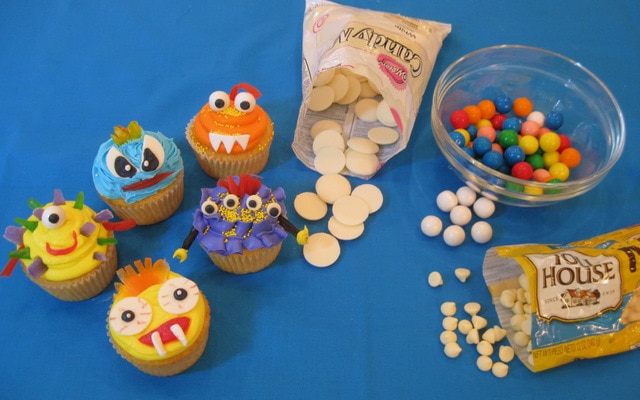 Next, we'll discuss all of the other monsterly features... all you need are scissors or a knife, and lots of candy!
I used mini marshmallows or fondant for the teeth. I also sliced and snipped lots of gumdrops , licorice and Dots candy to make fun spikes, hair, arms, etc.
AND, for the tongues--Dots candy that I rolled out with a rolling pin (very easy). Today, I ate a lot of monster parts.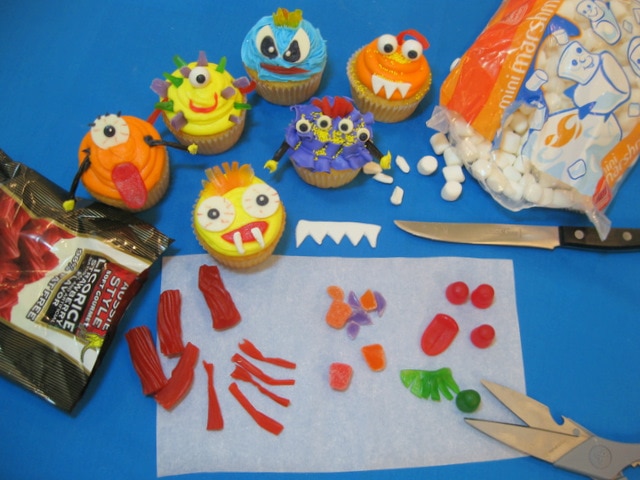 Creating the monster fur and bodies gives you a chance to use your favorite piping tips...as well as those funny looking ones that you've never used but always wanted to....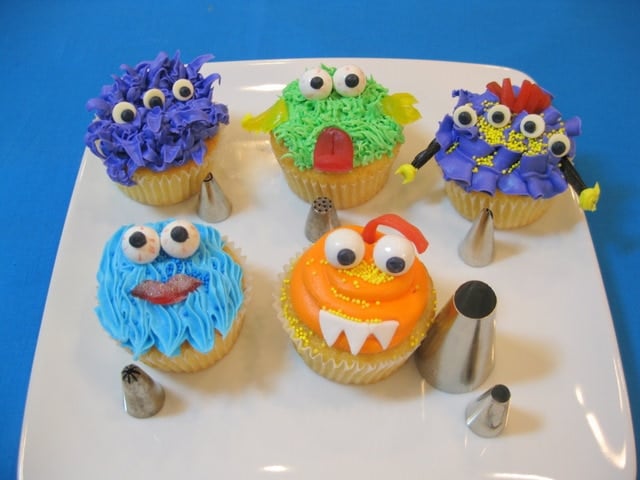 Back row from left to right: Wilton tip 81, grass tip 233, leaf tip 67.
Front row: tip 21, tip 12/tip 8PT (large). These are all frosted in vanilla buttercream!
Okay, let's round up this rowdy bunch for a group photo.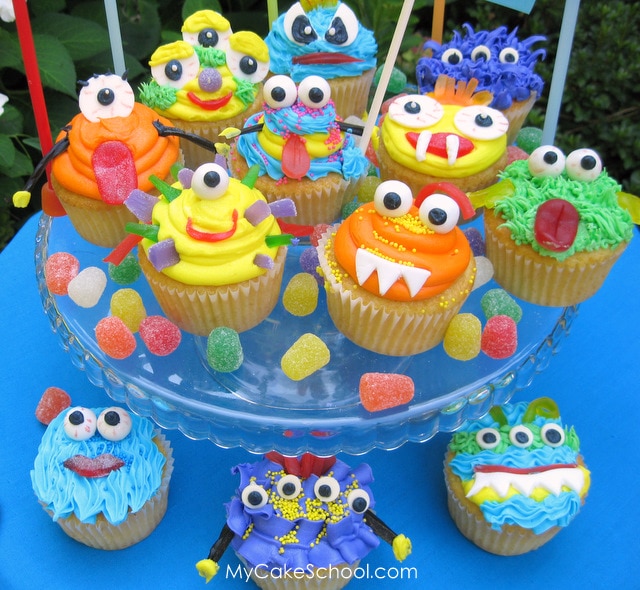 I decided to let one of the monsters hold the birthday sign....and the candles are anchored by Dots candy (although small balls of fondant are great for this also!)
Remember, monsters aren't just for Halloween--they bring smiles all year round---and they taste good too!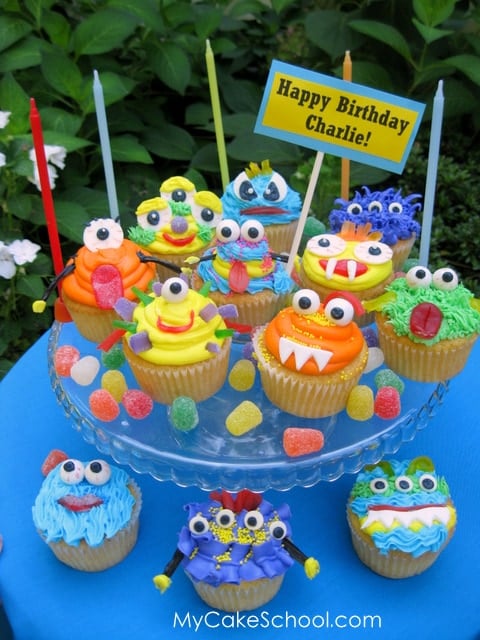 Thanks so much for stopping by! We hope that you'll give these monster cupcakes a try! They are perfect for Halloween and young birthdays.
Cupcake Recipes
We have many cupcake recipes on our site! Must a few of our favorites are our vanilla cupcake recipe, lemon cupcakes, easy strawberry cupcakes, and snickerdoodle cupcakes!
We also have a great recipe for pumpkin cupcakes as well if you are making these for Halloween!
More Monster Cake Designs
We've made a few monster cakes over the years. Some of our favorites are our Monster Bundt Cakes and Pretzel Monster Cake!