Have you ever tried Elvis Presley Cake? Legend has it that Elvis Presley's favorite cake was an ultra moist and flavorful pineapple and pecan cake that Elvis' grandmother used to make for him at his request whenever he came to visit.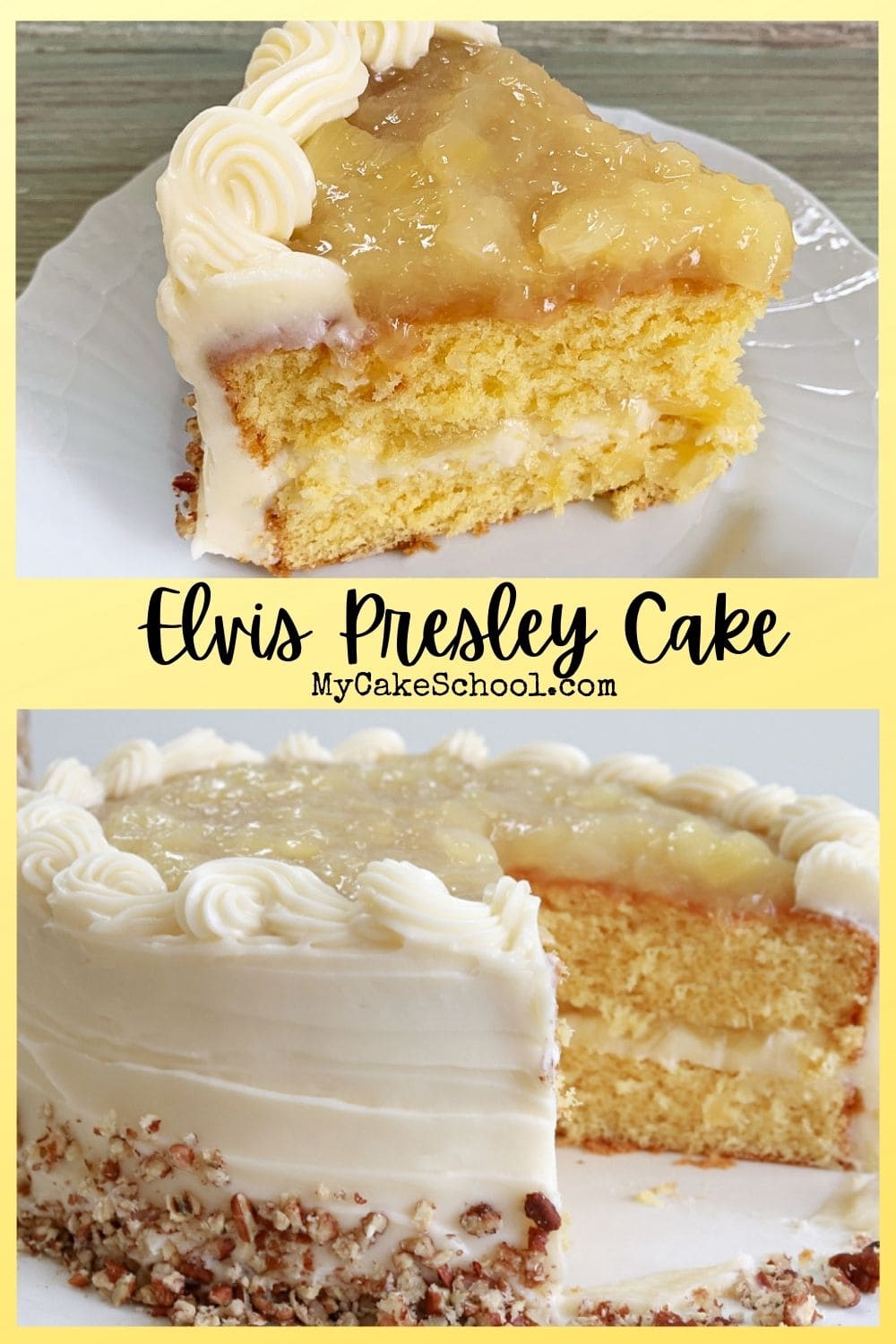 Others say that this cake, now commonly known as Elvis Presley Cake, was made for Elvis by Mary Jenkins Langston, his beloved long-time cook at Graceland who also perfected the fried peanut butter and banana sandwiches that he loved so much ;0)
Whichever backstory you believe, it is safe to say that this popular Pineapple Pecan Cake with cream cheese frosting is fit for a King, and we are so glad to have our own version to share with you!
As Mom was researching different cakes to try out yesterday, Elvis Presley cake caught her eye (we do love pineapple cakes, and Elvis for that matter!) ;0) - But when she read that TODAY (Jan 8) was his birthday, we knew that this would have to be this week's recipe. What are the odds? Happy Birthday Elvis!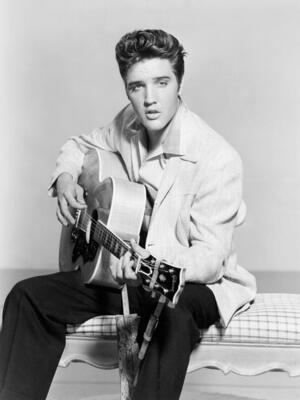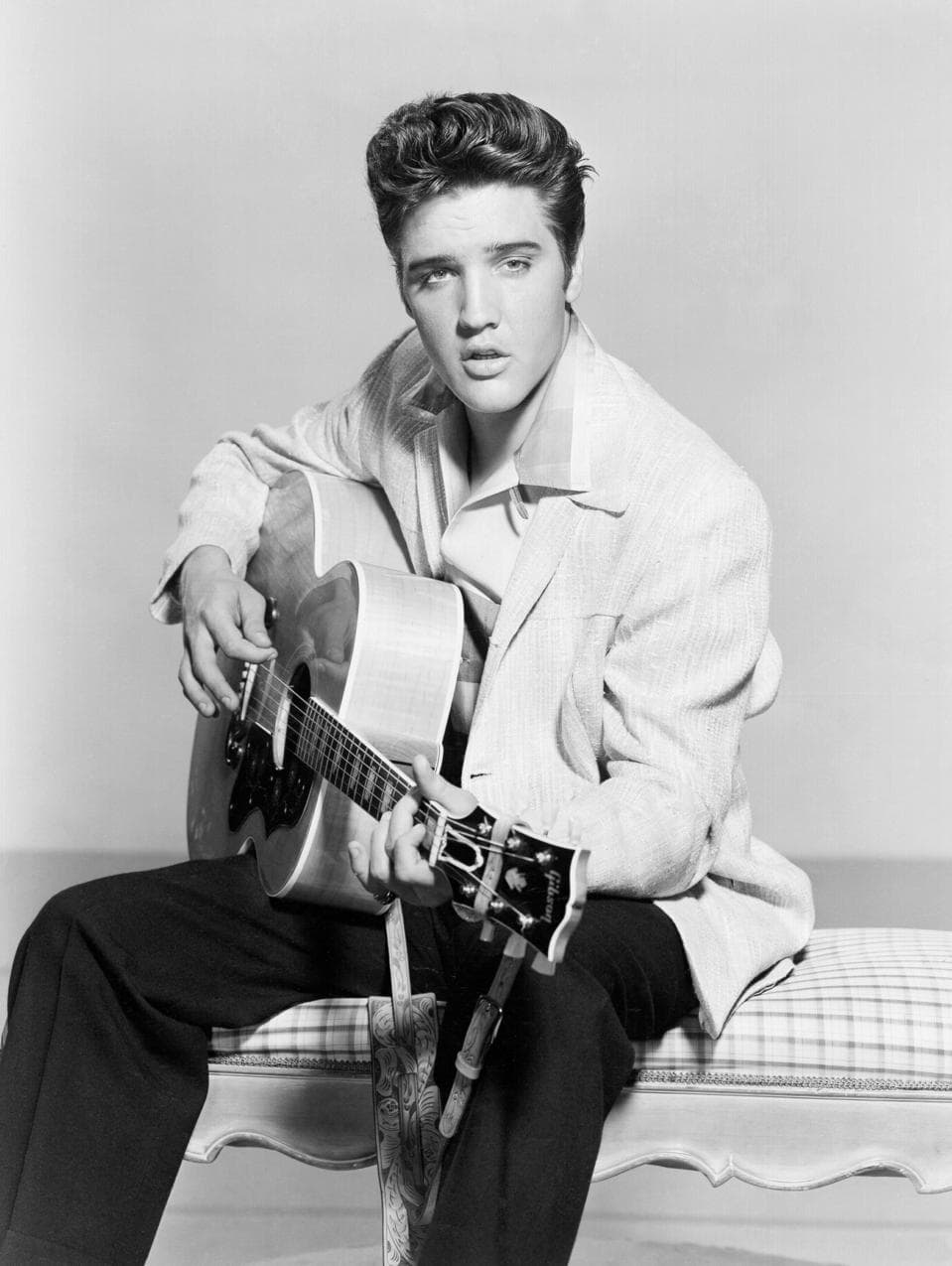 How to Make Elvis Presley Cake
This recipe has been bouncing around for a while, and there are several variations. Most consist of yellow cake, crushed pineapple filling/topping, cream cheese frosting, and crushed pecans.
Many versions of Elvis Presley Cake are prepared as "poke cakes" using a single layer sheet cake, topped with crushed pineapple, cream cheese frosting and crushed pecans.
We decided to change things up a little and make our version as a layer cake instead, so that we could sneak in additional cream cheese frosting and pineapple. We think that Elvis would most definitely approve!
First, prepare your favorite yellow cake, whether cake mix or yellow cake from scratch. (We are using a doctored yellow cake mix for today's recipe.)
Prepare the cooked crushed pineapple filling by heating the crushed pineapple, sugar, and corn starch over medium heat until thickened. We LOVE this pineapple filling and have also used it in our Piña Colada Cake and Pineapple Coconut Cake- it has the best pineapple flavor!
Prepare the cream cheese frosting.
Assembling the Elvis Presley Cake
Depending on the recipe that you use, you may divide your batter between two or three cake layers (or more if you are feeling fancy!) We prepared a two layer cake.
Place the first layer on the pedestal. Spread with cream cheese frosting.
Pipe a dam and add a layer of the pineapple filling. (I kept my layer of pineapple fairly thin but enough to get a nice pineapple flavor!)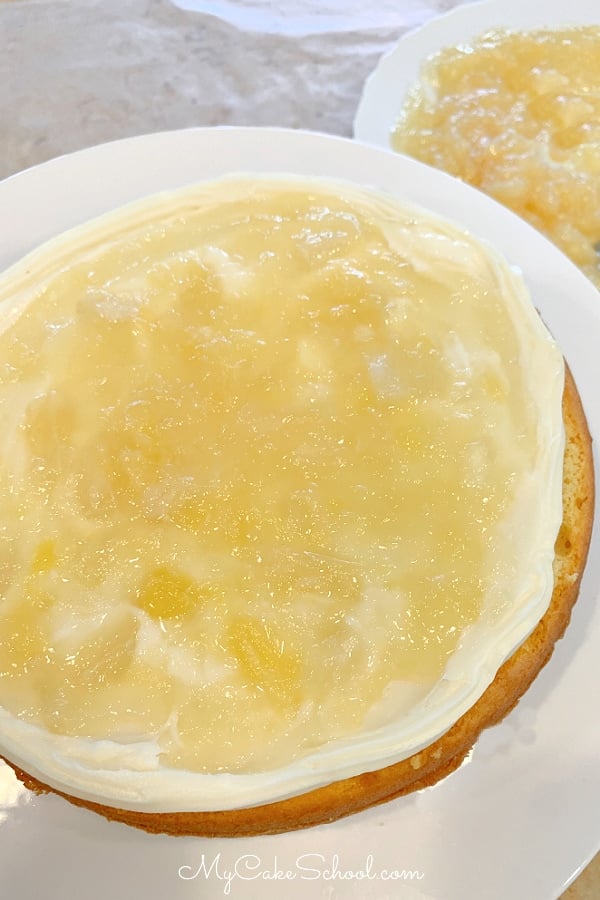 Top with the second layer of cake, and add additional pineapple filling on top. Frost the sides of the cake with cream cheese frosting and finish with crushed pecans around the sides/border.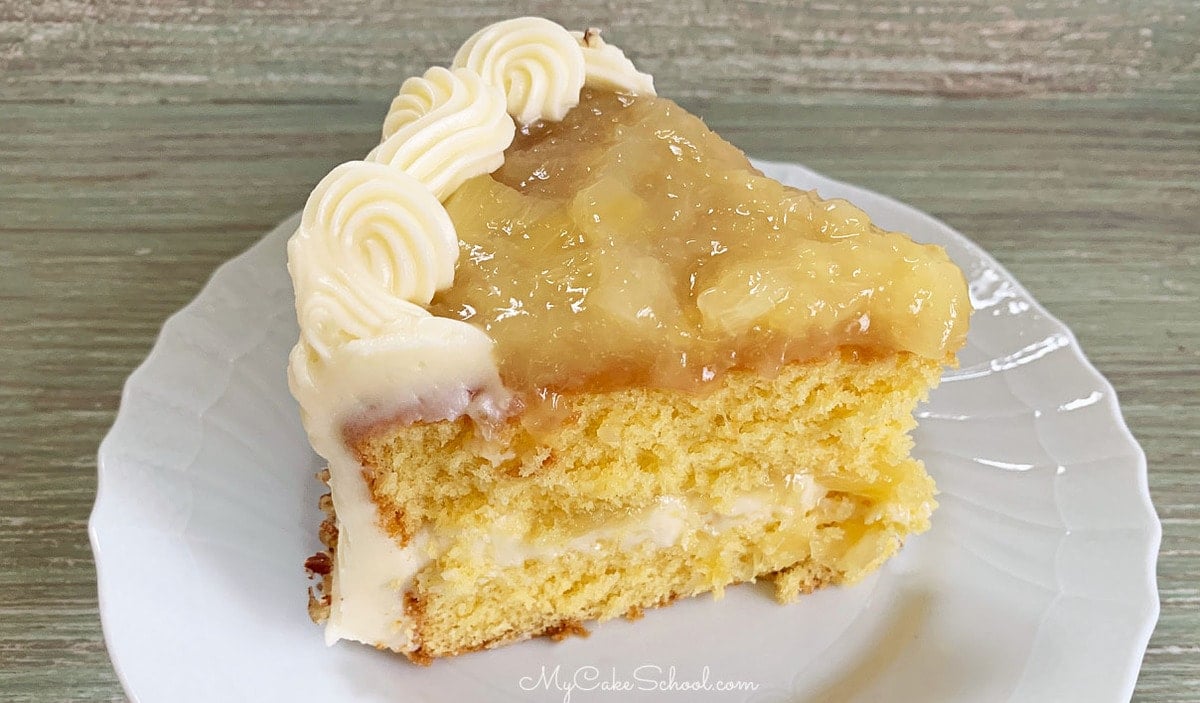 Helpful Hints
If your cream cheese frosting becomes too soft, chill it in the refrigerator to firm things up. You can do this with your piping bag also.
I like to chill my cake after adding the first coat of frosting to firm things up before adding the final coat of frosting and decorations.
Another Elvis Cake
We have another "Elvis Cake" recipe, inspired by his love for fried Peanut Butter and Banana Sandwiches! Don't miss our Banana Chocolate Chip Cake with Peanut Butter Buttercream Frosting!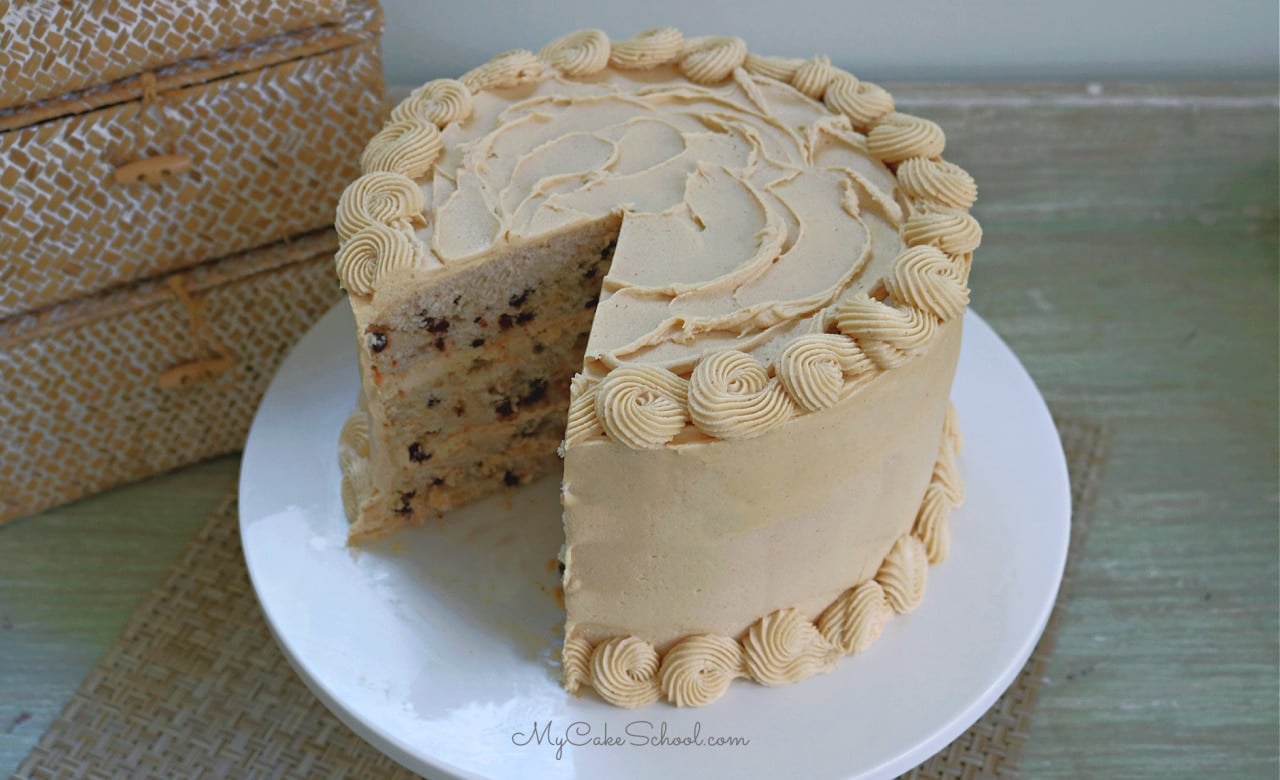 More Cakes with Pineapple
If you love pineapple cakes or cakes with pineapple as a key ingredient, we have lots of cakes for you in our Cake Recipes section! Some of our favorites are our Pineapple Cake, Hummingbird Cake, Carrot Cake, and Banana Split Cake!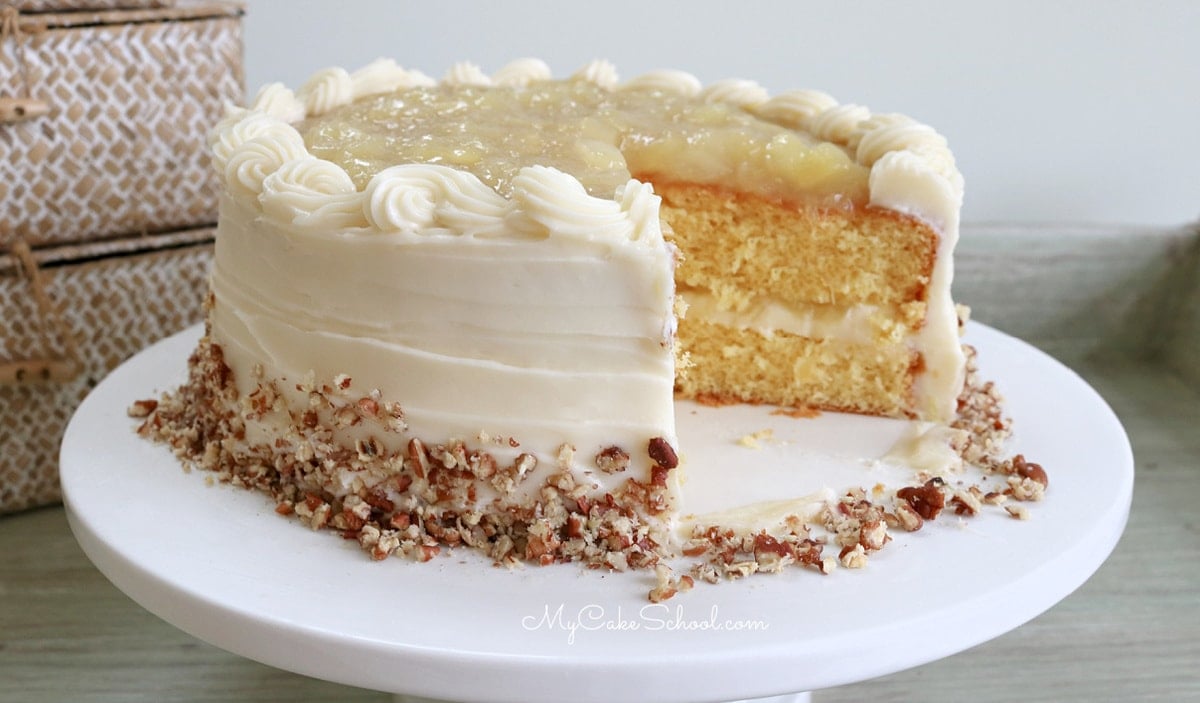 We hope that you enjoy this recipe as much as we have! This one's a crowd pleaser, sure to be met with a heartfelt Thank you, Thank you very much ;0)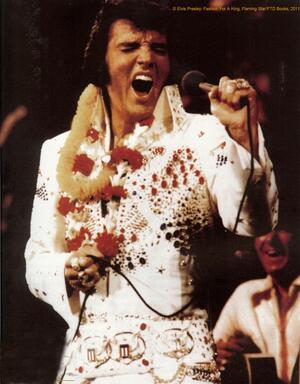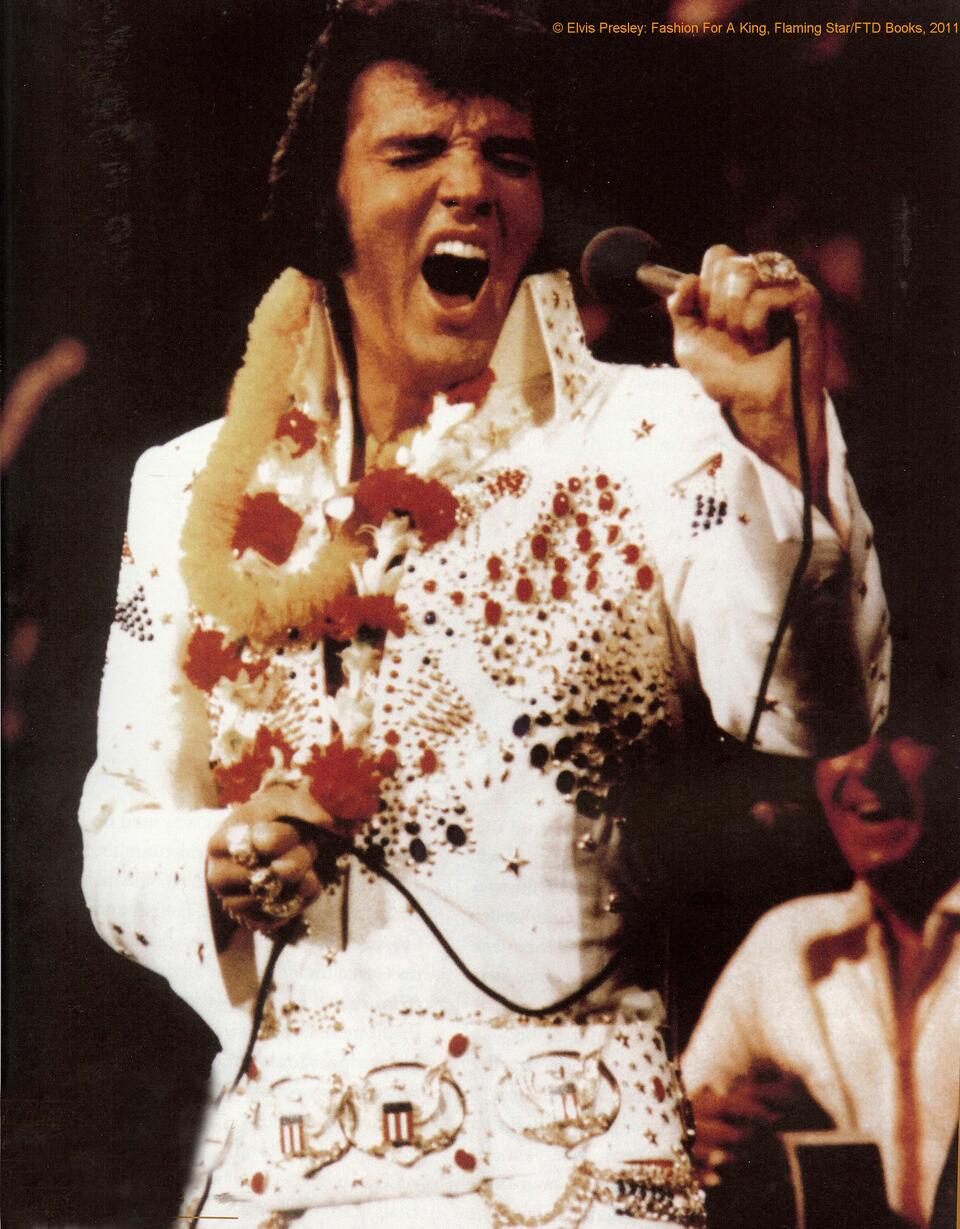 Thanks so much for stopping by! We have so many more cake recipes to share with you in our Cake Recipes Section! This includes our favorite scratch cakes as well as our cake mix recipes!
Have you made this Cake? We would LOVE for you to leave a ⭐️ rating as well as a comment and photo below! We really appreciate your feedback!
Yield: 15 servings
Elvis Presley Cake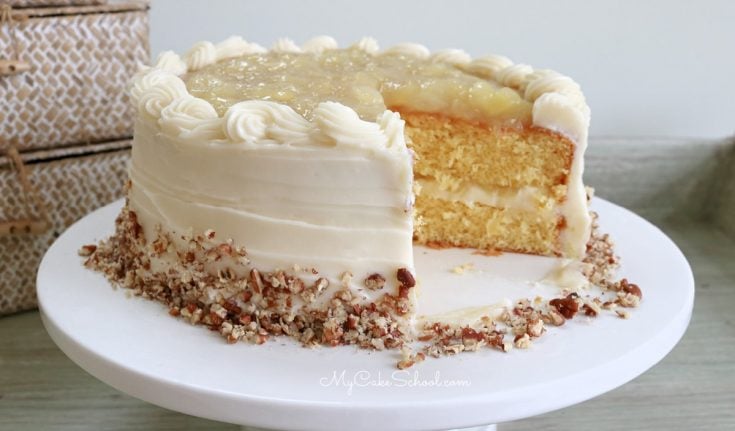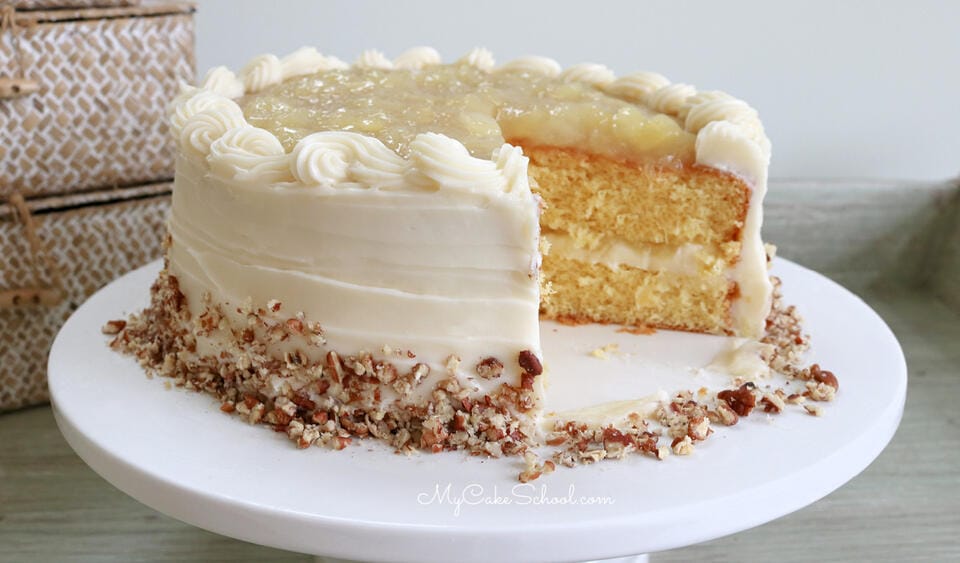 Elvis Presley Cake is a delicious combination of yellow cake layers, crushed pineapple filling, cream cheese frosting, and pecans! SO flavorful, moist, and delicious!
Additional Time
35 minutes
Total Time
1 hour
20 minutes
Ingredients
For the Yellow Cake
1 Box Yellow Cake Mix (We used Duncan Hines Classic Yellow)
Ingredients as listed on the box (water, eggs, and oil)
2 Tablespoons Mayonnaise (we use full-fat Hellmans)
1 teaspoon vanilla
For the Crushed Pineapple Filling/Topping
One 20 ounce can (567g) of crushed pineapple, undrained
½ cup (100g) granulated sugar
2 Tablespoons (14g) cornstarch
For the Cream Cheese Frosting (For 3 layer cakes, you can double)
1 stick (113g) unsalted butter, slightly softened
1 (8oz) package cream cheese (total weight 226g) I use full fat cream cheese. Using reduced fat or the spreadable cream cheese will cause the frosting to be too soft. Soften very slightly.
1 teaspoons (4 g) vanilla extract
¼ teaspoon salt (1g) optional - it will cut the sweetness, popcorn salt is best to use because it is fine and dissolves faster
3 to 3 ½ cups (345g to 373g) powdered sugar
Garnish
Desired amount of chopped pecans.
Instructions
For the Cake
Preheat oven to 325 and grease/flour two 8 inch cake pans.
Sift mix into bowl and add ingredients according to box instructions. Add vanilla and mayonnaise.
Mix all ingredients on medium speed for two minutes, scraping the bowl when necessary.
Bake at 325 degrees for 25 to 30 minutes. When a toothpick is inserted in the center and comes out clean or with just a few crumbs attached it is done.
This is optional but your cake will be more moist if you wrap your warm cakes in plastic wrap and aluminum foil and freeze for at least a few hours. If you are baking in advance the cake layers can be frozen for 3 months. Just make sure they are wrapped air tight. Thaw on the countertop when ready to use.
For the Pineapple Filling
Combine all ingredients in a saucepan and cook over medium heat.
When the mixture begins to boil, stir constantly until it begins to thicken, approximately 1 to 2 minutes.
Keep in mind that it will thicken even more as it cools. Cool completely in refrigerator before using.
For the Cream Cheese Frosting
Cut the butter into slices and add to the bowl of your mixer. Beat on low to medium speed until the butter is softened and smooth.

Cut the slightly softened cream cheese into pieces and add to the butter, beating at low to medium speed until incorporated. If you are using a hand mixer you may need to soften the cream cheese a bit more.
Add the vanilla. Gradually add the powdered sugar beating on low speed until blended.
Increase mixing speed and beat until fluffy. Don't over beat or it will become too soft. If it becomes too soft, just refrigerate a short while to firm it up a bit.
This frosting will pipe best if used while still chilled. You can make it in advance, refrigerate and when ready to use let it soften slightly (do not microwave) and remix.
Assembling the Elvis Presley Cake

Place the first cake layer on your cake base or pedestal.
Spread with cream cheese frosting (stay within about ¼-1/2 inch from edge of the cake layer.)
Pipe a dam of cream cheese frosting around the cake layer, about ¼ -½ inch from edge and fill with pineapple filling. I kept my pineapple filling fairly thin.
Top with the second cake layer. Fill in any gaps between cake layers with cream cheese frosting. Frost around the sides of cake, and top with the crushed pineapple. (I poked small holes in the top of the cake before adding the pineapple so more juices would seep in.)
*If necessary, chill the cake in the freezer for 15 minutes before adding the final coat of frosting if the cake needs to be firmed up for easier decorating.
Add chopped pecans around the sides/border.
Recommended Products
As an Amazon Associate and member of other affiliate programs, I earn from qualifying purchases.