Classic Vanilla Buttercream
This flavorful, versatile Classic Vanilla Buttercream Recipe is one of our favorites! This buttercream couldn't be easier to make, and it is so delicious!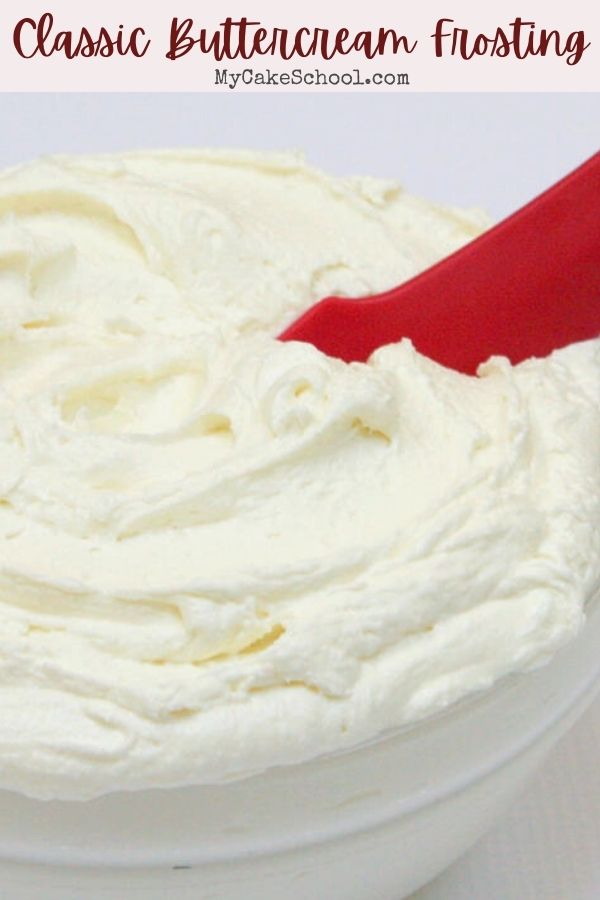 Why we Love it
There are so many reasons to love this delicious vanilla buttercream! Here are just a few:
How to Make Vanilla Buttercream
You can find the full, printable recipe card for this vanilla buttercream at the bottom of our post!
This frosting, which is known as an American Buttercream, is a simple combination of softened butter, confectioners sugar, vanilla, a pinch of salt, and a splash of milk.
Allow the frosting to mix for a few minutes to reach the best, creamy consistency. If you'd like to the vanilla buttercream to be a little thicker (for piping buttercream roses, etc.) you can add a bit more confectioners sugar.
To thin out the frosting, you can simple add small amounts of milk.
Textured Buttercream
Of course, your frosted cakes don't have to be perfectly smooth. We love textured buttercream as well as the look of piping all over a cake.
Our classic vanilla buttercream frosting is versatile enough for just about any sort of buttercream cake or cupcake design you can think of.
Here are just a few of our free cake tutorials that demonstrate simple texturing &piping techniques: Ridged Buttercream Technique, Buttercream Petal Cake, Cascading Rosettes Cake, and Looped Ribbons of Buttercream.
Recipe Variations
Another bonus for this vanilla buttercream recipe is that it can easily be doctored to complement the type of cake that you are making
For instance, add mini chocolate chips for a Chocolate Chip Buttercream, add a bit of peppermint extract to make Mint Buttercream, crushed Oreos for Oreo Buttercream, or any number of fruit extracts for various fruit flavored frostings. The possibilities are endless!
**We also have a delicious Vanilla Bean Buttercream recipe which swaps out vanilla extract for Vanilla Bean Paste- it has wonderful flavor (and pretty little speckles in the frosting too!)
How to Adjust the Amount of Crusting
As I've noted in the recipe below, you can reduce the amount of sugar used in this recipe for a lighter crust. I often do this when making this recipe for cupcakes.
Another way to reduce the amount of "crust" is to use full fat. milk or cream. This won't prevent crusting (we like a little bit of a crust for decorating purposes), but it will give you a softer result than if you were using skim milk or water as your liquid.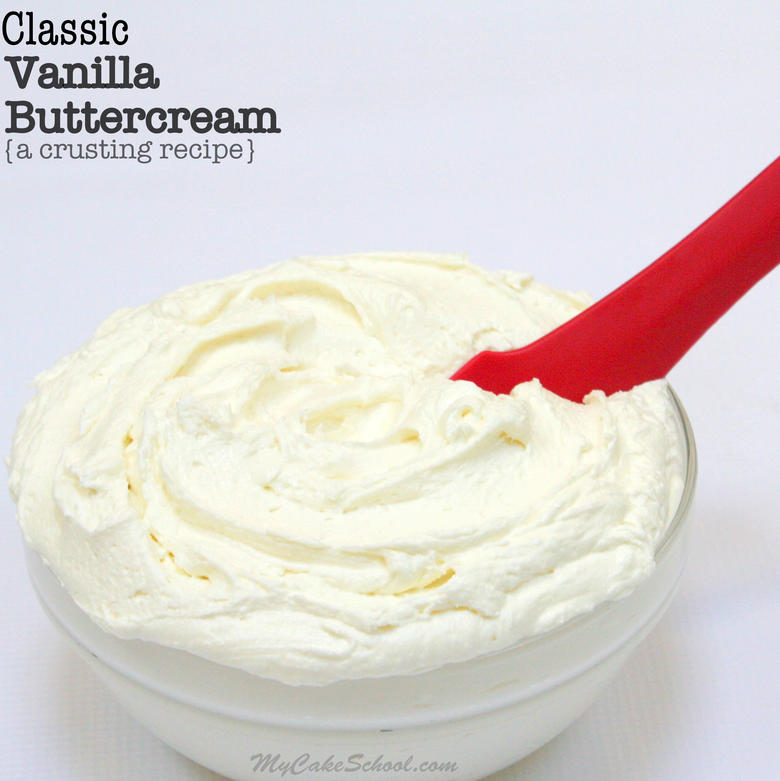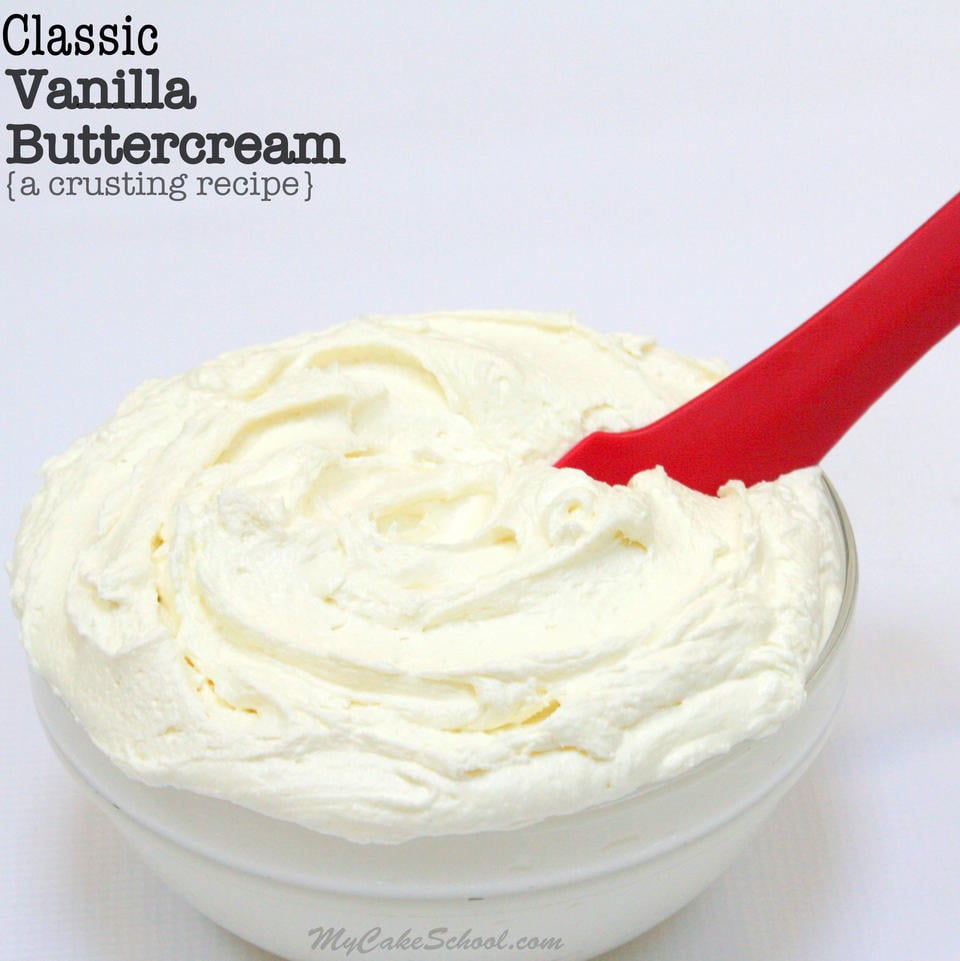 Vanilla Buttercream and Heat Considerations
Keep in mind that this is an all butter (no shortening) recipe, and so it doesn't hold up as well in hot conditions.
For hot summer days, you'll want to keep the cake or cupcakes inside until the event, or opt for a shortening-based frosting.
Just as a stick of butter will melt if placed outside on a hot day, so will buttercream ;0)
Which Frostings are more Resistant to Heat?
We have a couple of great shortening based buttercream frostings in our Recipes Section. One popular option is our Fluffy Vanilla Buttercream, which contains both butter and shortening.
Another popular recipe that is shortening based and contains no butter is our High Ratio Frosting. Just like the others, this is a crusting recipe that is great for piping!
The more shortening that your frosting contains, the lighter the color will be and the more heat resistant it becomes. You do have to rely more on extracts and flavorings when using shortening-based frostings to make up for the absence of butter. However, in times when you need a more heat resistant frosting, shortening-based is a good way to go.
This classic vanilla buttercream recipe is the one that I make most often. We hope that you enjoy it!
Is your Buttercream Gritty? It shouldn't be! Helpful Tips:
There's nothing worse than finishing a batch of buttercream only to realize that it has an unpleasant gritty consistency. In my experience, it has everything to do with the type/brand of confectioner's sugar used.
We've had great results with Domino's confectioner's sugar. Some brands of confectioner's sugar don't work as well with buttercream frosting recipes.
If a package doesn't say pure cane sugar, it contains beet sugar which is more likely to give you a grainy outcome.
In addition to that, we've noticed that even some brands that say "Pure Cane Sugar" will give a grainy consistency. One example is Dixie Crystals (although it used to work great for us several years ago.) Something has changed.
I've read that sometimes brands will use an anti-caking agent that causes grittiness, but it's hard to say. Your best bet is to do a little experimenting to find the brand that gives you the best results.
Anyway, this recipe should not be grainy, and so if it is, experiment with a different confectioners sugar.
Need Chocolate Frosting?
If you're ever in the mood for something a little chocolatey (which is me, always) then save a copy of our Classic Chocolate Buttercream also!
Just as with today's classic vanilla buttercream, this chocolate frosting recipe is butter-based, silky smooth, and perfect for piping! You can find it here: Classic Chocolate Buttercream Frosting: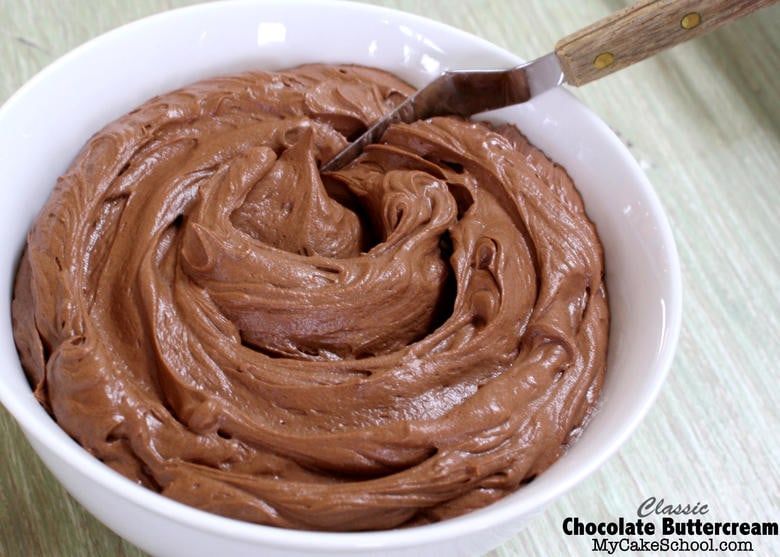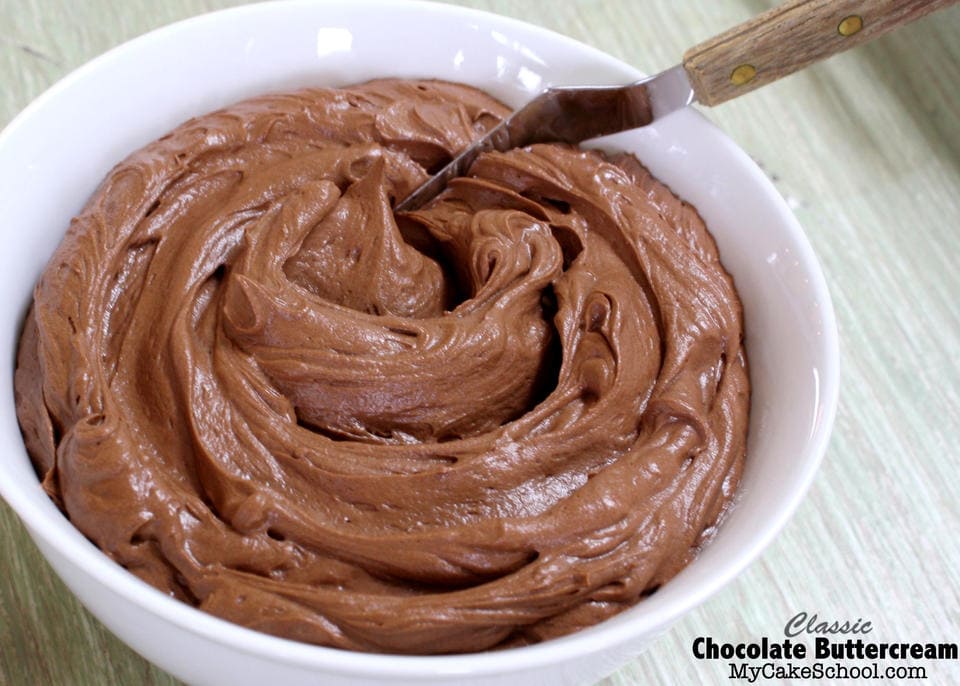 You can never have too many options when it comes to frosting recipes! I hope you'll give this one a try. Make sure to stop by our Recipes Section for all of our favorite cakes, cupcakes, frostings, and fillings!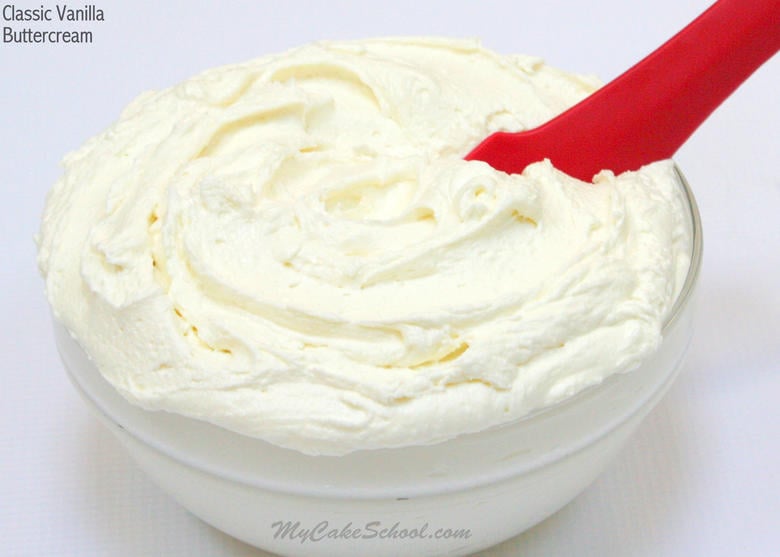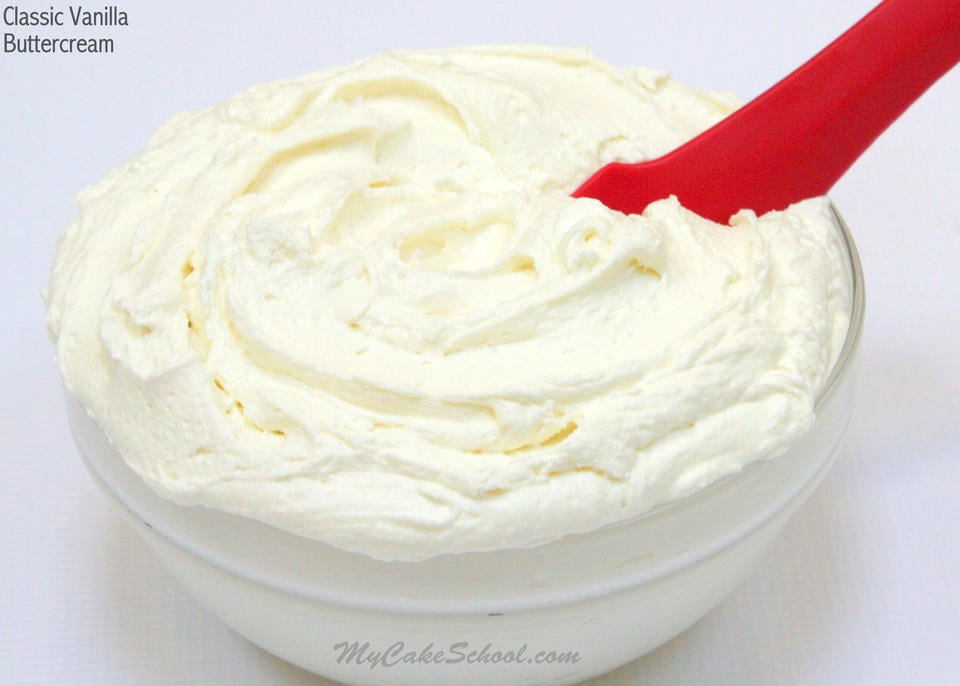 Classic Vanilla Buttercream- A Crusting Buttercream Recipe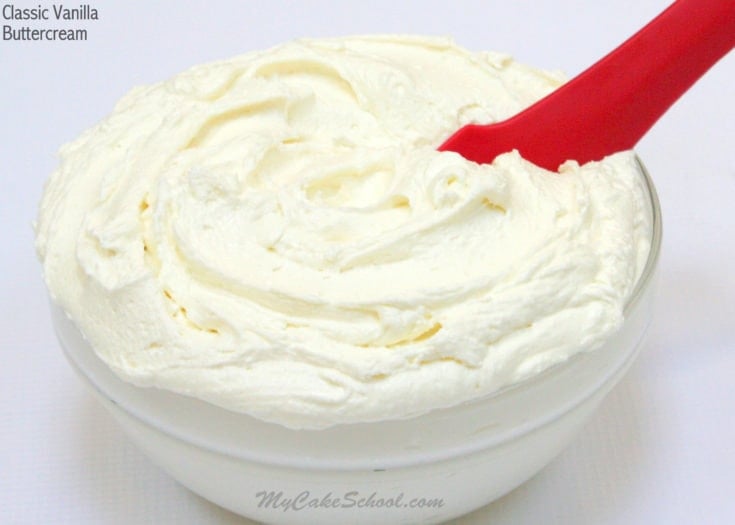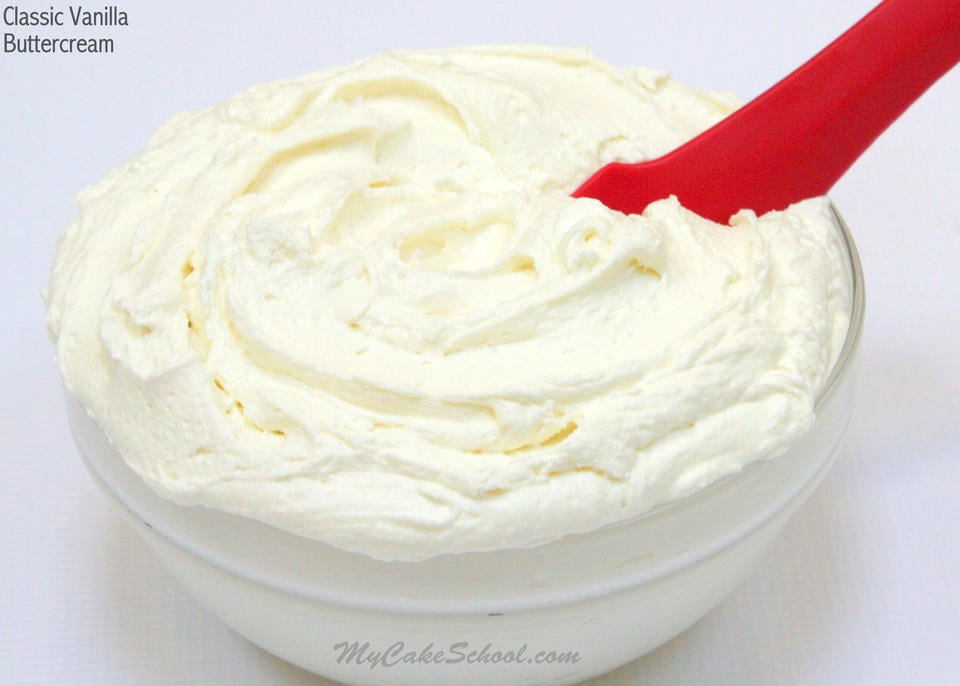 This easy, delicious Vanilla Buttercream Recipe is so versatile! It is a wonderful recipe that develops a light crust.
Ingredients
2 sticks (226g) unsalted butter, slightly softened but cool to the touch and holding it's shape
6-7 cups (690-805 grams) powdered sugar (depending on desired consistency. More sugar=more crusting). If you prefer a frosting that crusts less, see our note at the bottom of the recipe. *see our note about brands above.
2 tsp. vanilla (8 grams), use clear imitation vanilla if you like a whiter frosting
⅓ c. (72g) milk or cream, more if needed
½ teaspoon salt (3g) (optional) to cut the sweetness (preferably fine grain or popcorn salt). Adjust to taste.
Instructions
Cream the (slightly softened) butter until smooth. Blend in the vanilla.
Add half of the powdered sugar and most of the milk. Beat at medium speed until the powdered sugar is incorporated.
Add remaining powdered sugar and milk and mix at medium speed another 3 to 4 minutes scraping the sides of the bowl occasionally. I slow down the mixer to very slow. (#2 on the Kitchenaid) for 1 to 2 minutes. This will help eliminate air pockets in the buttercream. The texture will become very smooth.
This recipe can be doubled or halved.
Yields approximately 4 ½ cups of frosting. Enough to frost a two layer 8 or 9 inch cake.
Can be frozen in air tight container for at least three months . Thaw on countertop.
If your buttercream is too thin, add more sugar. If the consistency is too thick, add a bit more milk.
Notes
**FOR A SOFTER BUTTERCREAM with a much lighter crust, I cut the amount of sugar from 6 cups to 5 cups, and adjust the amount of milk until you reach the consistency you like for piping. This lighter consistency of buttercream works great with cupcakes or cakes that don't require the Viva method of smoothing.
Recommended Products
As an Amazon Associate and member of other affiliate programs, I earn from qualifying purchases.