Today we are sharing a roundup of our favorite cake designs and recipes that would be perfect for bridal showers as well as engagement parties!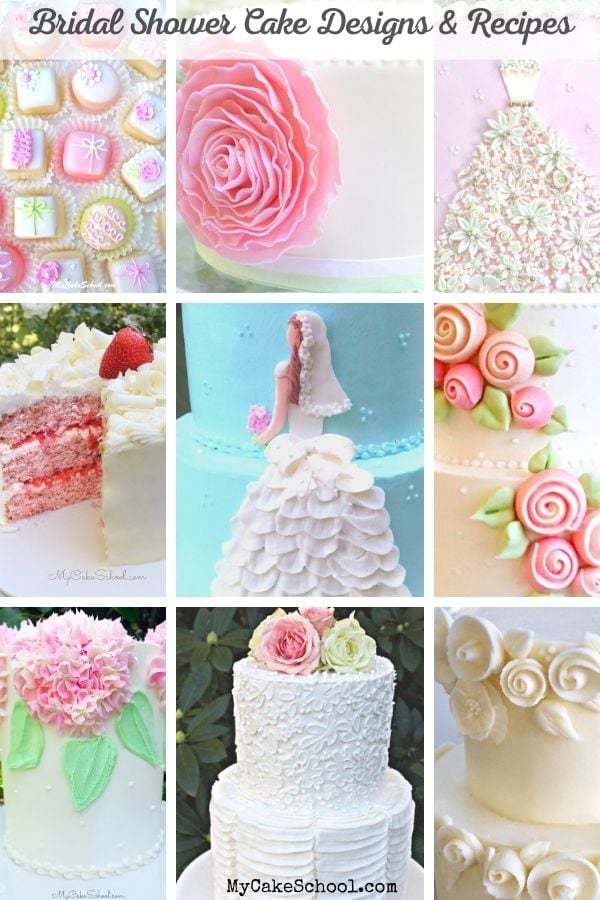 A Roundup of Bridal Shower Cakes & Delicious Recipes!
In this roundup, you will find cakes featuring bridal gowns, couples, silhouettes, and elegant floral cakes- there is something for everyone!
Some of these featured cakes are from our free tutorials section, and others are from our Member Section. We hope that you find a design idea that you would like to try!
As for our recipes, we have so many more options in our Recipes Section, but today I'm featuring a few favorites for showers. Enjoy scrolling through!
Bridal Shower Cake Ideas
Sharing favorite cake designs and cake recipes that would be perfect for bridal showers and engagement parties!
Sharing our Best Cake Tutorials and Cake Recipes!
Don't miss our Free Cake Tutorials Section (including our Free Cake Videos) as well as our full collection of Favorite Cake and Frosting Recipes!
For even more cake decorating tutorials, you should consider becoming a member of My Cake School!
You'll have access to hundreds of cake video tutorials (every tutorial that we've ever made) for as long as you are a member! Find all of the details here: Joining Information for MyCakeSchool.com