Today we're sharing a new scratch Vanilla Bean Cake recipe that we just love!
This layer cake is moist, has wonderful flavor, and would taste fantastic with so many fillings and frostings, from Chocolate Buttercream to Lemon Buttercream and more! However, today we are staying consistent with a lovely vanilla bean buttercream.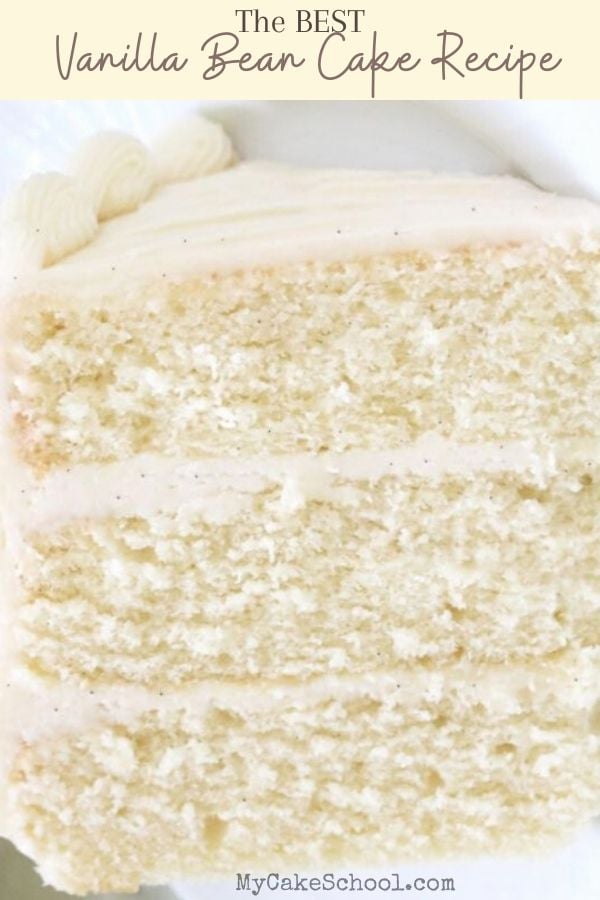 What is the Difference between this Cake and our Vanilla Buttermilk Cake?
We love the Vanilla Bean Cake as well as our popular Vanilla Buttermilk Cake. This Vanilla Bean Cake has a tighter crumb and is slightly more dense. The Vanilla Buttermilk Cake is fluffier. Both are very moist and flavorful! It boils down to your personal preference of texture!
We also have a wonderful Vanilla Velvet Cake which is very moist with a tight crumb, and slightly richer thanks to the cream cheese in the cake batter. There are so many great options for scratch vanilla cakes!
What Makes a Vanilla Cake Different from a White Cake?
We have many delicious cakes in our recipes section that are flavored with vanilla, including our White Almond Sour Cream Cake, White Cake, and Vanilla Buttermilk Cake.
While white cake recipes often call for a little vanilla flavoring, a true white cake doesn't contain egg yolks in an effort to keep the cake light extra light in color.
In addition, the whitest of white cake recipes call for using clear vanilla rather than natural, and sometimes use shortening in place of butter to keep the color especially light.
This Vanilla Bean Cake wouldn't be considered a true white cake as it contains whole eggs as well as a good amount of real vanilla (in this case, vanilla bean paste).
The richness from butter and whole eggs, coupled with the moistness from the sour cream in the recipe, and more than a tablespoon of vanilla makes this cake a stand-out!
It is moist and flavorful, but also sturdy enough that it can withstand the additional weight of fondant if your design calls for it. It's an all-around great recipe and we hope that you enjoy it!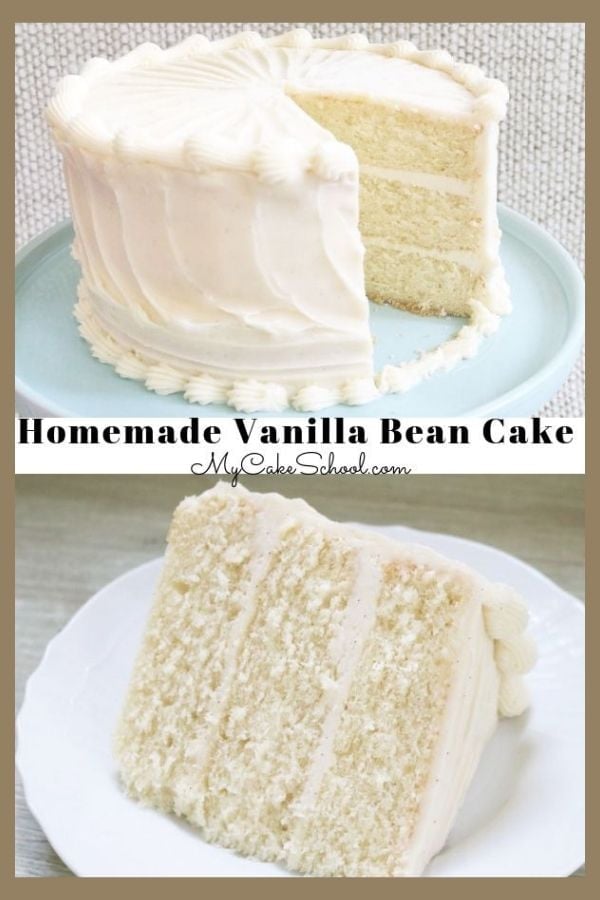 What is Vanilla Bean Paste?
In this recipe, I used Vanilla Bean Paste. Have you used it before? Vanilla bean paste, which depending on the brand, will be sold in bottles or tubes, is not a paste at all. It's more the consistency of syrup (and the flavor is amazing).
Vanilla bean paste is a happy medium between using vanilla extract and vanilla bean pods.
It gives you the convenience of a vanilla extract, but it also contains the vanilla been seeds from the pod without any of the work! Those little vanilla bean flecks lend a richness of flavor and I love the look of the vanilla speckles in the cake and frosting.
Can You Substitute Vanilla Extract for Vanilla Bean Paste?
Yes you can! Vanilla Bean Paste and Vanilla Extract can be used interchangeably.
For this recipe, you can use the same amount of vanilla extract instead, or for your other recipes that contain vanilla extract, you can swap in vanilla bean paste for something a little different.
Using Vanilla Bean Pods instead?
The most common formula that I have seen for using scraped-out Vanilla Bean Pods instead of Vanilla Bean Paste or Vanilla Extract is that 1 teaspoon of vanilla extract is equal to one 2-inch piece of vanilla bean.
So, the typical vanilla bean pod would give you the equivalent of 3-4 teaspoons of vanilla extract. As with anything, taste and adjust to your liking.
Enjoy the Recipe!
Thanks so much for stopping by! If you give this vanilla bean cake a try, we would love for you to leave a comment and photo below.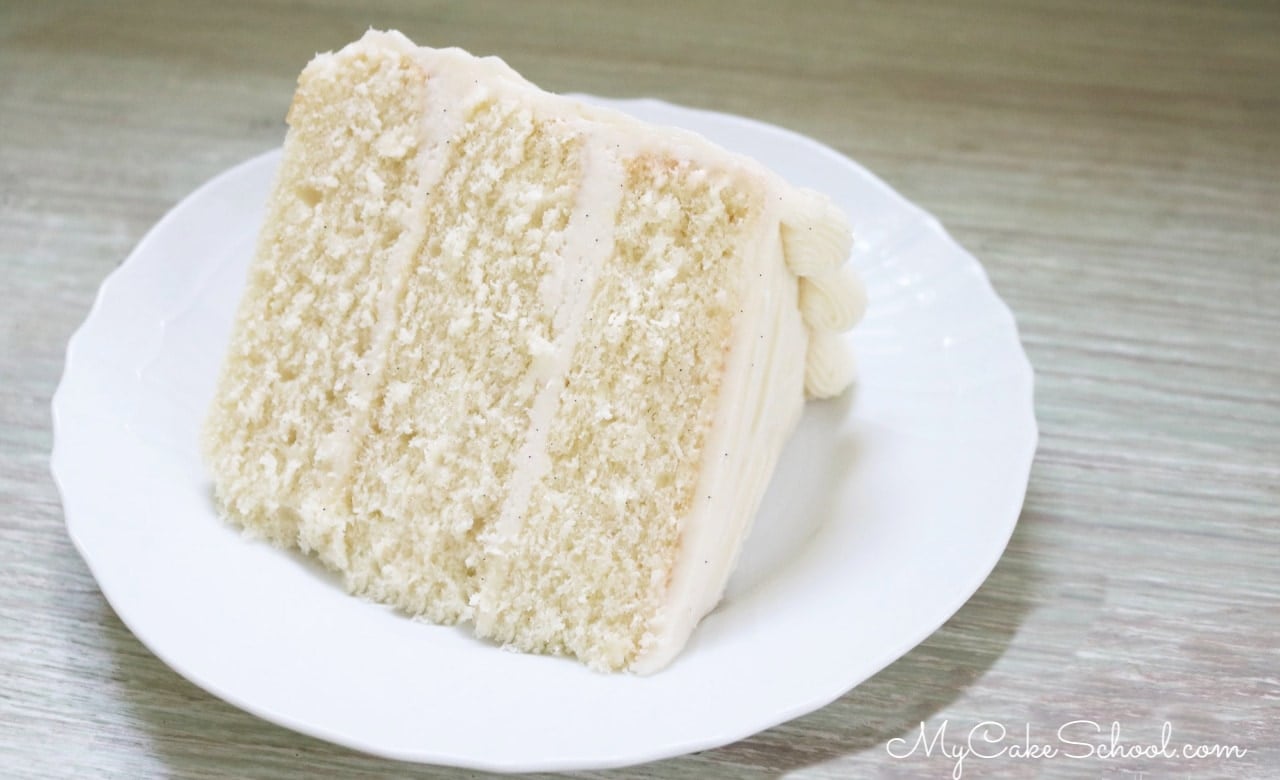 Vanilla Bean Cake Recipe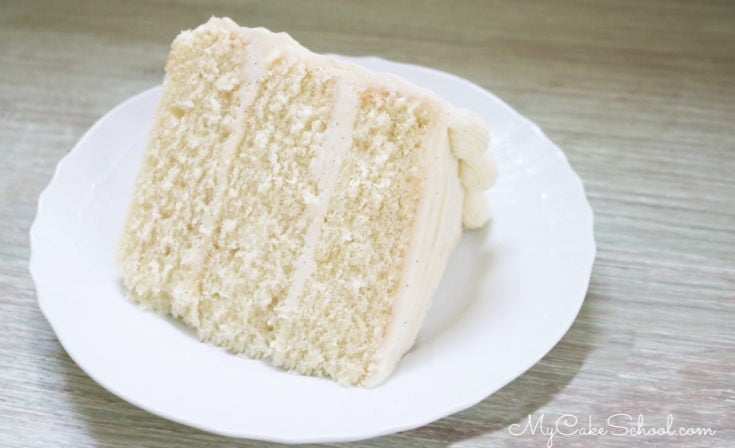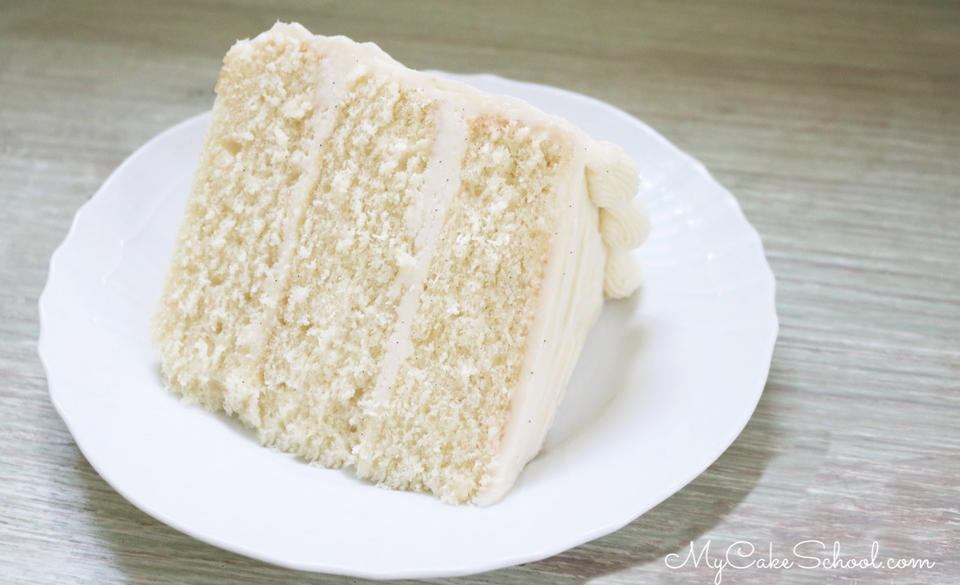 Moist and Delicious Vanilla Bean Cake recipe!
Ingredients
For the Vanilla Bean Cake
2 Sticks (226 g) unsalted butter, slightly softened
2 cups (400 g) sugar
3 large eggs, room temperature (you can add to warm water to bring to room temp)
1 cup (242 g) sour cream (we use full fat)
⅓ cup (81g) milk (we use whole milk)
1 Tablespoon plus 2 teaspoons Vanilla Bean Paste (you can substitute vanilla extract if you like)
3 cups (342 g) cake flour *See substitution below
3 teaspoons (12g) baking powder
½ teaspoon (4g) salt
For the Vanilla Bean Buttercream
3 sticks (354g) unsalted butter
9 cups (1035g) powdered sugar
3 teaspoons (12 g) vanilla bean paste (adjust amount to your liking)
½ to 1 teaspoon salt (optional to cut sweetness)
¼ cup (60g) milk (adjust based on desired consistency)
Instructions
For the Cake Layers
Preheat the oven to 350 degrees, grease and flour three 8 inch x 2 inch round cake pans. (You could use 2 cake pans for slightly thicker layers if you would rather, but we like the additional layer filling.)
In a medium sized bowl, add the flour, baking powder, and salt. Whisk to blend for 30 seconds. Set aside.
In another bowl or measuring cup, combine the sour cream, milk and vanilla
In the bowl of your mixer, beat the softened butter until smooth. Gradually add the sugar and beat on medium speed for 3-5 minutes until fluffy and lightened in color.
Add the eggs one at a time, mixing until the yellow of the yolk disappears.
Add the flour mixture and the sour cream mixture alternately, beginning and ending with the flour mixture (3 additions of dry ingredients, 2 of wet).
Mix until combined and smooth, do not mix above medium speed or over-mix.
Bake at 350 degrees for 25-28 minutes or until a toothpick inserted into the center comes out clean or with just a few crumbs attached. Let the cakes cool 5-10 minutes, then turn out.
Makes 7 cups batter. The recipe works well for cupcakes.
For the Vanilla Bean Buttercream
Cream the softened butter until smooth. Blend in the vanilla.
Add half of the powdered sugar and most of the milk. Beat at medium speed until the powdered sugar is incorporated.
Add remaining powdered sugar and milk and mix at medium speed another 3 to 4 minutes scraping the sides of the bowl occasionally. I slow down the mixer to very slow. (#2 on the Kitchenaid) for 1 to 2 minutes. This will help eliminate air pockets in the buttercream. The texture will become very smooth.
Makes approximately 6 cups of frosting.
Notes
Substitution for Cake Flour: If you have no cake flour, here is a substitution: For each cup of flour in a recipe, remove 2 Tablespoons of flour and replace with 2 Tablespoons cornstarch (cornflour in the UK). This recipe has 3 cups of flour so you will measure out 3 cups of all purpose flour, remove 6 Tablespoons and replace with 6 Tablespoons cornstarch, whisk to blend.