Naked Cake with Scrollwork
Today, I'm going to demonstrate a beautiful naked cake with scrollwork!
This unique cake is sure to be a favorite, whether you are making it for a birthday cake, bridal shower, or wedding!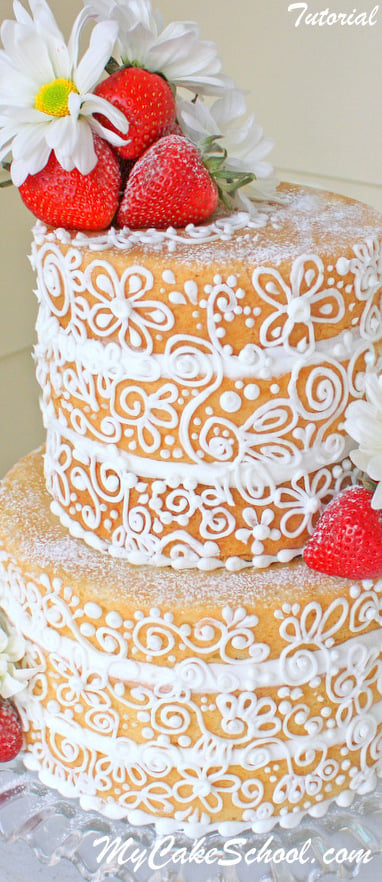 Naked Cakes
I love the rustic feel and simplicity of a "naked" (unfrosted) cake. Cake layers are sandwiched between layers of frosting or filling, and adorned with natural decorations like fruit, flowers, and perhaps a dusting of powdered sugar.
The result is a cake that is surprisingly beautiful, and couldn't be simpler to assemble.
Semi-Dressed Cake
What is unique about this tutorial is that our cake is not completely "naked". We discuss the basics of applying a glaze and assembly, but we've added an unexpected twist -- buttercream scrollwork.
I think that the effect works very well, much like the idea of a burlap and lace cake. It retains the rustic feel that the unfrosted layers provide, but somehow the elegant piping doesn't feel out of place. It works well, and I hope that you find the final look as charming as we do!
You can find other versions of "semi-naked" cakes further down in this post.
Materials:
Any cake would work well for this design, but we used the White Almond Sour Cream (doctored mix) cake. We have a three layer 8 inch tier, and three layer 6 inch.
We used the fluffy vanilla buttercream frosting recipe for our filling and scrollwork. Use whatever frosting you'd like! Our Classic Vanilla Buttercream is a great choice also.
Piping Tips: I used a Wilton tip 2 for my scrollwork. (Tip 3 would work well also and you may find that the slightly easier tip it is easier on your hands!)
Support: Use your usual supports of choice for a tiered cake. I used a cardboard cake circle beneath each tier and also 4 bubble tea straws in my bottom tier to support the top tier. Base or pedestal of choice.
Viva paper towels: Optional. I used the towels to smooth down my crusting buttercream before piping.
GELATIN GLAZE:
You may want to experiment with other glazes, but we were happy with the glaze that we made with gelatin and water. This glaze is easy to apply (with a pastry brush), and dries quickly also. It leaves a very faint shine after setting.
1 tsp. unflavored (clear) gelatin (We used Knox brand)
½ c. boiling water
1 teaspoon sugar
Stir gelatin into hot water, add sugar. You can chill in the refrigerator to thicken, but we added two ice cubes and stirred until thickened (does not take long!). Once at a soft set state, it's ready to brush over your cakes to help preserve the moisture of your unfrosted layers. (We glazed before assembling our tiers.)
**Update: Here's another glaze option for you. For our Alphabet Cake linked at the bottom of this page, we used a Sugar Glaze with good results also. We've only tried it on pound cake layers though...you may want to do a patch test on darker cake layers to make sure it goes on clear.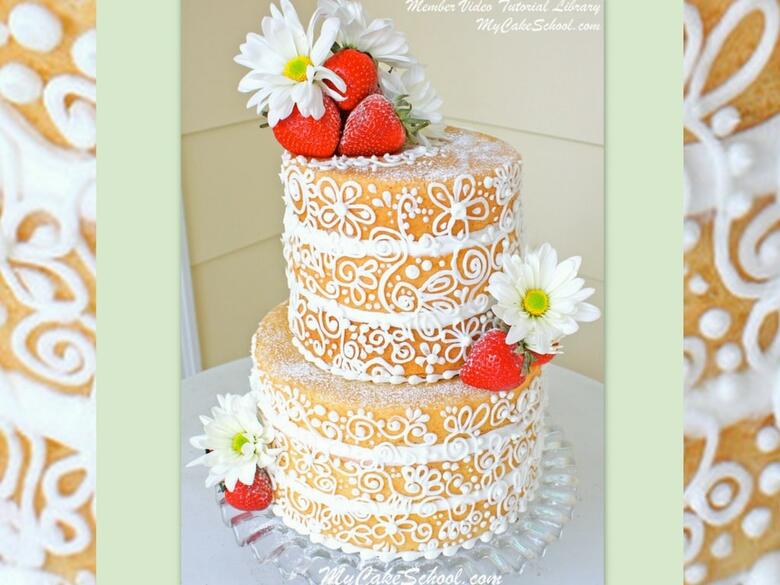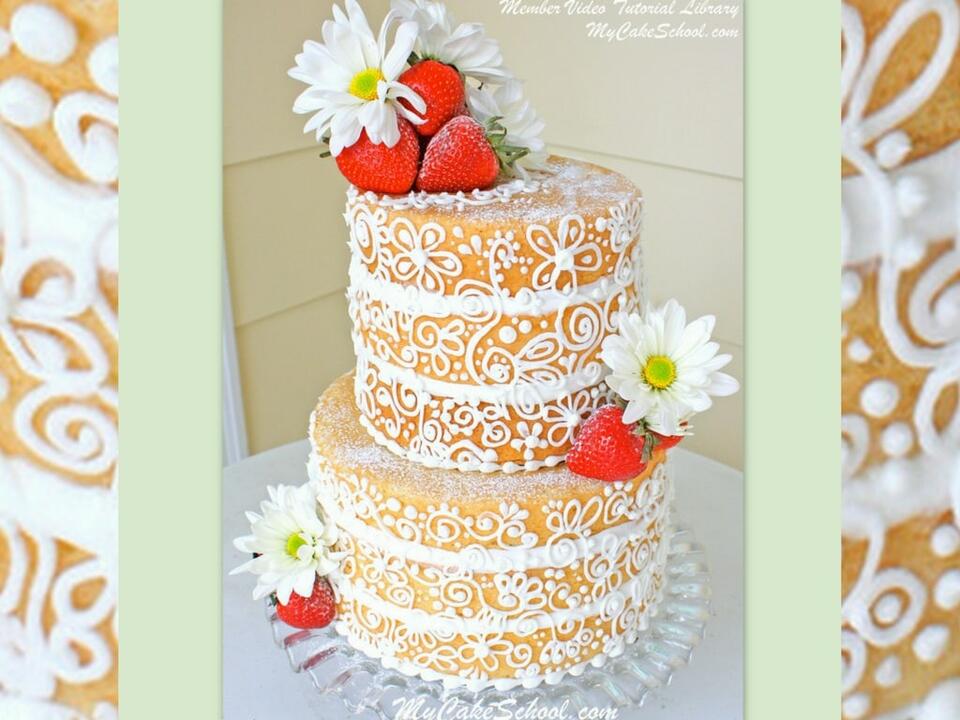 Notes: Naked Cake with Scrollwork
The options are endless when it comes to naked (and "semi dressed") cakes! You may find it helpful to look online for additional "naked cake" ideas. Another option for naked cakes is to tint your cake batter--I've even seen ombre tinted layers. So many ideas, so little time! ;0) --
I mentioned in the video that it is probably best to assemble/decorate your naked cakes no more than 24 hours from the time of the event since the cake layers don't have the added layer of frosting or fondant to keep them moist.
However, we sliced and tried this cake after it sat (decorated) in the refrigerator for 3 days and it was not dried out. I attribute this to the gelatin glaze that we brushed over the layers. While I still wouldn't recommend assembling the cake far in advance, but for our little experiment, the glaze did seem to work well.
More Naked Cake Tutorials!
We have a couple of related cake tutorials that you may be interested, featuring "almost naked" cakes!
Here is a beautiful Semi-Naked Red Velvet Cake with cream cheese frosting that we created for an elegant look with a rustic feel.
The difference with semi-naked cakes and the cake that we created in today's tutorial is that no glaze is needed.
The frosting in the semi-naked cake is applied all over the cake, but so thinly that it is see through. This protects the cake layers from drying out and also lends a very rustic feel.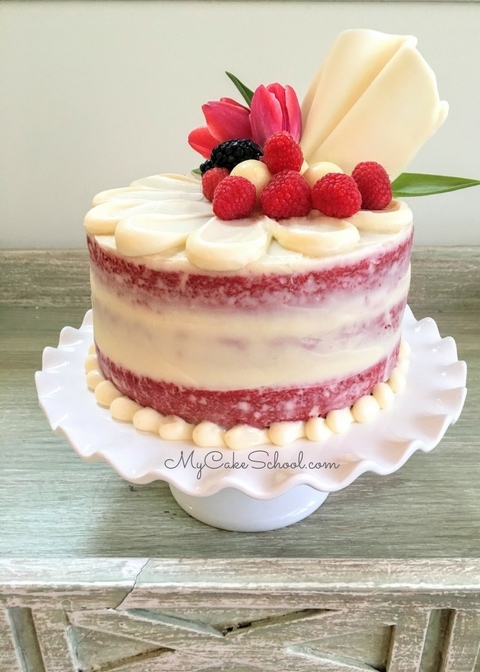 We've also created this trendy Alphabet Cake, filled and topped with a whipped cream cheese frosting (and glazed around the sides with a transparent sugar glaze).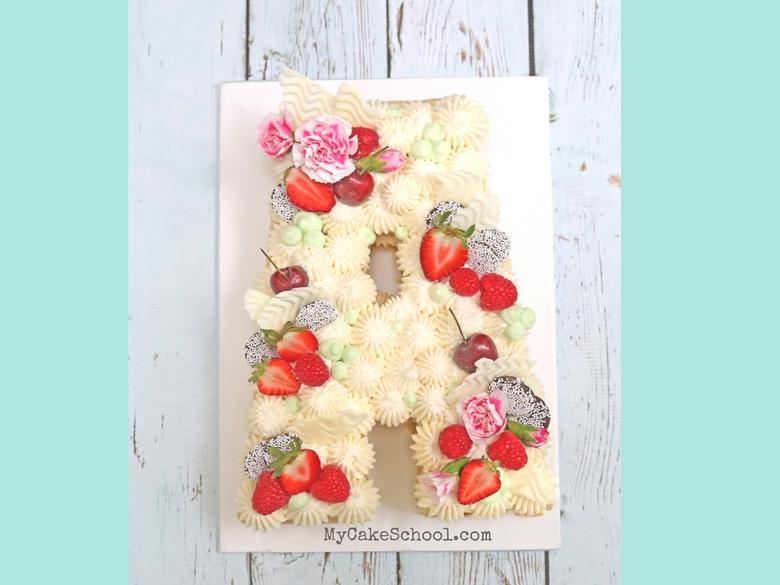 ENJOY THE VIDEO!
We hope that you enjoy this tutorial. If you give our naked cake a try, we would love for you to leave a comment and photo below.