In this video tutorial, I'm going to show you how to create a beautiful tiered wedding dress cake which would be perfect for bridal showers!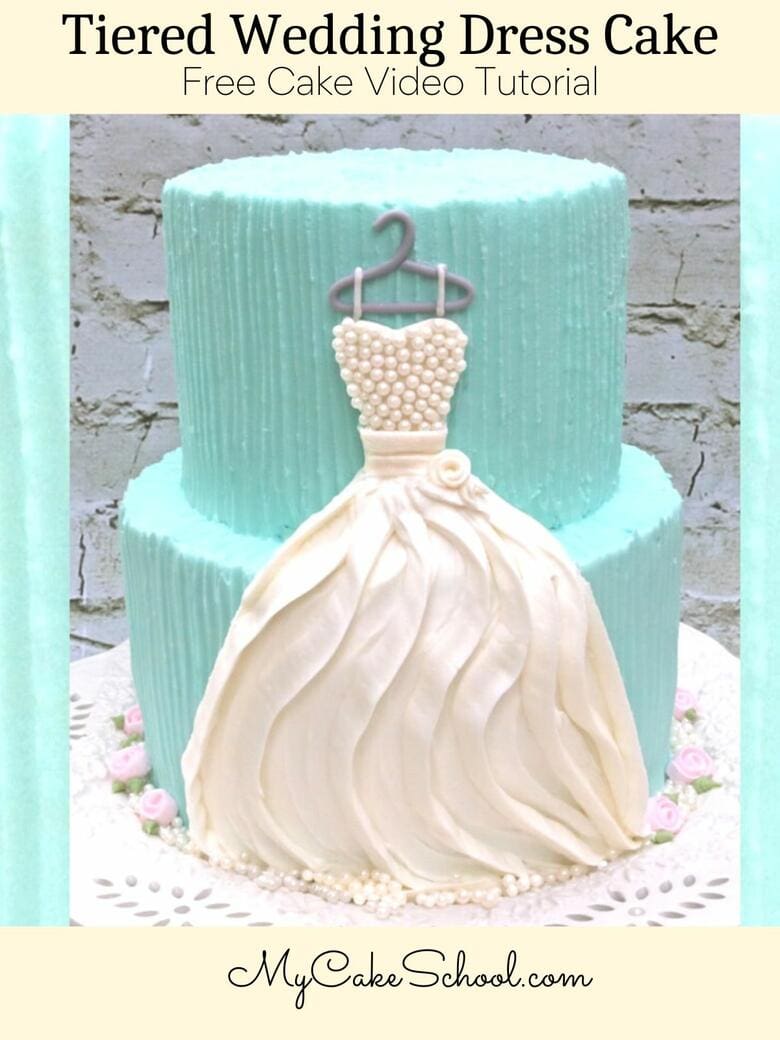 This impressive cake is surprisingly simple to create, and when it comes to the wedding dress design, the options are endless!
You can recreate our elegant wavy vertical ruffles, or opt for fluffy buttercream rosettes or even delicate horizontal ruffles.
In addition, this cake design could easily be recreated onto sheet cakes or tall double barrel cakes as well. Enjoy the video!
Materials for Wedding Dress Cake:
In this video, we decorated 8 inch and 6 inch tiers. Each were on their own cardboard cake circles cut down to the size of the cake, and frosted in our Fluffy Vanilla Buttercream frosting recipe.
Fondant (we added a small amount of tylose powder to ours to make it firmer) for the hanger & bodice.
Template for Bodice (you can easy make your own but this is what we used!)
Sugar Pearls for bodice and border
Piping Tips: 104 for ruffles, 102 for ribbon roses, 3 for straps and leaves, 12 for outlining and filling in the dress.
Small angled spatula for creating the vertical ridges
We used a Clay Extruder for our hanger (you can improvise by rolling a thin snake of fondant)
Coloring Gels: We used a touch of Americolor Super Black for our grey hanger, Deep Pink & Avocado Green for our ribbon roses, and Teal for tinting the frosting for our tiers.
Rose Nail and squares of waxed paper for the ribbon roses
Miscellaneous: Piping Gel for "glue", Cardboard Cake Circles, Supports (We used 4 bubble tea straws cut to the height of the bottom tier beneath our 6 inch tier), Small paintbrush for applying piping gel, knife or xacto, turntable is helpful, your cake base/pedestal of choice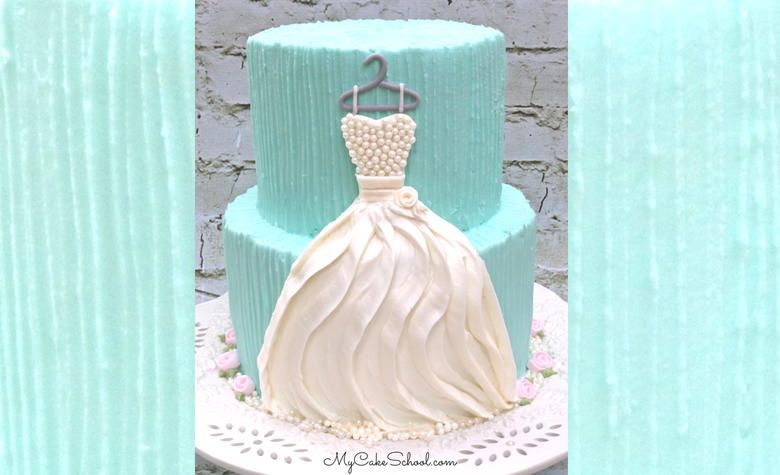 More Wedding Dress Cakes!
Looking for more cake ideas? We have a few more wedding dress cake designs to share with you! Any of these free cake tutorials would be perfect for bridal showers! We also have a fun roundup of Favorite Bridal Shower Cakes!
Here is a wedding dress cake that we made several years ago, but I still love the look! This is from our member section also, you can find it here!: Wedding Dress Cake Video Tutorial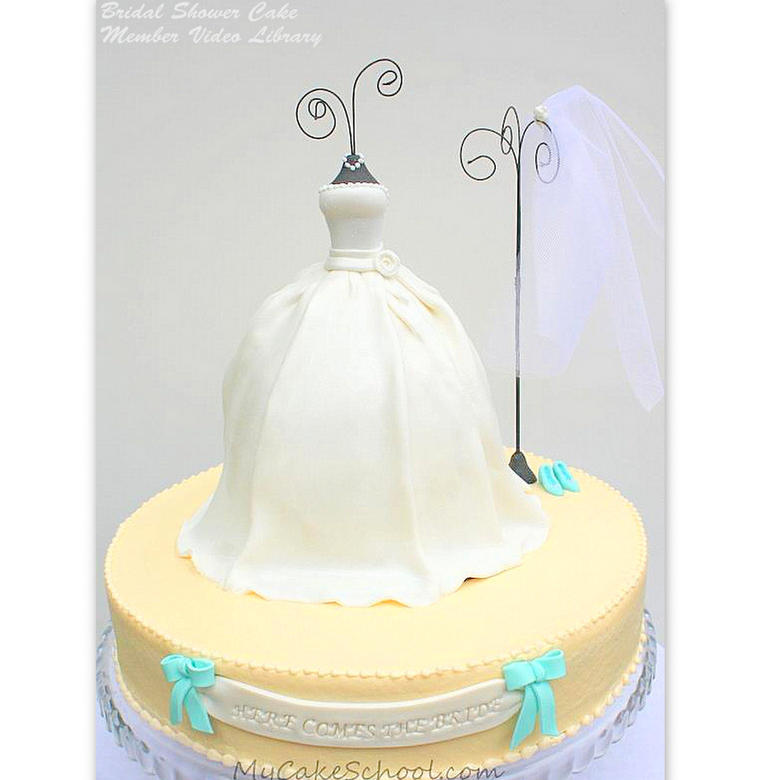 Here is a bridal shower cake from our free tutorial section: Bridal Shower Wedding Dress Cake Tutorial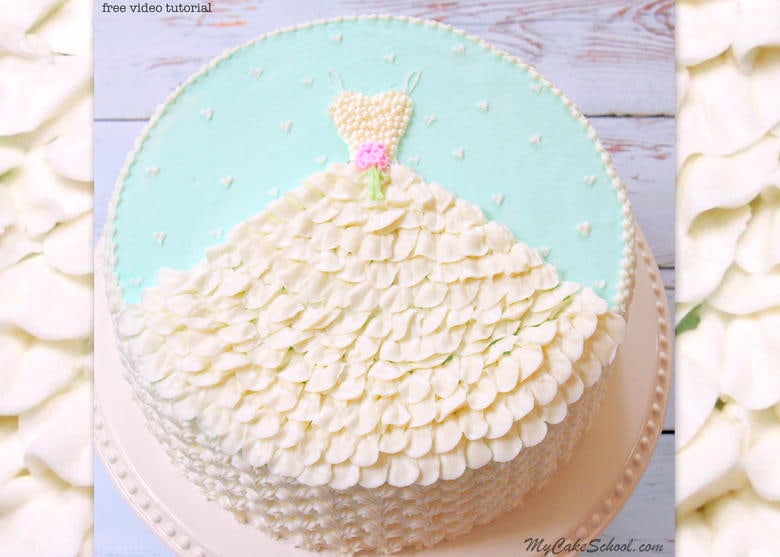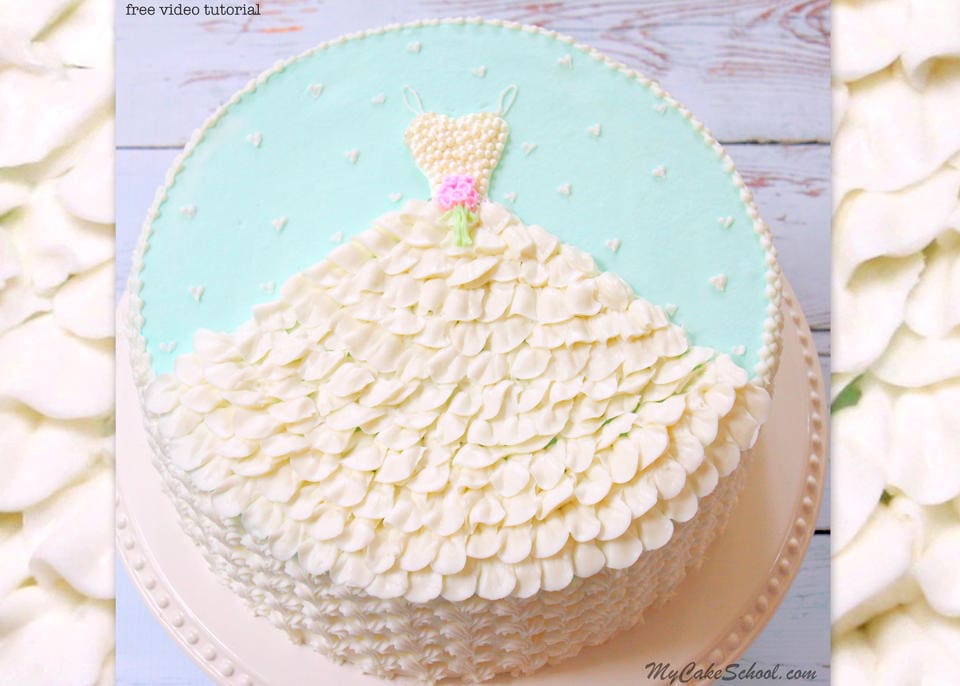 Floral Wedding Dress Sheet Cake - This beautiful cake idea is perfect for bridal showers and is so easy to make with delicate fondant flowers.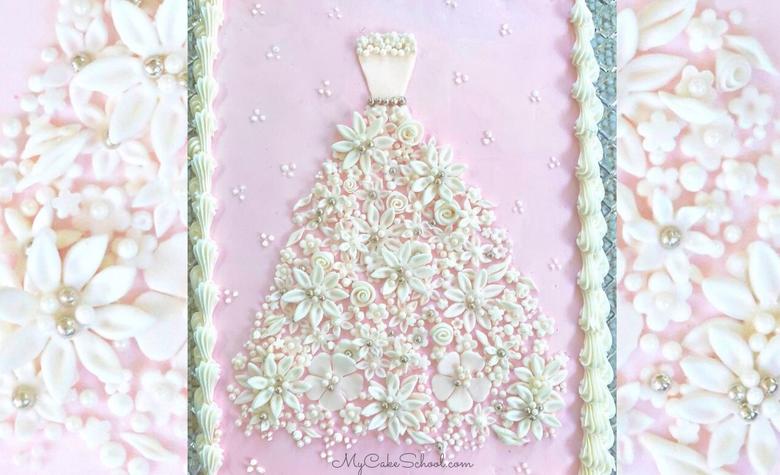 Enjoy the Video!
Thanks so much for stopping by! If you give this cake design a try, we would love for you to leave a photo and comment below!