This Vanilla Buttermilk Cake Recipe from scratch is so moist, flavorful, and versatile!
Sometimes I just crave a slice of good old fashioned vanilla cake, don't you?
This is a great recipe to have on hand as it can be dressed up or paired with just about any filling or frosting you can think of! After all, everything goes with vanilla cake!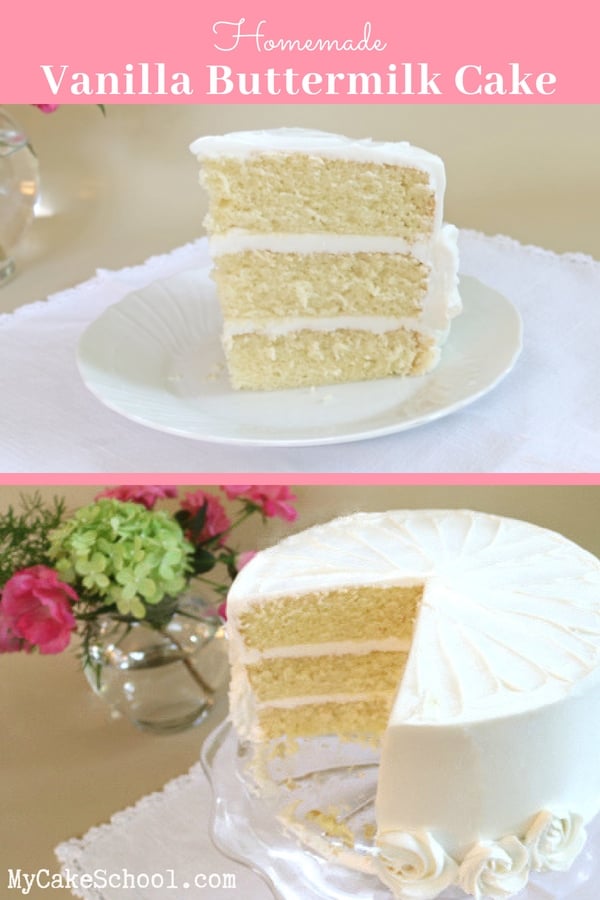 How to make the BEST Vanilla Buttermilk Cake
We are using the traditional method of mixing for this recipe (rather than the Reverse Creaming Method), which makes for fluffy, flavorful cake layers (or cupcakes)!
Start off by whisking together the cake flour, baking soda, and baking powder and salt for 30 seconds so that everything is well combined.
In another bowl, add your buttermilk, vegetable oil, and vanilla extract.
I love recipes with buttermilk not only for the hint of tanginess, but also because it's acidity interferes with gluten formation, yielding a softer, more tender cake.
We've added a tablespoon of vanilla extract to the recipe to ensure that we have plenty of vanilla flavor. You can't skimp on the vanilla in a vanilla cake!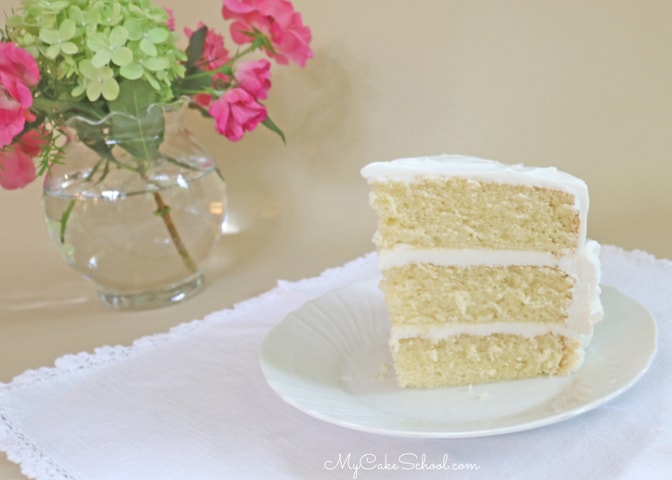 Next, let's add some buttery goodness. Mix the butter until nice and smooth, then add your sugar for 3-5 minutes until it lightens and becomes fluffy! Although our recipe also calls for vegetable oil which is wonderful for the moistness of the cake, I love the boost of flavor that the butter gives us. Next, add the room temperature eggs one at a time.
Almost done! With the mixer on low speed, alternately add the flour mixture and buttermilk mixture, beginning and ending with the dry ingredients. After the last addition, mix just until the batter is combined. Be careful not to over-mix (as the texture of the cake will not be as nice).
Once ready, divide the luscious vanilla cake batter between three prepared 8 inch cake pans. You could make two thick cake layers if you would rather, you'll just need to bake them a bit longer.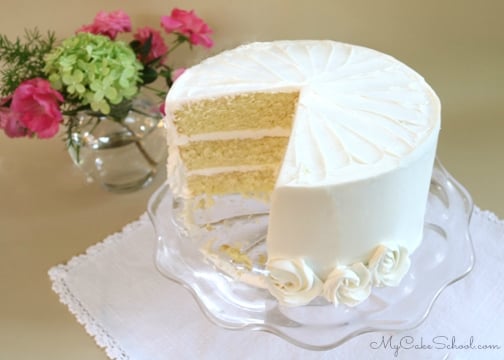 Can the Vanilla Buttermilk Layers be Frozen?

We love to freeze our cake layers to maximize the moistness of the cake!
Cool your freshly baked cake layers (still in the pan) on the cooling rack for about 10 minutes, and then flip them onto cake boards, individually wrap the warm cake layers tightly with plastic wrap, foil, and freeze!

When ready to use, thaw on the countertop still wrapped, until condensation forms on the wrapping. Then unwrap and decorate!
(I often begin assembling and filling my cake layers while the layers are partially frozen. They are less fragile this way.)
Does Buttermilk Change the Flavor of the Cake?

No, buttermilk doesn't change the flavor of this cake. It simply tastes like a delicious vanilla cake!
Why do You Put Buttermilk in a Cake?

We love adding buttermilk to cakes as it adds richness and makes for a wonderful texture. The acidity of the buttermilk softens the strands of gluten, which makes for a moist, tender cake. Many of our favorite cakes call for buttermilk!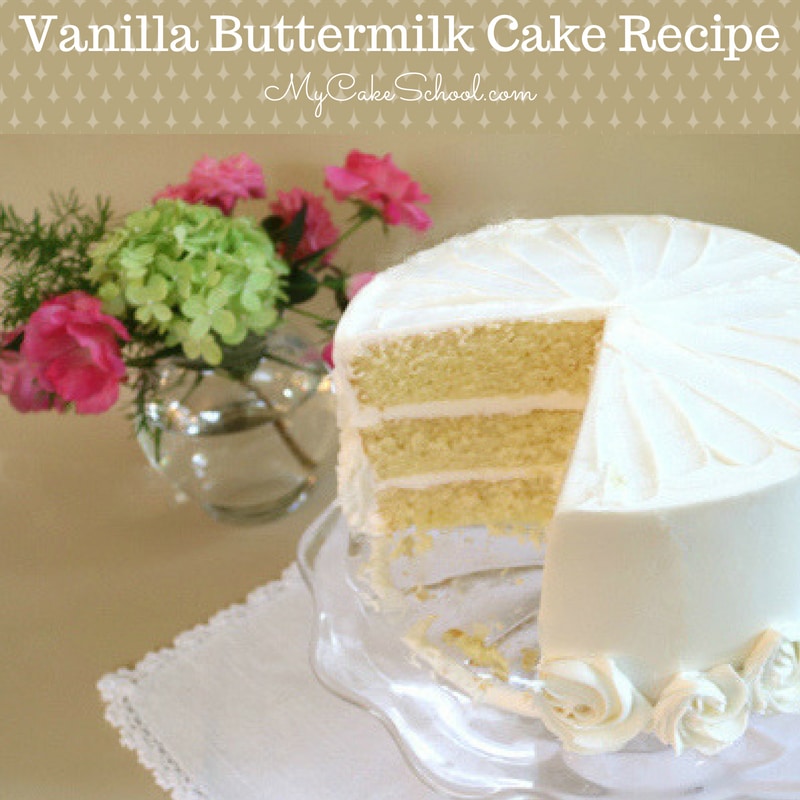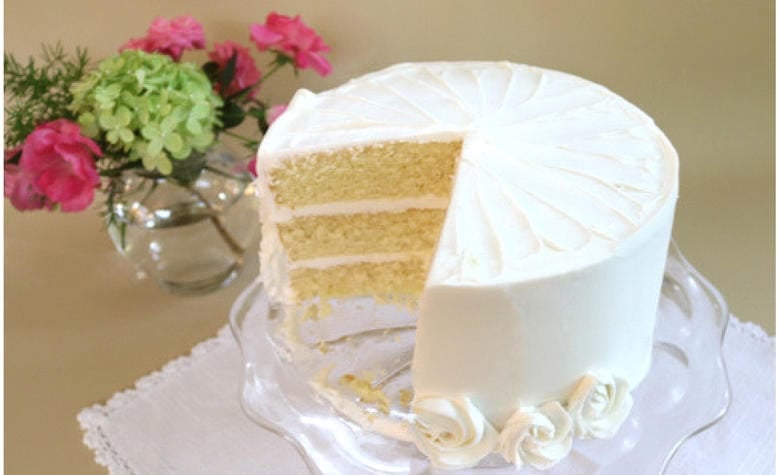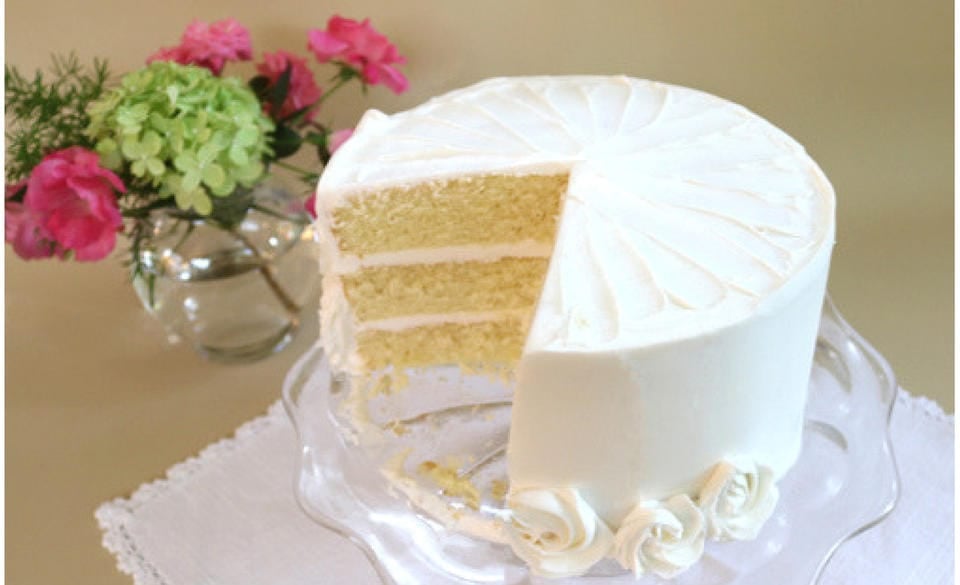 Other White and Vanilla Cake Recipes that You will Love!
In addition to our gluten free version of this recipe (Gluten Free Vanilla Cake), we have more delicious vanilla & white cake recipes to share with you!
Enjoy the Recipe!
We hope that you enjoy this homemade vanilla buttermilk cake! If you give it a try, we would love for you to leave a comment and photo below!
Don't miss our full collection of favorite cake and frosting recipes in our Recipes Section! If you are interested in learning more about cake decorating, definitely check out our huge collection of Free Cake Decorating Tutorials !
Vanilla Buttermilk Cake Recipe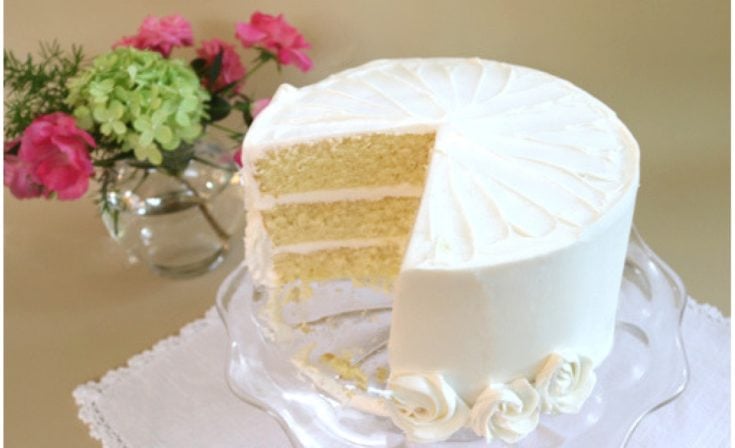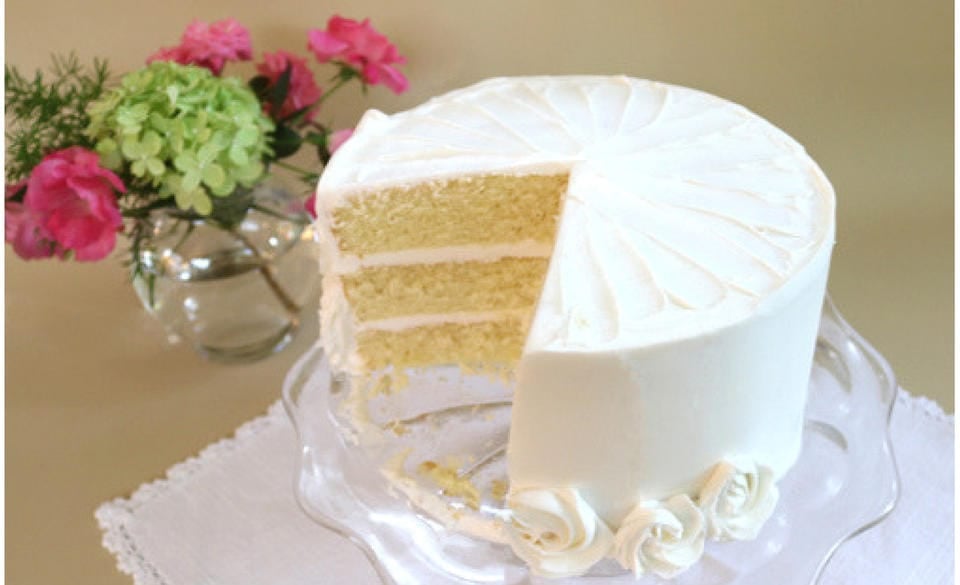 This Vanilla Buttermilk Layer Cake is so moist and flavorful!
Ingredients
Vanilla Buttermilk Cake Recipe
1 ½ sticks (170g) unsalted butter, softened ( holds it shape but dents when pressed)
2 cups (400g) sugar
4 large eggs
3 cups (342g) cake flour (spooned into measuring cup and leveled off) If you do not have cake flour see substitution in Notes below.
2 teaspoons (8g) baking powder
½ teaspoon (3g) baking soda
½ teaspoon (3g) salt
1 ¼ cups (296g) buttermilk — if you do not have buttermilk, see substitution below
¼ cup (54g) vegetable oil
1 Tablespoon (12g) vanilla extract
Instructions
Preheat the oven to 350 degrees, grease and flour three 8×2 inch round pans.
In a medium bowl, whisk the flour, baking powder, baking soda and salt for 30 seconds. Set aside
In another bowl, add the buttermilk, oil and vanilla. Set aside..
In the bowl of your mixer, add the butter and mix at medium speed until smooth. Gradually add the sugar and continue to mix on medium speed for 3 to 5 minutes until lightened in color and fluffy. Add the eggs one at a time mixing until the yellow of the yolk disappears.
With the mixer on low speed, alternately add the flour mixture and buttermilk mixture, beginning and ending with the dry ingredients (3 additions of dry ingredients and 2 of liquid). After the last addition, mix just until combined. Be careful not to over-mix.
Bake at 350 degrees for 25-30 minutes or until a toothpick inserted in the center comes out clean or with just few crumbs attached. Let cool 10 minutes and turn out.
Notes
Substitute for Buttermilk: No Buttermilk? Here is a substitution: To a measuring cup, add 1 Tablespoons vinegar or lemon juice. Add milk to the 1 ¼ mark, stir. Wait 5 minutes and it is ready to use.
Substitution for Cake Flour: Using all purpose flour (plain in UK) to make Cake Flour: For each cup of flour in a recipe, remove 2 Tablespoons of flour and replace with 2 Tablespoons cornstarch (cornflour in the UK). This recipe has 3 cups of flour so you will measure out 3 cups of all purpose flour, remove 6 Tablespoons and replace with 6 Tablespoons cornstarch, whisk to blend
Recipe makes 7 ½ cups batter