Elegant Stencil and Ruffle Cake in Buttercream
Today we are working on an elegant buttercream cake design which features ruffles as well as an elegant stencil.
This design is perfect for special occasions from birthdays to weddings, and the techniques that we will demonstrate can be applied to all sorts of cake designs.
We hope that you enjoy the video! Make sure to check out additional details and notes below!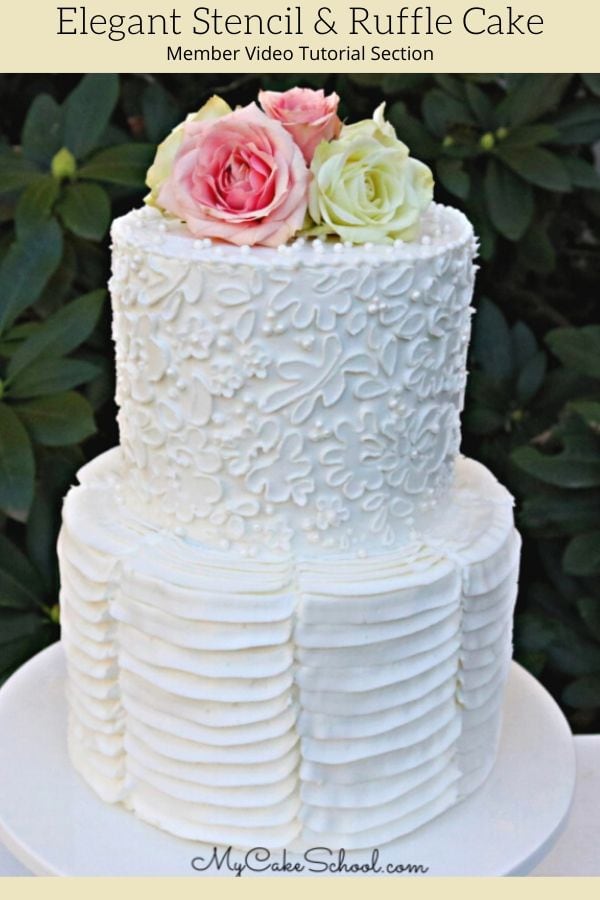 Materials for Stencil and Ruffle CAKE:
Stencil (Ours is from Evil Cake Genius but use whatever you like).
Buttercream- We used our Fluffy Vanilla Recipe but an all butter (no shortening) buttercream like our classic vanilla recipe would be a great option also because it stays firm even longer after chilling.
Small angled spatula
Bench Scraper (helpful)
Ruler or straight edge for marking lines
Parchment Paper or Waxed Paper
Masking Tape - Helpful for securing the stencil. (I found long strips that stretch from one side of the stencil to the other held better.
Piping Tip: 104 for the ruffles, tip 1 for the piped details on stenciled design, and 3 for small bead border
Cake cardboards- Each tier was resting on it's own cake cardboard cut down to size.
Cake pedestal or cake base
Bubble Tea Straws or Dowels for the bottom tier. I used 4 beneath the top tier.
Fresh roses (or you can use gum paste or buttercream instead)
Sugar Pearls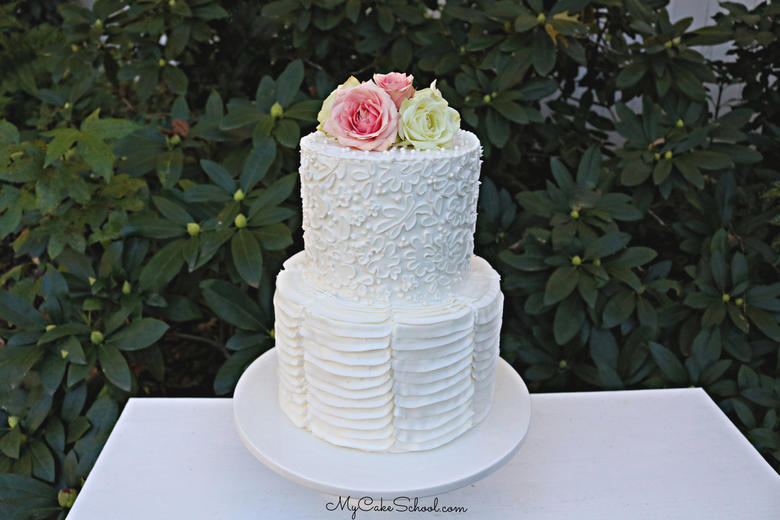 ADDITIONAL NOTES FOR STENCIL AND FLOWERS
Make sure that your buttercream has been chilled until the cake is firm before stenciling.
Depending on the type of stencil that you have, you may not have to tape it down (against parchment). My stencil would have been difficult to simply hold in place. As you prepare to stencil, it will become clear if you need to tape it down ;0) -
Roses are safe to place on the cake although I did place a waxed paper barrier beneath them and I gently washed the outer petals. I didn't use a water source as roses do well without water for several hours.
However, you can always ask a florist if you are using different flowers or are wondering about whether to use flower picks. Also, if using other flowers, check online to make sure that they are non-toxic.
Thanks so much for stopping by! We hope that you enjoy the video!