Elegant Piping and Bow- A Cake Video Tutorial
In today's video tutorial, I'm going to show you how to make a cake with elegant piping as well as a beautiful gum paste bow.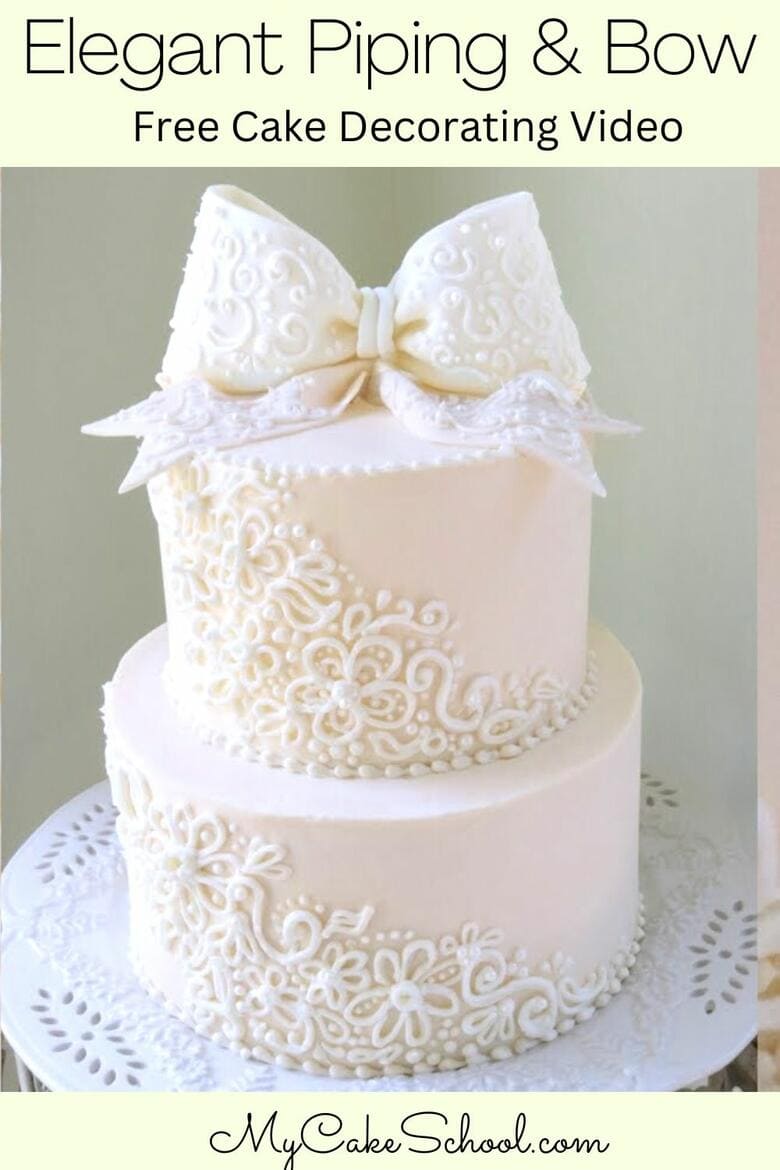 Elegant Piping for Cakes
The elegant piping for this cake has a delicate feel, which is perfect for all sorts of special occasions including weddings and bridal showers.
Although it may seem a bit intimidating to try, the piped design actually quite simple to achieve through the repetition of a few simple shapes and scrolls.
As you can see in the photo, I have a lot of simple daisy shapes, leaves, and a few scrolls here and there with lots of dots for filler.
When these buttercream details are piped so close together, they take on the look of lace.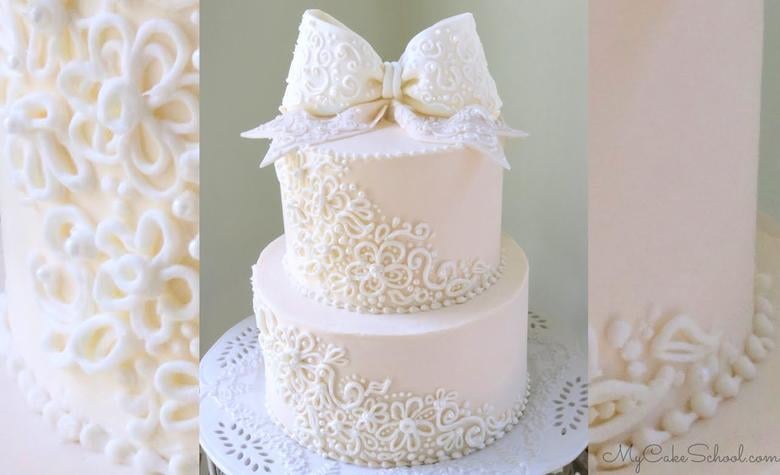 I love cakes that incorporate scrollwork and while most of our piping in today's tutorial is made up of simple flowers, dots, and leaves, it has a similar feel.
Gum Paste Bow
I really love gum paste bows also and am always excited to include them in our cake tutorials. This cake just wouldn't be the same without it!
This is the first gum paste bow that I have decorated with buttercream piping and I love the look! It goes so nicely with our cake design.
More Cake Tutorials with Gum Paste Bows
If you love gum paste bows like we do, don't miss these other free cake tutorials!
Loopy Christmas Bow Tutorial- Free Video
Classic Gum Paste Bow (for teddy bear themed cake)- Free Video
Materials:
(This cake consists of an 8 inch tier and 6 inch tier. Each tier is on it's own cake cardboard cut down to size, and is frosted in our fluffy vanilla buttercream. We used bubble tea straw as supports beneath the top tier.)
Gum Paste (or fondant with tylose powder kneaded into it)
Buttercream (We used our Fluffy Vanilla Buttercream recipe). We do recommend either a crusting buttercream or royal icing for the scrollwork on the bow.)
Piping Tips: We used a small round tip 3 for the piping on the cake, and a small round tip 2 for the scrollwork on the bow.
Coloring Gel: We used Americolor Ivory to lightly tint most of our buttercream frosting but we did reserve plain white buttercream for our piping.
Piping Gel (or your edible/food-safe adhesive of choice)
Sugar Pearls- Optional - we added them here and there on our scrollwork and piping.
Miscellaneous: Spatula for frosting, we used a bench scraper, turntable (optional), pedestal or cake base of choice, ruler, sharp knife or x-acto.
Notes on Gum Paste Bow Cake Topper:
Our gum paste bow strips to create the loops were 3 inches wide and 7 inches long.
We also created two tails (we applied while still soft) that were also 3 inches wide although slightly shorter in length.
Dry Times for Gum Paste Bow
If possible, dry your bow loops a day or two in advance so that you can ensure that the loops will be thoroughly dry when ready to place on the cake.
If you don't have gum paste, you'll want to knead tylose powder into your fondant to achieve a consistency closer to gum paste. It will dry more quickly and much stronger than straight fondant.
Can Gum Paste Bow sit on Buttercream?
We used crusting buttercream to pipe scrollwork onto our bow. I don't think it would work as well with a non-crusting buttercream due to the additional moisture.
However, royal icing is a great option too for the bow's scrollwork and would dry firm enough that you wouldn't have to worry about accidentally smudging it (especially if you plan to pipe the scrollwork before placing it onto the cake).
Can the Gum paste Bow be Refrigerated along with the Cake?
We have never had any issues with refrigerating our completed cakes with a gum paste bow on top.
However, everyone's refrigerators are different (as well as humidity levels, brand/recipe of gum paste etc.).
If you have never attempted to refrigerate your gum paste or fondant pieces, it's best to do a trial run with a scrap piece of fondant or miniature bow so that you know what to expect. If necessary, you can just apply the bow closer to the time of the event.
More Piping Videos
We have several other video tutorials that feature piped buttercream designs. Make sure to check out these favorites:
How to Pipe Cornelli Lace- Free Video
Elegant Loopy Buttercream Piping - Free Video
Buttercream Camellias and Elegant Piping- Free Video
Cascading Rosettes of Buttercream- Free Video
Enjoy the Video!
We hope that you enjoy the video! If you give this cake design a try, or if you use these techniques on another cake, we would love for you to leave a comment or photo below!