Viva Method of Smoothing~Video
I love the Viva Paper Towel Method method of smoothing frosted cakes!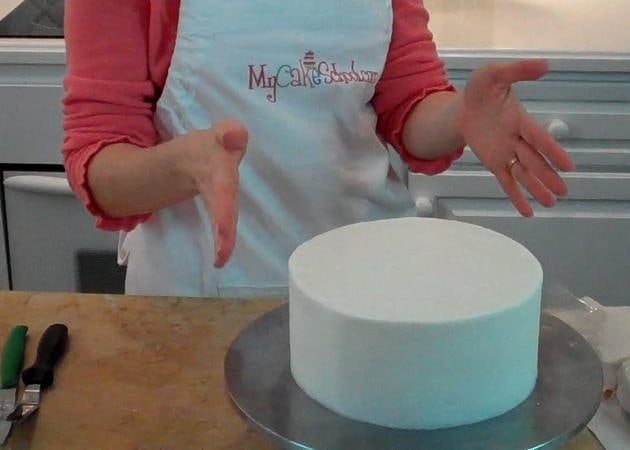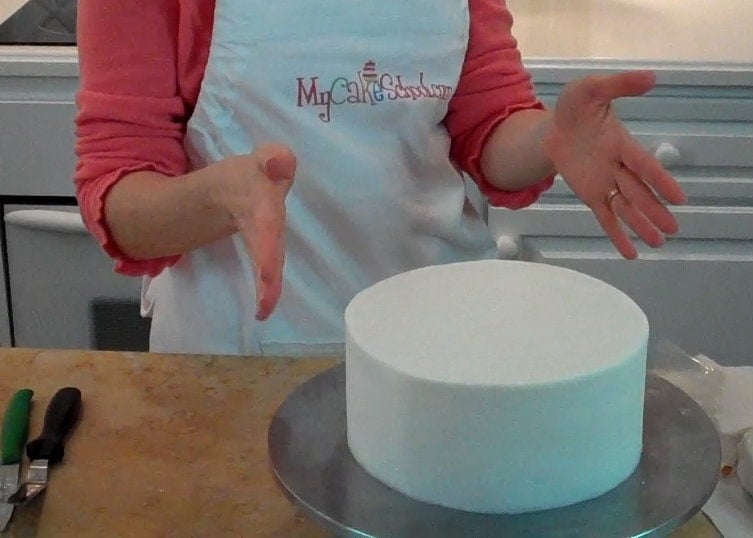 What is the Viva Paper Towel Method of Smoothing Buttercream?
With the Viva Method of Smoothing Buttercream, a cake that is frosted with a crusting buttercream can be lightly smoothed with a paper towel.
Since the frosting has crusted, it does not stick to the paper towel. The imperfections in the frosting can easily be smoothed away!
Not only is this method an effective way to smooth around the sides and top of buttercream frosted cakes, it is fun too! Once you get started, you won't want to stop- it is addictive ;0)
Why are Viva Brand Paper Towels Needed for this Cake Decorating Technique?
Viva brand paper towels are perfectly smooth- unlike most other brands, they have no quilting or patterns.
What is a Crusting Buttercream?
A crusting buttercream is a type of frosting that develops a very light crust after sitting out in the open air for 10 minutes or so (sometimes it develops faster).
This thin "crust" is not noticeable when eating a bite of cake, but once the very thin crust has developed, you can lightly touch the frosted cake without removing any frosting.
This crust makes it possible to lightly smooth a paper towel over the frosting and lift it away without messing up the finish of your frosting. Instead, it makes the finish even more smooth.
Other Methods of Smoothing and Decorating Cakes
Over the years I have flip flopped back and forth between this method of smoothing and the Hot Knife Method. The Hot Knife Method involves smoothing frosting over a chilled, frosted cake with a very hot spatula.
These are my two favorite methods- Give them a try and see what you think!
Textured Buttercream is a Great Option Also
Years ago, when I first started learning about cake decorating, most cakes were frosted with a smooth finish.
These days, anything goes- textured and rustic cakes are popular as well as cakes covered in piping. I'm a big fan of finding what works best for you as you develop your style.

Materials used in our viva method tutorial
This is an 8 inch, three layer cake which is made from the White Almond Sour Cream Cake recipe (doctored mix found in the Recipes section--also known as WASC) --
I'm using our High Ratio Buttercream recipe for this but any crusting recipe will do ("Classic Buttercream" & "Fluffy Vanilla Buttercream" are two other examples from the Recipes section)
Cardboard Cake Circle cut to the size of the cake (or foam core board--½ inch)
Small Spatula(s)
Bench Scraper
Fondant Smoother (optional)
Viva Brand paper towels (or any brand of paper towel or napkin that is completely smooth, with no quilting or impressions.)
Remember, the crumb coated cake should be at room temperature when applying the final coat of frosting. Otherwise, the frosting will not crust properly.
Tie Dye Cake- Colorful Example of Viva Method of Smoothing
We used the Viva Paper Towel Method of smoothing when we created this fun Tie Dye Cake Tutorial!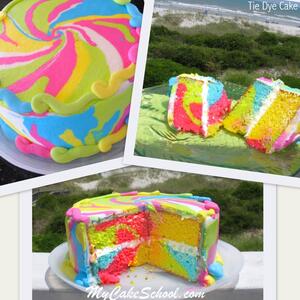 We also used it when creating a video tutorial for leopard print buttercream cupcakes and our camo cupcakes video.
In these examples, we piped on the colors, allowed them to crust, and then smoothed over the frosting.
We hope that you enjoy experimenting with this fun technique!