Cat and Yarn Birthday Cake- Tutorial
In today's video tutorial, we're going to show you how to make an adorable Cat and Yarn Cake!
This cake with modeled kittens and unraveled balls of yard would be such a fun design for young birthdays, or cat lovers of any age!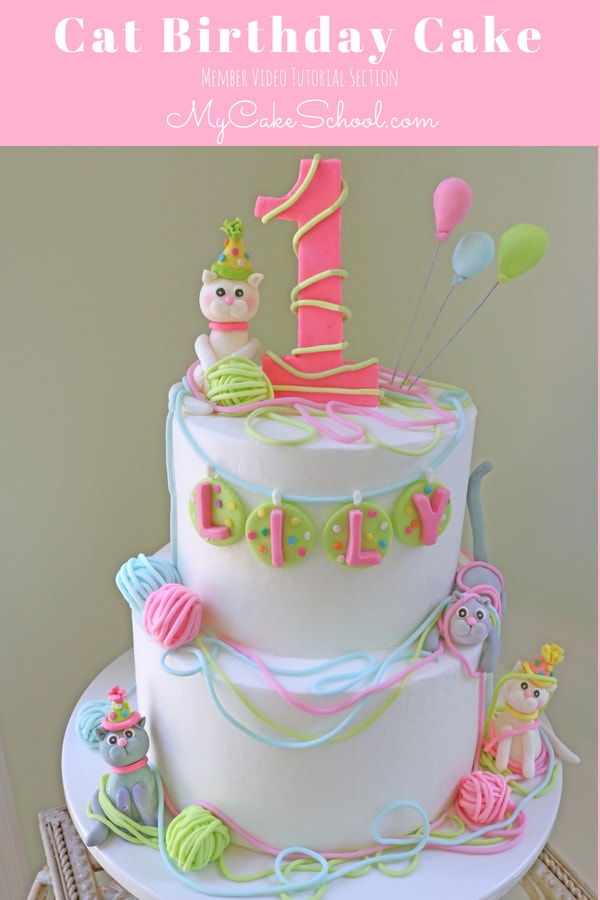 Materials:
For this tutorial, we used 8 inch and 6 inch stacked, frosted tiers. The top tier is supported from beneath by four bubble tea straws. We used our Fluffy Vanilla Buttercream Recipe. Each tier is on it's own cardboard cake circle cut down to size.
Fondant
Gum Paste (or you could use fondant with tylose powder kneaded into it)
Piping Gel (or edible adhesive of choice)
Extruder for yarn (I'm using a Makin's Ultimate Clay Extruder)
Black food coloring pen
Coloring Gels: Americolor Deep Pink, Electric Green, Lemon Yellow
Confetti Sprinkles
Lollipop Stick (Anchor for "1" topper)
Floral wire (for balloons/anchors)- We used white paper wrapped wire, 22 gauge (any gauge is fine as long as it is sturdy enough to hold the weight of the gum paste)
Alphabet letter cutters
Small circle cutters (I used a Wilton 8B which was about 1 ¼ inches wide)
Pink Petal Dust - Opti0nal... I used it for dusting the cheeks of the white cats ;0)
Notes:
Dry times can vary for your cats. I like to make the body parts from gum paste and allow to dry for at least 1 day-- but if you are new to working with gum paste, you may want to make further in advance as variables like humidity can effect dry times.
Remember to make small holes in the top of the body and bottom of the head, so that you can easily use anchors to piece everything together later. If you want the tail(s) to stand up, you'll want to place a hole on one end and a hole in the body for the tail to connect to after drying.
Enjoy the Video!
Thanks so much for stopping by. We hope that you enjoyed the video! If you give this sweet cat cake a try, we would love for you to leave a comment and photo below!