Safari Baby Shower Cake-Free Video Tutorial
In this video tutorial, I'll show you how to make an adorable Safari Baby Shower Cake!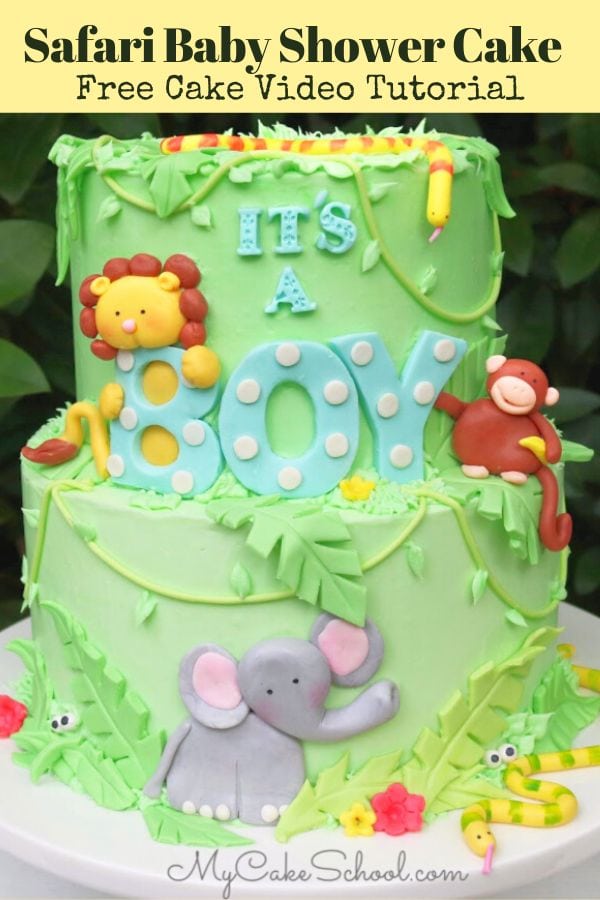 You will learn how to make a cute lion, elephant, monkey, and snake, as well as other fun decorative details!
I just created a few jungle animals for this tutorial, but there are so many more possibilities if you enjoy modeling figures.
This cake design would also be so cute for birthdays as well, with the child's name in place of the "It's a Boy" message.
Thanks so much for stopping by! We have lots more animal themed cake tutorials for you to check out in our Video Section. Have fun with this one!
Materials for Safari Cake:
For today's cake, we did 8 inch and 6 inch stacked tiers. As always, each tier is on it's own cake cardboard.
The top tier is supported from beneath with four bubble tea straw supports (cut to the height of the bottom tier).
Gum Paste (you can also use fondant with a bit of tylose powder kneaded into it to speed up the drying and firm it up).
I used a Martha Stewart letter mold for "It's A". I've had it for so long I don't believe it is still available, but there are many similar ones online (or you can use letter cutters, tappits, piped buttercream, candy melts, etc.)
Vanilla Buttercream- We used our Fluffy Vanilla Buttercream (Our Classic Vanilla recipe is a good choice also)
Piping Tips: 233 Grass Tip, 352 Leaf Tip **I also used a piping tip 10 to cut out polka dots for the letters.
Coloring Gels: I used Wilton Leaf Green, Americolor Sky Blue, Americolor Black (to create grey), Deep Pink, Lemon Yellow, Super Red (flowers), Chocolate Brown, Orange, Americolor Egg Yellow (lion), Americolor Copper (Monkey's mouth, ears, etc)
Pink Petal Dust applied with a dry paintbrush for rosy cheeks
Food writer pen- black
White sugar pearls or balls of fondant for eyes in the bushes
Plate or palette for mixing "paint" for snakes
Vodka or lemon extract for creating edible "paint"
Extruder- optional- used for creating the vines (I have a Makin's Ultimate Clay Extruder)
Edible glue such as tylose powder with a small amount of warm water mixed in is helpful when attaching animal parts etc, piping gel works also. (You can find a recipe here: Tylose Glue)
Miscellaneous: I always use a turntable when frosting my tiers. Each tier is on it's own cardboard cake circle cut to the size of the cake. I frosted with a small offset spatula, and smoothed with a bench scraper.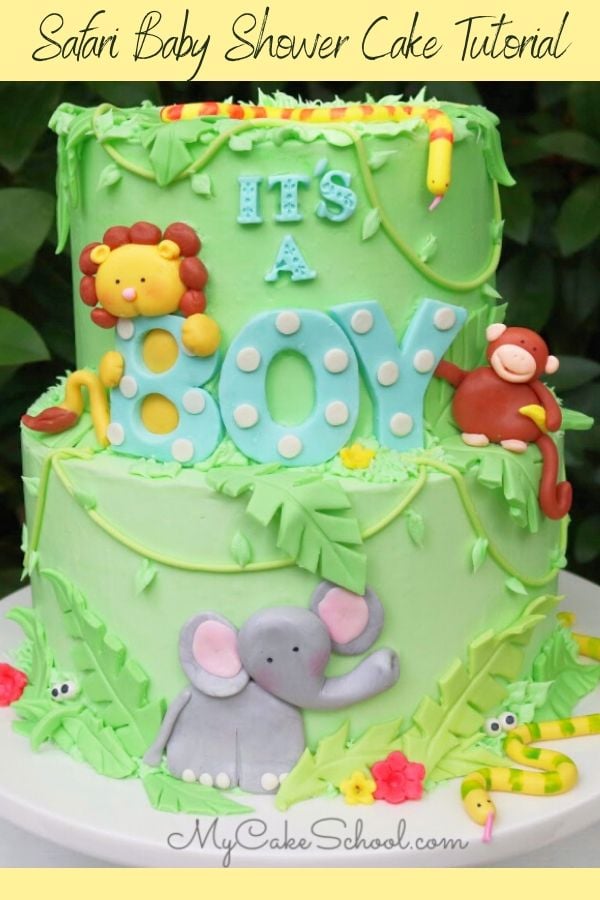 Jungle Cake Tutorial
Some of the details of today's safari cake are similar to our Jungle Cake Tutorial!
Make sure to check out our Jungle Cake as well (which incorporates 3d fondant animals). We have a Jungle Sheet Cake tutorial too!
You may like to incorporate details from these cakes as well!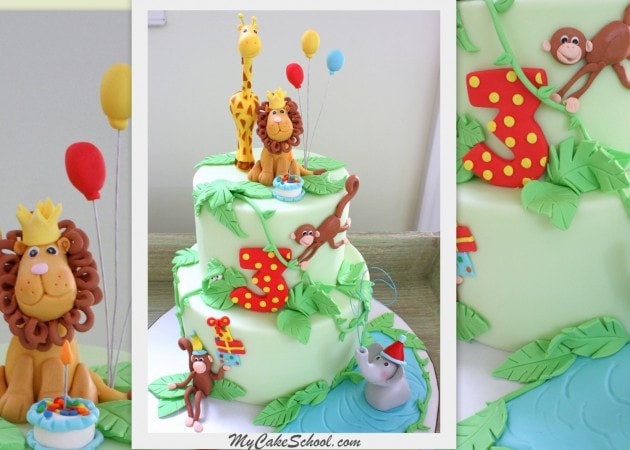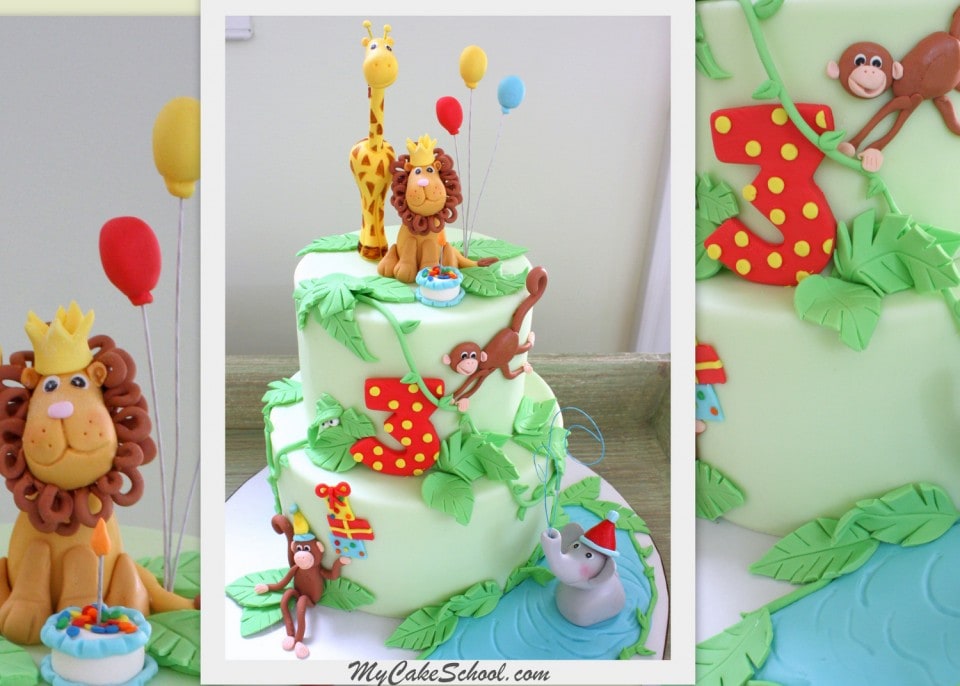 Safari Birthday Cake
Today's safari cake could easily be made into a young birthday cake! Just eliminate or change the message on the front, and add a cute number cake topper on top!
*We have a free video tutorial for How to Make a Number Cake Topper if you would like to see!
Enjoy the video!
Thanks so much for stopping by! If you give our Safari Cake a try, we would love for you to leave a comment and photo below!