Fluffy Vanilla Buttercream
This delicious Fluffy Vanilla Buttercream Frosting is crusting recipe that is perfect for cake decorating! This American Buttercream is similar to our Classic Vanilla Buttercream recipe, however, it has a lighter, fluffier texture due to the shortening in the recipe.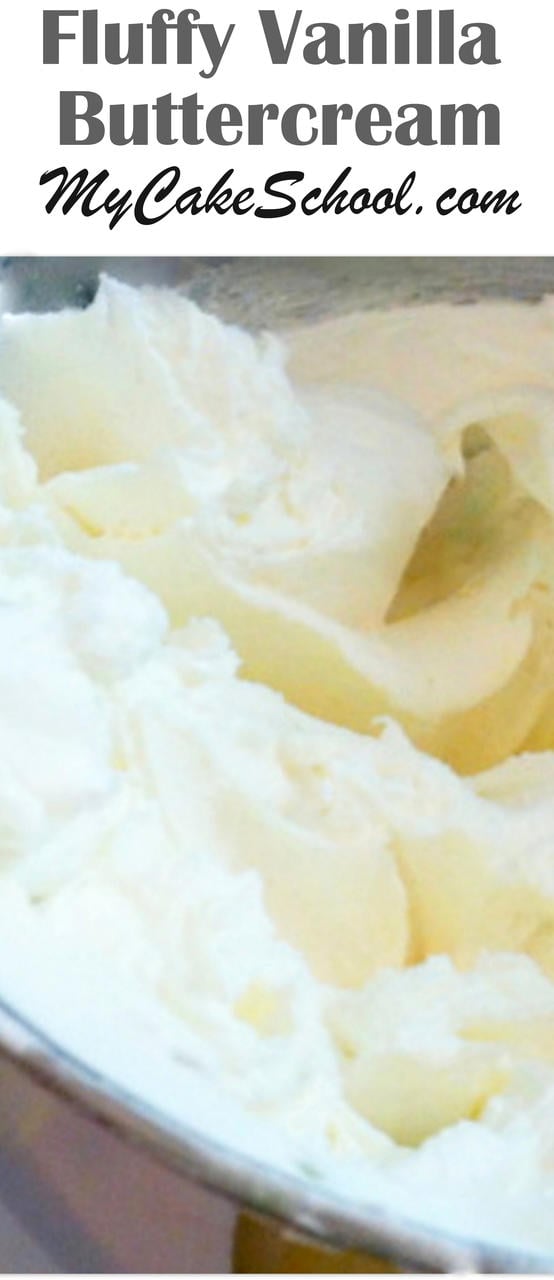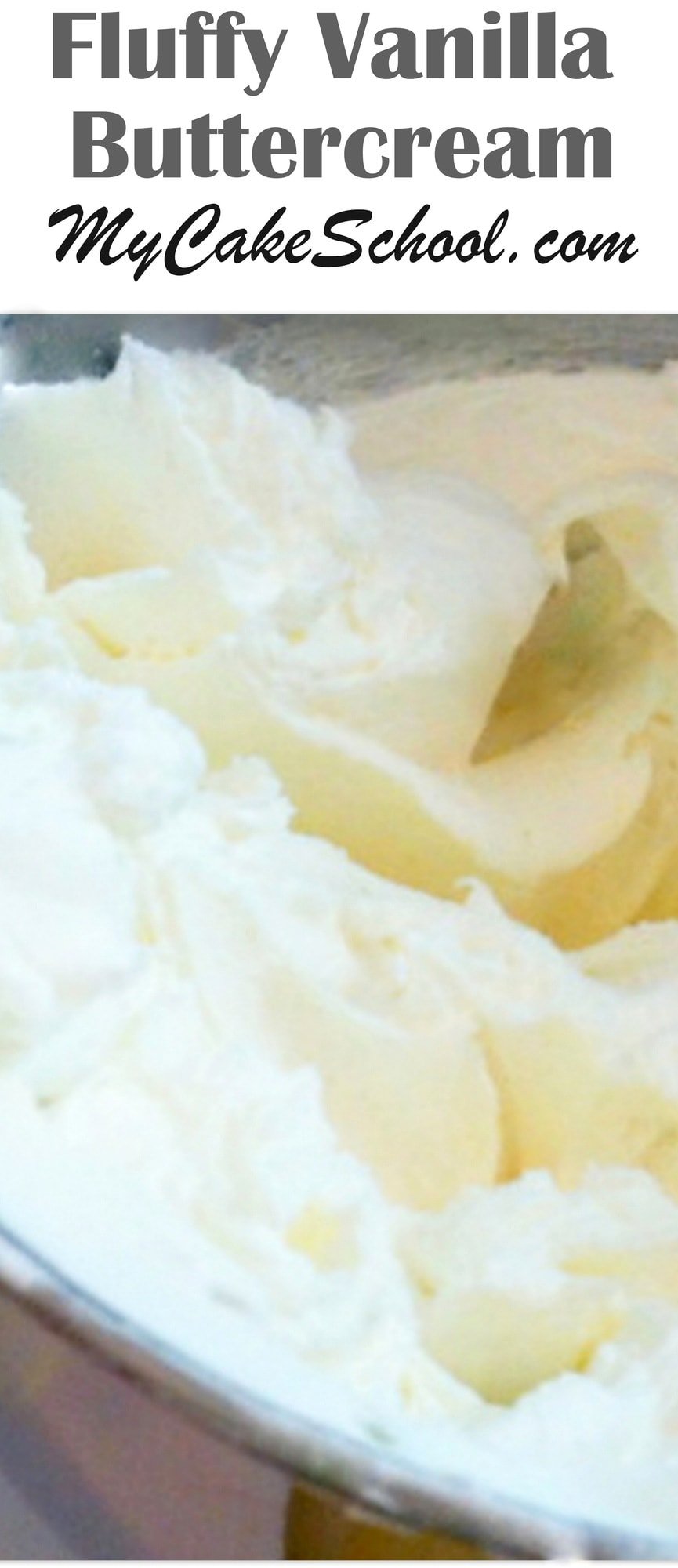 Fluffy Vanilla Buttercream: A Crusting Recipe
What is a crusting buttercream? As the name suggests, crusting frostings like this one develop a very thin crust when exposed to air. In as little as 5-10 minutes, a cake frosted in a crusting buttercream can be lightly touched without removing any of the frosting. Beneath that thin layer, the frosting remains soft.
Many cake decorators love to use the "Viva Paper Towel method" of smoothing when working with crusting buttercreams. Simply frost the cake, sweep around the sides and top with your spatula (or bench scraper) of choice, and then allow it to sit for a few minutes before smoothing over it with a paper towel.
(Viva brand paper towels are a popular choice for this paper towel method of smoothing because it has no quilting or impressions.)
This Fluffy Vanilla Buttercream frosting contains both butter and shortening. Because of the shortening, it is slightly more heat resistant than an all-butter frosting recipe, and it is lighter in color than an all-butter buttercream recipe.
If heat is more of a concern, you could switch to an all shortening (no butter) frosting recipe like this one: High Ratio Frosting. All frostings will melt if the weather is hot enough, but shortening certainly is more resistant than butter.
If you are looking for a crusting frosting that does not contain any shortening, we love our Classic Vanilla Buttercream recipe also. You can find it here!: Classic Vanilla Buttercream.
We often use clear vanilla in our buttercream frosting recipes because real vanilla gives vanilla buttercream more of an off-white or ivory color. However, this may not bother you! It simply comes down to personal preference or the design of your cake.
Does Brand of Confectioners Sugar Matter?
** Important note about the sugar: We've had great results with Domino's confectioners sugar and US Sugar (we buy ours from Costco). Some brands of confectioners sugar don't work as well with buttercream frosting recipes. If a package doesn't say pure cane sugar, it contains beet sugar which is more likely to give you a grainy outcome.
In addition to that, we've noticed that even some brands that say "Pure Cane Sugar" will give a grainy consistency. So frustrating! One example is Dixie Crystals (although it used to work great for us a few years ago.) Something has changed…it's a mystery. Anyway, this recipe should not be grainy, and so if it is, experiment with a different brand of confectioners sugar.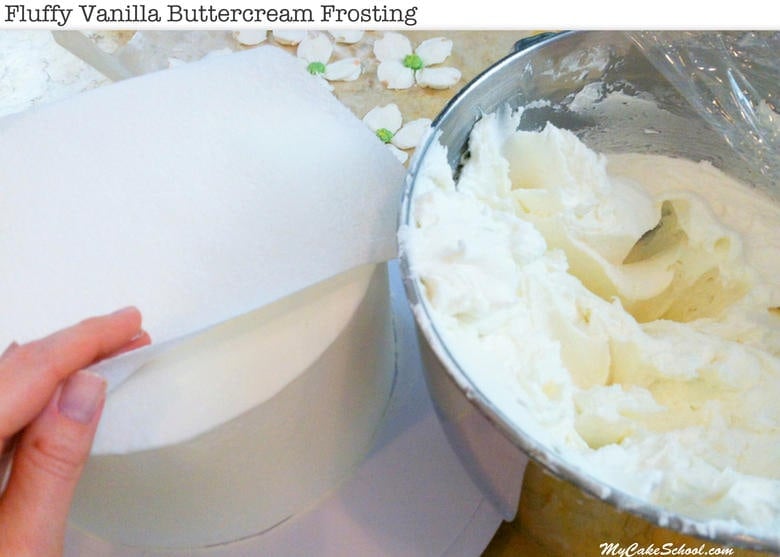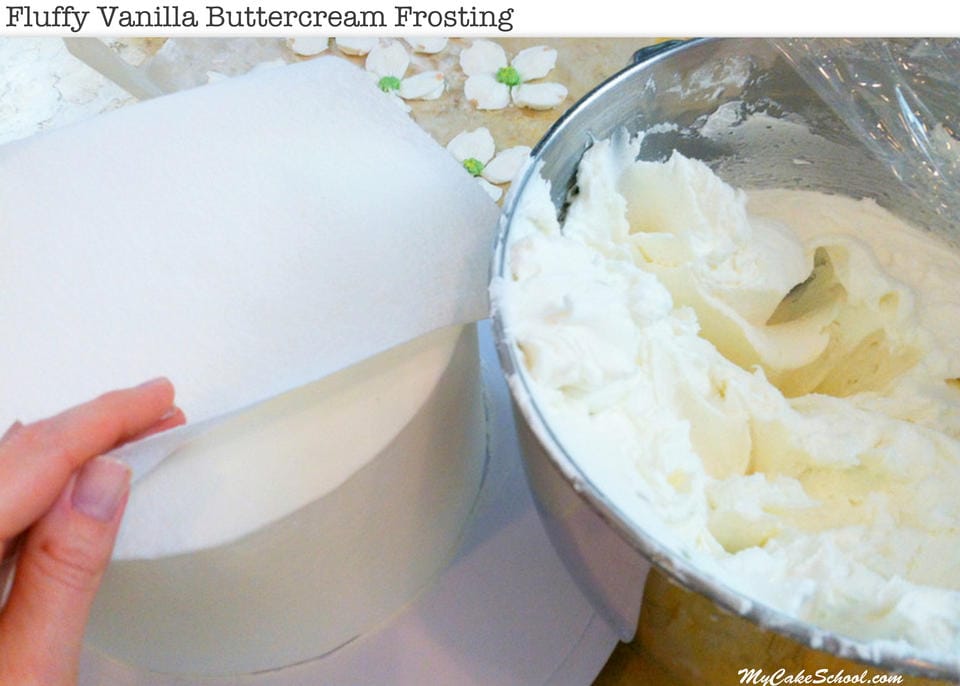 Fluffy Vanilla Buttercream Frosting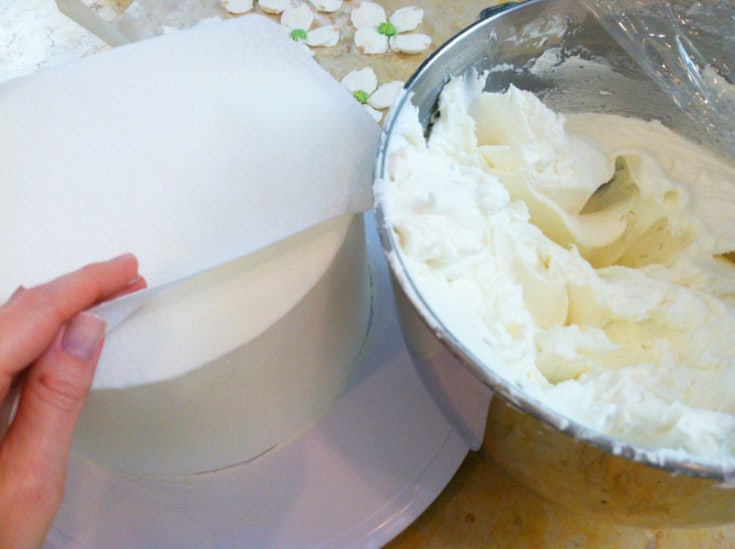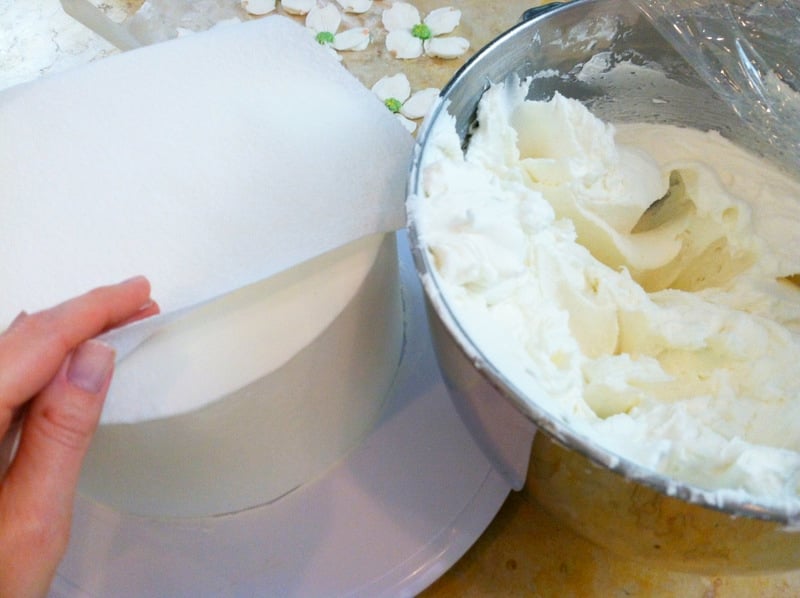 This fluffy vanilla buttercream recipe is perfect for piping and works great with the viva paper towel method! Good flavor, and contains shortening which makes is a bit more heat resistant.
Ingredients
2 lbs. confectioners' sugar 910 g
½ cup (1 stick) (113 g ) unsalted butter softened (soften on countertop rather than microwave for best results)
1 ½ cups solid vegetable shortening (such as Crisco or Trex) 286 g. or 10 oz. by weight. ** If using hi ratio shortening, see below)
2 Tablespoons clear vanilla extract 24 g
¼ to ½ teaspoon butter flavoring (if you are leaving out the butter and using all shortening)
¼ teaspoons lemon or almond extract 1 g (OPTIONAL )
¼ cup milk ( 57 g) any milk is fine but I like milk with higher fat content. You could substitute water too (See below)
½ teaspoon salt to cut the sweetness. We use popcorn salt because of its fine grain. If using table salt, you can dissolve it in the milk before adding.
Instructions
Cream butter, shortening , salt and extracts until creamy and smooth.
Add powdered sugar and milk. Mix thoroughly on medium speed for approximately 8 minutes. For the last two minutes decrease the mixing speed to VERY SLOW ( number 2 speed on a KitchenAid) until creamy and smooth. Scrape the sides of the bowl occasionally during the mixing process.
Notes
*If I use a high ratio shortening (such as CK or Sweetex brand) I decrease the shortening amount to 1 ¼ cups (236 g.) and increase the milk, ¼ cup plus 2 to 3 Tablespoons milk or enough to make it the consistency you like.
*I used to always use water for this recipe, but I switched to milk for flavor & also because when you use a higher fat milk for your liquid, the buttercream still has a nice crust to it, but it doesn't crust quite so quickly or so hard as if you use water.
*Makes about 6 cups of frosting-- you can half it, or freeze the leftovers if you don't need this much! (One cup of frosting frosts about 12 cupcakes with a simple swirl using a 2D tip)
Thanks for stopping by! Don't forget to check out our entire collection of favorite cake and frosting recipes in our Recipes Section!
If you are interested in learning more about cake decorating, don't miss our Free Cake Tutorials section. Or, for full online access to every cake decorating video tutorial that we've made, you should consider becoming a member of My Cake School!
We have hundreds of cake decorating tutorials for all skill levels of cake decorating. You can find all of the details here!: Joining information for My Cake School