Jungle Sheet Cake Tutorial
Today's Jungle Sheet Cake design is perfect for jungle or safari themed birthday parties! This is such a cute cake a great alternative to our more involved tiered jungle cake tutorial.
What makes this cute design even more fun is that we've created a zebra pattern on the inside of the cake.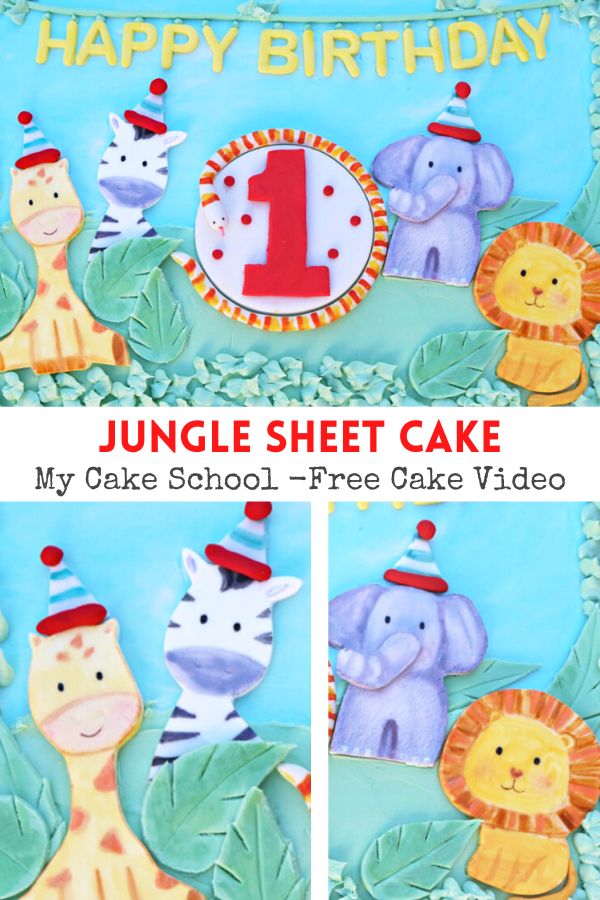 We used simple templates to cut out our fondant animals (similar to what we did with our farm cake), and painted them.
I love the painted effect! You could also tint your fondant if you would rather and layer on the details.
Make sure to also check out our other Jungle Cake tutorial (tiered cake design with 3D animals) as well as our sweet Safari Cake!
Materials For Jungle Sheet Cake:
Vanilla Buttercream- We like Classic Vanilla Buttercream
Fondant (I kneaded a little tylose powder into my fondant as an optional step- it makes it set up more quickly)
Template for Jungle Animals, Etc.
Coloring Gels: Americolor Egg Yellow (lion & giraffe), Chocolate Brown, Avocado Green, Leaf Green (I used a combination of greens), White, Super Black, Orange, Sky Blue
Vodka, Everclear, or Lemon Extract- Combine with coloring gels to create your "paint"
Small paint brushes (that you keep on hand for cake decorating only)
Extruder- Optional- I used a clay extruder for my vine across the top of the cake
Letter Cutters- I have a set of Wilton letter cutters that I used for my "Happy Birthday" message
Piping Tips: Tip 21 for piping around the sides of the cake, Leaf Tip 352 or similar for borders
xacto knife or sharp knife for cutting out fondant shapes using templates
Miscellaneous: Disposable Piping Bags, Spatula, cake board, cake base, rolling pin for fondant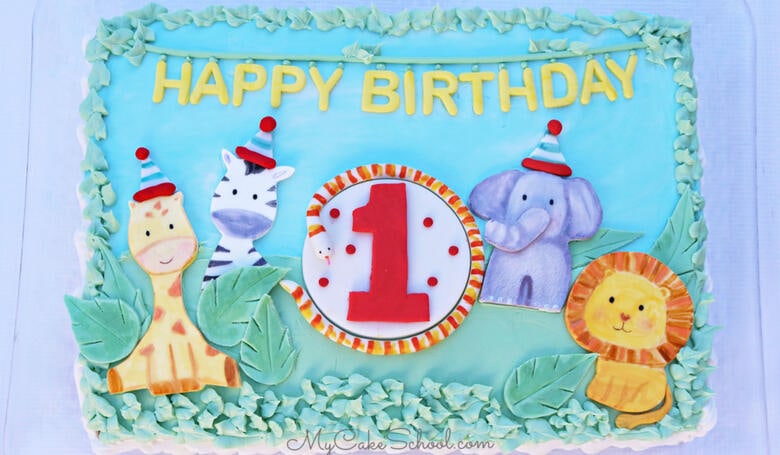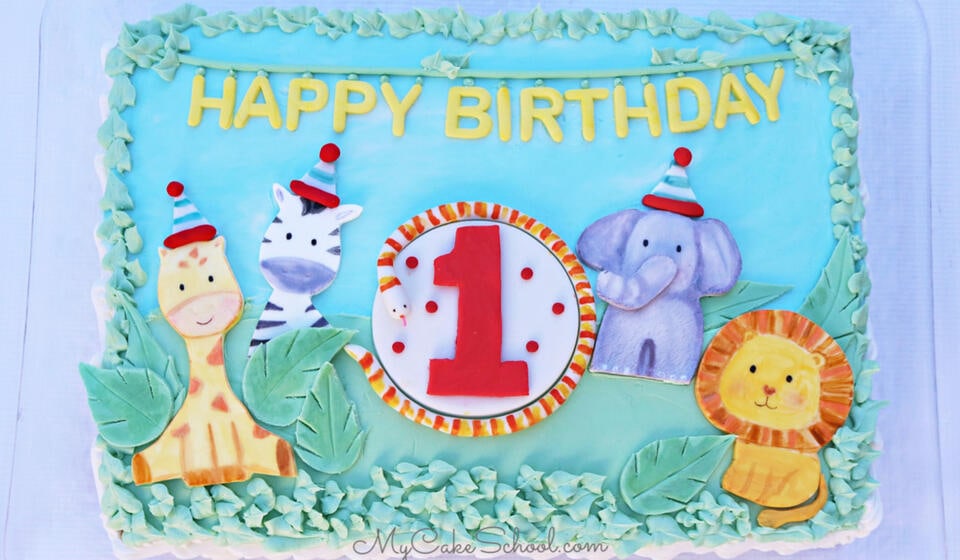 Zebra Print On the Inside of Cake
I used Duncan Hines cake mix to create a zebra pattern for my jungle sheet cake.
I made one batch of White Cake Mix and one batch of Devil's Food Cake Mix. I liked the consistency of the batter. If you are making a cake from scratch or a doctored cake mix, choose one that isn't too runny or too thick.
We used a 9x13 sheet cake pan (greased & floured as usual and with parchment on the bottom)
The zebra cakes that I have made in the past were round cakes (as we demonstrated in this Zebra Print Cake Blog Tutorial). Round zebra cakes are a little more predictable because you add the scoops of batter until all sides meet the edge of the pan.
With a sheet cake, you'll likely need to do as I did and have more than one "spiral" of batter. Every slice was different- some more perfectly striped than others, but overall I got the zebra pattern that I was looking for- It's a fun theme and also a fun alternative to marble cake!
More Animal Themed Cakes
Here are a few more animal themed cakes that we've made over the years! Enjoy these free cake tutorials!
Farm Cake Tutorial
Leopard Cake (Baby shower cake with leopard pattern on the inside)
Dinosaur Cake (with cute 3D dinosaurs)
Enjoy the Video
Thanks so much for stopping by! Don't miss our other birthday cake ideas! We have so many tutorials and recipes to share with you.
Have you made this Cake? We would LOVE for you to leave a ⭐️ rating as well as a comment and photo below! We really appreciate your feedback!