Today I'm going to show you how to make a snake cake which features a snake wrapped around a spiral cake tier!
If you love snakes and reptiles, or have friends or family that do, they are going to love this fun cake design!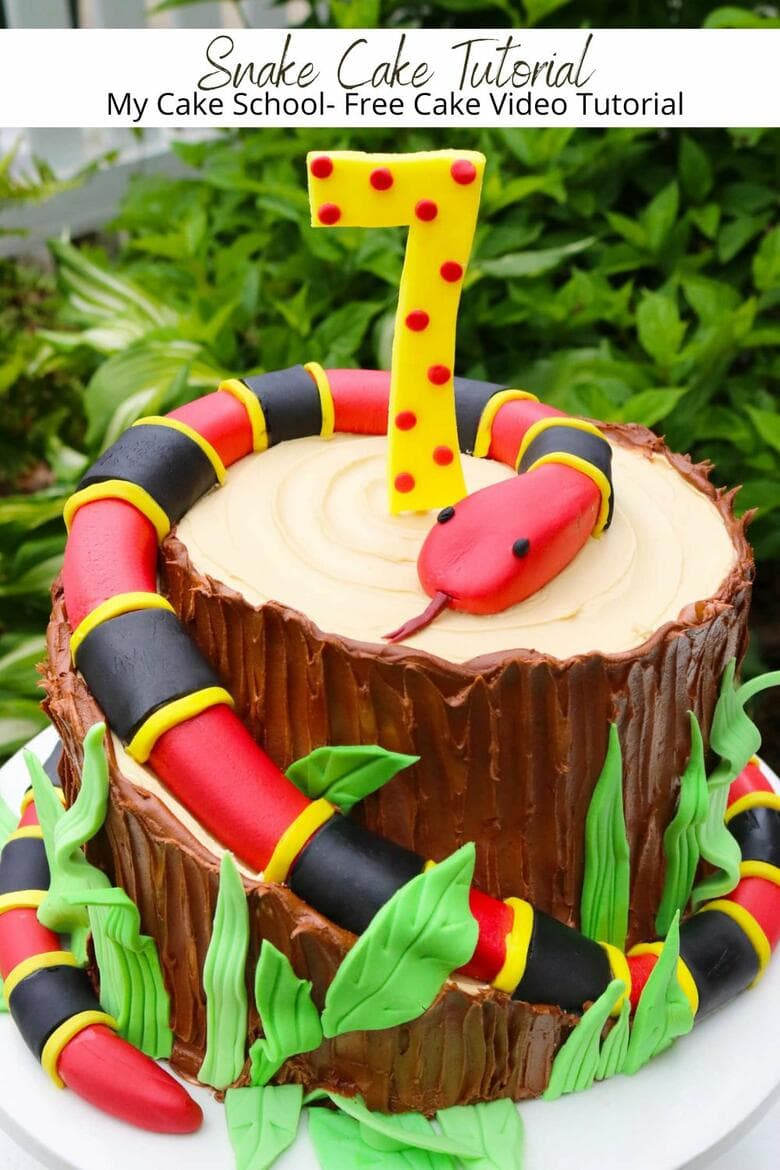 We loved creating this colorful snake cake, complete with a carved tree stump! The spiral tier allowed us to easily wind our snake around the "tree stump" with plenty of support.
Over the years, we've made a few cake designs using a carved spiral tier- it's a great technique to have in your cake decorating bag of tricks for all sorts of themes.
We've made a sledding snowman cake, a train cake with a spiral tier, and cars & trucks themed cake using a spiral cake design also.
Spiral cake tier designs are so unique and interesting (and it is easier than it looks to create)!
Details
Change the colors however you like to make it your own!
A couple of people expressed concern that the snake on our cake is a coral snake which is venomous.
I chose this snake because I liked the bright, colorful pattern but please adjust to your liking!
Whether you depict the patterns of an actual snake or a make believe polka dotted snake, it's going to be a fun one. Enjoy!
Materials
For our carved tier, we used a four layer 8 inch cake frosted with Fluffy Vanilla Buttercream.
Coloring Gels: Americolor Ivory, Americolor Chocolate Brown (I used these shades on the tree stump), Wilton Leaf Green, Super Red + a touch of black kneaded in (snake), Yellow & Black (we actually use pre-colored fondant for our yellow & black), and black
Fondant for the snake (about 550g)
Gum paste or Tylose Powder- I used fondant with a good amount of tylose powder kneaded into it for the "7". You could also use gum paste. Same for the leaves- I used fondant with a little tylose powder kneaded into it.
Offset Spatula- I used a small tapered offset spatula to texture the frosting, and a rounded offset spatula for the spiral on top of the stump - of course, improvise with what you have for a similar look!
Cake Board (Cake is on a cake cardboard)
Food coloring pen
Disposable piping bags
Lollipop stick
Edible/food safe glue of choice. I used tylose glue which is created by combining tylose powder with a little warm water. It eventually dissolves creating a gel-like consistency.
Notes
Spiral Cake Tier Details
Make sure your snake isn't too wide for your carved ledge, I didn't mention that ;0)
It's helpful to carve the spiral tier when the cake layers are partially frozen.
My ledge/slope for the spiral cake is 1 ¼ inches wide, I marked my knife with a food coloring pen at 1 ¼ inches from the tip of the knife so that I would know how far to push the knife into the cake when carving the slope.
Dry Times for Gum Paste & Fondant Details
I dried my leaves overnight before using so that they would have time to firm up.
I dried the number cake topper 24 hours before. My yellow fondant had a good amount of tylose powder kneaded into it so that it took on the consistency of gum paste. It dried more quickly and stronger due to the tylose.
Gum paste is also a good choice for stand-up number cake toppers. If you are new to making toppers like this, allow a couple of days for the topper to dry as dry times can vary (due to fondant/gum paste brand, humidity, etc.)
Adding the Snake
As I show in the video, the snake was so long that I found it easier to apply it in shorter segments (knowing that I could hide the seams with leaves).
Either way, I highly recommend chilling the buttercream frosted tier until firm-- (about 15-20 minutes in the freezer) before applying the snake to the cake in case you need to make adjustments, etc.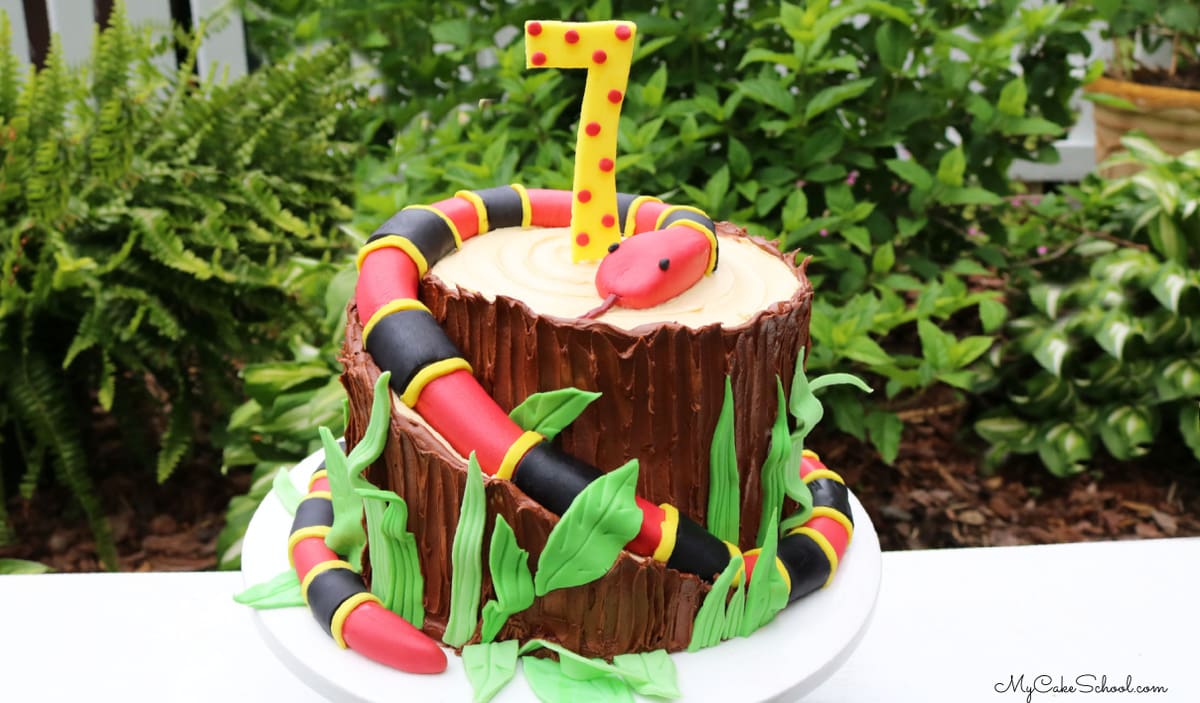 Snake Cake Video