In today's free cake video tutorial, I"m sharing a super cute Farm Cake!
Whether you recreate our entire farm cake design, or decorate a smaller cake with just a few of the decorations from the video, it is sure to bring smiles!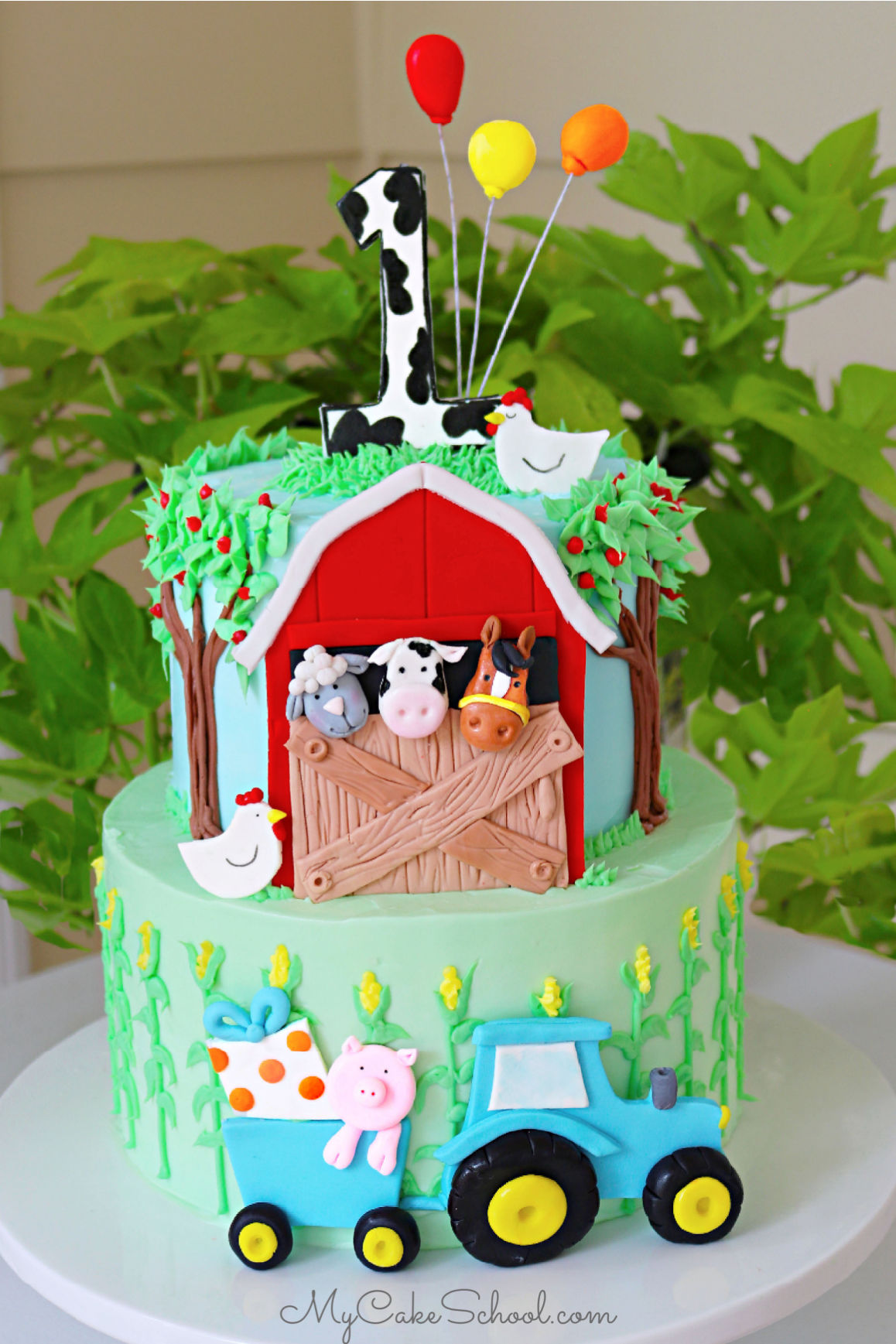 Why we Love it
There are many reasons to love this sweet Farm Cake! Here are just a few reasons to love it:
Perfect for young birthdays!
The techniques can easily be applied to single tier cakes or sheet cakes.
The animals and barn are flat fondant cutouts rather than 3D modeled animals, making it great for any skill level of cake decorating! (We use a similar style of fondant cutouts in our jungle sheet cake video.)
Materials for Farm Birthday Cake
For this cake, I used 8 inch and 6 inch stacked tiers.
Each tier was on it's own cake cardboard cut down to the size of the cake, and the top tier was supported from beneath with 5 bubble tea straw supports cut to the height of the bottom tier. (We have a separate video on tier stacking if you need more details!).
Always chill your buttercream-frosted tiers in the freezer for about 15-20 minutes or until firm before stacking.
Buttercream: We used our Classic Vanilla Buttercream Recipe (Our Fluffy Vanilla Buttercream or any crusting buttercream frosting will work well. I prefer to use crusting buttercream when using fondant decorations as opposed to a non-crusting frosting.)
Coloring Gels: Americolor Sky Blue, Super Black, Lemon Yellow, Deep Pink, Orange, Chocolate Brown, Super Red, Wilton Leaf Green
Fondant: I used Wilton Fondant with tylose powder kneaded into it for our decorations. The tylose powder helps it to firm up more quickly and to have strength similar to gum paste once dried. You could also use gum paste for the cake topper.
Piping Tips: Small round tip 3 (or 4) for the corn field, tree trunks, apples, and grass border on the top tier.
Grass tip 233, Leaf tip 352, Tip 12 for polka dots,
Tylose Glue, piping gel, or your edible glue of choice. We used Tylose glue which is a little tylose powder mixed with just enough warm water to dissolve it. It may take a few minutes to become transparent and gel-like.
Floral Wire- Sturdy enough to hold the weight of the fondant balloons. We used 20 gauge paper covered wire.
Food Coloring Pen- I used a black food coloring pen for the faces, cow spots, etc.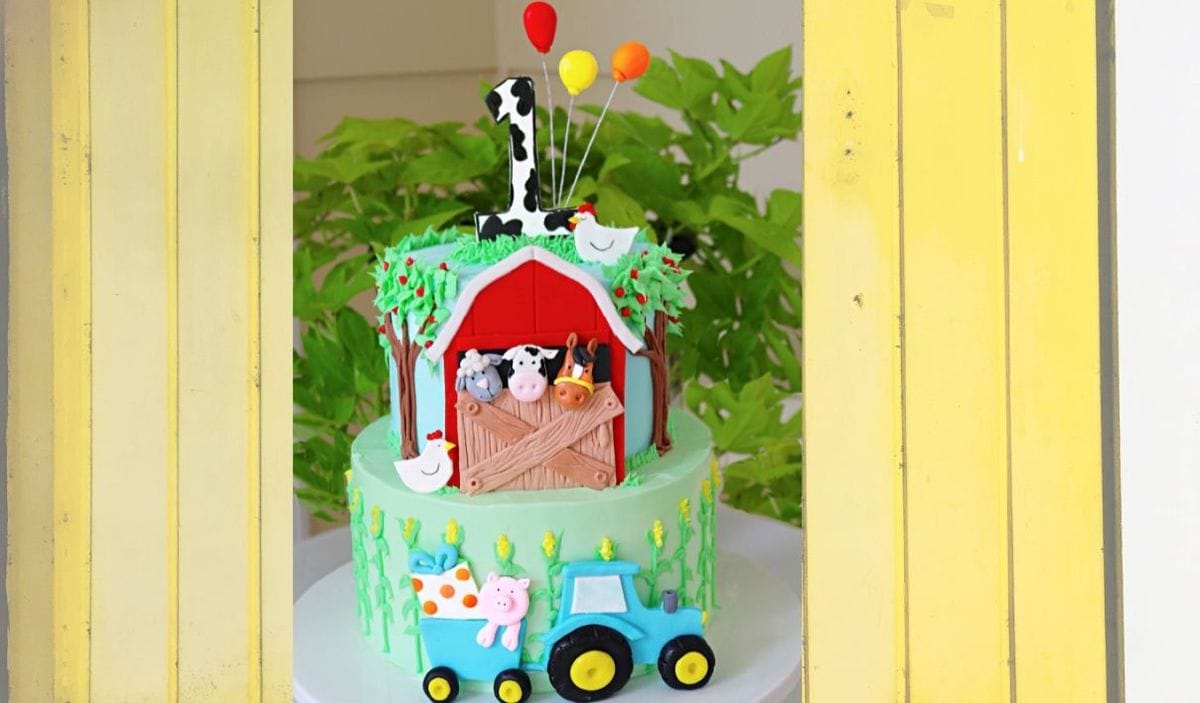 More Animal Cakes
If you love animal cakes, make sure to check out our Animal Cakes section of tutorials! Here are just a few fun favorites:
Enjoy the Video!
Thanks so much for stopping by. We hope that you enjoy this fun farm cake tutorial! Don't miss our collection of favorite Birthday Cake Designs!
Have you made this Cake? We would LOVE for you to leave a ⭐️ rating as well as a comment and photo below! We really appreciate your feedback!