The Hot Knife Method for Smooth Buttercream
The "Hot Knife" Method of smoothing buttercream frosting is one of the three smoothing methods that we use most often for buttercream.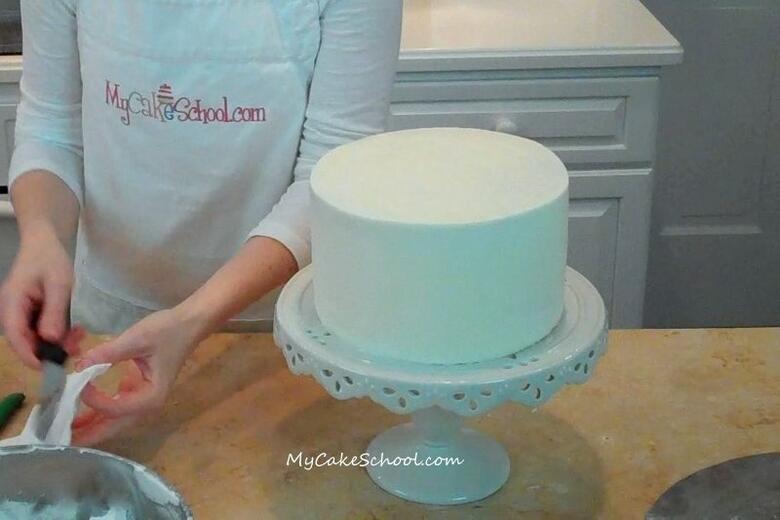 Unlike the other two methods that we often mention (The "Viva Paper Towel" Method and the "Roller" Method), this hot knife method of smoothing does not require the icing to have crusted.
It is the chilling of the crumb coated cake that creates the firmness needed to apply the final smooth coat of frosting.
What is the Hot Knife Method of Smoothing Frosting
With the Hot Knife Method method, we smooth fresh buttercream across our cold, crumb coated cake, and in the process we melt that fresh buttercream into a flawless final coat.
You'll notice that there is a lot of repetition in this tutorial. We returned our cake to the freezer twice in this process, but if this method is new to you, you may find yourself heading back and forth from the freezer a time or two more. The smoothing can actually be a little addictive, haha ;0)
I hope that you enjoy this method. I think that it is really important to familiarize yourself with at least a couple of smoothing methods. The Viva Paper Towel method of smoothing is another great option.
There have been many times when my trusted smoothing methods haven't worked according to plan for one reason or another, and it's nice to have a backup option.
I also love the sharp corners that you can get with this method. It works great with our "simple spreadable ganache" recipe also!
Materials for Hot Knife Method
*In this video, I am frosting a 3 layer, 8" cake which is our White Almond Sour Cream Cake Recipe.
Use your frosting of choice. In the tutorial, I am using our "Classic Vanilla Buttercream", which is an American Buttercream that uses all butter rather than shortening or a combination of the two.
Frosting recipes that have butter instead of shortening work best with this method (part butter, part shortening works okay too) as the butter frostings get really nice and firm when chilled.
A pot wide enough for your bench scraper to easily fit into. This holds the hot water-- We removed our pot from the heat just as it began to simmer.
Bench Scraper (I prefer metal bench scrapers as they get nice and hot!)
Spatula of choice--Mine is smallish Wilton offset spatula with a rounded edge
Turntable (Not essential but extremely helpful. I used my Ateco brand turntable in this particular tutorial.)
Miscellaneous Notes
My cake is resting on a cardboard cake circle (8 inch) which allows me to easily transfer it to the pedestal
Sharp knife (optional, but helpful in releasing the cake from the turntable)
Enjoy the Video!