Dinosaur Birthday Cake~ Video Tutorial
Hi everyone! In this two part Dinosaur Cake video tutorial, you will learn how to make two very cute dinosaur cake toppers. This is such a cute and fun cake design for young birthdays!
While dinosaur cakes can be achieved very effectively with "flat" decorations like fondant cut-outs, and buttercream or chocolate transfers, 3D cake toppers have a way of bringing the theme to life!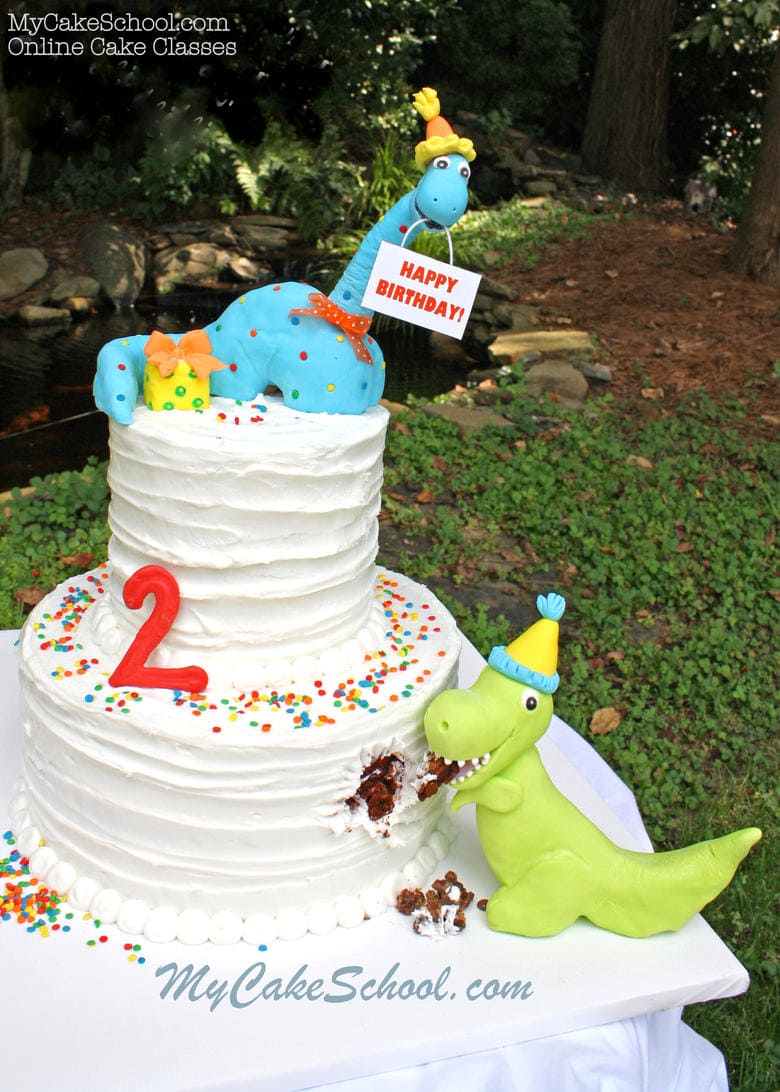 Dinosaur Cake Toppers
Our dinosaurs definitely fall into the "cute" category, but if your theme calls for more realistic dinosaurs, you can create a completely different look by making a few simple changes to the dinosaurs' color, texturing of the skin, and shape of the eyes. Our sweet dinosaurs are just here to have a bite of cake ;0)
Just as it is, this dinosaur cake would be adorable for young birthdays!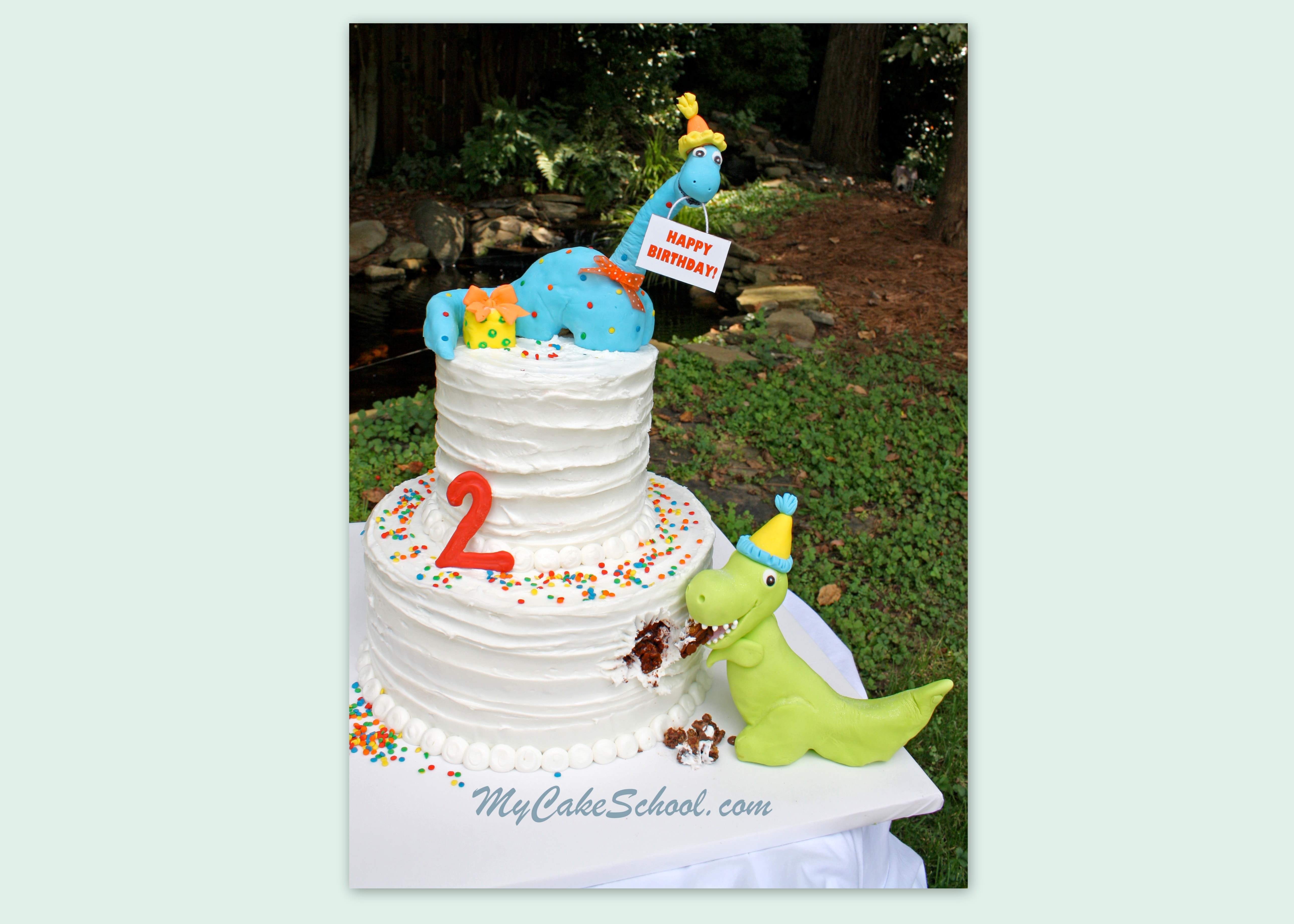 Materials for Dinosaur Birthday Cake
In this video, our tier sizes are 9" and 5". Each tier was approx. 4- 4.5 inches in height and 3 layers each. The tiers were made by mixing up a double batch of our "Classic Chocolate Scratch Cake".
We used our Fluffy Vanilla buttercream for this cake, but our Classic Vanilla Buttercream is a great choice also. Both are crusting buttercreams.
For non-crusting frostings, I would add the dinosaurs at the time of the event to be on the safe side.
Rice Cereal Treats (We used Rice Krispies Treats, with each square being 22g.)-- We needed approximately 5-6 RKT squares per dinosaur. Of course you could use more or less, depending on the size that you would like to make!
If you would like to skip the cereal treats altogether, you can make the dinosaurs using straight gum paste (or fondant/tylose powder). You will just need to allow several days for the bodies and heads to dry before assembling.
Gum paste or Fondant with Tylose Powder kneaded into it- I prefer to use gum paste (or fondant/tylose) instead of straight fondant because I feel that the firmness of gum paste as it dries over the cereal treat pieces makes everything more stable.
If you prefer to use straight fondant on top of your cereal treats, make sure to allow at least a couple of days for things to firm up nicely around the cereal treats.
Fondant Amounts: 8 oz (243 g) green fondant, 6 oz (187 g) blue fondant, small amount of white for eyes, small amount of pink for inside of T-Rex's mouth.
Coloring Gel: I used Americolor Electric Green for T-Rex, Americolor Deep Pink, Americolor Sky Blue for Brontosaurus, Lemon Yellow and Orange for misc accents (hats, gift, etc.)
Lollipop Stick- Used for the neck of the brontosaurus
Royal Icing (piping consistency) - Used for our T-Rex's Teeth. You could use other things as well... like small piece of fondant or gum paste or even crusting buttercream.
Sprinkles: (Optional) I used small confetti sprinkles to decorate the brontosaurus and also for misc. sprinkles on the cake.
Piping Gel & Melted Candy Melts-- These were my glues of choice in this video. Melted candy melts for attaching the brontosaurus neck to the body (along with the lollipop stick anchor). Piping gel for all other situations calling for "glue" ;0)
Red Wilton Candy Melts- Optional--Used for creating our chocolate "2"
Floral Wire and Photo Paper/Cardstock, and tape- Used in making the sign for the brontosaurus.
Cocoa Puffs Bar or chocolate cookie- (Optional) this was what we used for the "cake" that our T-Rex was eating as a less messy alternative. However, I think that you could also just trim off a small piece of cake at the time of baking, allow to dry out a bit and then place in his mouth.
Bubble Tea Straws-- I used 4 to support our 5" tier, and 2 beneath the brontosaurus.
Misc- Cardboard cake circles- I used two (cut to the size of each tier). Our cake base is a wooden ¼" thick square wrapped tightly with a plastic tablecloth and secured beneath with painter's tape.
More Dinosaur Cake Ideas
You may also be interested in our EASY dinosaur cake made of cupcakes! You can find the step by step tutorial here: Dinosaur Pull-Apart Cupcake Cake!
Along the same lines, we also have a 3D Dragon Cake tutorial, which could be easily changed up to become a dinosaur! There are so many fun options ;0)
We also have a roundup of even more Birthday Cake Designs here: 100+ Birthday Cake Ideas!
Cake Recipes
Looking for cake recipes? Don't miss our full collection of favorites in our Cake Recipes section. There, you will find cake recipes from scratch and cake mix recipes in all flavors. Some of our most popular are: Vanilla Velvet Cake, Chocolate Cake, Strawberry Cake, Easy Lemon Cake Mix Recipe, and Almond Cake!
Dinosaur Cake Video- Part One
Learn to make a Tyrannosaurus Rex from rice cereal treats covered with fondant (or gum paste).
Dinosaur Cake Video- Part Two
Learn to make a brontosaurus, and a few extra details made to the cake and dinosaurs to pull the theme together!