If you're looking for the BEST Thanksgiving cake recipes and fall cake recipes, you've come to the right place.
We've made sooo many fall cakes over the years, and today we are sharing a roundup of our favorites!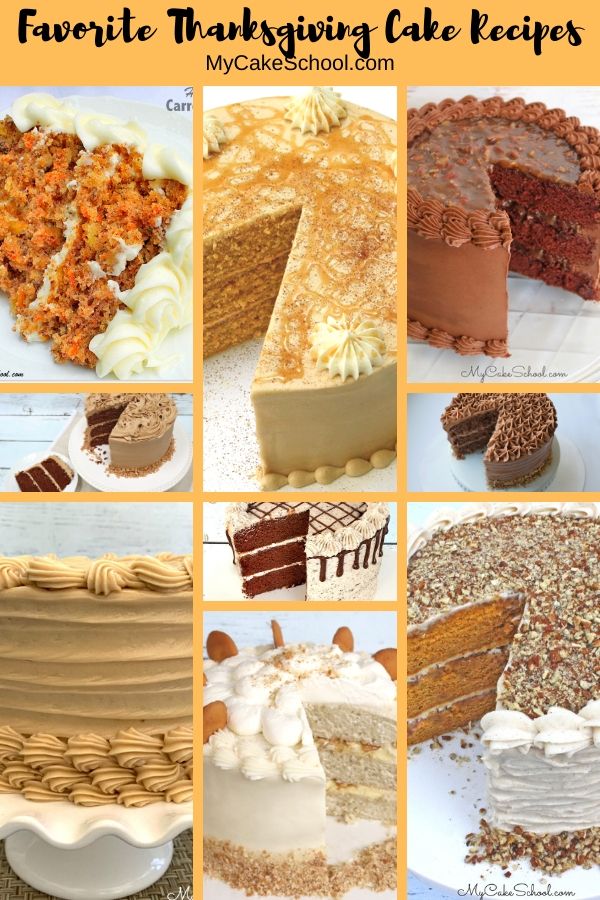 Fall is my favorite season, and while I love the colder temperatures and beautiful changing leaves, the real reason may just be because of all of the wonderful flavors of fall baking! Spices, caramel, pumpkin, gingerbread, and often just good old fashioned traditional favorites for the Thanksgiving dessert table.
In today's Thanksgiving cake recipe roundup, we're sharing a little bit of everything from new fall favorite flavor combinations for cakes and cupcakes to tried and true classic cake recipes that have been around for generations.
I threw in a few favorite chocolate cake recipes too because everybody loves chocolate cake! ;0)
We hope you'll find a recipe that you'd love to try this Thanksgiving! If you try any of these, make sure to share your comments and photos in the comments below! Have fun scrolling through!
40+ of the BEST Thanksgiving Cake Recipes
Sharing a collection of our favorite Thanksgiving Cake Recipes! If you love caramel cakes, spice cakes, pumpkin cakes, and other traditional favorites, you are sure to find something on this list!
Thanks for stopping by! Don't miss our full collection of Recipes in our Recipes Section!
My Cake School Cake Recipes and Tutorials!
If you are interested in learning cake decorating, we'd love for you to join us! Make sure to check out our Free Cake Tutorials section, including our Free Cake Videos!
If you'd like to learn even more about cake decorating, you should consider becoming a member of our site! Our members have full online access to the hundreds of cake decorating videos that we've created over the years!
You can find all of the membership details here: Membership Information for My Cake School!