Pumpkin Spice Cake Mix Recipe
Today we are sharing a delicious, moist, and flavorful recipe for Pumpkin Spice Cake- and it all starts with a cake mix!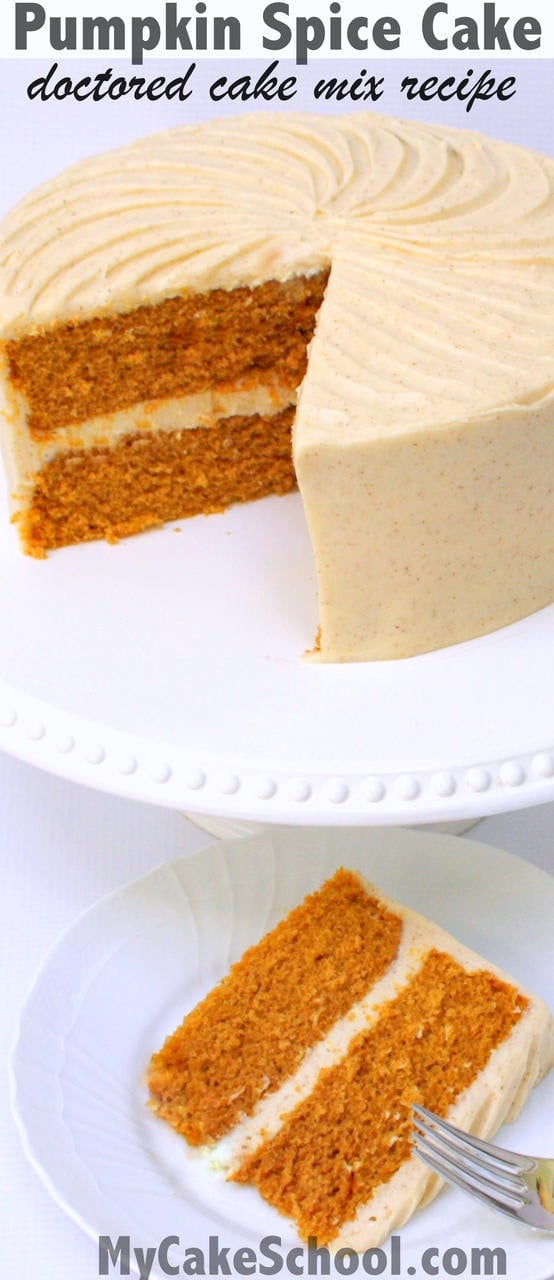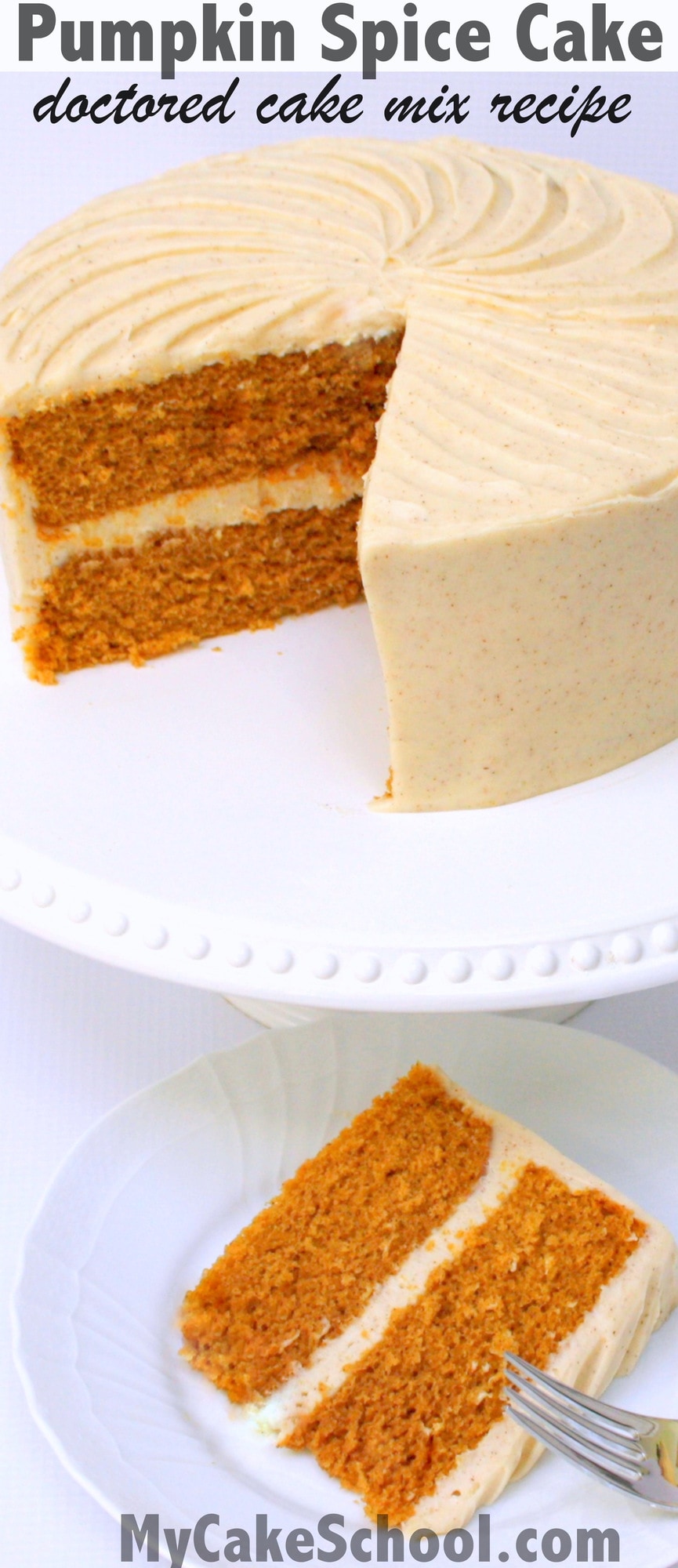 This is what my hubby said today when he came home and saw a layer of Pumpkin Spice Cake on the dining room table. He cut a piece and smelled it ...and closed his eyes (really)...."mmmmmmmmmm" . I guess he really loves pumpkin spice cake. I had forgotten how much!
BeBe made a couple of different variations of our Pumpkin Spice Cake today...and so there were plenty of leftovers to divide this way and that. I am still full from choosing which one is my favorite----but this, we decided, is the winner.
It is moist, amazingly delicious, works great for both cake and cupcakes, and is magical when paired with either Spiced Cream Cheese Frosting or our Classic Pipeable Cream Cheese Frosting.
More Pumpkin Cake Recipes to Share
We happen to REALLY love pumpkin around here. We've made several more recipes over the years that the pumpkin-lovers in your life will flip for. Don't miss these fabulous recipes:
Butter Pecan and Pumpkin Ice Cream Cake Recipe
Pumpkin Spice Cake~Doctored Cake Mix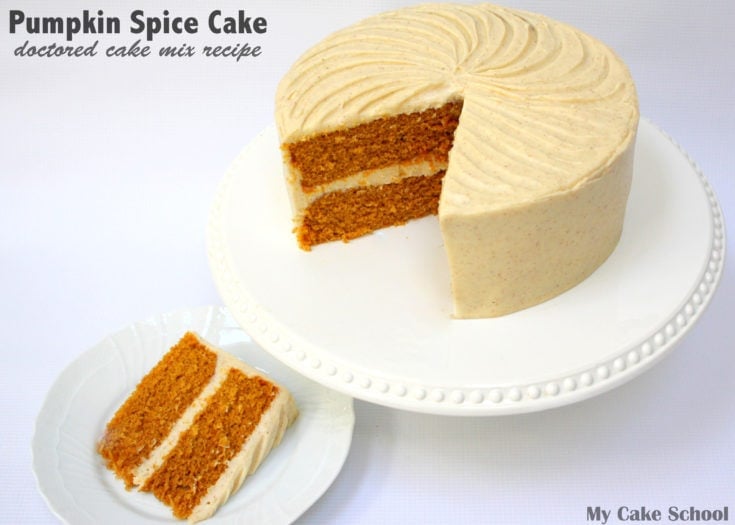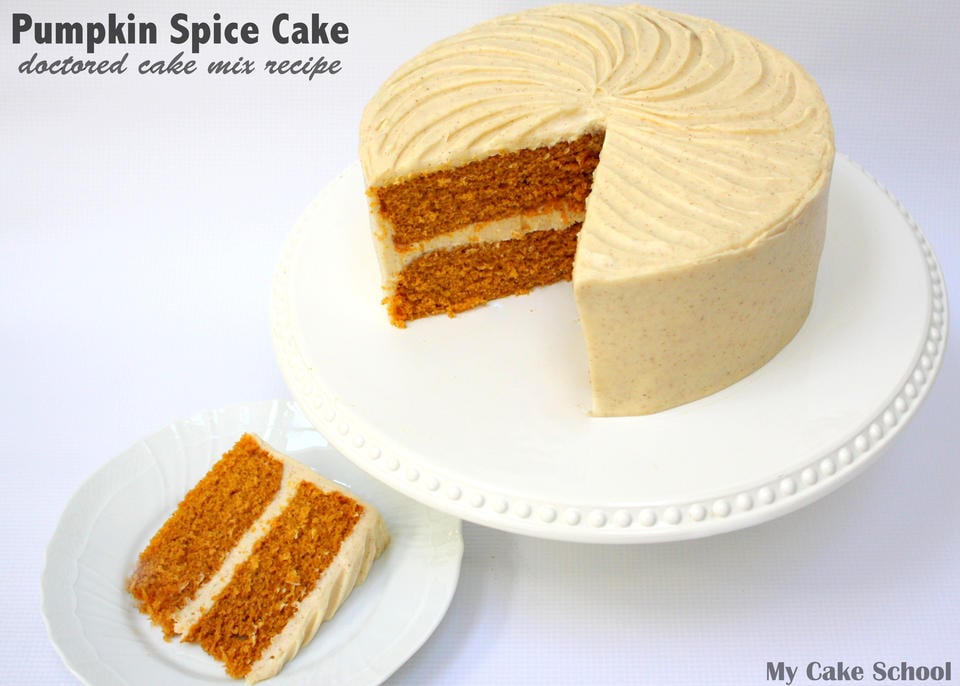 This delicious Pumpkin Spice Cake all starts with a simple cake mix!
Ingredients
For the Pumpkin Cake Layers
1 Package Yellow Cake Mix ( I used Duncan Hines Classic Yellow 15.25 oz (432g) Plus 5 Tablespoon flour (42g) ******See my note below
½ c. (100g) Granulated Sugar
½ c.107g) vegetable oil
1 cup (235g) pumpkin (Not pumpkin pie filling). We use Libby's 100% Pure Pumpkin (canned)
½ cup (121g) milk
1 teaspoon (4g) vanilla
2 teaspoons (6g) ground cinnamon
4 eggs
1 teaspoon (2g) nutmeg
½ teaspoon (1g) ginger
You could also add chopped pecans or mini chocolate chips as add ins if you like
Instructions
Preheat oven to 350 degrees F. Lightly grease and flour baking two 8 or 9 inch cake pans or a 9 x 13 baking pan (Batter makes great cupcakes too!)
In the bowl of your mixer, add the cake mix, 5 Tablespoons flour, (hand whisk to blend the flour into the cake mix, sugar, vegetable oil, vanilla, pumpkin, milk, cinnamon, pumpkin pie spice, and eggs.
Beat on medium speed for 2 minutes until well blended. Scrape the sides and bottom of the bowl half way through. Transfer to the cake pans.
Bake in preheated oven for 25 to 30 min. or until it springs back to the touch.
Frost with cream cheese frosting or Spiced Cream Cheese Frosting
Notes
**Since my original posting of this recipe, I have also tried this recipe using Spice Cake Mix -- I just left out the spices that the recipe calls for since they are already in the mix. It works perfectly if you need a short cut or don't have the spices on hand!
How to Make Quick Fondant Pumpkin Cupcake Toppers!
We made some pumpkin cake layers today and also some pumpkin cupcakes, which we frosted with cream cheese frosting. YUM! I wanted to make some cute pumpkin toppers for them using fondant--
This only takes a second if you have fondant on hand, and the results are adorable! Here I am, making several long impressions with my toothpick into a soft ball of orange fondant.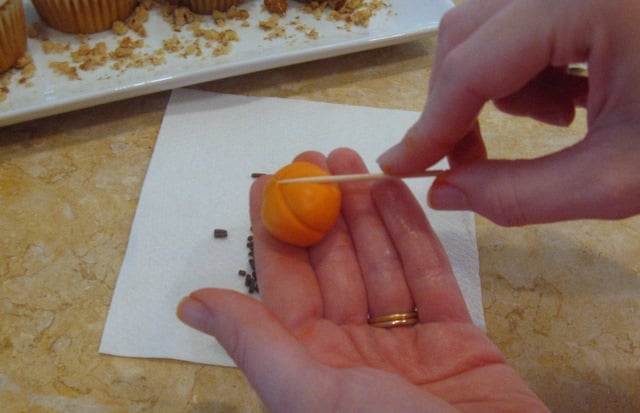 Next, break out a bottle of jimmies! These are your stems. Then, I piped a tiny green buttercream leaf using a small round piping tip (you could also use a leaf tip 352)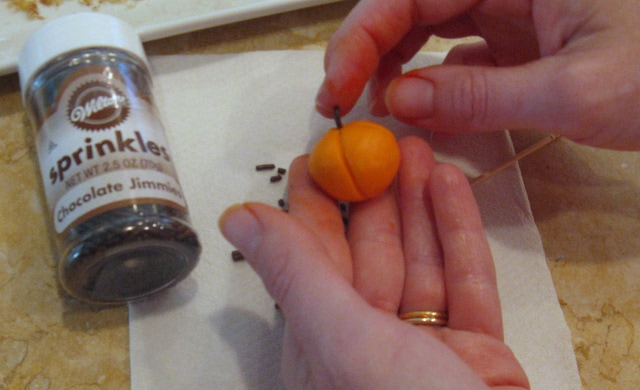 Here they are! You may like to sprinkle a few crushed walnuts or pecans on top!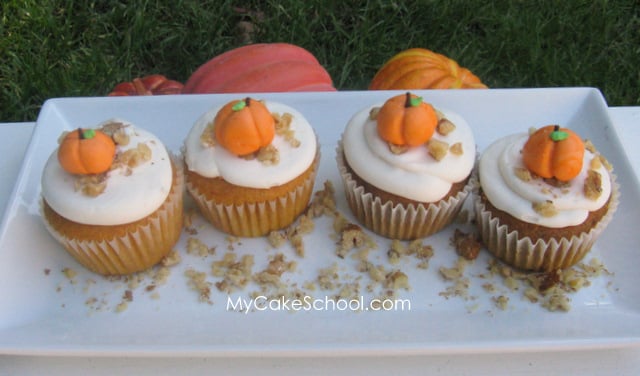 Thanks so much for stopping by! Now go make some delicious Pumpkin Spice Cake or cupcakes. Your friends and family will love you for it!