Apple Walnut Cake with Maple Cream Cheese Frosting
Today we're going to share an amazing scratch Apple Walnut Cake recipe. Oh how I love fall and all of the delicious desserts that come with it!
This flavorful apple cake is sure to be a hit at your fall and Thanksgiving gatherings.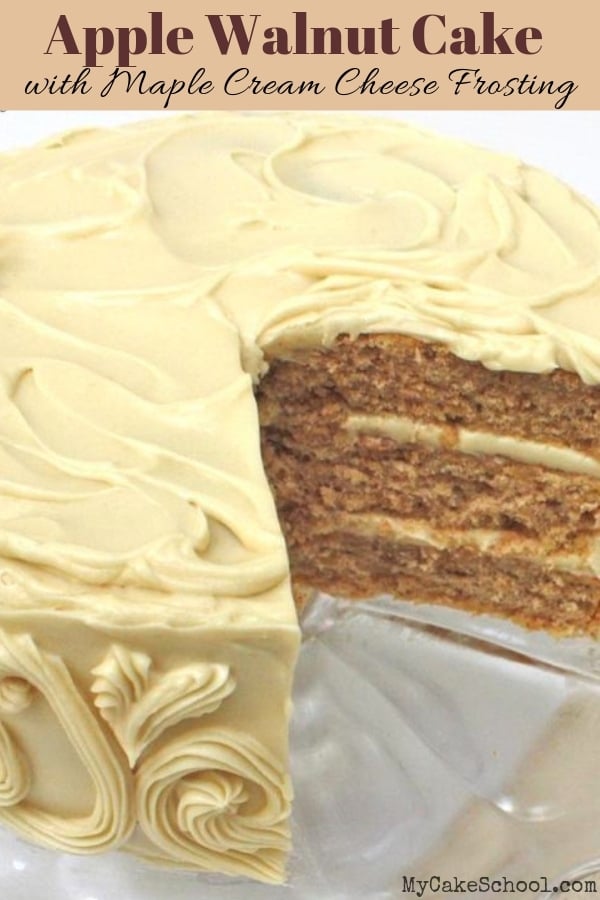 Favorite Fall Cakes
We've shared several favorite fall cakes over the years (including Pumpkin Spice, Caramel Apple Spice, Caramel Vanilla Latte, and more), and this layer cake has earned a spot right alongside them at the dessert table.
Fall is filled with what I like to refer to as the cozy flavors. The ones that just make you want to snuggle up with a blanket, a cup of tea, and a slice of spiced goodness. Mmmm....
We hope that you enjoy this Apple Walnut Cake as much as we have! It is guaranteed to please any crowd.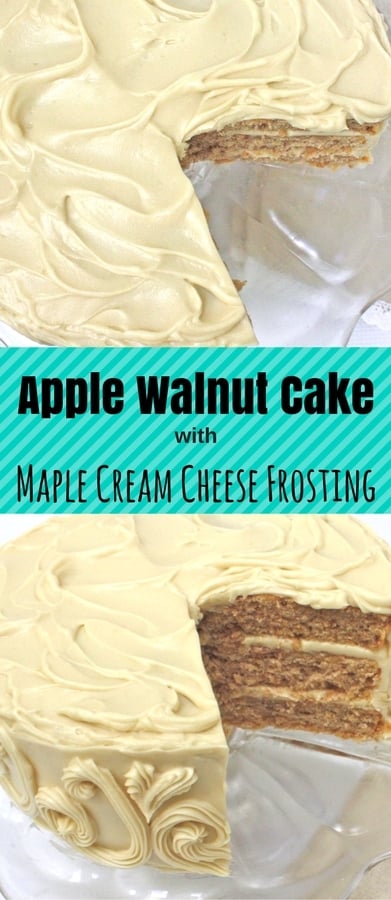 How to Make an Apple Walnut Cake
Apples, walnuts, and maple (along with a hint of cinnamon and nutmeg) are the stars of this dessert, and are sure to satisfy those fall cravings.
This cake is mixed up using the traditional method of mixing (rather than the reverse creaming method of some of our recipes).
I love cake recipes that have a good amount of batter, and at 7 ½ cups, it gives us plenty to make three 8 inch cake layers. (Hooray for that extra layer of maple cream cheese filling)!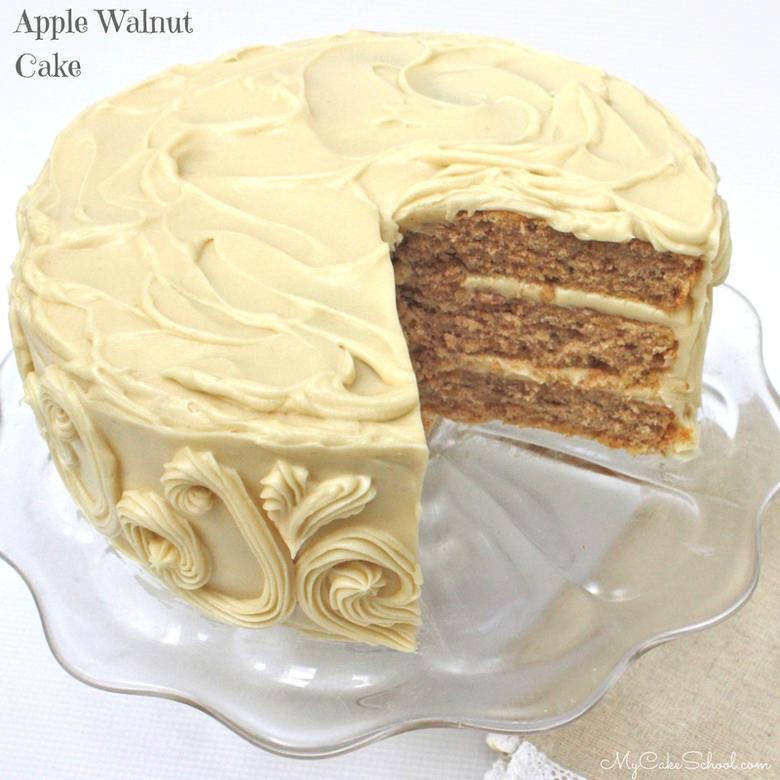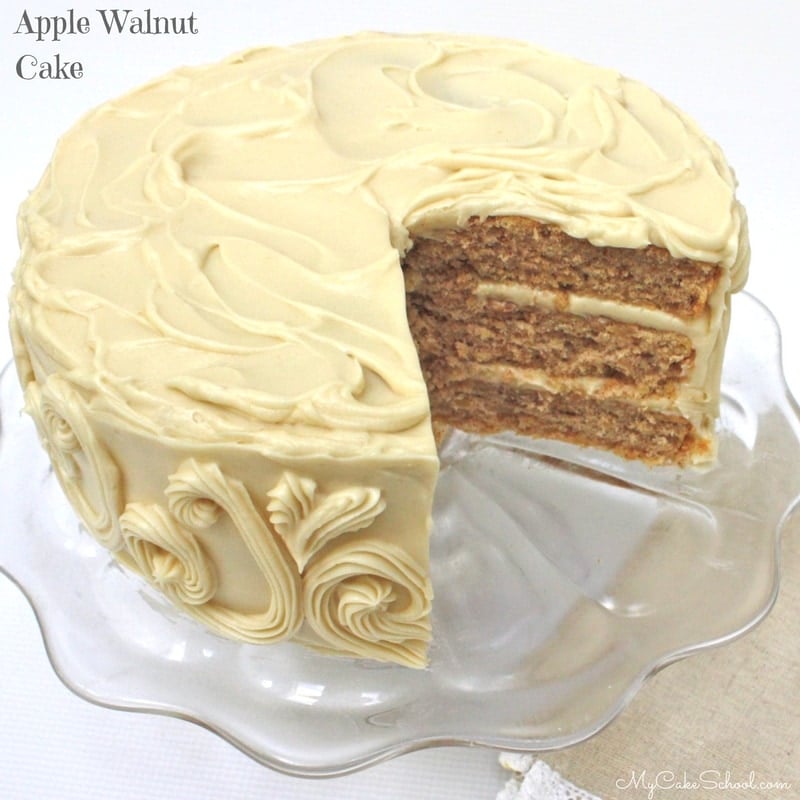 Freezing Apple Walnut Cake Layers for Moistness
No matter what cake recipe I'm making, I like to wrap and freeze my individual cake layers while they are still slightly warm with a layer of plastic wrap and then foil. I cool the cake layers in the pans on a cooling rack for about 5 minutes or so before flipping them out and wrapping.
You can freeze your cake layers for as little as a few hours or up to three months as long as they are tightly sealed. This step really does add moisture to your cake! Thaw the cake layers while still wrapped. It will not negatively impact the flavor or freshness of your cake in any way. You should try it!
Time to Assemble the Cake!
When it was time to start frosting the cake, I filled the cake layers with a luscious Maple Cream Cheese frosting. This frosting is AMAZING!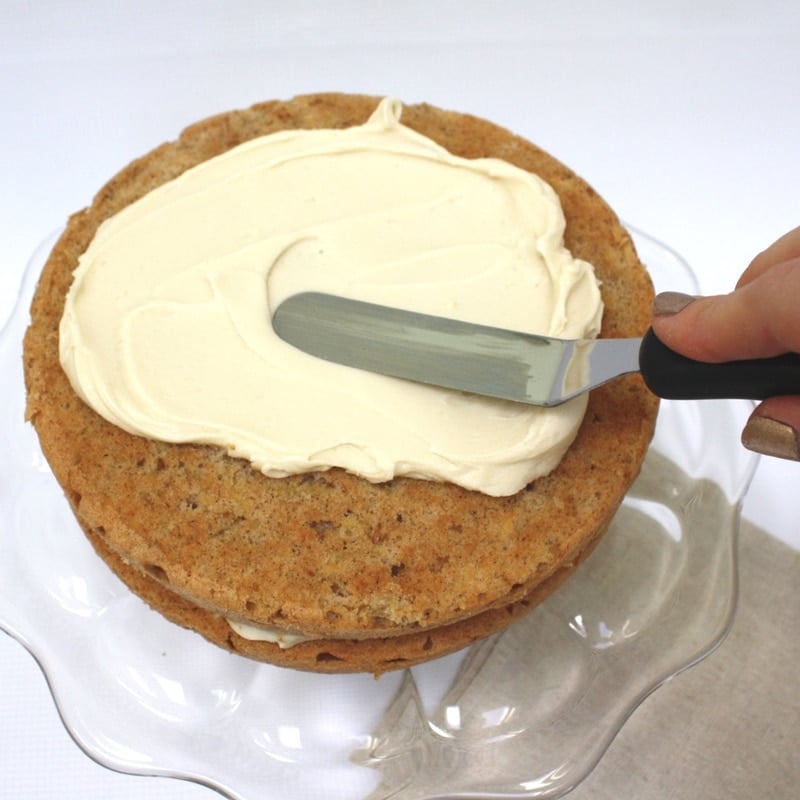 Next, I applied the cream cheese frosting to the outside of the cake with a small offset spatula and smoothed around the sides using a bench scraper while giving it a spin on my turntable.
For the top of the cake, I added a little swirly texture with my spatula. I love the look!
I used a tip 21 star tip to add a few simple scrolls around the sides of the cake.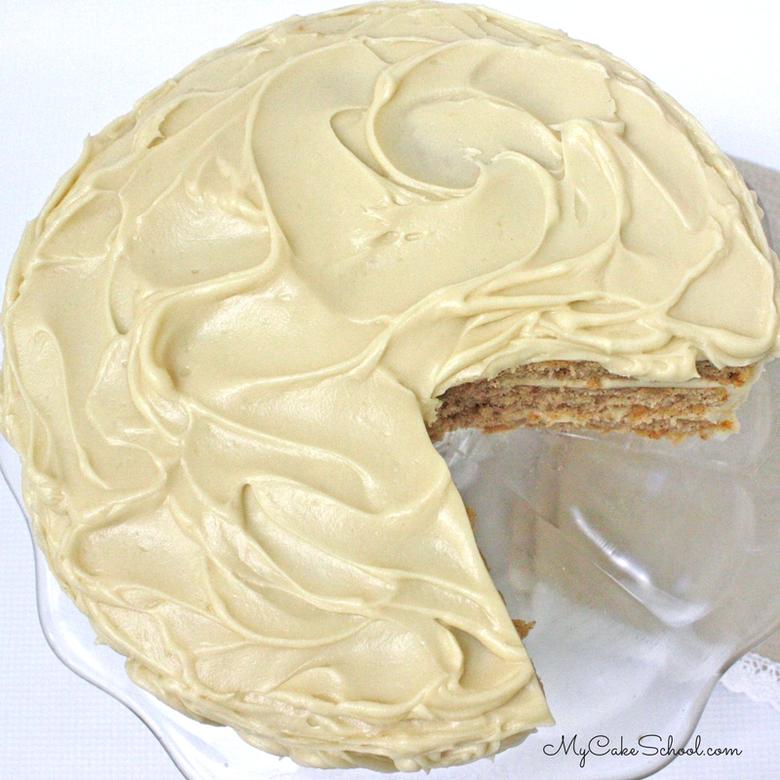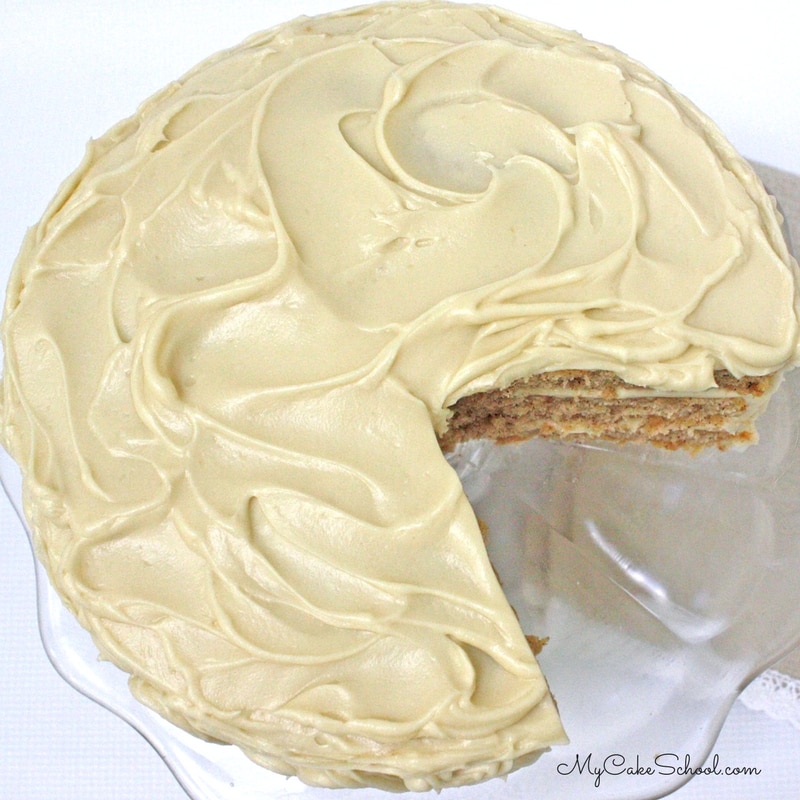 What to do if the Maple Cream Cheese Frosting is too Soft..
Cream cheese frostings are softer than most buttercream frosting recipes. I'm going to forgive this little flaw because I just LOVE cream cheese frosting so much!
If you notice that your maple cream cheese frosting is too soft, you can add a bit more confectioners sugar (just as we do to thicken up American buttercreams). However, the culprit is often the temperature of the frosting. If you suspect that this is the issue, just go ahead and chill it for a bit.
I like to chill my cream cheese frosting for a few minutes before applying the frosting or doing any piping. The piping should hold it's shape as you can see our scrollwork did around the sides of the cake.
*If you notice that your frosting is softening really quickly as you are piping, the culprit is likely your warm hands! If this is your issue, simply prepare two piping bags and alternate between the two (either refrigerating one or resting it on a bag of ice).
Maple Frosting
Although Maple Cream Cheese is our frosting of choice for this cake, it would also taste fabulous with our Maple Buttercream frosting (as used in our Maple Pecan Cake). Another great one for fall!
We have more favorite fall cakes for you to try!
We have several layer cakes that I would consider perfect for fall celebrations, whether for fall birthdays or the dessert table at Thanksgiving! You just cannot go wrong with any of these (and I highly recommend that you try out as any as you can!)
Apple Walnut Cake with Maple Cream Cheese Frosting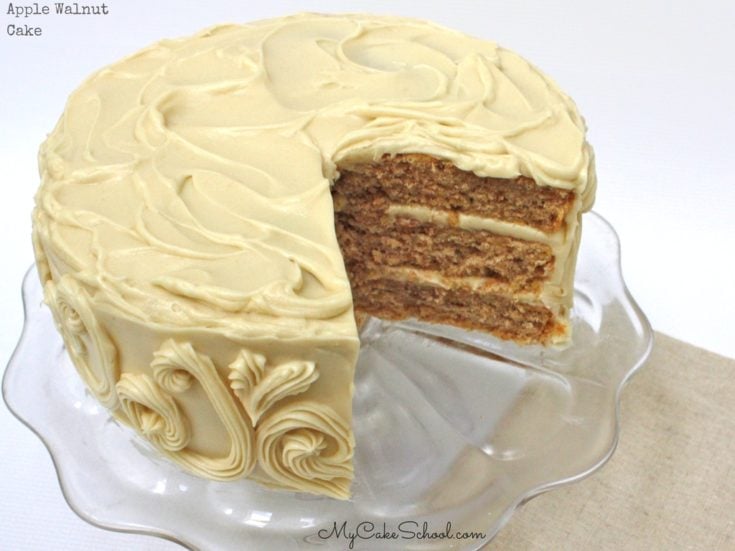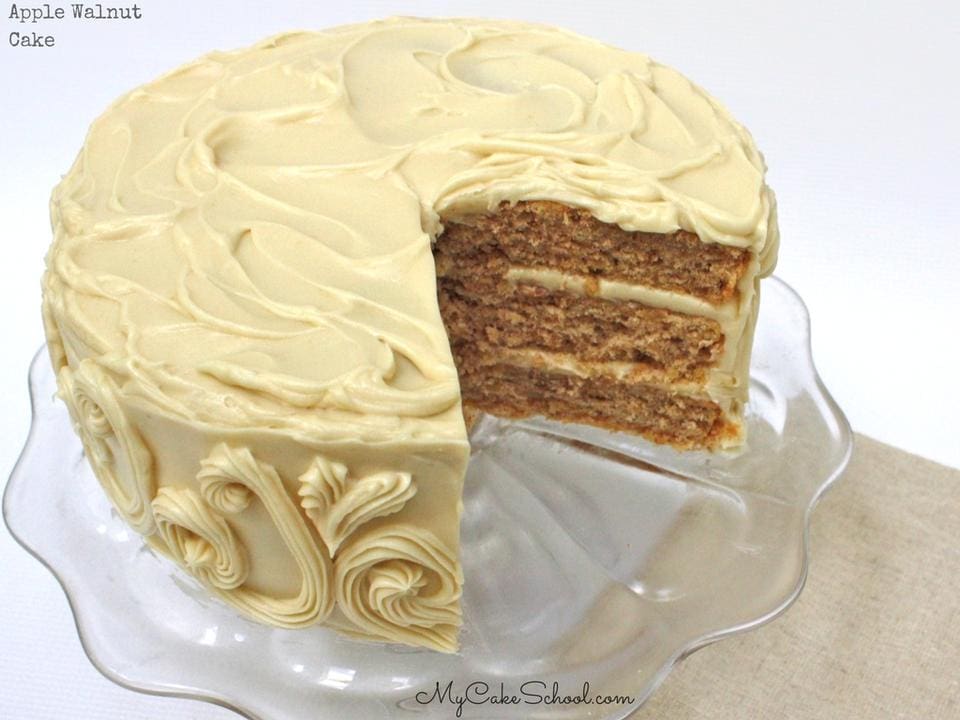 Apples, walnuts, maple, and spices- This amazing cake is bursting with flavor! We especially love this layer cake recipe for fall gatherings!
Ingredients
For the Cake
½ cup (1stick) (113g) unsalted butter, slightly softened
2 cups (400g) sugar
½ cup (107g) vegetable oil - I used Canola oil
1 teaspoon vanilla (3g)
3 eggs
3 cups (342g) all purpose flour ( plain in the UK)
1 ½ teaspoon (6g) baking powder
½ (3g) baking soda
½ (3g) teaspoon salt
½ teaspoon nutmeg
1 Tablespoon (7g) cinnamon
1 cup (242g) buttermilk - (If you do not have buttermilk, put 2 Tablespoons vinegar in a measuring cup and fill to the one cup mark with milk, stir and allow to sit for 5 minutes.)
2 cups (250g) apples, grated - Depending on the size of the apples you will need two or three. I used golden delicious, use the large holes of a box grater to grate the apples
1 cup walnuts ( 125g) chopped
Maple Cream Cheese Frosting
2 sticks (226g) unsalted butter, slightly softened
2 8oz packages cream cheese (453 total gram weight) softened very slightly. Use full fat cream cheese. Do not use reduced
1 Tablespoon maple syrup (optional)
2 teaspoons (8g) maple extract
6 to 6 ½ cups (690g to 747g) powdered sugar, adding more if necessary
Instructions
For the Cake
Preheat the oven to 350 degrees
Grease and flour three 8 inch cake pans - Add a circle of waxed paper or parchment paper to the bottom of each pan, cakes with fruit can have a tendency to stick.
In a separate bowl, add the flour, baking powder, baking soda, salt, nutmeg, and cinnamon. Whisk at least 30 seconds to blend. Set aside.
In the bowl of your mixer, mix the butter until smooth. Add the sugar and mix at medium speed for 3 to 5 minutes or until light and fluffy. Add the the oil and vanilla and mix until blended.
Add the eggs one at a time, mixing until the yellow of the yolk disappears.
Add the flour mixture and the buttermilk alternately. Begin and end with the dry ingredients ( 3 additions of dry and 2 of wet)
Mix until just combined, do not mix above medium speed or over mix. By hand, stir in shredded apples and chopped walnuts.
Pour into prepared pans, smoothing tops with the back of a spoon. Bake at 350 degrees for 25 to 30 minutes or until a toothpick inserted in the center comes out clean or with just a few crumbs attached. Let cool 10 minutes, then turn out of pans.
Makes 7 ½ cups batter
Works well for cupcakes - bake cupcakes at 350 degrees for 18 to 20 minutes, the cupcakes will have very little dome
For the Maple Cream Cheese Frosting
Cut the butter into ½ inch slices and add to the bowl of your mixer, mix on medium speed until smooth
Cut the cream cheese into pieces and add to the butter, mixing on medium speed until well blended.
Add the maple syrup and maple extract
Gradually add powdered sugar and mix until well blended. Do not over mix or beat above medium speed . If beaten too long it will become very soft. If this happens, just put in the refrigerator for a short while to firm it up a bit, then frost the cake.
This frosting will pipe best if used while chilled. You can make in advance, refrigerate and when ready to use let it soften slightly and remix. Do not microwave to soften.
Will frost a 3 layer 8 or 9 inch cake
For more delicious Fall and Thanksgiving cake recipes and decorating tips, hop over to our post of favorites! Roundup of the BEST Thanksgiving and Fall Cakes, Recipes, and Ideas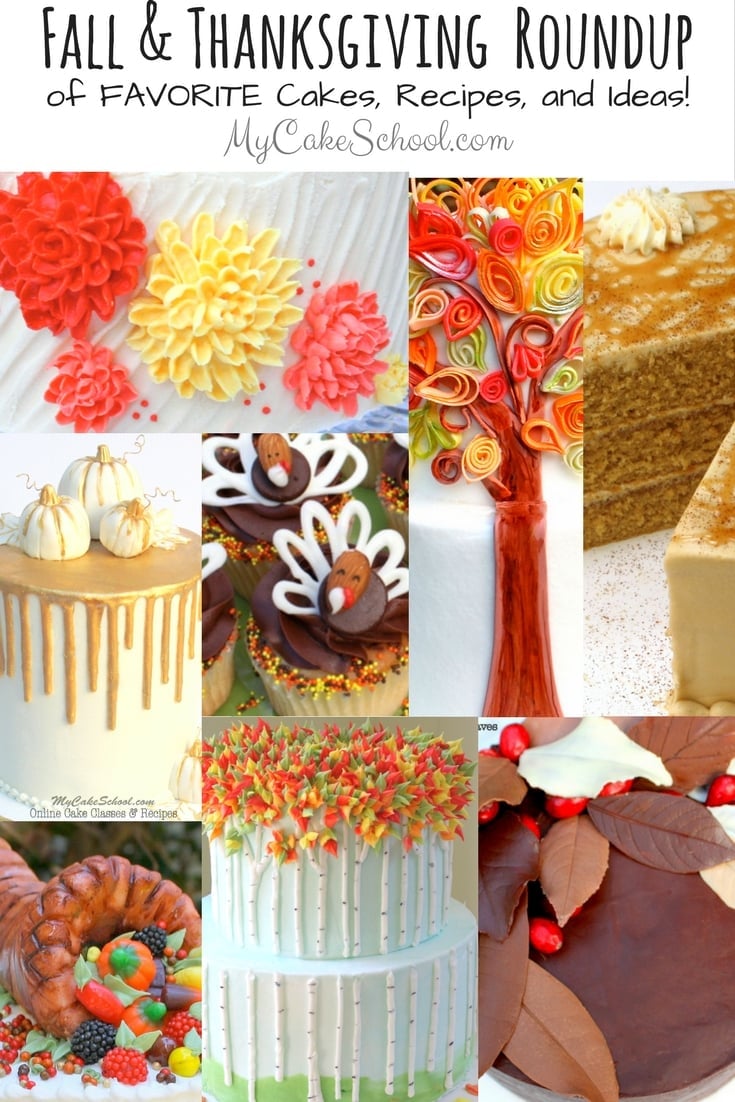 Sharing the BEST Cake Recipes and Cake Decorating Tutorials
Thanks for stopping by! If you give our Apple Walnut Cake a try, we would love for you to leave a comment below!
For even more fantastic cake recipes, hop over to our Cake Recipes Section for our tried and true cake and frosting recipes!
If you are interested in learning more about cake decorating, don't miss our Free Cake Videos section as well as our Free Cake Blog Tutorial section.
We have so many fun cake designs and techniques to share!