White Chocolate Cranberry Cake
White Chocolate Cranberry Cake is the PERFECT layer cake recipe for the holidays. Not only is it beautiful inside and out, but the flavor is amazing!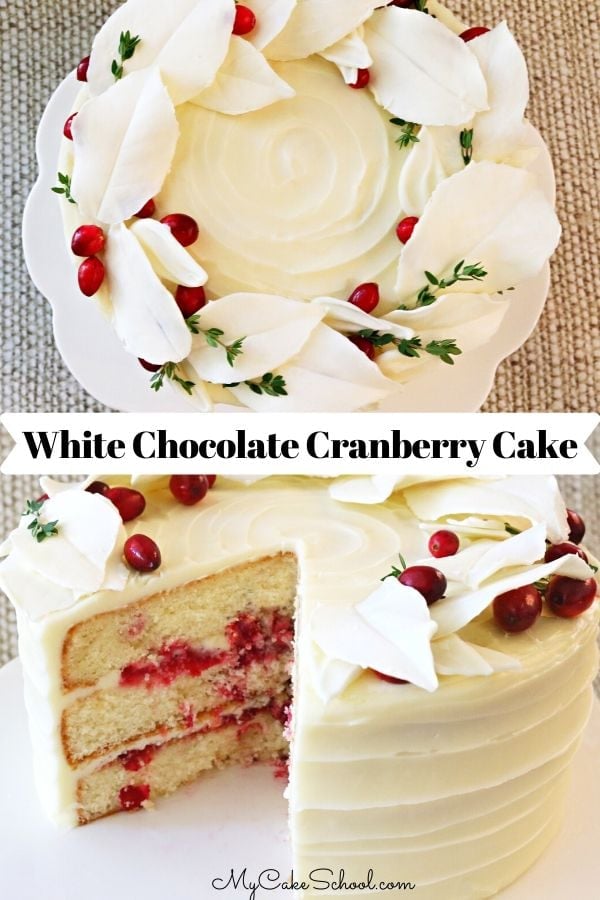 We love the tartness of the cranberries combined with the sweetness of the white chocolate cake and frosting.
This white chocolate cranberry cake is the recipe that you didn't know you needed, but are sure to come back to again and again.
We've made a cake video tutorial for the mixing and baking of this cake recipe as well as a video on the wreath design that we created of white chocolate leaves and cranberries!
This is one of my favorite elegant (yet simple) cake designs that we've created for the holidays. We hope that you enjoy it!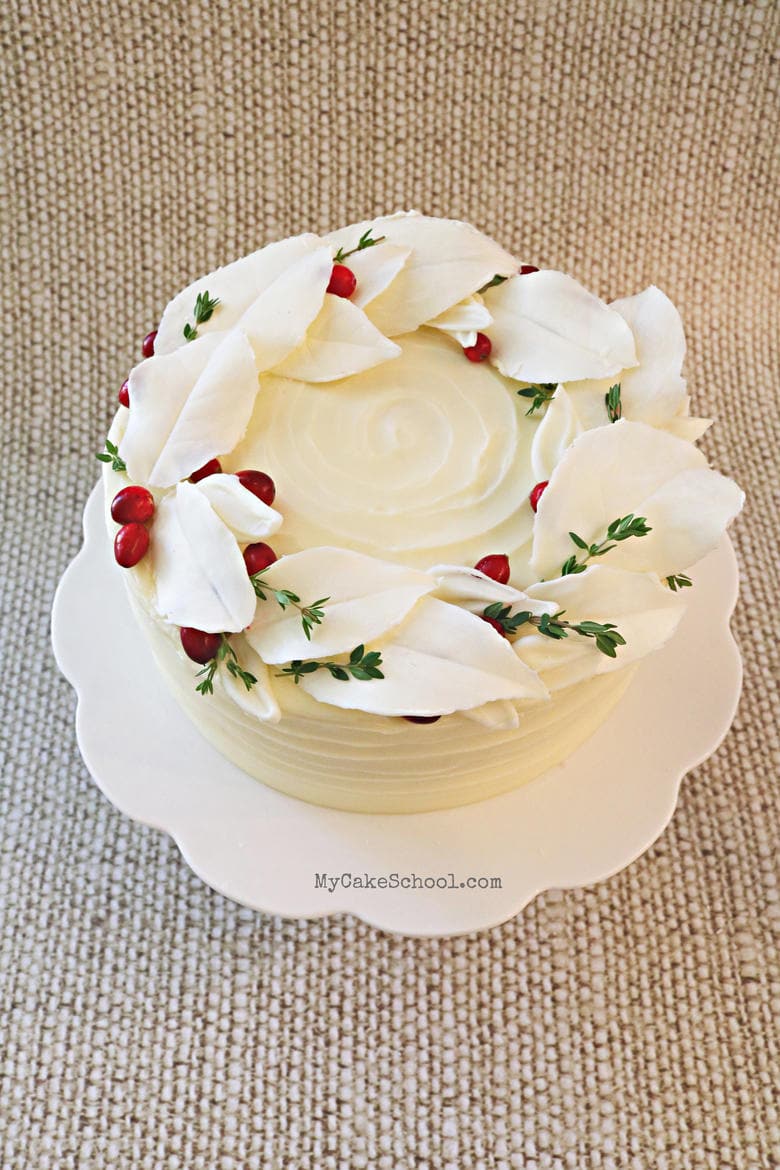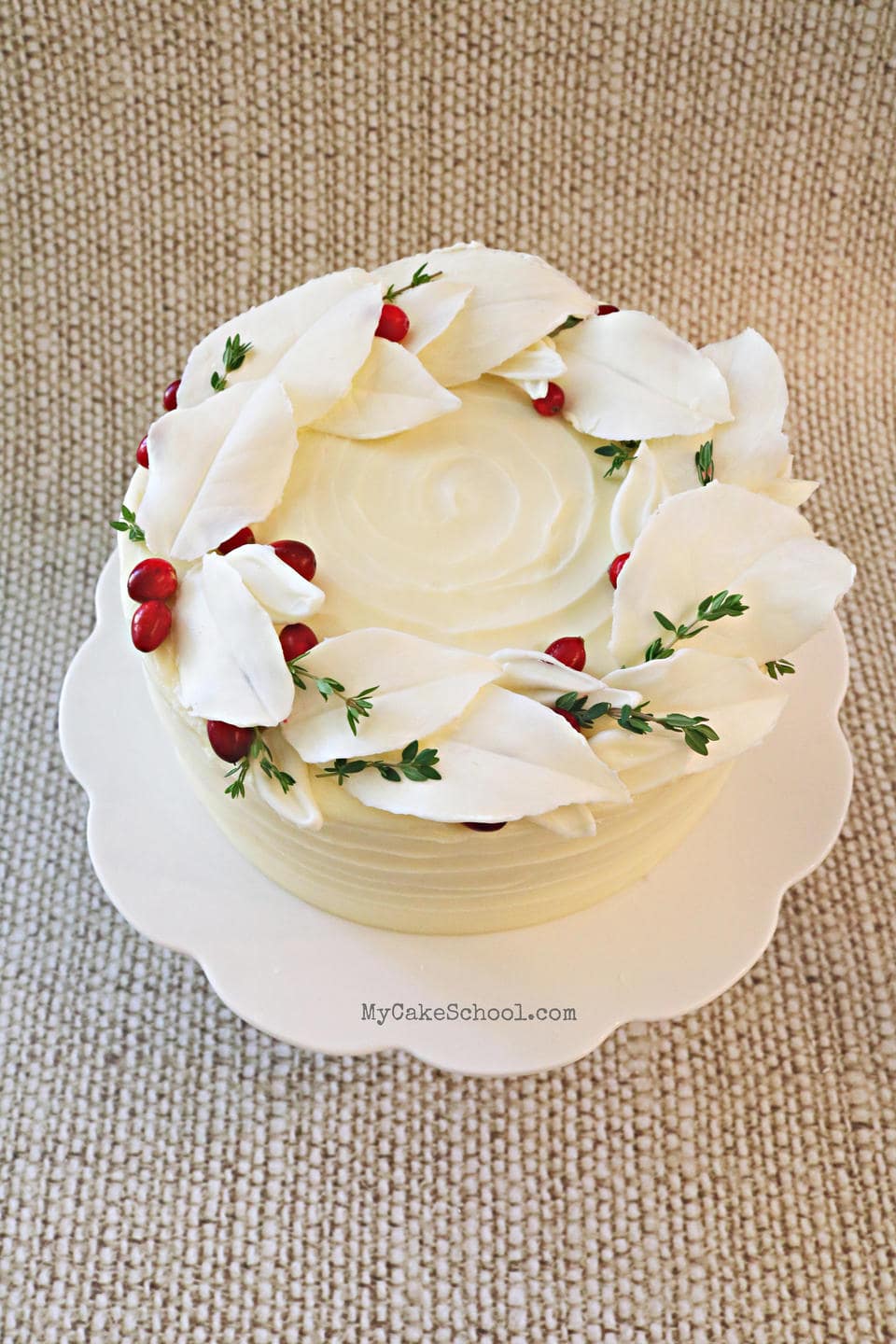 How to Make White Chocolate Cranberry Cake
Here's a quick rundown of how we made our cake. Don't miss our recipe card at the bottom of this post!
After making our white chocolate cake batter, we divided it between three 8 inch cake pans. *You can also divide it between two 8 inch cake pans for thicker layers (but the tradeoff is less filling in each slice).
We then gently pressed our coarsely chopped cranberries into the batter, lightly covering many of the cranberry pieces beneath the batter. We really didn't have any issues with sinking cranberries as they are so lightweight.
(We didn't fold our cranberries into the batter as we were worried that pink juice from the berries would streak the batter- you can experiment with this if you'd like)!
Freezing the White Chocolate Cake Layers
After baking the cake layers, we cooled them, still in their pans, on the cooling rack for about 5 minutes before flipping them out onto foil-wrapped cake boards and wrapped each one individually with plastic wrap, foil, and popped them into the freezer while still warm.
This freezing step is optional, but we do this for our cakes whenever time allows. Freeze anywhere from three hours to three months. To thaw, move the cake layers to the counter, still wrapped, for 30-45 minutes until condensation no longer forms on the foil. Then unwrap and continue to thaw before decorating.
Assembling the White Chocolate Cranberry Cake
When you're ready to assemble the cake, place the first layer on the pedestal or cake board. Then, pipe a dam of the white chocolate cream cheese frosting about ¼-1/2 inch from the edge of the layer. Fill with the cranberry filling (we used approximately ¼ cup per layer of filling).
Pipe additional white chocolate cream cheese frosting on top of the cranberry filling and spread lightly. Follow with the next layer of cake and repeat.
Next, frost the cake with a thin crumb coat of frosting. At this point, we like to freeze the cake for about 15 minutes (or longer in the refrigerator) to firm everything up.
Decorating the Cake
Apply the final coat of cream cheese frosting to the cake and decorate however you like.
We created a ridged buttercream effect around the sides with an offset spatula, and then created chocolate leaves for the top of the cake. You'll find all of these details in our tutorial!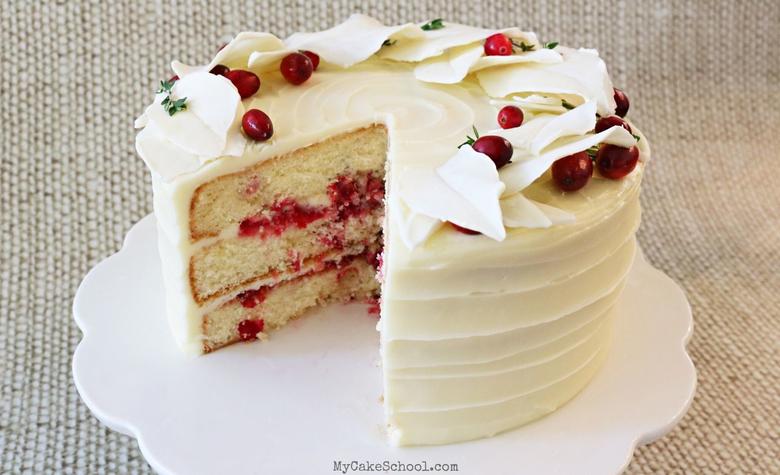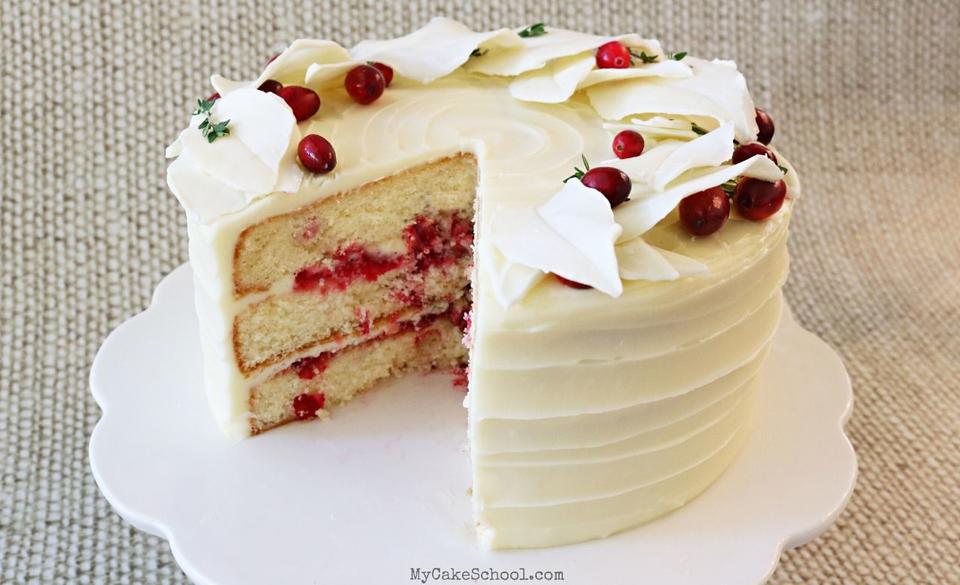 More Favorite Holiday Cake Recipes
We have several favorite cake recipes for Thanksgiving, Christmas, and more.
If you need even more tried and true classic recipes, don't miss these fantastic cakes from our Recipes Section! (You can also check out our roundup of Thanksgiving Cake Recipes and Christmas Cake Recipes and cake ideas!)
Some of our favorites are classic cakes like Italian Cream Cake, German Chocolate Cake, Black Forest Cake, and Hummingbird Cake.
Other Recipes with White Chocolate
Love white chocolate? Try these recipes as well, or pair our white chocolate recipes with other cake and frosting recipes to make delicious flavor combinations of your own!
White Chocolate Raspberry Cake
White Chocolate Peppermint Cake
White Chocolate Buttercream Frosting
White Chocolate Cranberry Cake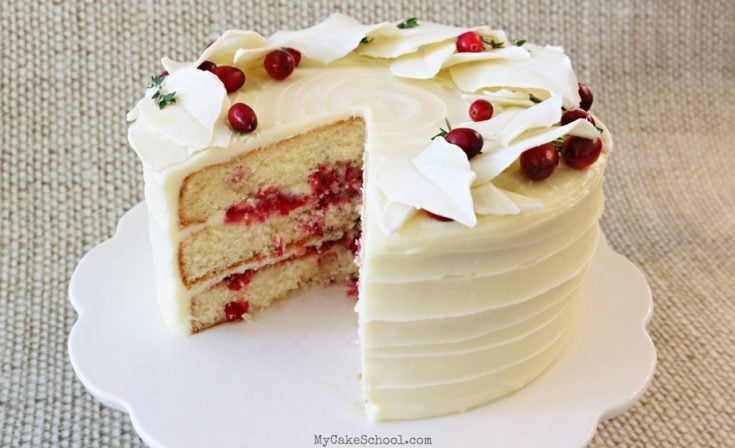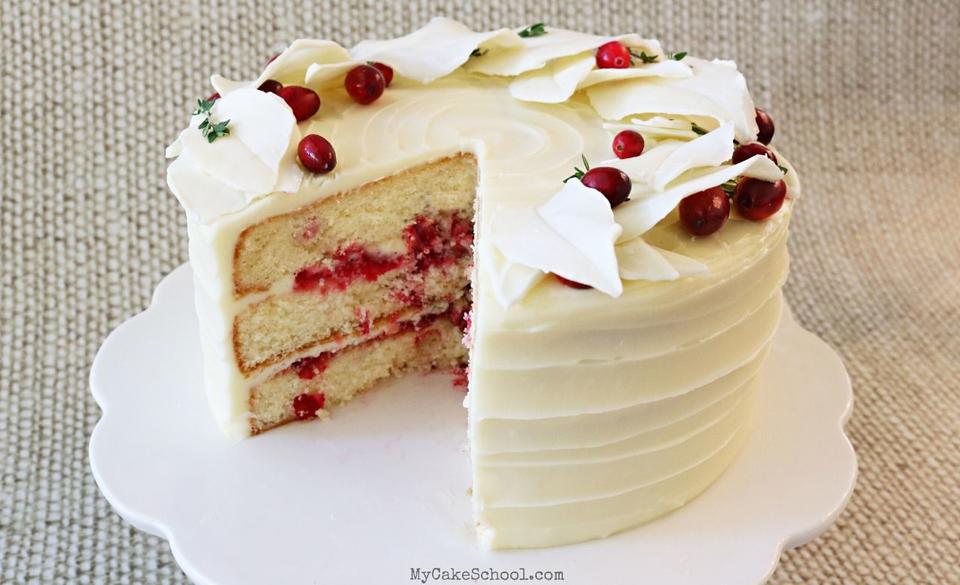 This White Chocolate Cranberry Layer Cake has so much flavor!
Ingredients
For the White Chocolate Cake
4 ounces (113.5g) white baking chocolate (I used Ghirardelli Premium Baking Bar and Bakers Premium Baking Bar to test the recipe)
2 ½ cups (285g) cake flour * if you do not have cake flour see Note below for substitution
2 ½ teaspoons (10g) baking powder
½ teaspoon (3g) salt
1 ½ sticks (170g) unsalted butter, slightly softened (do not soften in the microwave)
1 ½ cups (300g) sugar
2 large eggs, room temperature ( if in a hurry you can warm the eggs in a bowl of hot (not boiling) water for 5 minutes)
2 teaspoons (8g) vanilla extract
1 ⅓ cup (314g) milk
1 cup (90g) fresh or frozen cranberries - to help keep the cranberries suspended in the batter, cut into pieces.
Note: Cake flour substitution - For each cup of all purpose flour (plain in the UK) remove 2 Tablespoons and replace with 2 Tablespoons corn starch (corn flour in the UK). For this recipe, measure out 2 ½ cups all purpose flour, remove 5 Tablespoons and replace with 5 Tablespoons corn starch. Whisk to blend.
For the Cranberry Filling
1 ½ cup (180g) fresh or frozen cranberries
¾ cup (150g) sugar
¾ cup (180g) water
For the White Chocolate Cream Cheese Frosting
1 stick (113 g) unsalted butter, softened
1 package (8oz) ((226g) full fat cream cheese - it must be full fat, reduced fat or cream cheese in a tub will be too soft for the recipe.
2 (4oz) (113.5g) white chocolate baking bars - I used Ghirardelli
3 Tablespoons (12g) milk — for melting the white chocolate
1 teaspoon (4g) vanilla extract
6 cups (690g) powdered sugar
For the White Chocolate Wreath Decoration on Top
White Candy Coating (we used Candiquick)
Non-Toxic leaves of choice- We used Camellia leaves, washed and dried
Wax paper or parchment-lined cookie sheet
disposable piping bags
Small paintbrush
cranberries for garnish
Fresh sprigs of thyme (or rosemary, etc.) for garnish
small angled spatula
Instructions
For the White Chocolate Cake
Preheat the oven to 350 degrees
Grease and flour three 8 x 2 inch pans
IMPORTANT: for this recipe you will need to add a circle of wax paper or parchment paper to the bottom of the cake pans to prevent sticking
Chop the cranberries into small pieces. We placed them in a strainer and rinsed them to wash away most of the seeds. Pat dry.
Heat the milk in the microwave or on the stove top, do not let it boil. Add the white chocolate that has been cut into very small pieces. Let it sit for a couple of minutes to soften, then stir until melted and smooth. Let this cool down before using.
Combine the flour, baking powder and salt, whisk for 30 seconds to blend and set aside.
In the bowl of your mixer, beat the butter until smooth. Slowly add the sugar and beat on medium speed 4 to 5 minutes.
Add the eggs one at a time, mixing after each until the yellow is blended in.
Add the vanilla.
Alternately add the flour mixture and the milk/chocolate mixture, beginning and ending with the flour (3 additions of flour and 2 of milk mixture).
Mix until just combined, do not over mix and do not mix above medium speed.
Pour batter into prepared pans. Divide the chopped cranberries between the three pans, lightly pressing into the batter.
Bake at 350 degrees for 20 to 22 minutes or until a toothpick inserted in the center comes out clean or with just a few crumbs attached.. When a toothpick inserted in the center comes out clean or with just a few crumbs attached, it is done. Let cool 10 minutes in the pans and turn out.
(also works well for cupcakes)
Makes 6 cups cake batter
For the Cranberry Filling
In a medium saucepan, add the cranberries, sugar and water.
Cover the saucepan and cook over medium heat 5 to 10 minutes, stirring occasionally, until the cranberries pop. Uncover and cook another 5 to 10 minutes until the mixture thickens.
Remove from the heat, put into a heatproof bowl and refrigerate. The mixture will continue to thicken as it cools.
For the White Chocolate Cream Cheese Frosting
First, cut/chop the white chocolate into very small pieces. This will ensure easy melting. Put into a microwave safe bowl and add 3 Tablespoons milk.
Microwave for 15 seconds— let sit for a minute or two, stir and microwave again for 10 seconds, letting it sit again to soften further. Stir. Be careful not to overheat the white chocolate. The chocolate will continue to melt as it is stirred so stir for several minutes until it is completely melted. Let it cool to room temperature before using.
In the bowl of your mixer add the softened butter and cream cheese. Mix on medium speed until smooth. Add the room temperature white chocolate mixing until combined. Add vanilla. Gradually add powdered sugar mixing on low sped until combined and smooth.
The frosting may be too soft at the point so chill in the refrigerator a short while until it is the consistency you like for spreading. If making in advance, you will need to repeat for smoothness.
Makes approximately 5 ½ cups. This frosting should be refrigerated.
Assembly of Cake
Place first layer of cake on the pedestal or cake base
Pipe a dam of the cream cheese frosting about ¼ inch to ½ inch from the edge of the cake (You can do this by snipping the tip tip off of a disposable piping bag).
Fill with cranberry filling- I used about ¼ cup per layer of filling.
Pipe and lightly spread a thin layer of white chocolate cream cheese frosting on top. Add the second cake layer. Repeat.
Settle the filled cake if you'd like (see my notes in the post). Frost with the white chocolate cream cheese frosting. Chill as needed during the decorating process if the frosting becomes too soft.
For the Chocolate Leaves
Paint the flip side of your leaves with white candy coating. Do this on a parchment lined cookie sheet. Chill in the freezer for about 10 minutes until firm.
To release the chocolate coating from the leaves, simply bend the stem backwards and the leaf should separate.
You can also make "filler" leaves by piping dots of melted candy coating on the parchment and spreading with a small tapered spatula. Chill before placing on the cake.
The chocolate leaves are fragile at room temperature and so chill before placing on the cake.
Arrange your white chocolate leaves into a wreath and add cranberries and a few sprigs of thyme or rosemary as a garnish.
Notes
Make sure to check out our video tutorial on creating chocolate leaves if you would like to re-create our cake design!
How to Create Chocolate Leaves
Thanks for stopping by! If you try the recipe or cake design, make sure to leave a comment or photo in the comments below!
Learn Cake Decorating with My Cake School!
In addition to our ever-growing Recipes Section of favorite Cake and Frosting Recipes, we'd love for you to check out our section of Free Cake Tutorials, including Free Cake Video Tutorials!