This Toffee Pecan Caramel Cake with Caramel Cream Cheese Frosting is every bit as delicious as it sounds. It has become an instant family favorite!
With fall just around the corner, we are already dreaming of all of the wonderful flavors that come with the season, from pumpkin to spice cakes and caramel.
Today's recipe is a delicious twist on our favorite caramel cake, incorporating toffee bits and pecans for a wonderful crunch.
Our Caramel Cream Cheese frosting is the perfect complement to this flavorful layer cake, and I love how easy it is to make!
It has all of the tangy deliciousness that we love in a cream cheese frosting, but the addition of caramel sauce takes it to a new level. OH, so good!
I would definitely file this recipe under our fall favorites, although caramel lovers are going to request it year round. It's just that good! We hope that you enjoy it!
How to make Toffee Pecan Caramel Cake
After baking this three layer (8 inch cake), we wrapped them in plastic wrap and foil while they were still warm and place them in the freezer.
This is an optional step, but something that we always do with our cakes when time allows. It makes them even more moist!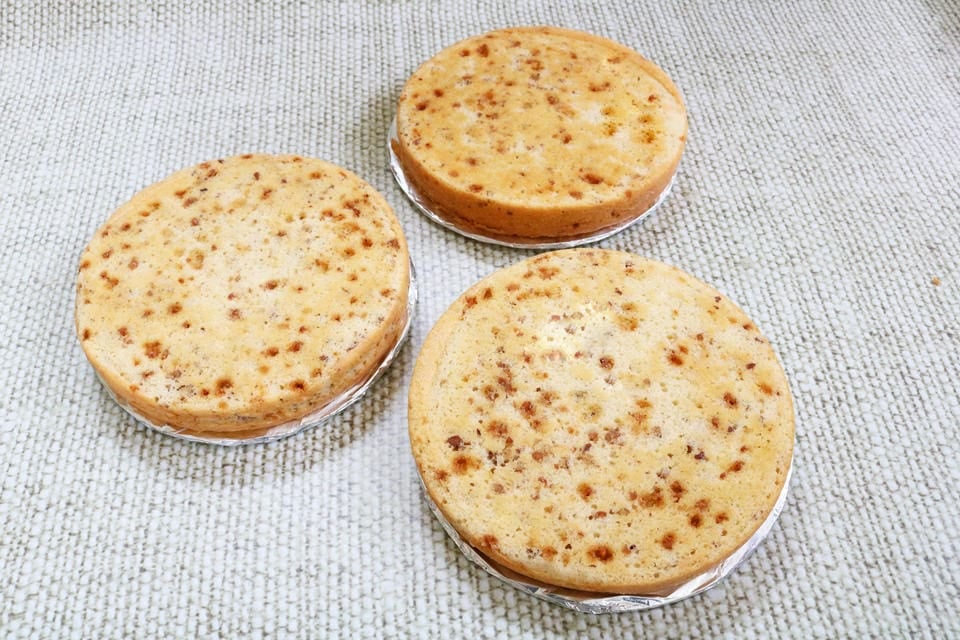 Thawing the Layers
After a few hours (or even up to a few months) in the freezer, allow to thaw on the countertop while still wrapped.
Unwrap once condensation forms on the foil and allow to thaw to desired temperature. (Some people prefer to assemble their cakes while still partially frozen so that they are easier to handle).
Next, we placed the bottom layer of cake onto our pedestal and glazed with a thin layer of caramel.
There was no need to pipe a dam of frosting around the caramel as it just sinks into the cake. We used store bought caramel for convenience!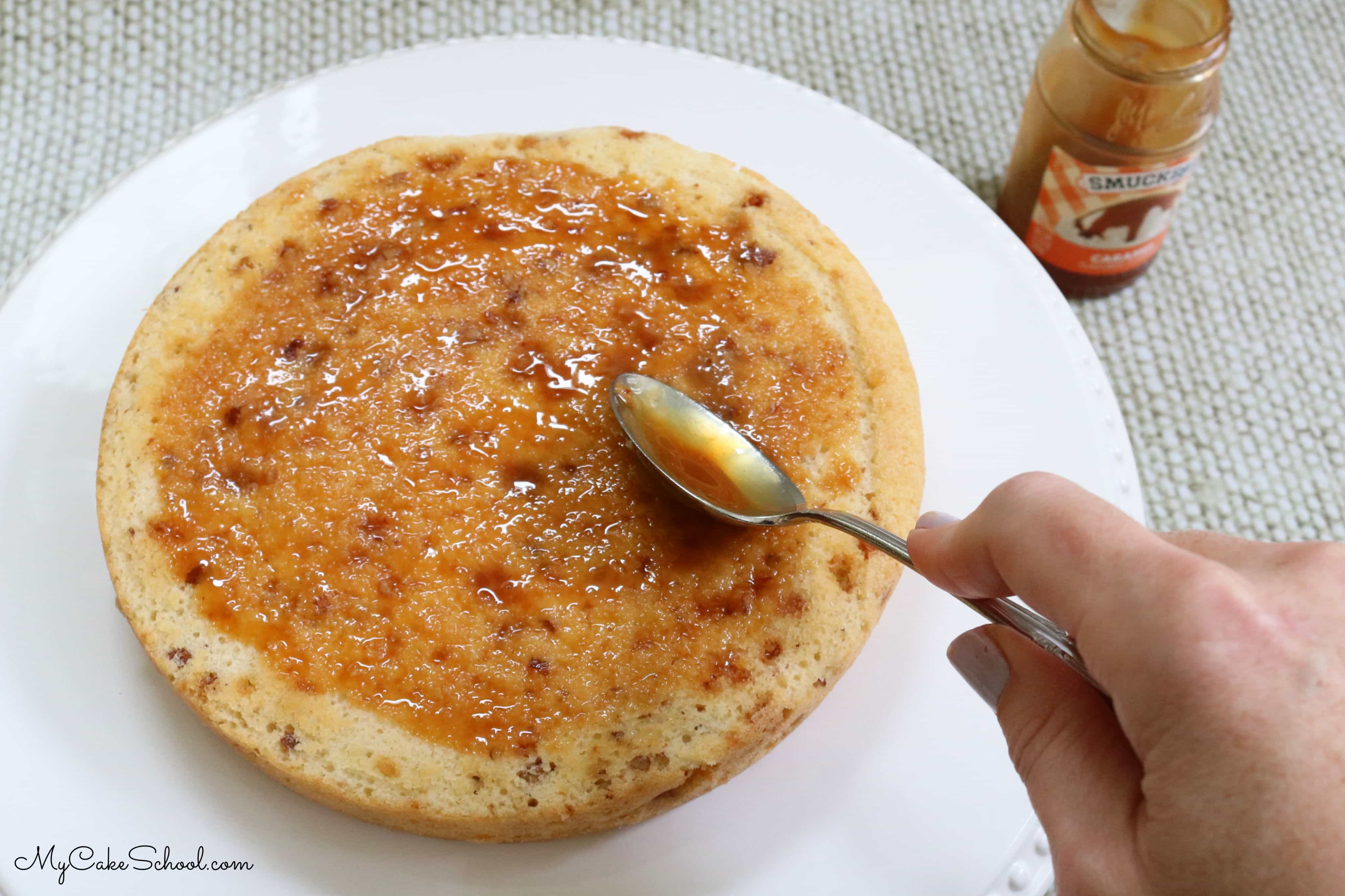 We followed that with a layer of our Caramel Cream Cheese frosting/filling. And repeated the steps for the second layer. Then, we placed the last layer of cake.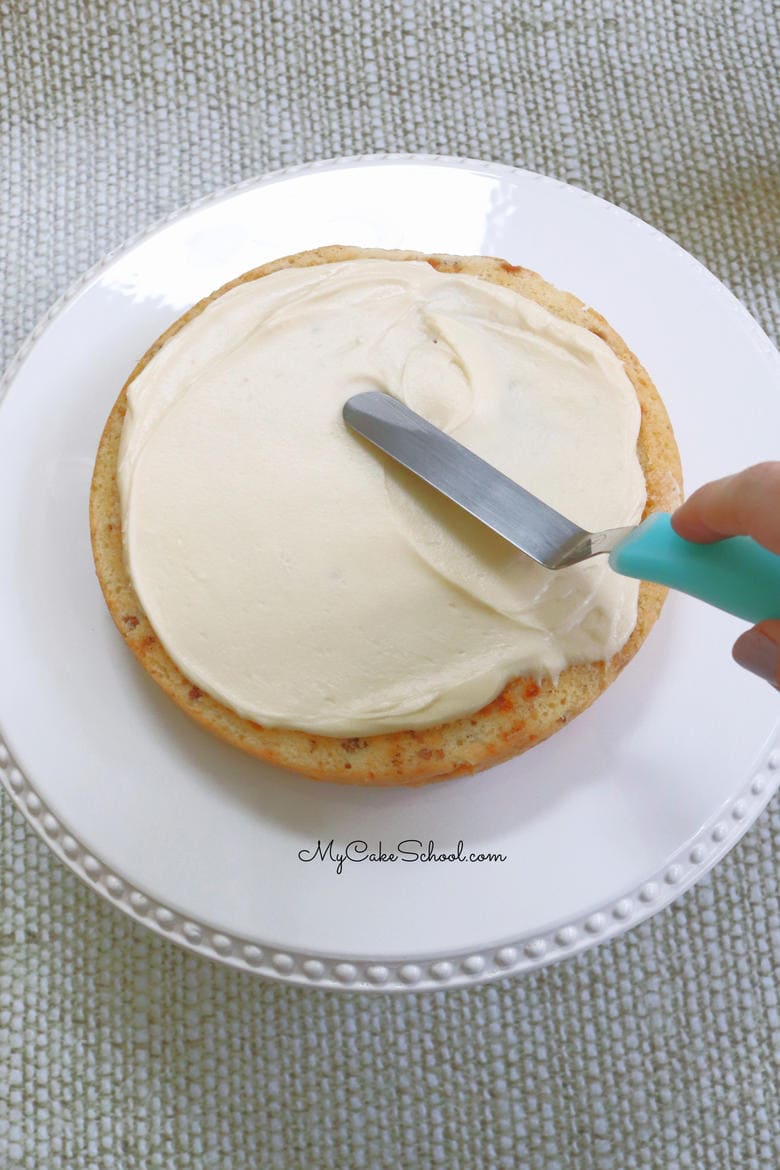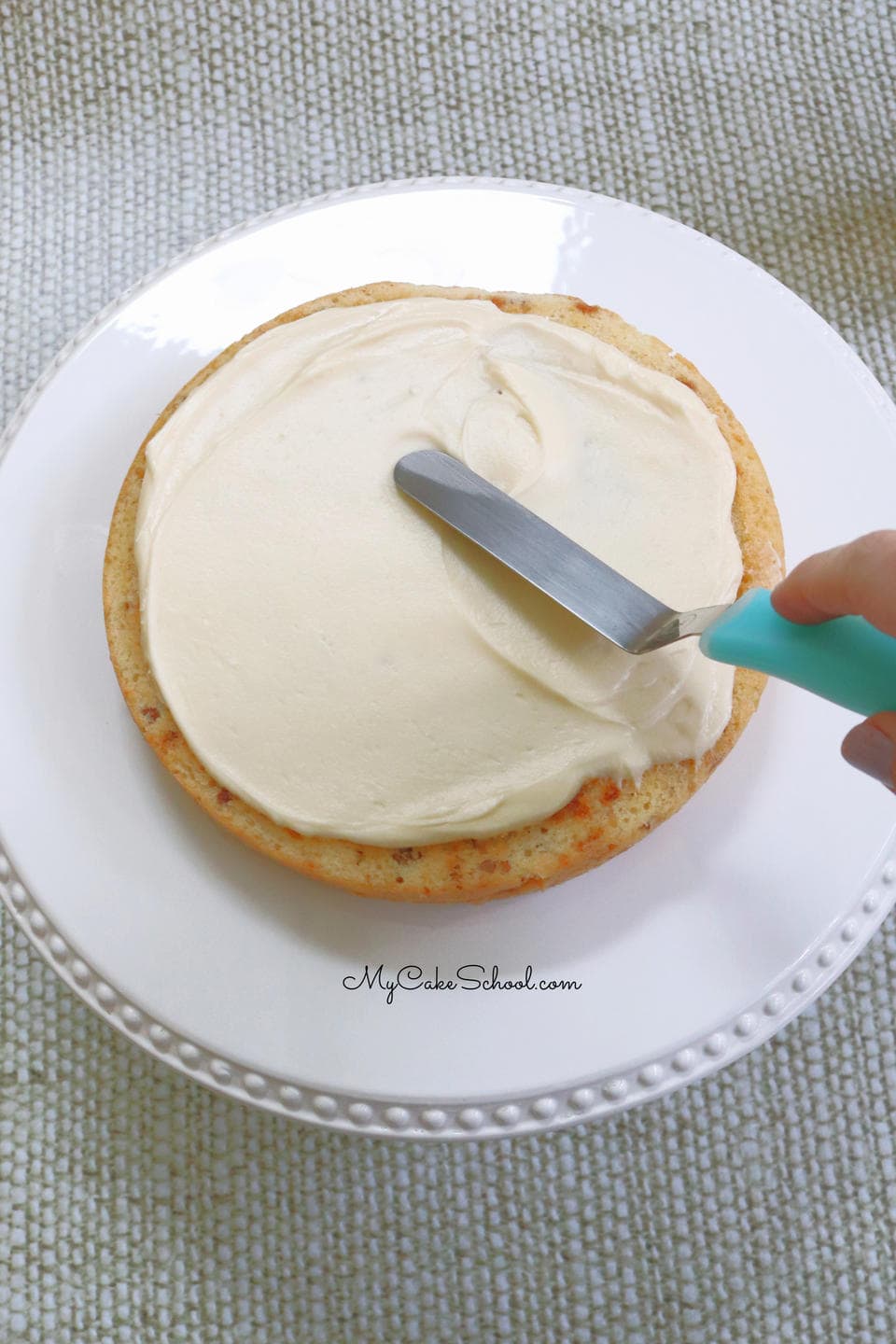 Settling the Cake
*Settling the cake is an optional step but one that I like to do to prevent bulges in the frosting later. To settle,
I wrap the filled, unfrosted cake tier in plastic wrap and place a weight of some sort on top. Something that will apply a steady, light pressure.
This could be a cake pan or two, a book, etc. Allow to settle for a few hours. (This can be done in the refrigerator since we're working with cream cheese filling.)
Decorating the Cake
Finally, I frosted the cake with a layer of our caramel cream cheese frosting and decorated the top with a spiral of caramel.
My border is a mixture of crushed pecans and toffee bits, and the top piping was created with a french piping tip and more pecans!
I love the look of this cake, but even more, the taste is amazing! We hope that you enjoy it!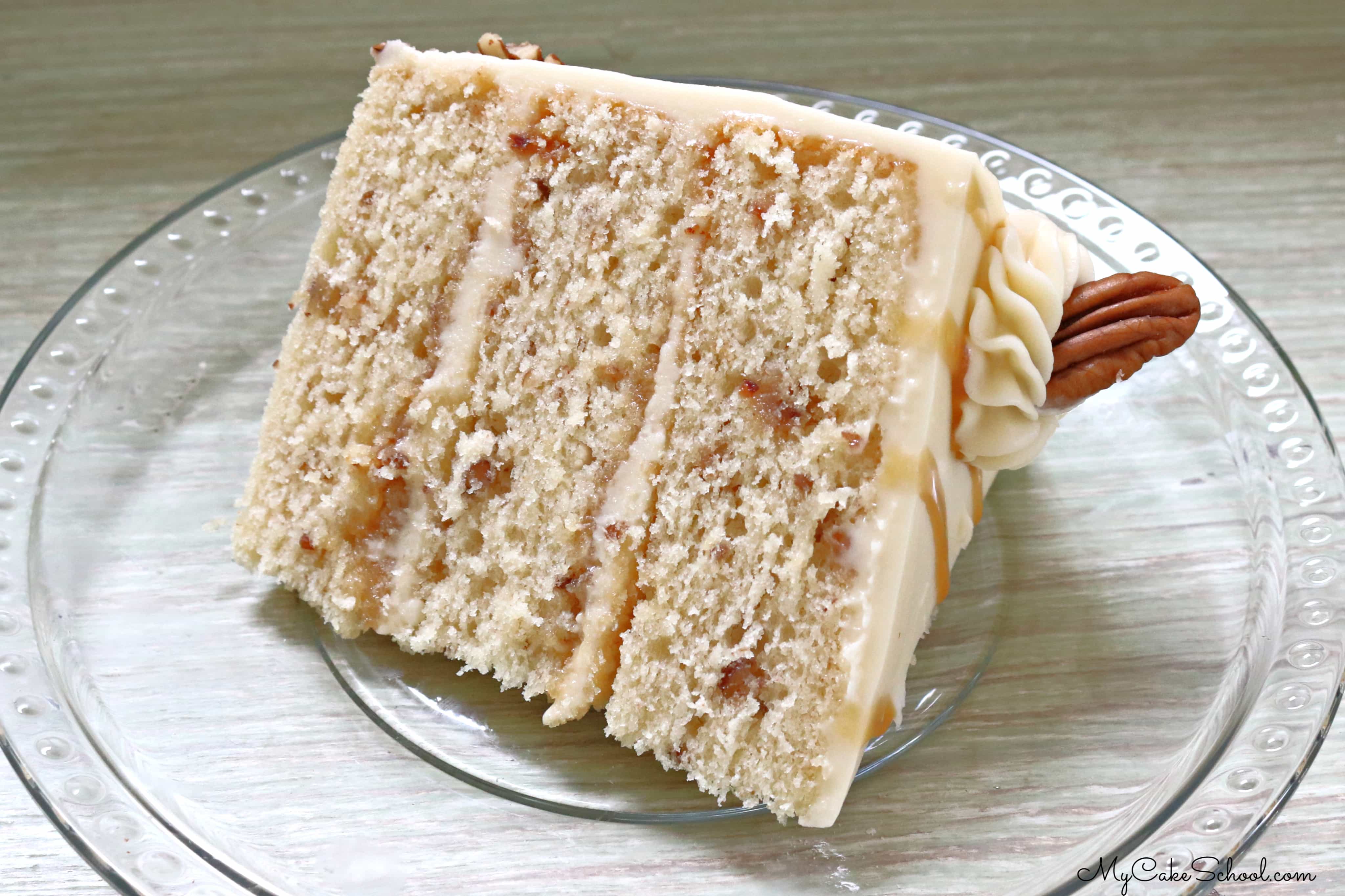 Looking for other FAVORITE Fall Cakes? We Have Lots!
We have several layer cakes that I would consider perfect for fall celebrations, whether for fall birthdays or the dessert table at Thanksgiving! You just cannot go wrong with any of these (and I highly recommend that you try out as any as you can!)
*Don't miss our full roundup of favorite fall cake recipe and cake decorating ideas: Favorite Cake Design and Recipe Ideas for Fall!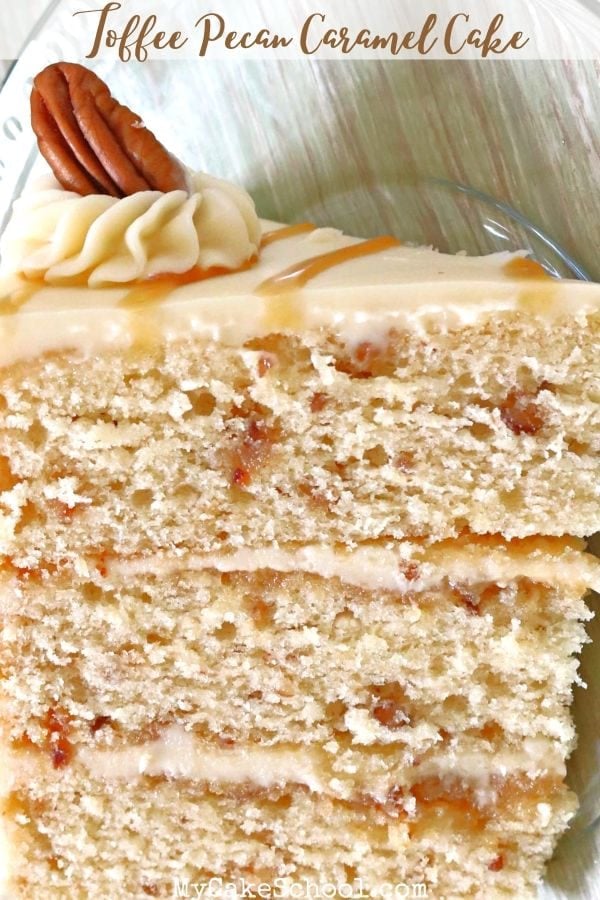 Enjoy the Recipe!
Thanks so much for stopping by! We hope that you enjoy this Toffee Pecan Cake. If you give it a try, we would love for you to leave a comment and photo below!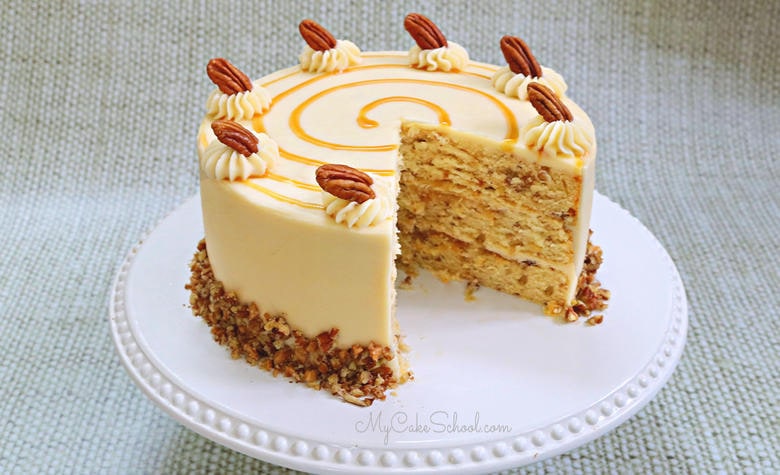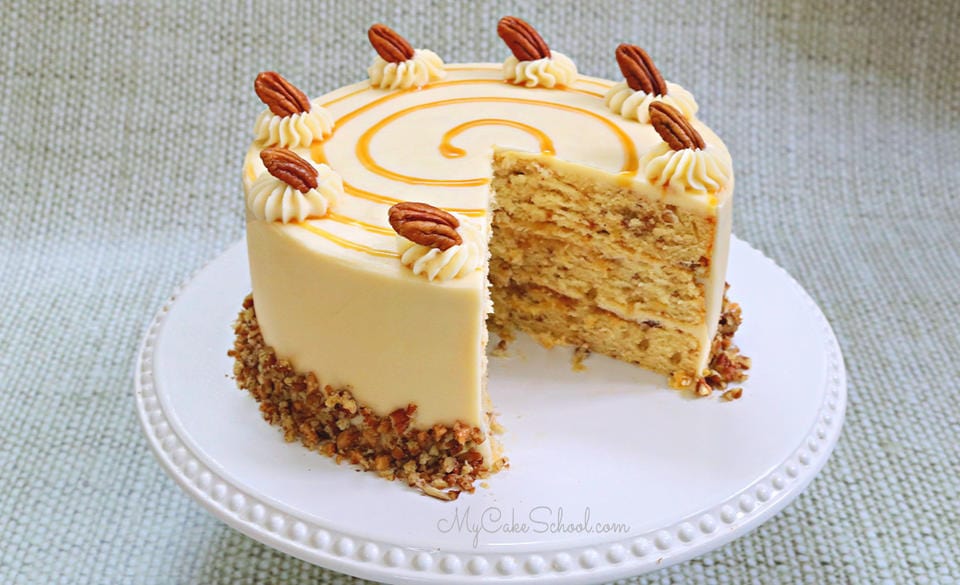 Toffee Pecan Caramel Cake with Caramel Cream Cheese Frosting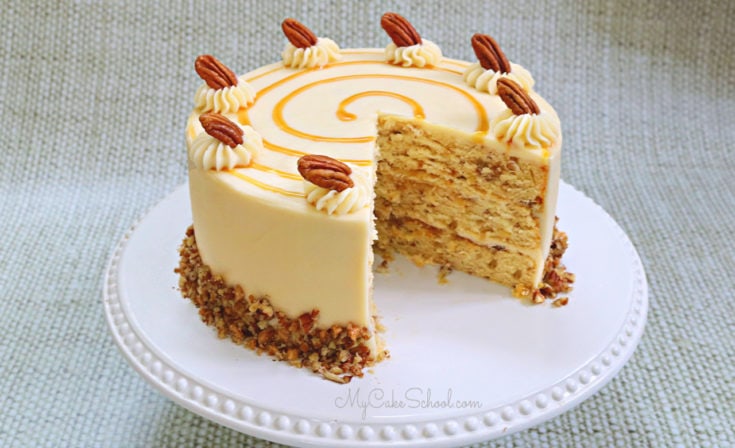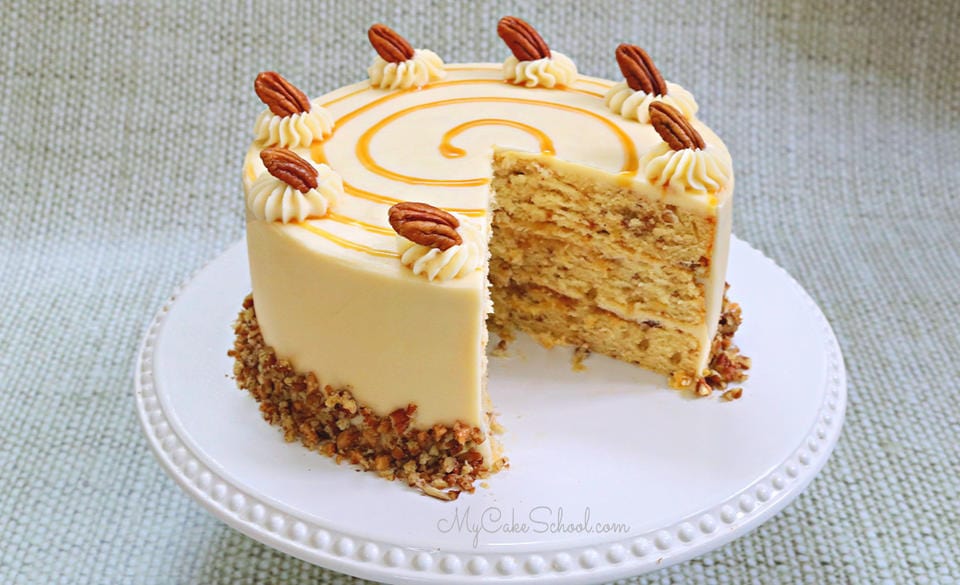 This moist and flavorful Toffee Pecan Caramel Cake has such a wonderful combination of flavors!
Ingredients
For the Cake
1 ½ sticks (170g) unsalted butter, softened
3 large eggs, room temperature (to warm quickly — put into a bowl with very warm water for 10 minutes.)
1 cup (200g) white sugar
1 cup (217g) light brown sugar (packed into measuring cup)
3 cups (342g) cake flour, (if you do not have a scale, spoon into a measuring cup and level off with back of a knife) See NOTE below for cake flour substitute
1 Tablespoon (12g) baking powder
½ teaspoon (3g) salt
1 cup (242g) sour cream
2 teaspoons (8g) vanilla extract
½ cup (121g) whole milk ( we used whole milk)
¼ cup (54g) vegetable oil (canola oil)
½ cup (72g) toffee bits ( we used Heath Bits O' Brickle toffee bits)
½ cup (49g) chopped pecans
For the Caramel Cream Cheese Frosting
2 sticks (226g) unsalted butter, softened
1 (8oz) (226g) package full fat cream cheese (Light or reduced fat cream cheese will be too soft for the recipe)
½ teaspoon (3g) salt
2 teaspoons (8g) vanilla extract
6 cups (690g) powdered sugar (½ cup more if needed)
3 Tablespoons (42g) caramel sauce ( we used Smucker's Caramel Topping)
For Decoration/Decorative Accents on Cake
Optional: Additional crushed pecans and toffee bits for border, and whole pecans for accents on top.
Instructions
For the Cake Layers
Preheat oven to 350 degrees, if using dark colored pans reduce heat to 325 degrees. Grease and flour three 8x2 inch round pans.
In a separate bowl combine the cake flour, baking powder and salt. Whisk at least 30 seconds to blend. Set aside.
In another bowl combine the sour cream, vanilla, oil and milk. Stir and set aside.
In the bowl of your mixer, add the butter and beat on low to medium speed until smooth. Slowly add the white and brown sugar beating on MEDIUM speed until the mixture is lighter in color and fluffy, approximately 3 to 5 minutes ( a bit longer if using a hand mixer).
Add the eggs one at a time, mixing after each egg until the yellow of the yolk is blended in.
Add the dry ingredients alternately with the wet ingredients, beginning and ending with the dry ingredients. Scraping the bowl at least twice.
Once the batter is mixed, using a spatula fold in the toffee bits and the chopped pecans. The cake batter is thick, this will help to keep the nuts and toffee bits from sinking to the bottom of the pan.
Pour batter into 3 prepared cake pans and bake for 22 to 25 minutes. The cakes are done when a toothpick inserted into the center pulls out clean or with just a few crumbs attached. Let the cakes cool 5 to 10 minutes then turn out.
Makes 8 cups of batter
Works well for cupcakes - bake cupcakes at 350 degrees for 18 to 20 minutes
For the Caramel Cream Cheese Frosting
In the bowl of your mixer, add the softened butter and cream cheese, mix until smooth. Do not mix above medium speed.
Slowly add the powdered sugar along with the caramel topping, salt and vanilla. Mix until the mixture is creamy and smooth.
Don't over mix or it may become too soft. If it does become too soft, refrigerate for 10 minutes or so to firm it up to a consistency you like. If you plan to do any piping, you may need to chill the piping bag occasionally, as warm hands soften the frosting.
TO ASSEMBLE THE CAKE
Place the first cake layer onto your cake base or pedestal. Spread a thin layer of caramel. Follow with the Caramel Cream Cheese Frosting. Add the other layer and repeat. Top with the last layer and frost the cake as desired .
*We used additional crushed pecans mixed with toffee bits to press around the base of the cake. We also piped a spiral of caramel on top using a disposable piping bag with the tip snipped away. We used a french piping tip for the decorative stars around the top, and used pecan halves for additional decoration.
Notes
Substitution for cake flour:  For each cup of flour in the recipe, measure out 1 cup all purpose flour (plain in the UK) remove 2 Tablespoons of the all purpose flour and replace with 2 Tablespoons cornstarch (cornflour in the UK).  This recipe has 3 cups of flour so measure 3 cups of all purpose flour, remove 6 Tablespoons and replace with 6 Tablespoons cornstarch.  Whisk to blend.
Recommended Products
As an Amazon Associate and member of other affiliate programs, I earn from qualifying purchases.