If you are a fan of the combination of chocolate and coffee, you are going to fall in love with this moist and flavorful Mocha Toffee Crunch Cake!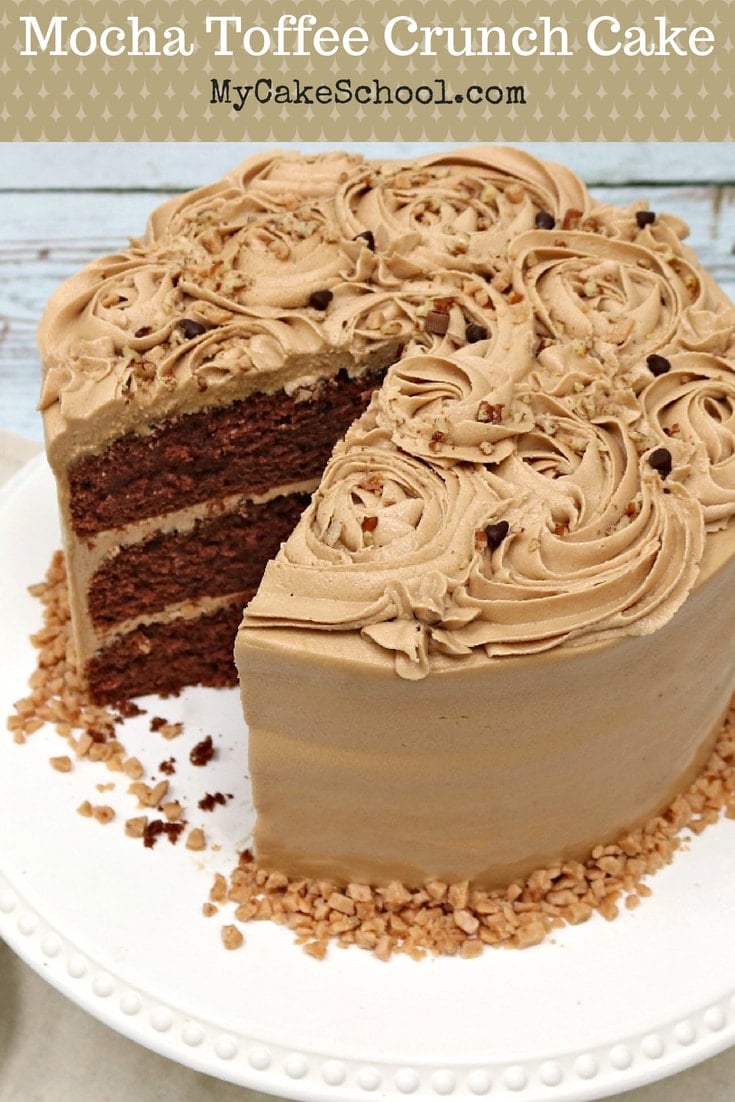 Once upon a time we posted a recipe for a simple Coffee Toffee Ice Cream Cake. I've made this ice cream cake more times than I can count over the years, and with it's heavenly combination of coffee, toffee, and chocolate, it is ALWAYS a crowd pleaser.
We are so excited to now have a cake that incorporates this same fantastic combination of flavors.
How to Make a Mocha Toffee Crunch Cake - A Quick Rundown
Our Mocha Toffee Crunch Cake consists of rich chocolate cake layers sprinkled with pecans and toffee, and a Mocha Buttercream that has just the right balance of espresso and chocolate!
For this recipe, we used our Classic Chocolate Cake recipe, but it would work well for whatever your favorite chocolate cake may be. If you are a fan of doctored cake mixes, our Chocolate Sour Cream Cake- Doctored Mix is a great option!
What makes these chocolate cake layers even more fabulous is that we sprinkled the batter-filled pans with toffee and pecans just before baking. I love the flavor and crunch that this adds!
Here is a photo of the layers just before baking...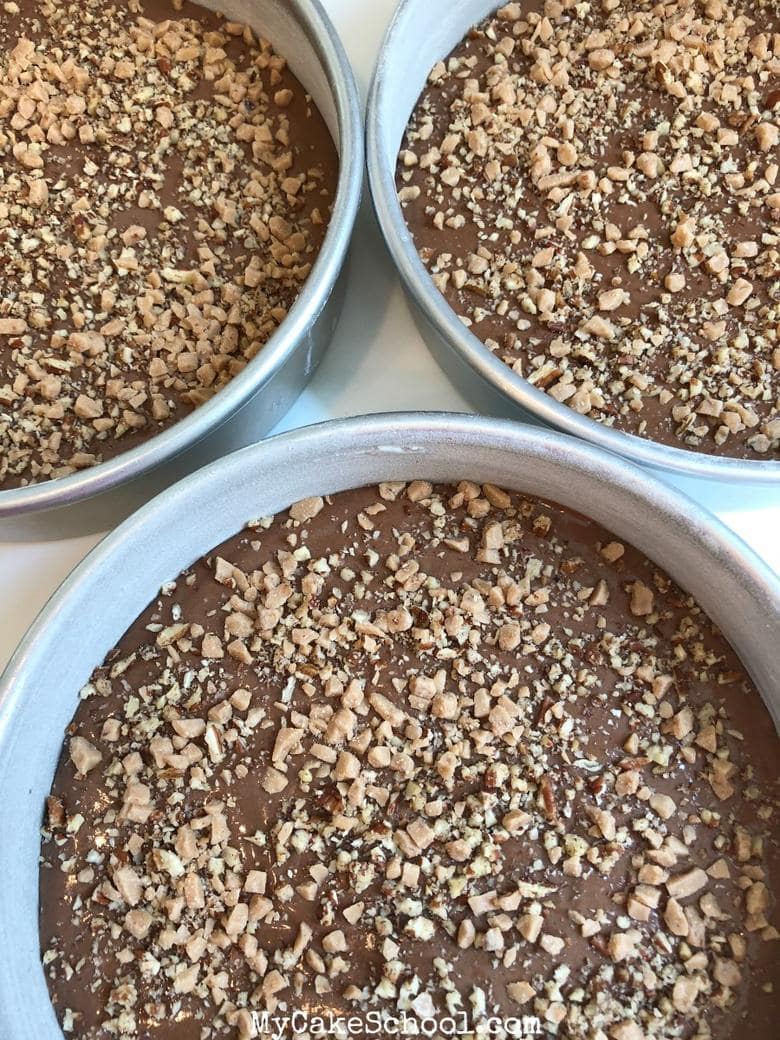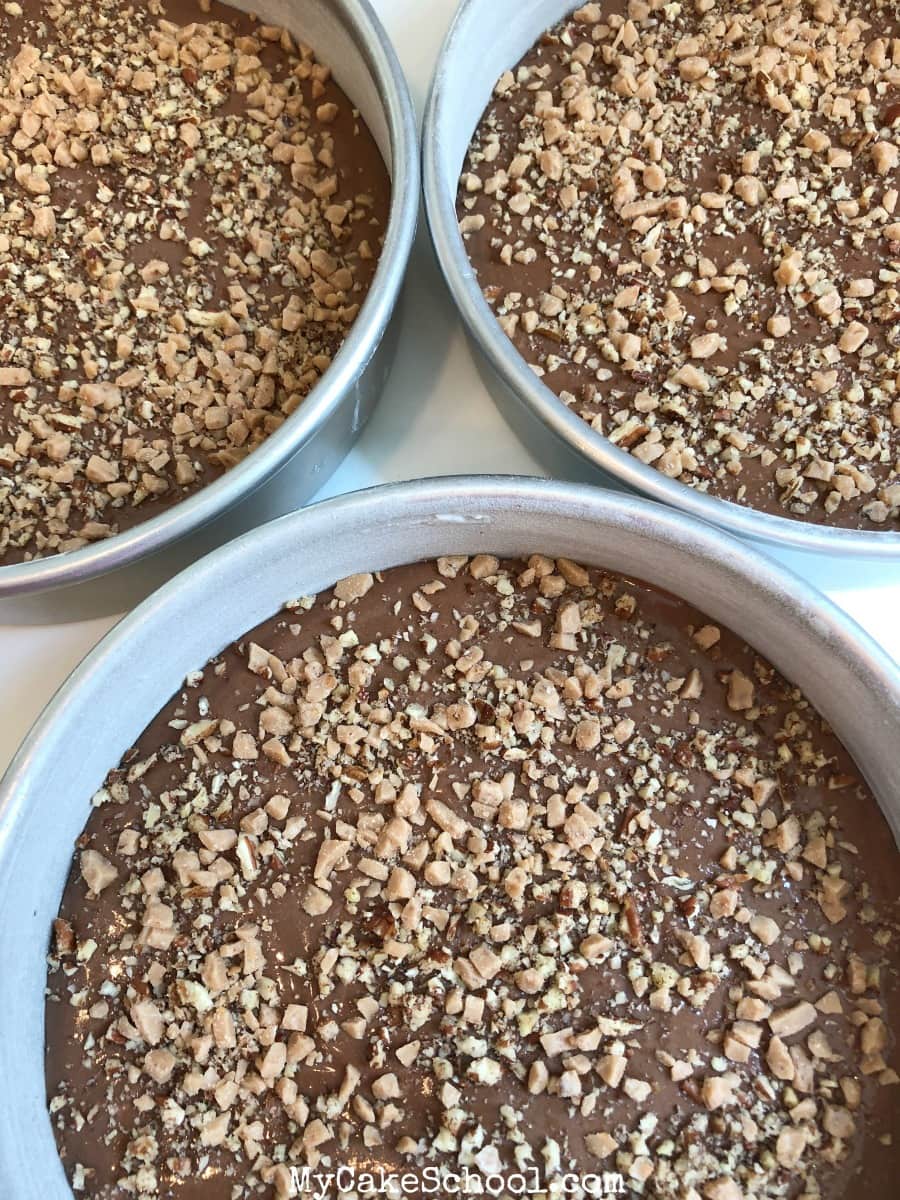 ...and here they are fresh from the oven!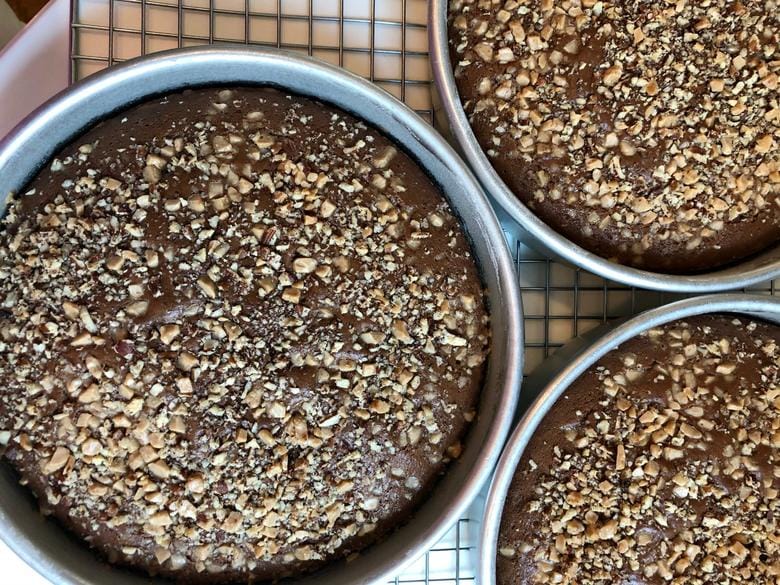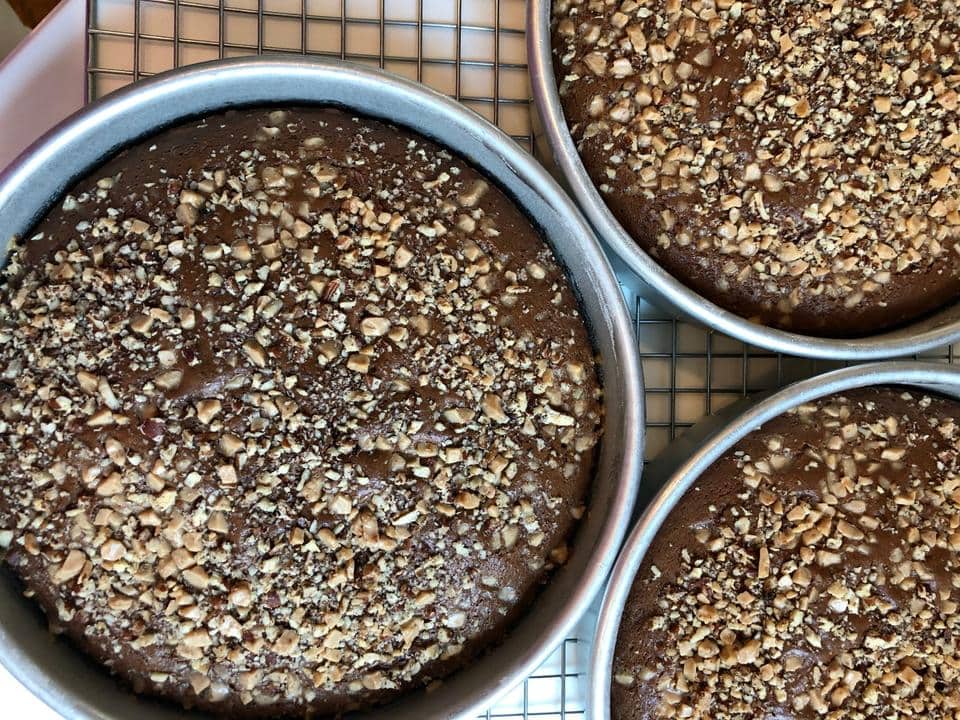 Assembly of our Mocha Toffee Crunch Layer Cake
When assembling the cake layers, we frosted mocha buttercream frosting onto each layer and followed with another sprinkling of toffee bits and and chopped pecans before adding the next layer.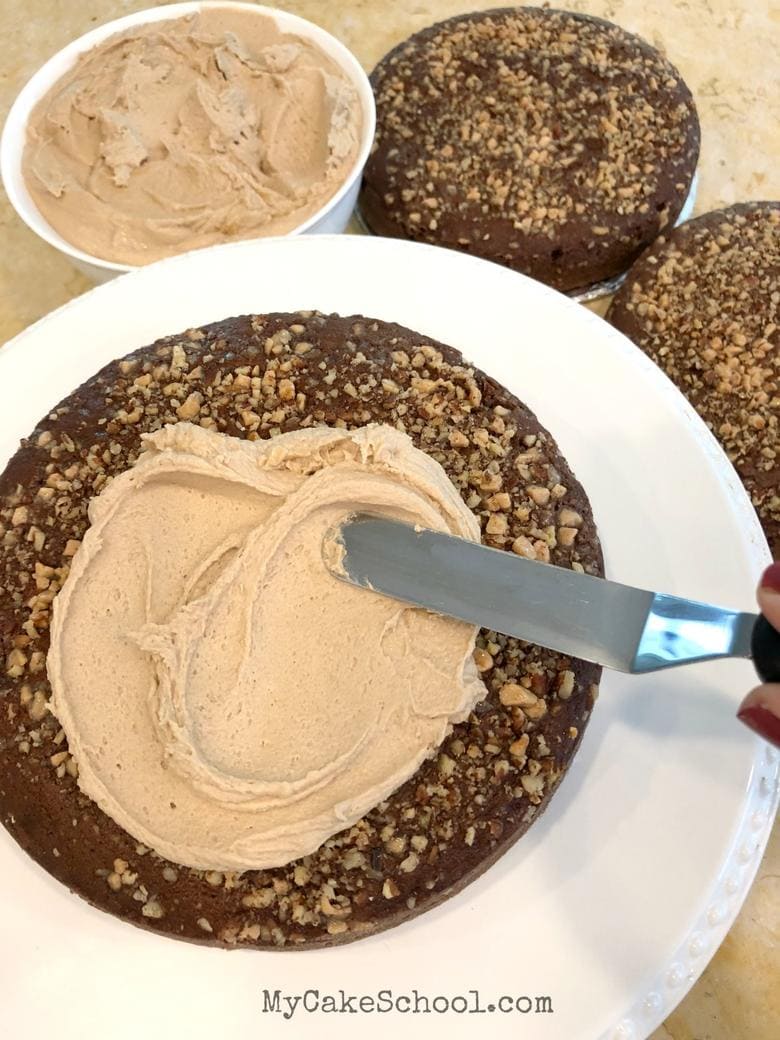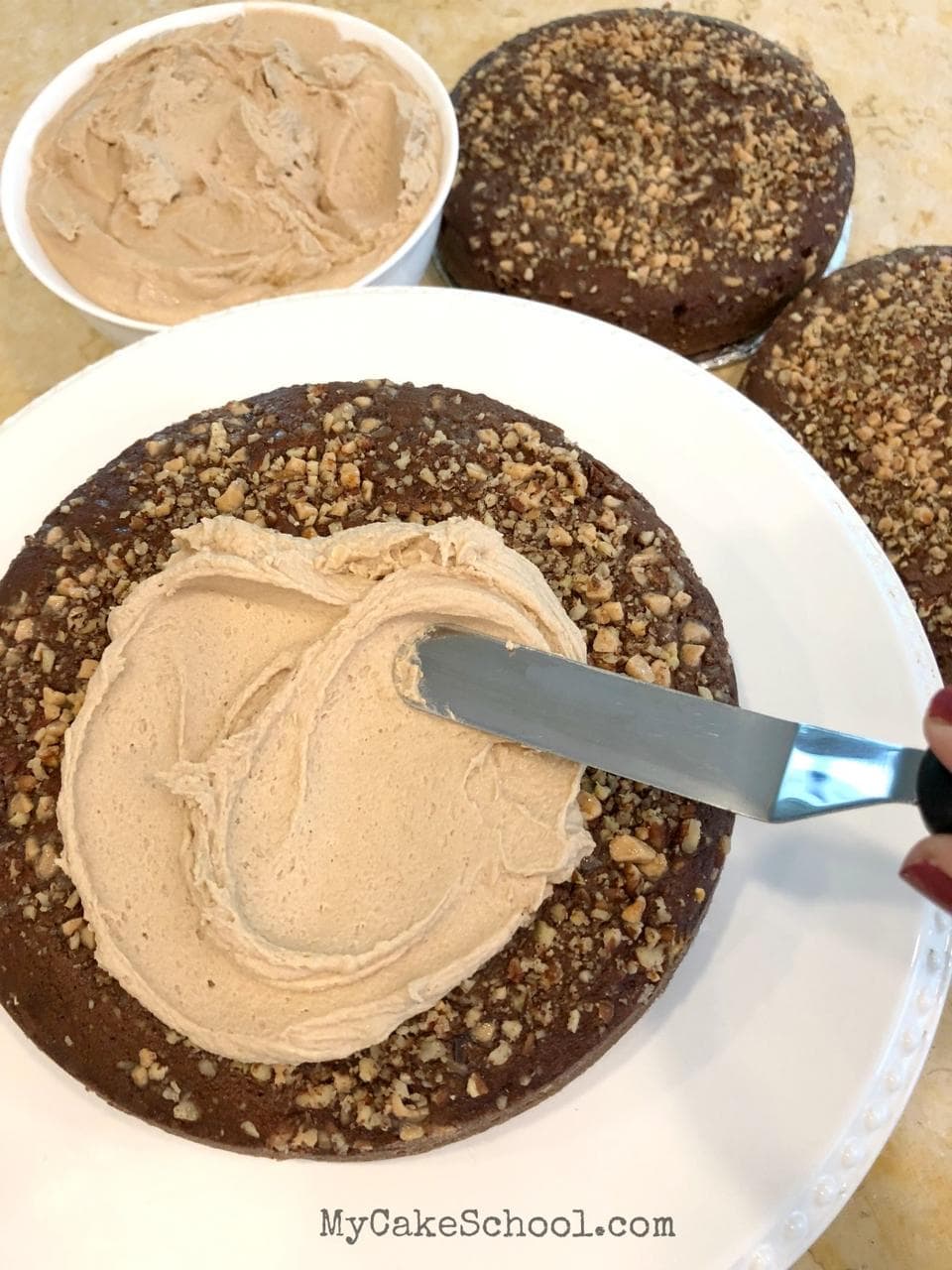 SO good!
We hope that you enjoy the recipe! If you would like to make a cupcake version, I would recommend our Classic Chocolate Cupcakes, which use the traditional method of mixing, making a fluffier cupcake!
Reverse Creaming Method of Mixing
The chocolate cake recipe that we used for this recipe calls for the Reverse Creaming Method of mixing. Although the order of ingredients may seem a little strange at first, you are going to love the final results!
Cakes that are made with this popular method of mixing result in a slightly denser, velvety, melt-in-your-mouth texture.
If you are new to this method, you may be interested in watching our free video here: The Reverse Creaming Method of Mixing.
More Coffee Flavored Cakes
We have so many cake recipes that have a little boost of espresso flavor. It complements so many flavors perfectly. If you love coffee flavored cakes, make sure to check out a few favorites below.
You can find our full collection of favorite coffee flavored cakes here: The BEST Coffee Flavored Cakes and Frostings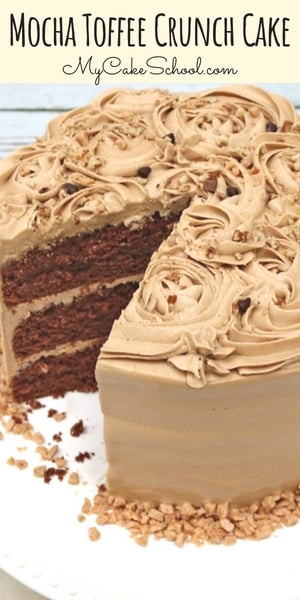 Mocha Toffee Crunch Cake Recipe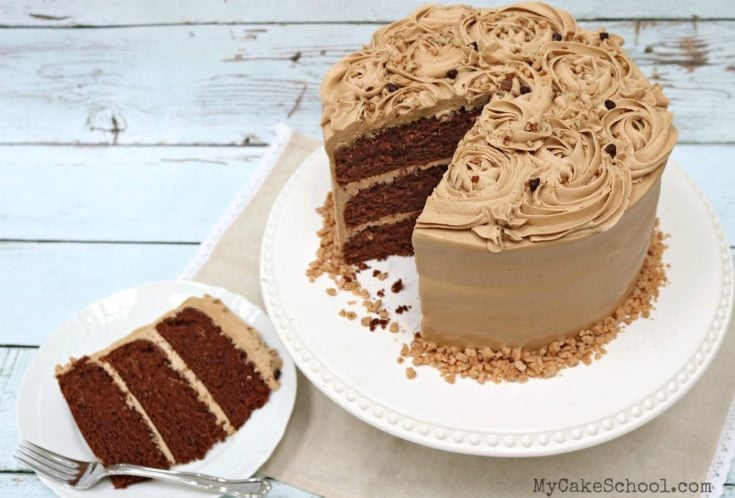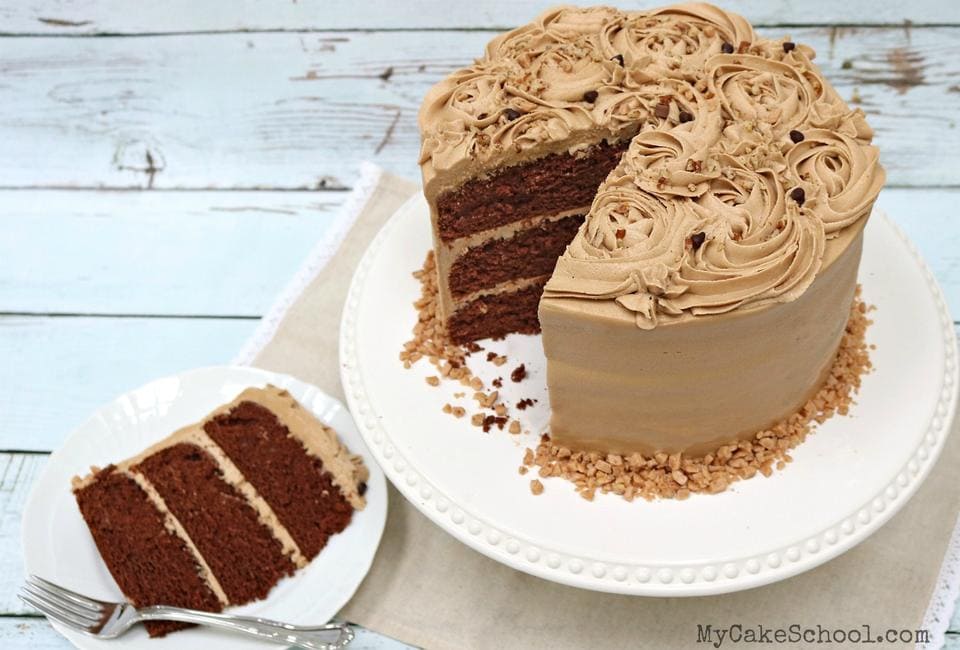 This fantastic Mocha Toffee Crunch Layer Cake with Mocha Buttercream is so moist! It has the perfect balance of chocolate, espresso, and toffee flavors!
Ingredients
For the Cake
2 cups (400g) granulated sugar
2 ¾ cup (322g) all-purpose flour
1 cup (82g) unsweetened cocoa (lightly spoon into cup then sift)
2 teaspoons ((10g) baking soda
½ teaspoon (2g) baking powder
½ teaspoon (2g) salt
1 cup (2 sticks) (226g) unsalted butter, softened (do not soften in microwave) I cut the butter into 1 inch pieces onto waxed paper leaving on the countertop for 8 to 10 minutes it will still be quite cool when adding to the dry ingredients. If it becomes too soft, just refrigerate a few minutes
¼ cup (54g) vegetable oil
4 large eggs at room temperature
1 cup (220g) milk
1 teaspoon (4g) vanilla extract
1 cup (220g) hot coffee, it can be instant or brewed (we used instant espresso)
1 cup (93g) pecans, chopped
1 cup (145g) toffee bits — I used Heath English Toffee Bits
For the Mocha Buttercream Frosting
3 sticks (339g) unsalted butter, slightly softened
9 cups (1035g) powdered sugar (icing sugar in UK)
1 Tablespoon (7g) unsweetened cocoa (sifted)
1 teaspoon (3g) salt
½ teaspoon (2g) vanilla extract
1 Tablespoon + 1 teaspoon (5g) instant espresso coffee
¼ cup (60g) hot water
Instructions
For the Cake
Preheat oven to 350 degrees
Grease and flour THREE 8 inch cake pans
In a mixing bowl, add the dry ingredients: sugar, flour, cocoa, baking soda, baking powder, and salt. Whisk for 1 minute to blend.
Add softened butter a few pieces at a time while the mixer is on low speed. Mix until the dry ingredients look like coarse sand and the dry ingredients are moistened. Scrape the bottom and sides of the bowl.
In a separate bowl whisk the eggs, milk , oil and vanilla until blended.
Method is important when using the Reverse Creaming Method. With the mixer on low speed, SLOWLY add approximately ½ of the egg mixture to the dry ingredients. Increase the speed to medium and mix for 1 ½ minutes at medium speed. Don't mix above medium speed. Scrape the bottom and sides of bowl. Add the remaining egg mixture in 2 pourings, beating for 20 seconds after each pour. Scrape the sides and bottom of bowl.
Slowly add the cup of hot coffee and mix another 30 seconds until blended. The batter will be very runny. Don't worry!
Pour into 3 prepared 8" pans
Once the batter is in the pans, sprinkle about ½ of the pecans and toffee bits over the top of the batter. The remaining pecans and toffee will be sprinkled over the mocha buttercream filling when assembling the cake. You can increase the amount used if you would like more crunch.
bake at 350 degrees for 25 to 30 minutes or until the center of the cake springs back to the touch and a toothpick comes out clean.
Cool the cakes 10 minutes on a rack and then turn out of the pans.
*Yields approx 9 cups of batter.
Making cupcakes? Check out our Classic Chocolate Cupcake Recipe (conventional method of mixing for fluffier cupcakes) Holds up well to fondant
For the Mocha Buttercream Frosting
Mix the instant espresso coffee into the ¼ cup of hot water, set aside to cool slightly
Beat the butter on medium speed until smooth. Blend in the vanilla and cocoa powder and salt.
Add half of the powdered sugar and half of the coffee. Beat at medium speed until the powdered sugar is incorporated.
Add the remaining powdered sugar and coffee and mix at medium speed another 3 to 6 minutes scraping the sides of the bowl occasionally.
This recipe makes 6 cups of frosting. This is enough to fill, frost and add a moderate amount of decorative piping on a 3 layer 8 inch cake.
If your consistency is too thin, add more powdered sugar. If too thick, add a bit more water or milk, a teaspoon at a time.
Online Cake Tutorials, Favorite Cake Recipes, and More!
If you are interested in learning even more about cake decorating, don't miss our Free Cake Tutorials section! In addition to cake recipes, you will find hundreds of step by step cake decorating tutorials as well as Free Cake Decorating Videos!