If you love the combination of chocolate and pecans, get ready for the DELICIOUSNESS that is Chocolate Pecan Pie Cake! This moist homemade chocolate cake recipe is sure to become an instant favorite.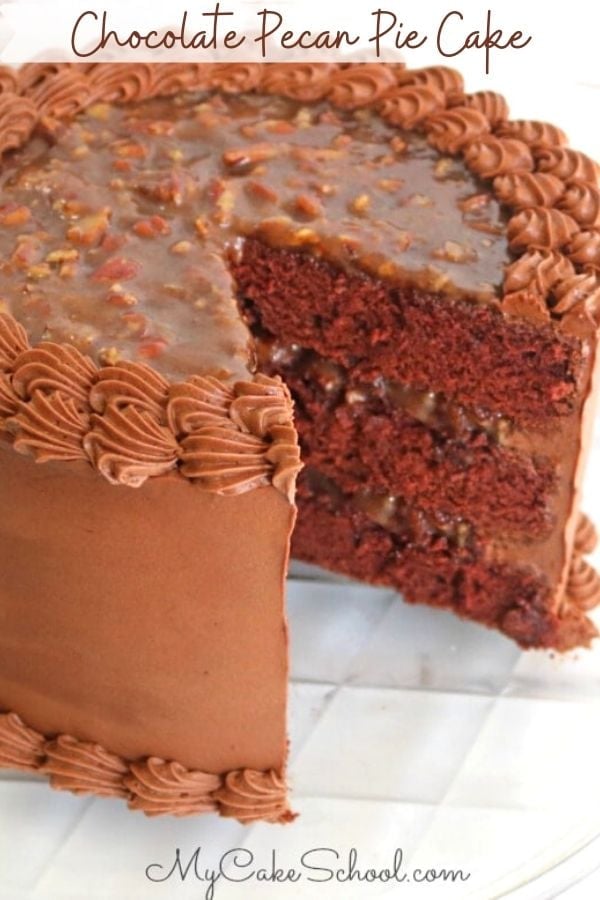 We've made some delicious cake recipes in the past that incorporate chocolate and pecans (hello German Chocolate Cake and Chocolate Turtle Cake), but this unique & flavorful pecan pie filling makes for a dessert that your friends and family will be talking about for weeks.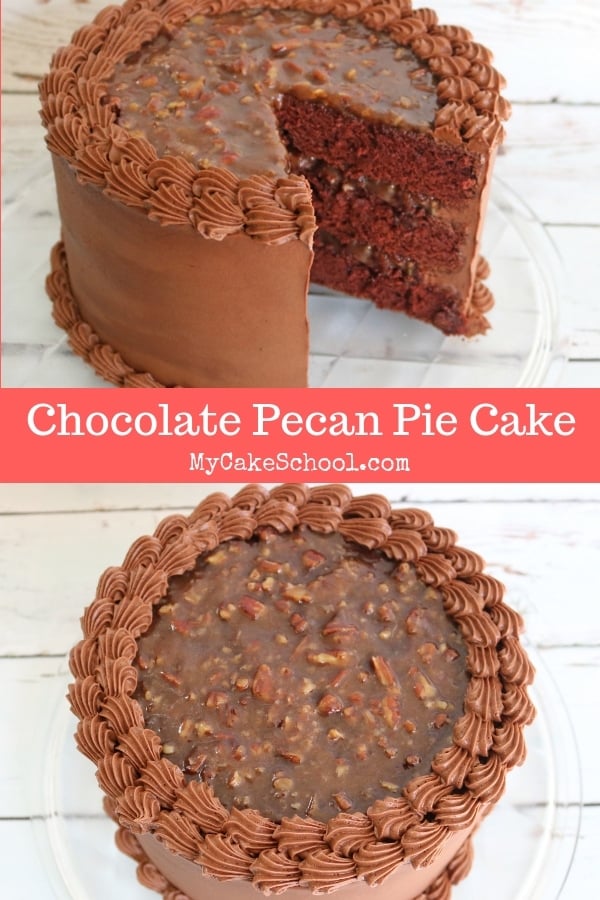 With Thanksgiving just around the corner, we wanted to create a recipe that would truly be centerpiece-worthy! This one definitely is, and is guaranteed to please any crowd with its decadent chocolate cake layers and pecan filling and topping.
The homemade chocolate cake layers used for this recipe are from our Classic Chocolate Cake. We often use this rich chocolate cake recipe as it is extremely moist and has a luscious, velvety texture.
This Chocolate Pecan Pie Cake recipe calls for the reverse creaming method of mixing, which elevates the moistness and gives it a slightly tighter crumb-- but if you prefer the fluffier texture of cakes that use the traditional method of mixing, you can find an alternate version that we use when we make our Classic Chocolate Cupcakes.
How to Make a Chocolate Pecan Pie Cake
You can find the full, printable Chocolate Pecan Pie Cake recipe further down in this post. Here is a quick rundown of our steps!
To make a chocolate pecan pie cake, bake up your FAVORITE chocolate cake recipe. We LOVE our Classic Chocolate Cake recipe as mentioned above. We divided the batter between three 8 inch pans, baked, and cooled on a cooling rack (still in pans) for about 15 minutes before flipping onto cake cardboards, wrapping with plastic wrap, and freezing.
(You do not have to do the freezing step, but we always do it when time allows because wrapping & freezing cakes while still warm increases their moistness.) You can thaw them, still wrapped, at room temperature before decorating.
Prepare the pecan pie filling by heating the brown sugar, eggs, butter, corn syrup, vanilla, and chopped pecans in a saucepan over medium heat until it comes to a boil. Once the mixture begins to boil, stir constantly for about a minute, then allow to cool and thicken.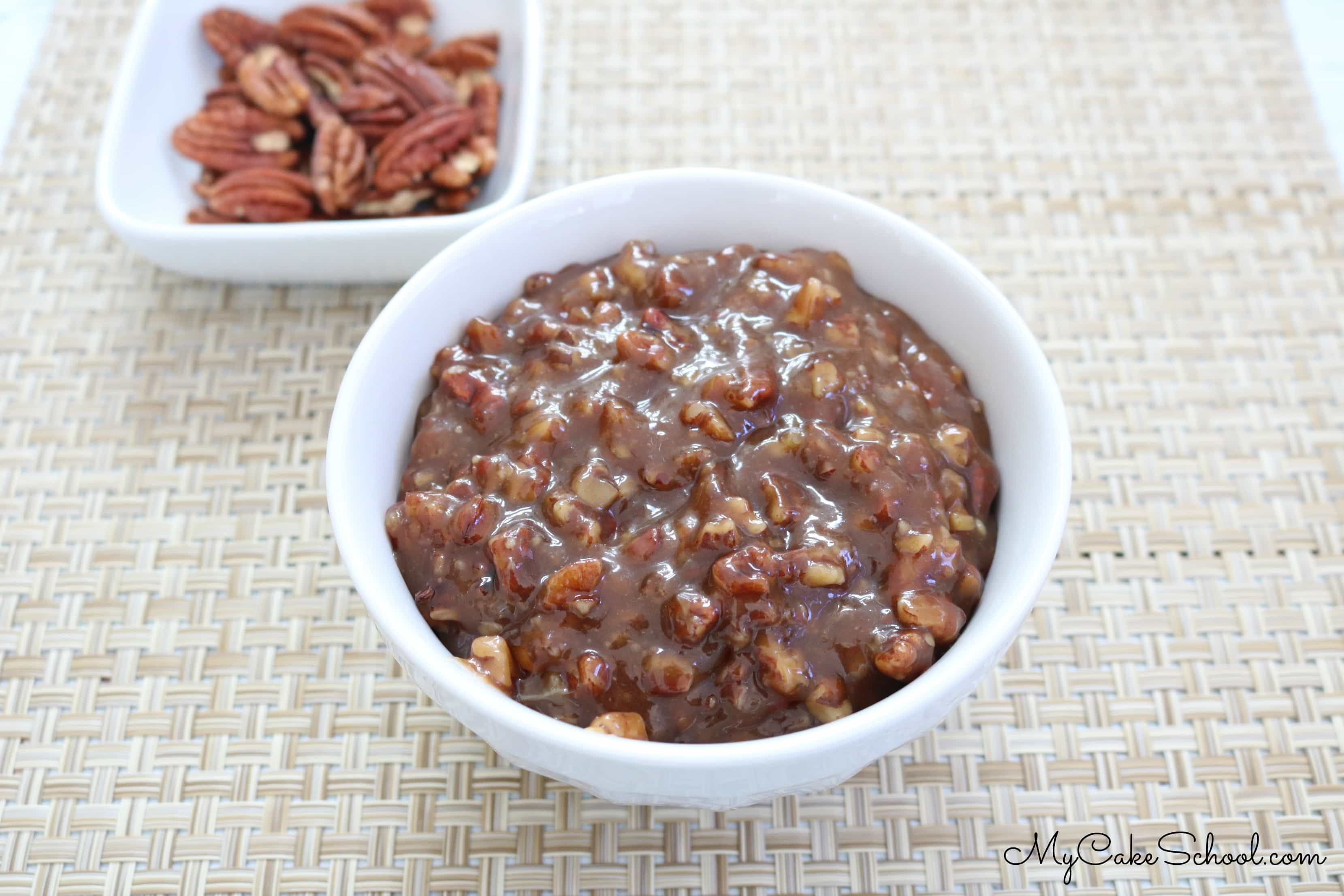 When it's time to assemble the cake, place the bottom layer of cake on it's own cake cardboard or pedestal. Pipe a dam of chocolate buttercream about ¼ inch from the edge of the layer, and spread your pecan pie filling inside. Repeat for each layer.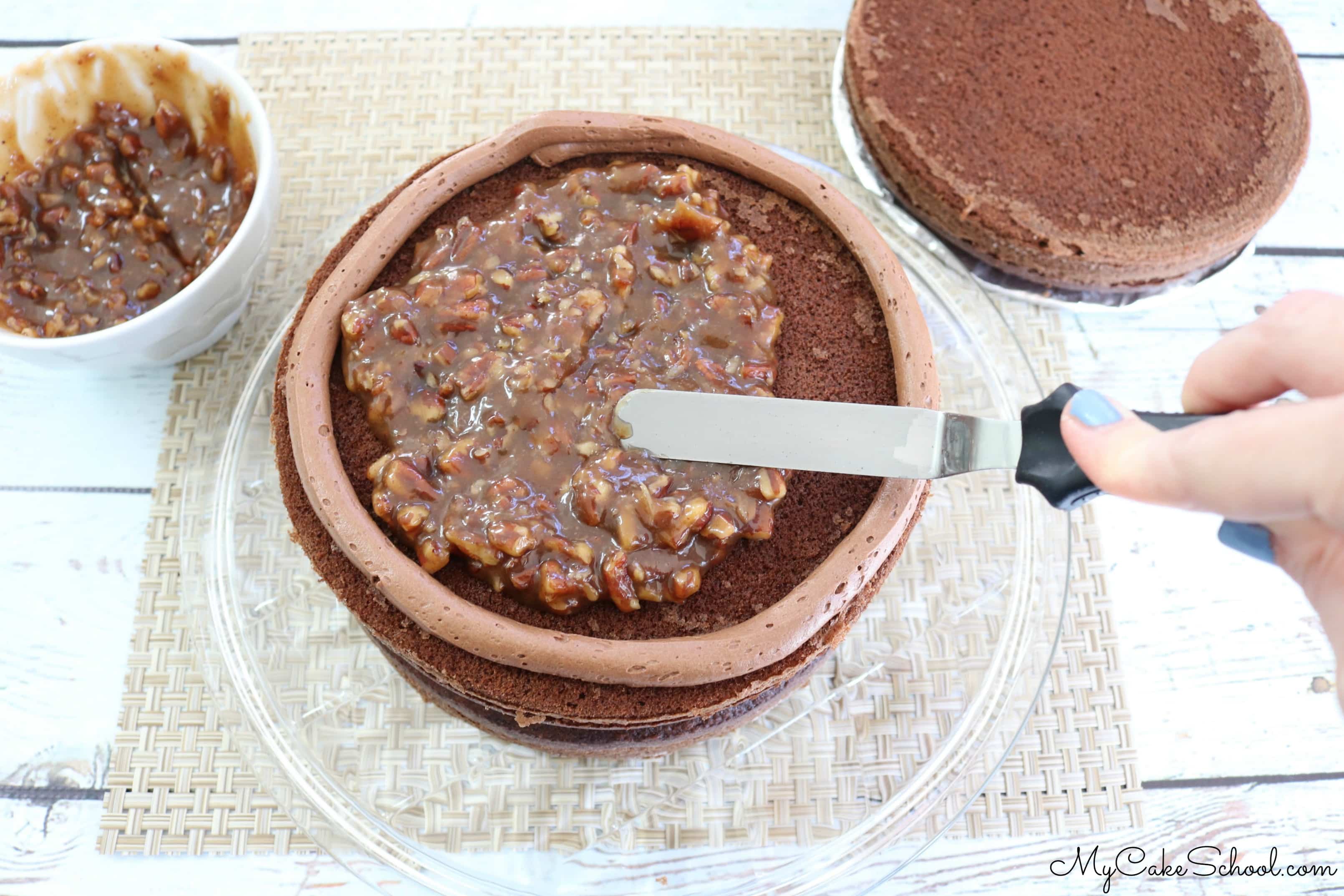 Next, frost the cake in chocolate buttercream. I only spread a thin layer of buttercream on top since I wanted to spread on a layer of the pecan pie filling.
(I spread the pecan pie filling over most of the top of the cake, leaving a fairly wide border around the edge large enough for a couple of shell borders.) My shell borders were piped with a tip 21.
If you'd like to learn more about piping with star tips, check out our Basics of Star Tip Piping video!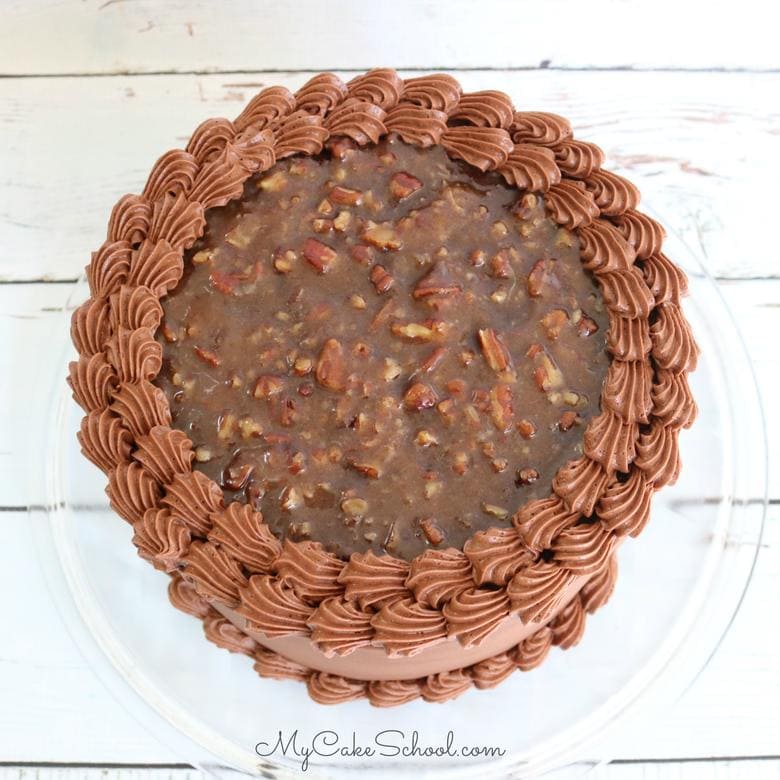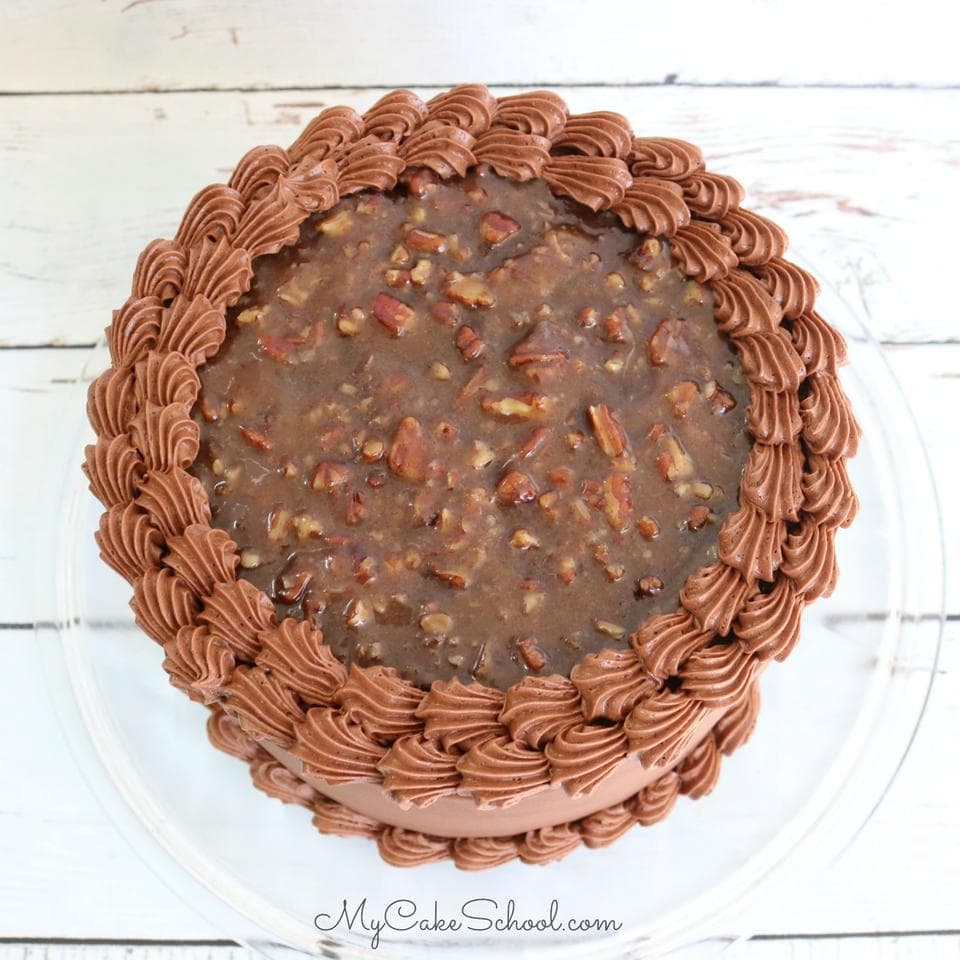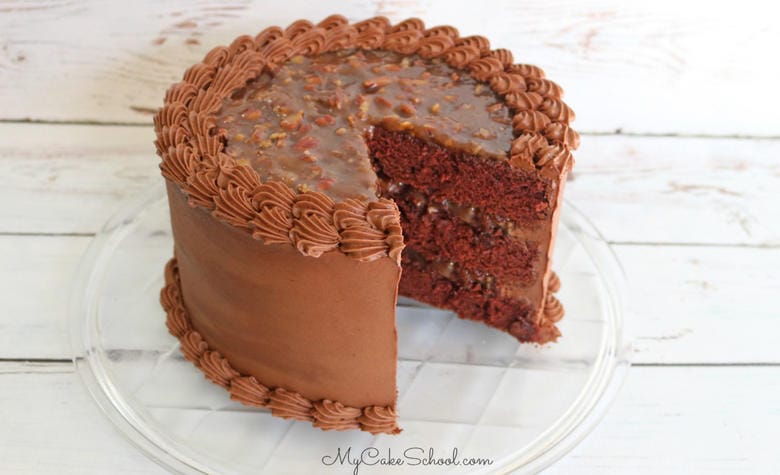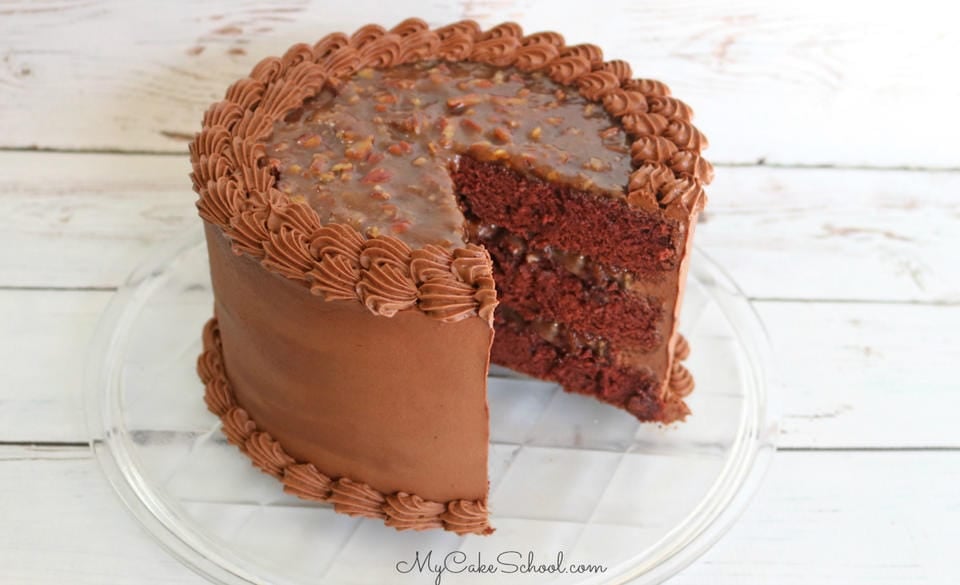 More Cakes with Pecans
We love cakes with pecans! Here are just a few of our favorites. Don't miss our full collection of Cake Recipes, including our cakes from scratch as well as our cake mix recipes!
Chocolate Pecan Pie Cake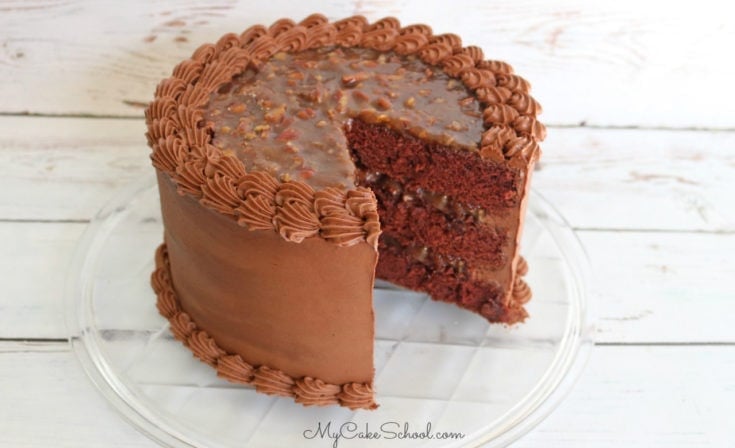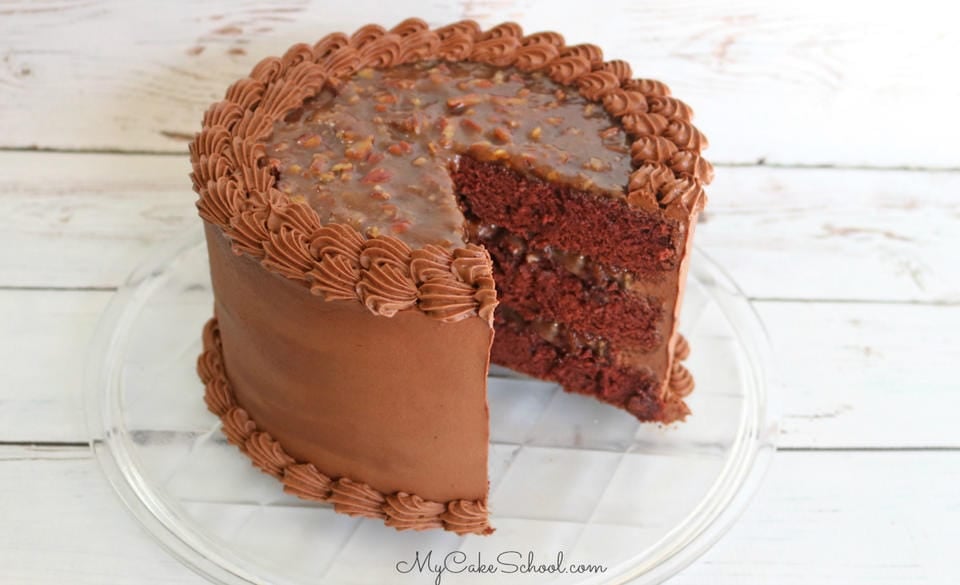 This cake is a decadent, flavorful homemade chocolate cake recipe paired with a heavenly pecan pie filling! This recipe is sure to become an instant favorite!
Additional Time
45 minutes
Total Time
1 hour
35 minutes
Ingredients
For the Chocolate Cake Layers
I use the reverse creaming method with this recipe
2 cups (400g) granulated sugar
2 ¾ cup (322g) all-purpose flour
1 cup (82g) unsweetened cocoa (lightly spoon into cup then sift)
2 teaspoons ((10g) baking soda
½ teaspoon (2g) baking powder
½ teaspoon (2g) salt
1 cup (2 sticks) (226g) unsalted butter, softened (do not soften in microwave) I cut the butter into 1 inch pieces onto waxed paper leaving on the countertop for 8 to 10 minutes it will still be quite cool when adding to the dry ingredients. If it becomes too soft, just refrigerate a few minutes
¼ cup (54g) vegetable oil
4 large eggs at room temperature
1cup (220g) milk
1 teaspoon (4g) vanilla extract
1 cup (220) hot coffee, it can be instant or brewed
For the Pecan Pie Cake Filling
1 cup (217g) light brown sugar (packed)
¼ cup (29g) butter
½ cup (162g) light corn syrup
2 large eggs, beaten
1 teaspoon (4g) vanilla extract
1 ½ cups chopped pecans
Chocolate Buttercream Frosting
2 sticks (226g) unsalted butter, softened (do not soften butter in the microwave)
6 c. confectioners sugar (icing sugar) (690) grams) or more if needed. ** For cupcakes, I like to use 5 c. (675g) for a softer frosting
1 c. cocoa, sifted (86 grams) measure then sift
⅓ c. milk (75 grams) more if needed to reach the spreading consistency you like
2 teaspoons vanilla (8 grams)
Instructions
For the Chocolate Cake Layers
Preheat oven to 350 degrees
Grease and flour THREE 8 inch cake pans
In a mixing bowl, add the dry ingredients: sugar, flour, cocoa, baking soda, baking powder, and salt. Whisk for 1 minute to blend.
Add softened butter a few pieces at a time while the mixer is on low speed. Mix until the dry ingredients look like coarse sand and the dry ingredients are moistened. Scrape the bottom and sides of the bowl.
In a separate bowl whisk the eggs, milk , oil and vanilla until blended.
Method is important when using the Reverse Creaming Method. With the mixer on low speed, SLOWLY add approximately ½ of the egg mixture to the dry ingredients. Increase the speed to medium and mix for 1 ½ minutes at medium speed. Don't mix above medium speed. Scrape the bottom and sides of bowl. Add the remaining egg mixture in 2 pourings, beating for 20 seconds after each pour. Scrape the sides and bottom of bowl.
Slowly add the cup of hot coffee and mix another 30 seconds until blended. The batter will be very runny. Don't worry!
Pour into 3 prepared 8" pans and bake at 350 degrees for 25 to 30 minutes or until the center of the cake springs back to the touch and a toothpick comes out clean.
Cool the cakes 10 minutes on a rack and then turn out of the pans.
*Yields approx 9 cups of batter.
Making cupcakes? Check out our Classic Chocolate Cupcake Recipe (conventional method of mixing for fluffier cupcakes) Holds up well to fondant
For the Pecan Pie Cake Filling
In a medium saucepan, combine all the ingredients. Cook over medium heat bringing to a boil.
Once it comes to a boil, stir constantly for 1 minute being very careful with this hot boiling sugar. Remove from the heat. Allow to cool to room temperature.
You can speed up the process by refrigerating. The filling will thicken as it cools. Makes 2 cups, enough to fill a 3 layer cake and add to the top of the cake
For the Chocolate Buttercream Frosting
Add butter and beat for approximately 1 min. on medium speed. Add vanilla and blend into the butter. Add powdered sugar and cocoa powder. Add most of the milk. Begin beating at low speed so you won't have a cloud of powdered sugar in your kitchen. Beat at medium speed 1 minute. Reduce speed to low and beat an additional two to three minutes, adding remaining milk as needed.
This is my favorite chocolate frosting! Recipe can easily be doubled or halved.
This recipe makes approximately 4 cups of frosting.
Assembly
Place the bottom cake layer on a cake board or pedestal. Pipe a dam of buttercream about ¼ from the outer edge of the cake layer, and fill with your pecan pie cake filling. Repeat. Frost the cake with chocolate buttercream (a thin layer on top is fine.) Spread the top center of the cake with the remaining pecan pie filling and pipe a shell border or two around the top of the cake as well as the base of the cake.