Today we are sharing a wonderful new favorite for fall- a Pecan Spice Layer Cake!
This time of year, I can never get enough of spiced desserts and drinks, especially cakes. This Pecan Spice Cake is a moist and flavorful addition to our growing list of fall favorites!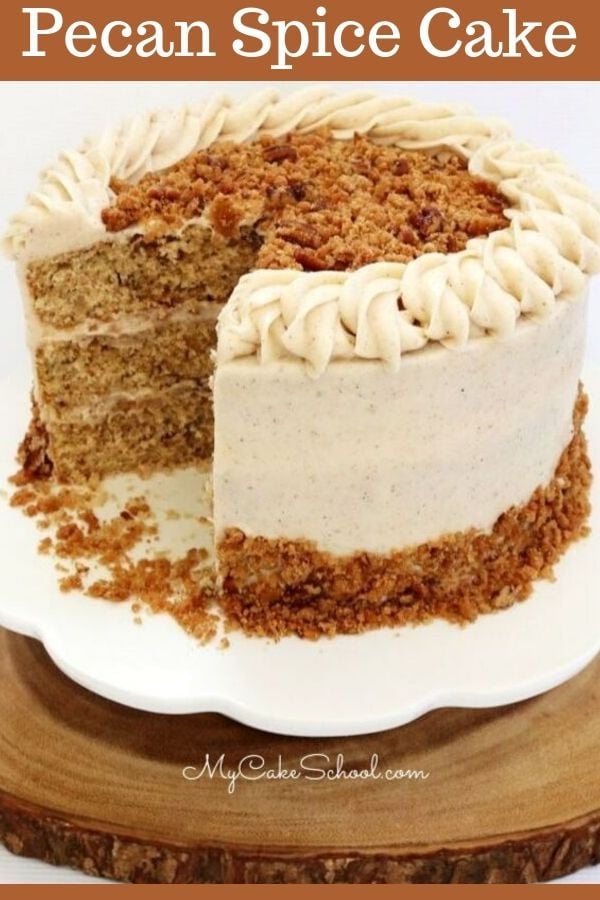 Favorite Fall Cake Recipes
We love ALL of the fall flavors! Here are some favorites for your "must-make" list this fall!
Apple Spice Cake (doctored cake mix)
Cinnamon, Nutmeg and Ginger give this cake recipe it's wonderful spiced flavor. I also love the added color and especially flavor of the brown sugar in the recipe. The pecans folded into the batter as well as the streusel topping add a delicious crunch to every bite. Yum!
Bring on the Cream Cheese Frosting!
Cream cheese frosting and spice cake layers go hand in hand. In my book, there's just nothing better! So of course we had to use a cream cheese frosting on this cake.
Plain cream cheese frosting would be wonderful with this cake, but we decided to go with a spiced cream cheese frosting for even more spice flavor. It is heavenly!
Cream Cheese Frostings are Softer than Buttercream:
This is just a little reminder that cream cheese frostings are softer than buttercream.
If the frosting seems too soft, you can add additional powdered sugar. However, first I would try chilling the frosting a bit more. Chilling is usually all that it needs- whether it's your bowl of frosting, your piping bag, or the cake itself.
I always like to chill my frosting a bit before frosting the cake, or piping the borders, etc. It's just so much easier this way.
I also like to pop my freshly assembled, crumb coated (thin coat of frosting) cake in the freezer for 15 minutes to firm everything up before applying the final layer of frosting.
That way, there's no worry of the layers shifting as you decorate.
The Streusel Topping:
I love the added crunch of our streusel topping! This buttery, nutty, sweet crumble is often sprinkled over muffins and coffee cakes, but we just love it on this spice layer cake as well!
We experimented with sprinkling it between the cake layers, but in the end, we preferred the streusel as a topping (and decorative border) without using it in the filling.
The flavor is wonderful, and it adds just the right amount of sweetness and crunch to the cake! Totally worth the extra few minutes or preparing the recipe ;0)
Pecan Spice Layer Cake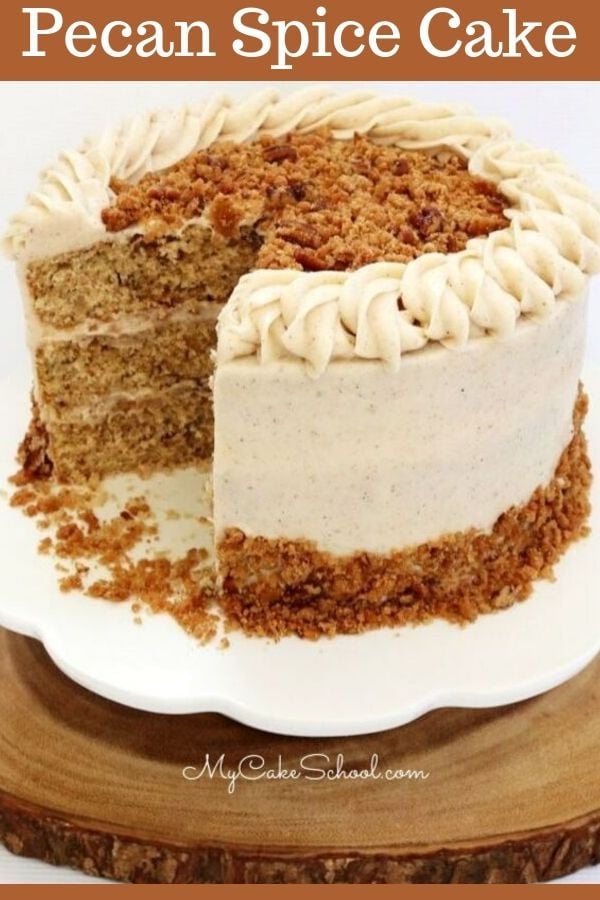 Moist and flavorful spice cake with a pecan streusel topping! So delicious any time of year but I love it for fall gatherings!
Ingredients
For the Streusel
(Prepare this first so it will have time to cool)
½ cup (108g) packed light brown sugar
1 cup (100g) chopped pecans
¼ cup (30g) all purpose flour
3 Tablespoons (14g) melted butter
1 teaspoon (3g) cinnamon
Preheat oven to 350 degrees
For the Cake
 1 ½ sticks (170g) unsalted butter, softened
1 cup (200g) white sugar
1 cup (217g) light brown sugar packed into measuring cup
4 large eggs
3 cups (342g) cake flour (see below for substitutions (spooned into measuring cup and leveled off)
2 teaspoons (8g) baking powder
½ teaspoon (3g) baking soda
½ teaspoon (3g) salt
2 teaspoons (6g) cinnamon
1 teaspoon (2g) nutmeg
½ teaspoon ginger
1 ¼ cups (296g) buttermilk  (see below for substitution)
¼ cup (54g) vegetable oil ( we used canola oil)
1 teaspoon (6g) vanilla extract
1 cup (100g) chopped pecans
For the Spiced Cream Cheese Frosting
2 sticks (226g) unsalted butter, softened slightly
1 (8oz) (226g) package full fat cream cheese (light or reduced fat cream cheese will be too soft for the recipe)
½ teaspoon (3g) salt
2 teaspoons (6g) cinnamon
2 teaspoons (8g) vanilla
6 cups (690g) powdered sugar  - more if needed
Instructions
For the Streusel Topping
Stir together all ingredients until combined. Using your fingers, spread on a baking sheet and bake for 4 to 5 minutes. Keep an eye on the oven as it can quickly become too dark. Remove from the oven, let cool slightly then stir to break apart into small pieces. Let cool to room temperature before using on the cake.
For the Cake Layers
Preheat the oven to 350 degrees, grease, flour and add a circle of parchment or waxed paper to three 8x2 inch round pans.
In a medium bowl, add the flour, baking powder, baking soda, salt and spices for 30 seconds. Whisk and set aside.
In another bowl, add the buttermilk, oil and vanilla. Set aside.
In the bowl of your mixer, add the butter and mix at medium speed until smooth. Gradually add the sugar (brown and white)
and continue to mix on medium speed for 3 to 5 minutes until lightened in color and fluffy. Add the eggs one at a time mixing until the yellow of the yolk disappears.
Alternately add the flour mixture and buttermilk mixture, beginning and ending with the dry ingredients (3 additions of dry ingredients and 2 of liquid).
Do not mix above medium speed or over mix the cake batter. Fold in chopped pecans.
Bake at 350 degrees for 25 -30 minutes or until a toothpick inserted in the center comes out clean or with just a few crumbs attached. Let cool 5 minutes and turn out.
For the Spiced Cream Cheese Frosting
In the bowl of your mixer, add the softened butter, cream cheese, salt and cinnamon and vanilla. Mix until smooth. Do not mix above medium speed.
Slowly add the powdered sugar and mix until the mixture is creamy and smooth. Do not over mix or it may become too soft. If it does become too soft, refrigerate for 10 minutes or so to firm it up to a consistency you like. If you plan to do any piping, you may need to chill the piping bag occasionally, as warm hands soften the frosting.

Assembly of Cake

Place the first cake layer onto the cake base or pedestal. Spread with a layer of frosting, add the other layer and repeat. Top with the last layer and frost the cake as desired. We decorated the sides and top of the cake with the Pecan Streusel.
Notes
Substitutions:
Buttermilk substitution:  To a
measuring cup, add 1 Tablespoon vinegar or lemon juice. Add milk to the 1 ¼
mark, stir.  Wait 5 minutes and it is ready
Cake Flour substitution:  Using
all purpose flour (plain in the UK) -  This recipe has 3 cups of flour, so
you will measure out 3 cups of all purpose flour, remove 6 Tablespoons and
replace with 6 Tablespoons cornstarch.  Whisk to blend and it is ready to
use.