Today I'm going to share a delicious cake recipe for homemade Black Forest Cake!
This recipe consists of three rich chocolate cake layers brushed with Kirsch and filled with a luscious cherry filling and whipped cream frosting.
The rich chocolate flavor of this cake combined with cherry liquor and whipped cream is heavenly.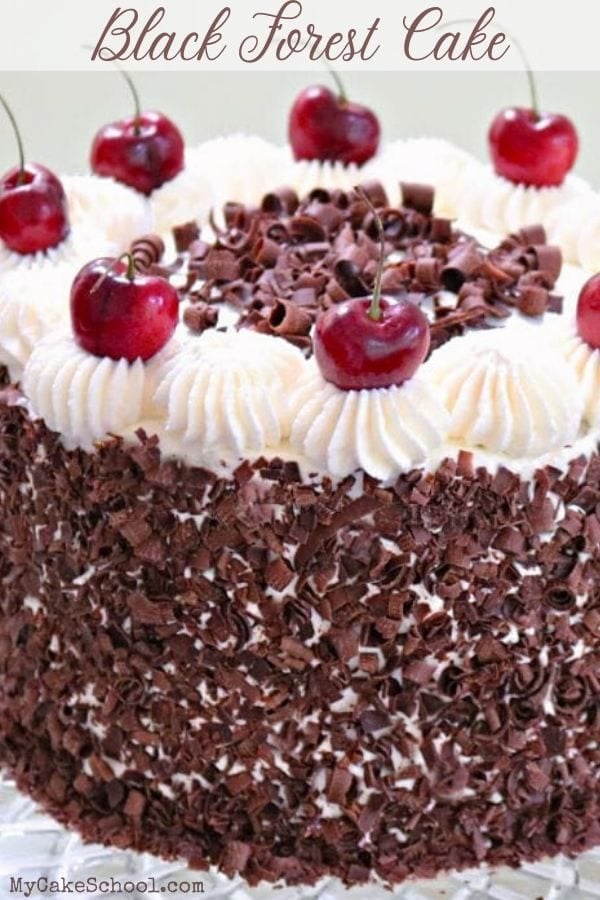 Although it's packed with flavor, Black Forest Cake isn't overly sweet, and it's boozy Kirsch(wasser) flavored cherry filling places it into the category of a more sophisticated adult cake- don't serve it up to the kids unless you make an adjustment or two :0).
Special occasions are sure to feel even more special with this elegant dessert, thanks to its flavorful pairing of rich chocolate and cherries, as well as its impressive height and presentation. We hope that you enjoy it!
What is Black Forest Cake? A Little Bit of History...
Black Forest cake (also known as Black Forest Gateau) is a chocolate layer cake named for the region in Germany where Schwarzwalder Kirsch(wasser) is made.
Kirschwasser (or Kirsh) is a clear, colorless fruit liquor made from sour cherries and is what gives Black Forest Cake its distinct cherry flavor (in addition to the cherries in the filling).
The original recipe for Black Forest Cake as we know it today is claimed to have been created by confectioner Josef Keller in a cafe near Black Forest in the early 1900s. Schwarzwälder Kirschtorte, a German dessert which served as the inspiration for Black Forest Cake is translated as "Black Forest Cherry Torte".
Some claim that the cherry lined border around the top of the cake was inspired by the traditional Bollenhut hats worn by the women of the Black Forest region which featured a circle of large red pom poms.
It's such a fun little bit of trivia, I'm choosing to believe it ;0).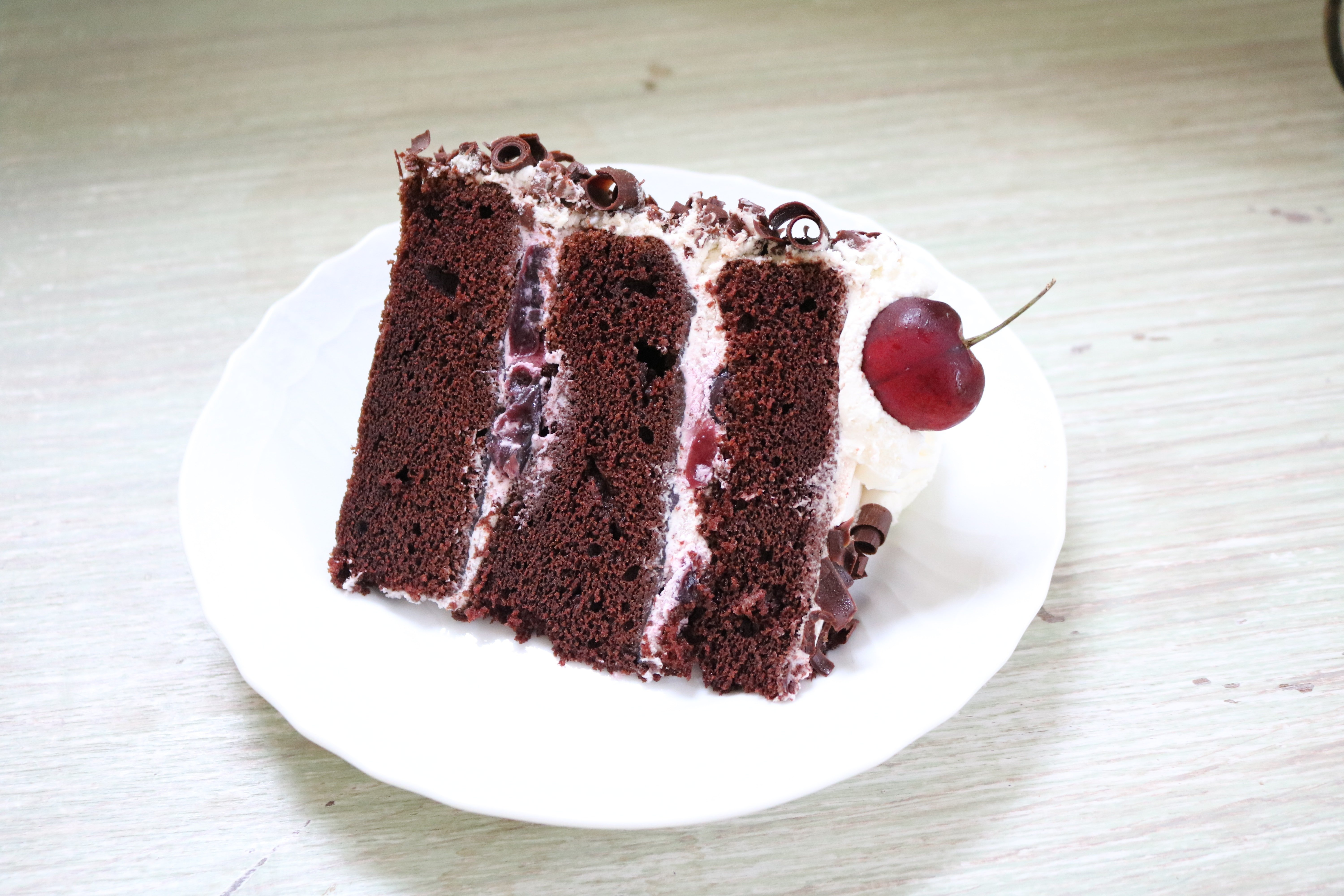 How to Make Black Forest Cake
*find the full recipe further down
For this recipe, we are using our favorite chocolate cake recipe - our Classic Chocolate Cake. This decadent scratch layer cake makes 9 cups of cake batter for our three 8 inch cake layers. I love that the assembled cake stands nice and tall!
After baking the layers, we allow them to cool for about 10 minutes (still in their cake pans) on a wire rack. Then flip them out.
For the Cherry Filling:
For our cherry filling, we used a can of Sweet Dark Cherries (pitted) in a heavy syrup. We saved the syrup/cherry juice and drained the cherries, setting aside for later.
Next, we combined the cherry juice with a little water and cornstarch, and heated until thickened. Then, we gently stirred in the cherries and Kirsch and allowed to cool.
Whipped Cream
Next, we mixed up a batch of sweetened whipped cream using a hand mixer. If you've never made whipped cream before, it couldn't be easier.
Simply chill a bowl and beaters/whisk attachment in the freezer for 10 minutes or so and whip the heavy cream and powdered sugar until stiff peaks form.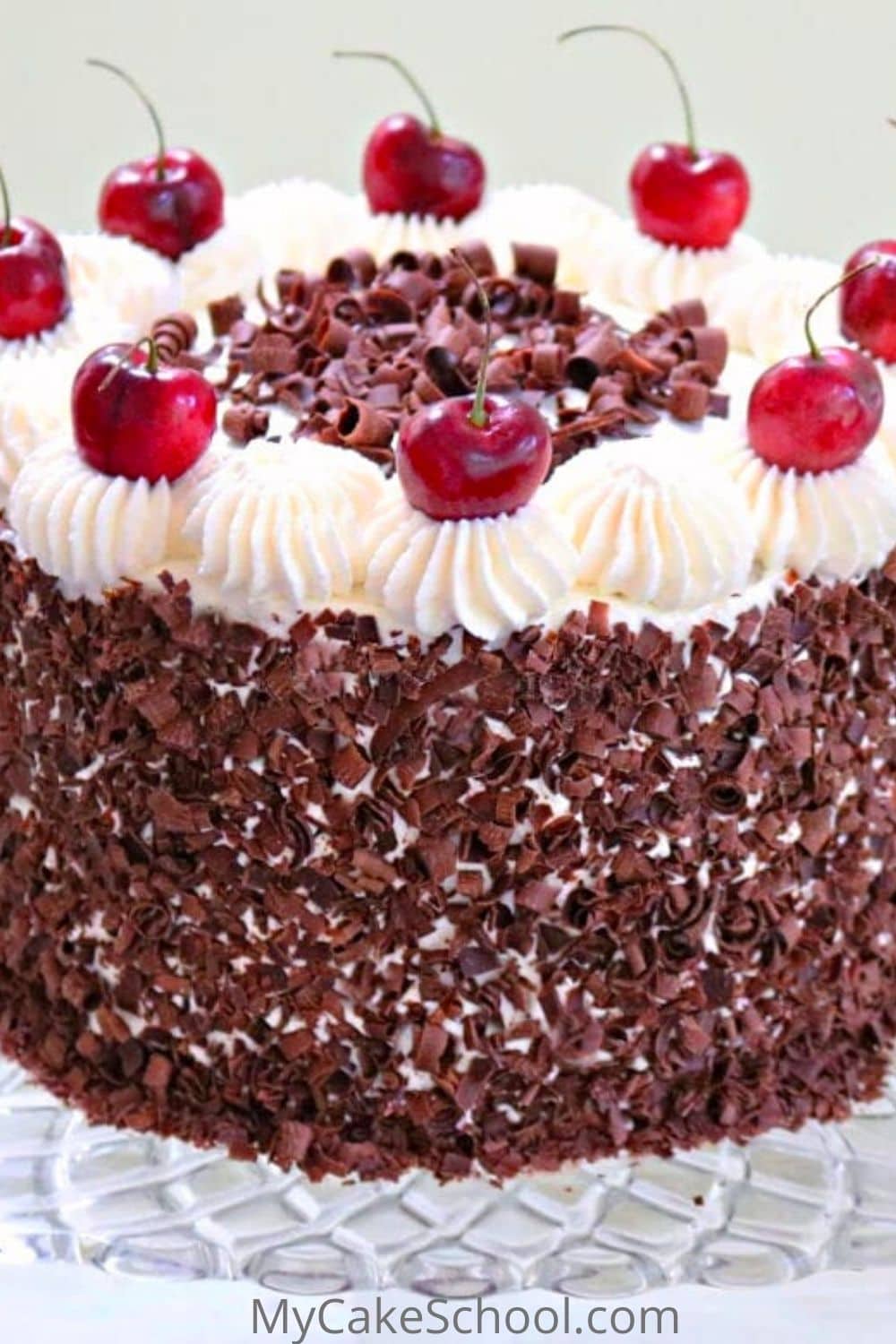 Assembling the Cake:
Place the first cake layer of chocolate cake on a cake stand or serving plate and use a pastry brush to apply a thin layer of Kirsch to the top.
Our chocolate cake is already very moist and so the main purpose of this step is to add cherry flavor to the cake. (You don't want to soak it).
Next, I applied the cooled cherry filling, followed by a layer of whipped cream. Add the second cake layer, brushing with more Kirsch, cherry filling, and whipped cream. Top off the cake the final layer, and brush the top with more Kirsch.
*We frosted the outside of the cake with the remaining whipped cream (reserving some for a top border) and pressed chocolate curls and chocolate shavings around the sides of the cake. See our note below about transport.
An Important Note About Transporting the cake:
I love whipped cream as a frosting for this cake, but if you are going to be transporting it, I would recommend a different frosting for around the sides so that you don't have to worry about the layers sliding.
Such a soft frosting that doesn't firm when chilled can make transporting a little risky. Our Classic Chocolate Buttercream or Classic Vanilla Buttercream would both be good options.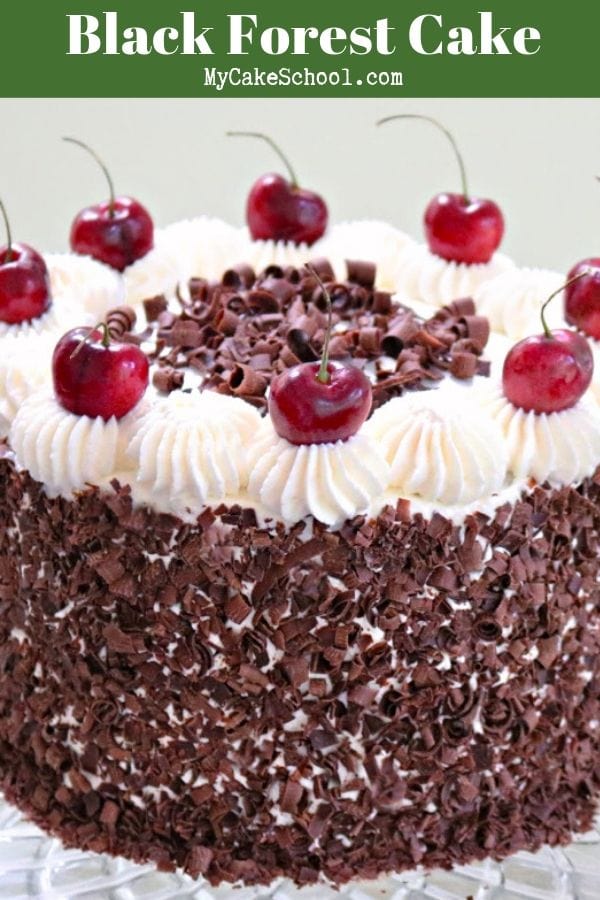 My Cake School- Recipes, Cake Decorating, and More!
If you are interested in learning more about cake decorating, don't miss our Free Cake Decorating Videos section as well as our Free Cake Blog Tutorials section.
We have hundreds of cake decorating designs and techniques to share!
Love Cakes with Cherries? Don't Miss these Other Favorites!
Here are a few more cake recipes for the cherry lovers in your life! These are all bursting with wonderful cherry flavor. Try them all!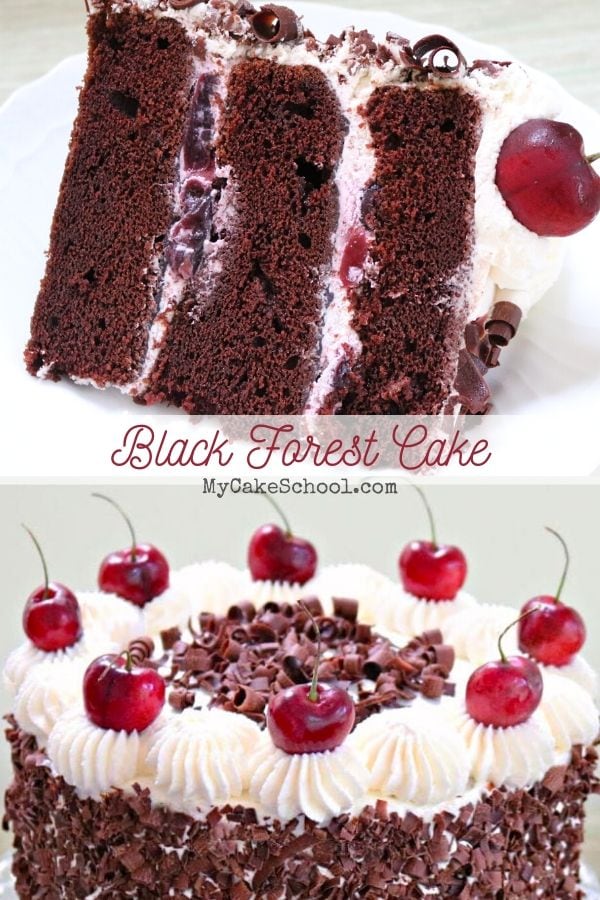 We hope that you enjoy this Black Forest Cake recipe! Whether you are looking for a stand-out birthday cake or a beautiful cake for a dinner party, this recipe does not disappoint!
It has been one of our most popular classic cake recipes over the years!
If you give this recipe a try, we would love for you to leave a comment and photo below!
Black Forest Cake Recipe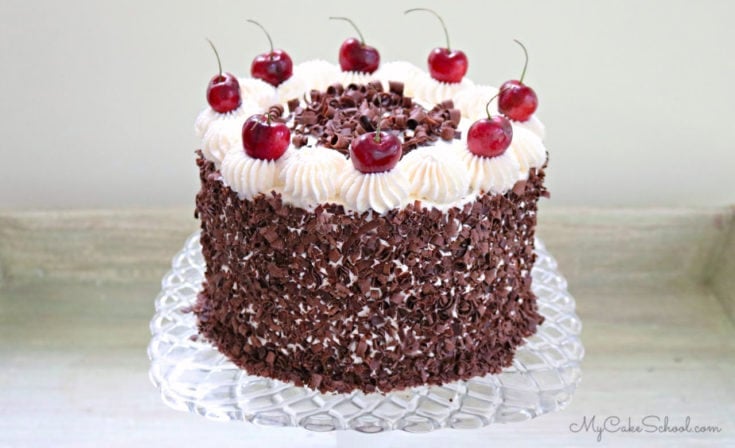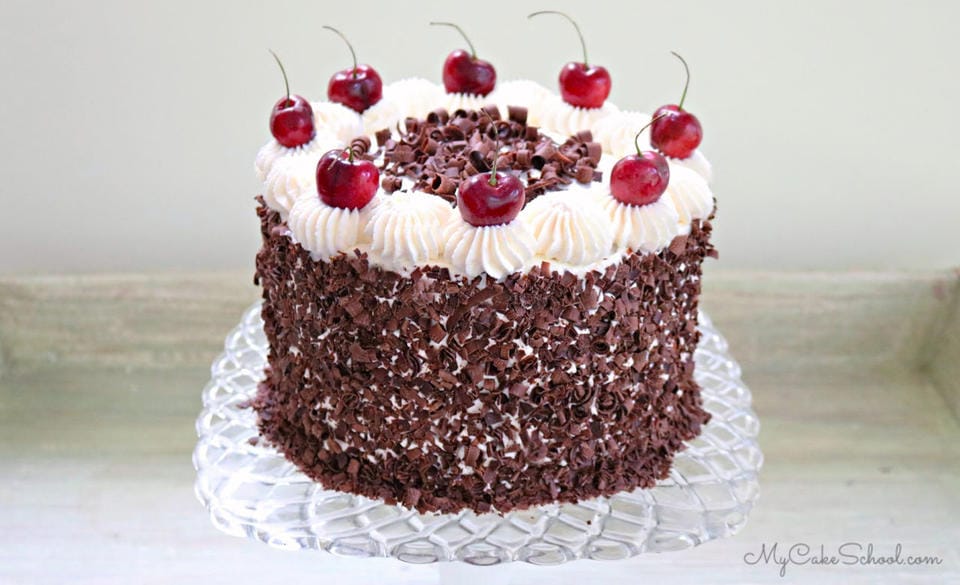 This Black Forest Cake From Scratch is the Best! Chocolate cake infused with Cherry Liqueur and filled with whipped cream and cherry filling!
Ingredients
For the Chocolate Cake (I use the reverse creaming method with this recipe)
2 cups (400g) granulated sugar
2 ¾ cup (322g) all-purpose flour
1 cup (82g) unsweetened cocoa (lightly spoon into cup then sift)
2 teaspoons ((10g) baking soda
½ teaspoon (2g) baking powder
½ teaspoon (2g) salt
1 cup (2 sticks) (226g) unsalted butter, softened (do not soften in microwave) I cut the butter into 1 inch pieces onto waxed paper leaving on the countertop for 8 to 10 minutes. I
¼ cup (54g) vegetable oil
4 large eggs at room temperature
1 cup (220g) milk
1 teaspoon (4g) vanilla extract
1 cup (220) hot coffee, it can be instant or brewed
For the Cherry Filling
1 can (15 oz) Sweet Dark Cherries (pitted) in heavy syrup. Separate cherries from syrup.
2 Tablespoons Cornstarch (corn flour in the UK)
Cherry Kirsch Liqueur (2 Tablespoons for filling, plus additional for brushing over layers)
For the SWEETENED WHIPPED CREAM FILLING AND FROSTING
3 Cups Heavy Cream
¾ Cup Confectioners Sugar
Decorative Accents
2 (4 oz) Bars Semisweet Baking Chocolate for Shavings
Approximately 8-10 Fresh Cherries with stems for top of cake ( you could also use maraschino cherries)
Large star piping tip for top border (we used an Ateco 869)
Instructions
For the Chocolate Cake
Preheat oven to 350 degrees
Grease and flour THREE 8 inch cake pans
In a mixing bowl, add the dry ingredients: sugar, flour, cocoa, baking soda, baking powder, and salt. Whisk for 1 minute to blend.
Add softened butter a few pieces at a time while the mixer is on low speed. Mix until the dry ingredients look like coarse sand and the dry ingredients are moistened. Scrape the bottom and sides of the bowl.
In a separate bowl whisk the eggs, milk , oil and vanilla until blended.
Method is important when using the Reverse Creaming Method. With the mixer on low speed, SLOWLY add approximately ½ of the egg mixture to the dry ingredients. Increase the speed to medium and mix for 1 ½ minutes at medium speed. Don't mix above medium speed. Scrape the bottom and sides of bowl. Add the remaining egg mixture in 2 pourings, beating for 20 seconds after each pour. Scrape the sides and bottom of bowl.
Slowly add the cup of hot coffee and mix another 30 seconds until blended. The batter will be very runny. Don't worry!
Pour into 3 prepared 8" pans and bake at 350 degrees for 25 to 30 minutes or until the center of the cake springs back to the touch and a toothpick comes out clean.
Cool the cakes 10 minutes on a rack and then turn out of the pans.
For the Cherry Filling
Drain the cherry syrup into a measuring cup...the juice/syrup will be about ½ cup or so. Add water to the syrup to reach the 1 cup mark. Set the cherries to the side and pour the one cup of liquid into a sauce pan.
In a small bowl, combine two tablespoons cornstarch with a few tablespoons of the cherry syrup mixture stir until well combined. When combined add it back to the saucepan of cherry syrup and stir constantly over medium heat until the mixture thickens. Keep in mind that it will thicken further as it cools. Gently stir in the drained, sliced cherries and Kirsch.
(If you want a sweeter filling, add sugar at this point. Taste and adjust to your liking, the same is true with the amount of Kirsch.)
For the Chocolate Shavings
I used a vegetable peeler to create chocolate curls and shavings. Just glide over the room temperature chocolate bars to create lots of curls and shavings.
For the Sweetened Whipped Cream
Chill a glass/metal mixing bowl and beaters in the freezer for about 10 minutes, if using a stand mixer use the whisk attachment
Beat the heavy cream on high speed until it begins to thicken (to around the soft peak stage), then gradually add the confectioners sugar, continuing to beat until the stiff peak stage -- this can happen quickly so keep an eye on it. (Peaks hold their shape when the mixer is pulled from the bowl). Don't over-beat or you will wind up with butter! I like to do this step with a hand mixer but if you'd prefer, you can do it with the whisk attachment of your stand mixer.
Cake Assembly
Place first cake layer on your pedestal or cake base. Brush over the top with a thin coating of the Kirsch cherry liqueur. Follow with a layer of the cooled cherry filling. (I like to spread to about ½ inch from the edge of the cake.)
Spread a layer of whipped cream over the filling.
Add the second cake layer.
Brush over the second layer with the cherry liqueur, and repeat above steps. Add the third chocolate cake layer, brush with a light coating of the liqueur, and frost top and sides with whipped cream.
Press chocolate shavings around the side and on the top center of the cake. Pipe a border of whipped cream stars (I used an Ateco 869 but a Wilton 6B, 8B or your large star tip of choice is good.) I placed the fresh cherries into every other piped star so that they are evenly spaced.
Recommended Products
As an Amazon Associate and member of other affiliate programs, I earn from qualifying purchases.
Looking for More Classic Cake Recipes? Here are a few favorites!
In addition to this favorite Black Forest Cake, here are a few more go-to classic cake recipes that you absolutely must try!