Today I'm sharing the BEST Marble Cake recipe from scratch that belongs in your recipe box! It's so moist and has wonderful flavor (not to mention beautiful swirls). Everybody needs a go-to marble cake recipe, don't they? (YES they do!)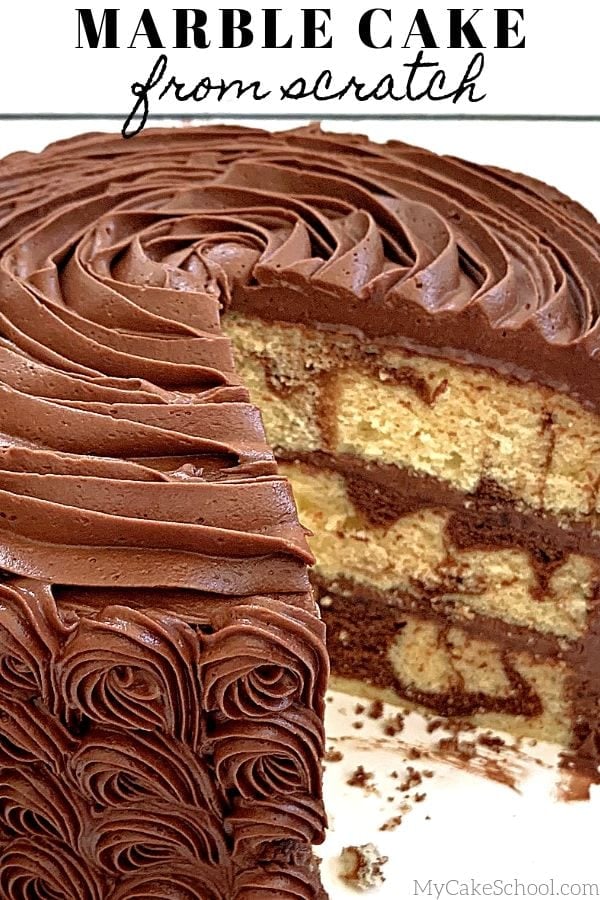 Why choose between a delicious chocolate and a delicious yellow cake when a marble cake can give you the best of both worlds? This is a dessert that never disappoints. Mmmmmm.....
It is the perfect balance of yellow cake with swirls of chocolate, makes beautiful cake layers as well as cupcakes, and it is sturdy enough to hold up well to fondant too.
I LOVE to fill and frost marble layer cakes with our rich Chocolate Buttercream! (You can find it linked at the bottom of this post!)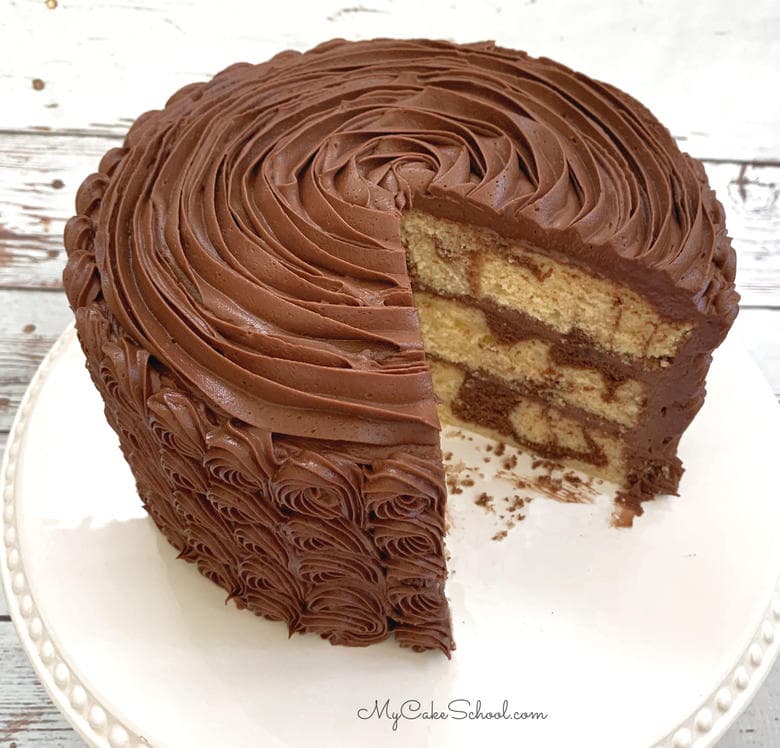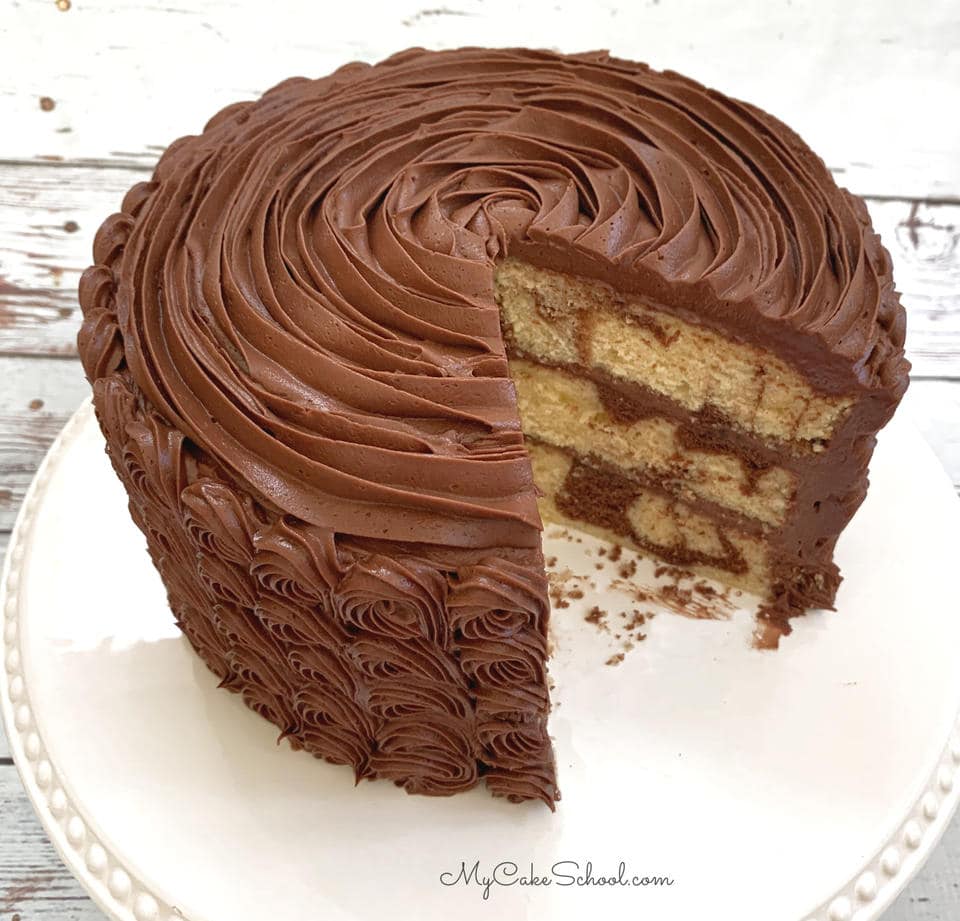 What is Marble Cake?
Marble cake is a type of cake that has contrasting swirls of batter, giving a fun marbled or swirled pattern to your slices. The contrasting swirls may be from a different flavor of batter, or simply batter that has been tinted. Once the two types of batter are in the pan, you can lightly drag a knife through the batter to create the marbled effect.
Years ago, when making marble cake, I used to prepare a chocolate cake recipe and a yellow cake recipe separately and then combined them. That's just too much work and too much batter. Other recipes call for melted chocolate.
With this Marble Cake technique, simply choose your favorite yellow or white cake recipe, and reserve a little to combine with cocoa powder for your swirls- what could be easier?
I just LOVE the combination of yellow cake with chocolate and so this recipe is based on our favorite scratch Yellow Cake.
However, no matter what recipe you are using (whether yellow or white cake), you can follow the same technique!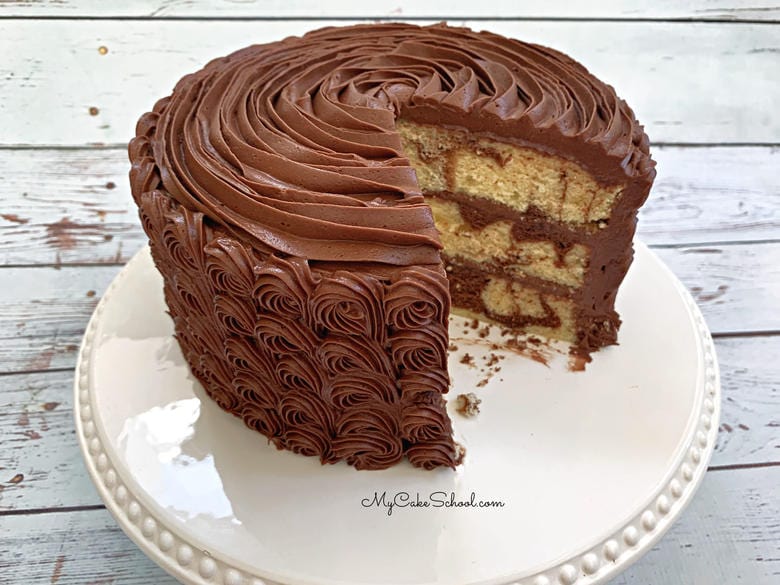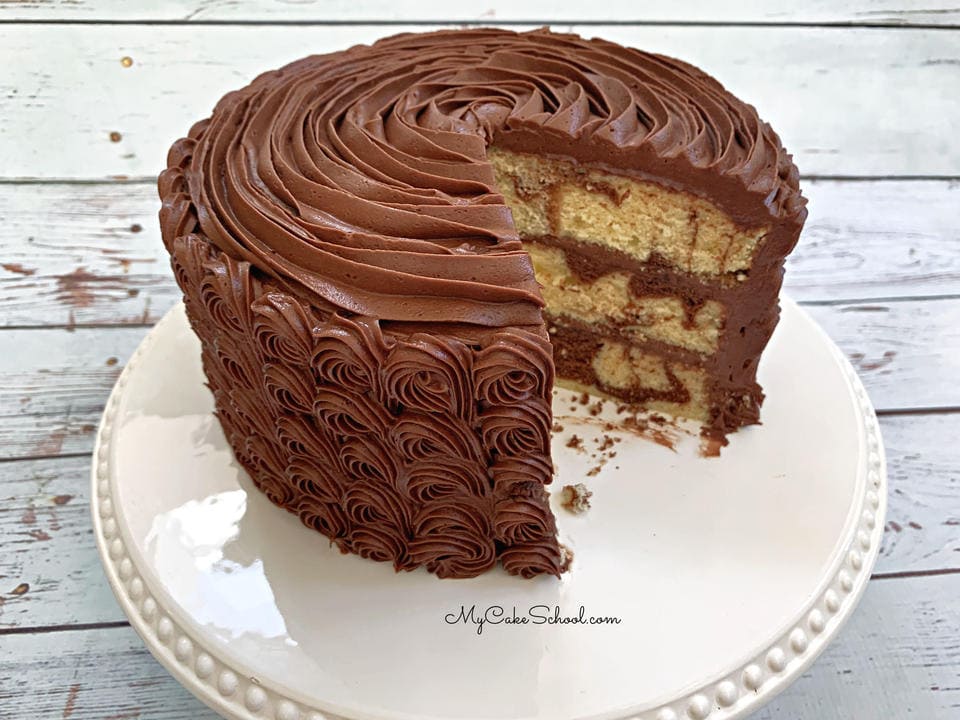 Using the Reverse Creaming Method of Mixing
When you take a closer look at our Marble Cake Recipe, you'll notice that the method of mixing is a little different than the traditional method (which involves creaming the butter and sugar and adding wet & dry ingredients alternately).
The mixing method for this marble cake is most similar to the Reverse Creaming Method of Mixing that we have used in several of our recipes, in that the dry ingredients are combined before the butter is mixed in. However, it is unique in that the eggs are then added one at a time before the reminder of the wet ingredients are slowly poured in.
We find this mixing method to be very easy to follow, and the result is a slightly finer crumb, yet it has a soft texture and is very moist. We love it!
How to Make a Marble Cake
To create a marbled effect with your cake batter you first need to make your white or yellow cake batter.
Next, dissolve cocoa powder into hot water.
Scoop some of your cake batter into a small bowl (see recipe for details) and combine with the chocolate mixture to create chocolate batter.
Next, scoop spoonfuls of batter into the pans, alternating between the yellow and chocolate batter. You can see how we did this in our video tutorial. For me, I added yellow cake batter to each pan first, then added spoonfuls of chocolate batter, gave it a swirl, then added additional yellow and chocolate batter and gave it another swirl.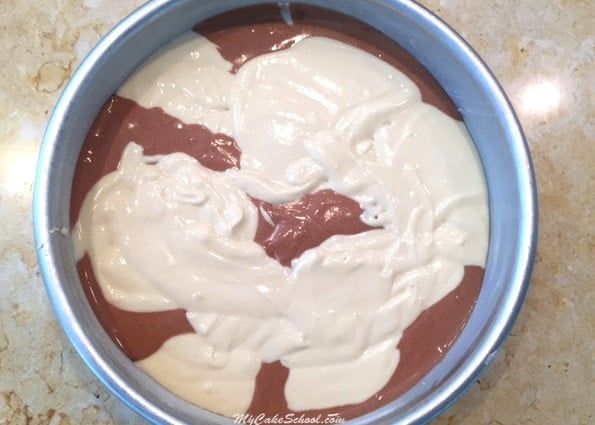 It's up to you how marbled you make it, although you have to stop yourself from having too much fun or you'll loose your beautiful swirls!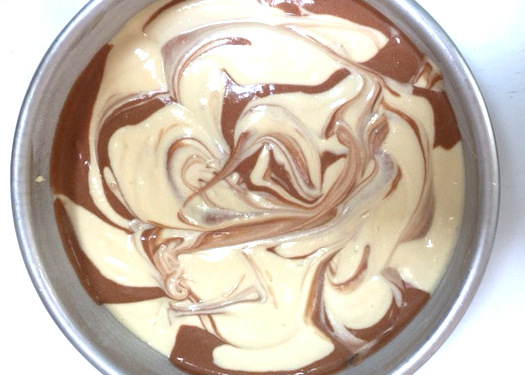 That's all there is to it! Bake, fill, frost, and enjoy! We hope that you love this recipe as much as we have. It's guaranteed to please any crowd.
What Frosting Pairs well with Marble Cake?
Our marble cake in the photo was frosted with our go-to chocolate buttercream frosting recipe.
You can find the Chocolate Buttercream recipe here! It has a wonderful chocolate flavor, is simple to make, and pipes beautifully!:Classic Chocolate Buttercream.
We also love Chocolate Cream Cheese Frosting which is a little less rich. If you love cream cheese, you will love this recipe!
Of course, Vanilla Buttercream is a great choice too if you aren't in as chocolatey of a mood ;0)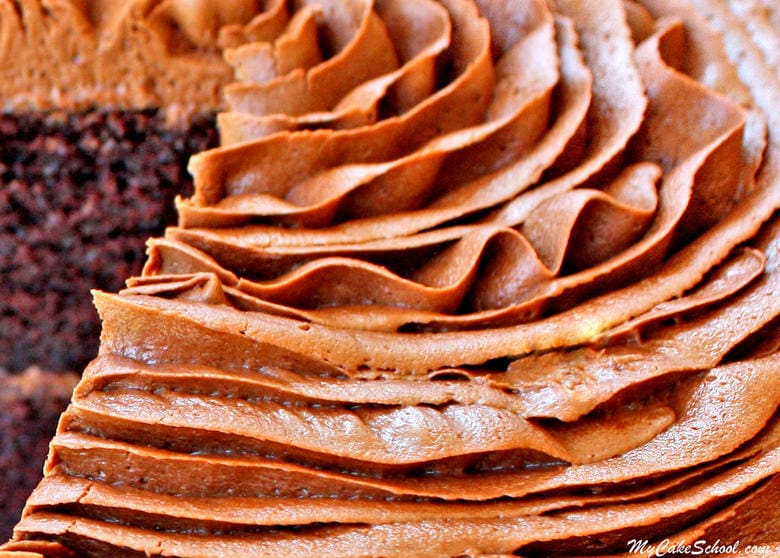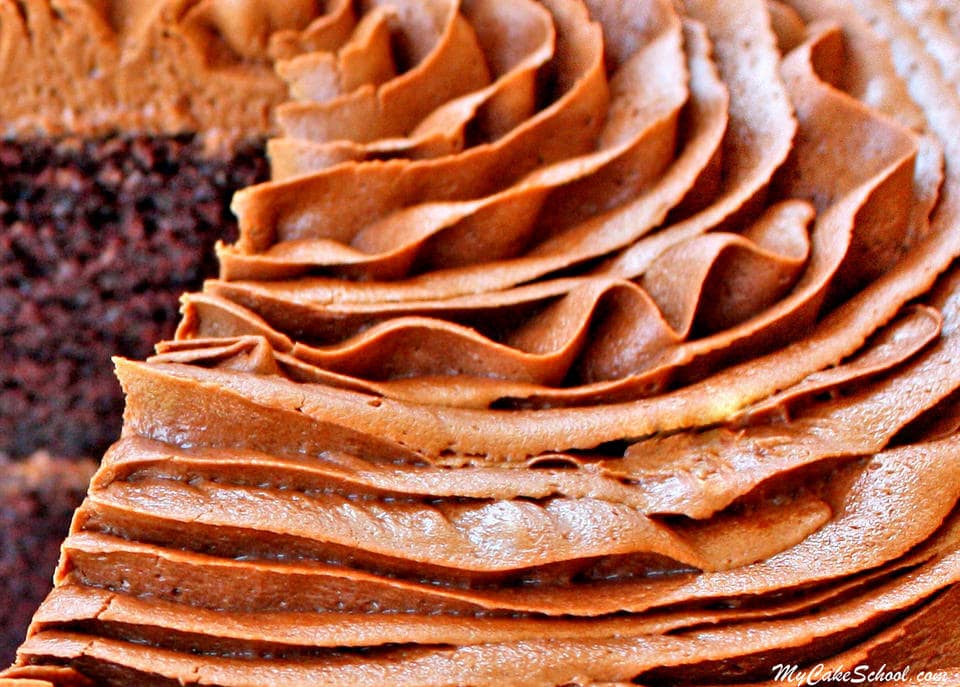 Zebra Cakes and Checkerboard Cakes!
If you love Marble Cake, you should try changing things up a bit sometime with Zebra cake! The same idea as marble cake, only with a zebra print pattern! You can find our free step by step tutorial here: Zebra Cake Tutorial.
Our checkerboard cake is another fun alternative to marble cake, but with the same wonderful combination of flavors! How to Make a Checkerboard Cake
Yellow Cake
Don't miss our Yellow Cake from scratch recipe which is what this marble cake was based on! It is a moist cake with wonderful flavor. You can find it here!: Yellow Cake Recipe from Scratch.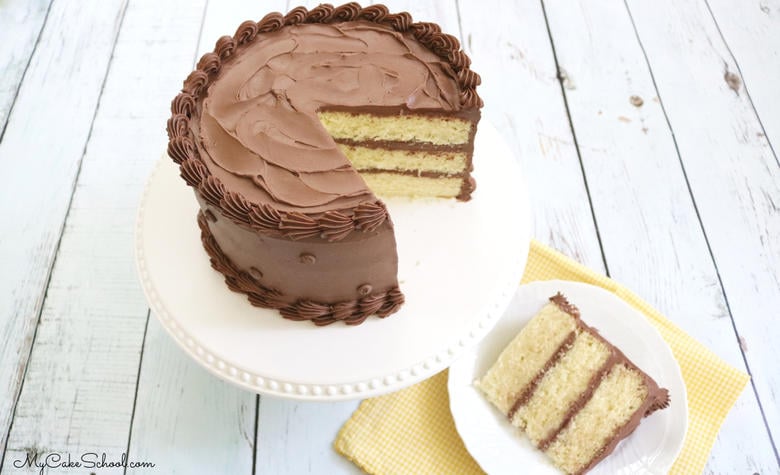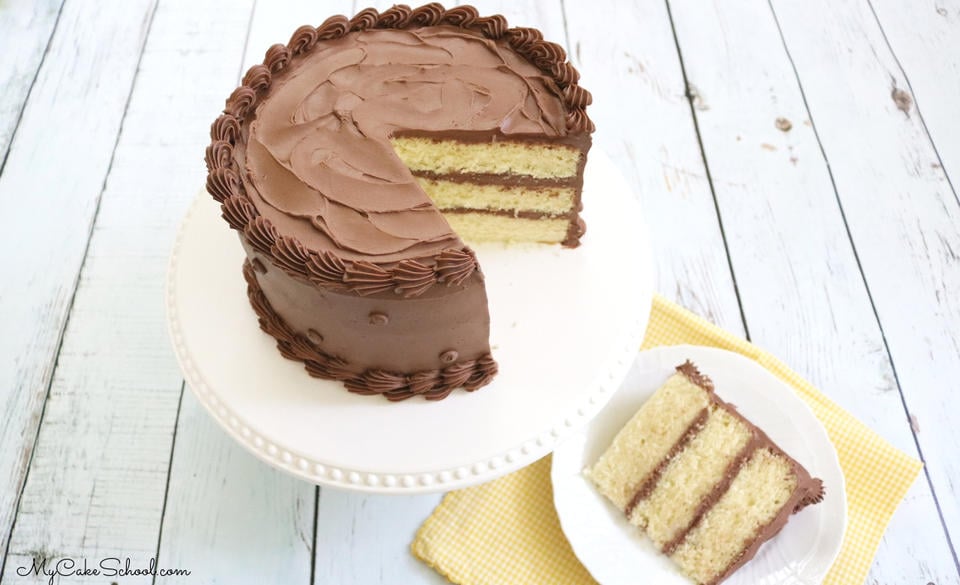 Learn cake decorating with My Cake School
Thanks for stopping by! Make sure to check out our full collection of favorite cake and frosting recipes in our Recipes section!
If you are interested in learning more about cake decorating, don't miss our section of hundreds of free cake tutorials here: Free Cake Tutorials Section.
*5/4/22- We've updated this recipe to add ¼ cup additional buttermilk.
Marble Cake from Scratch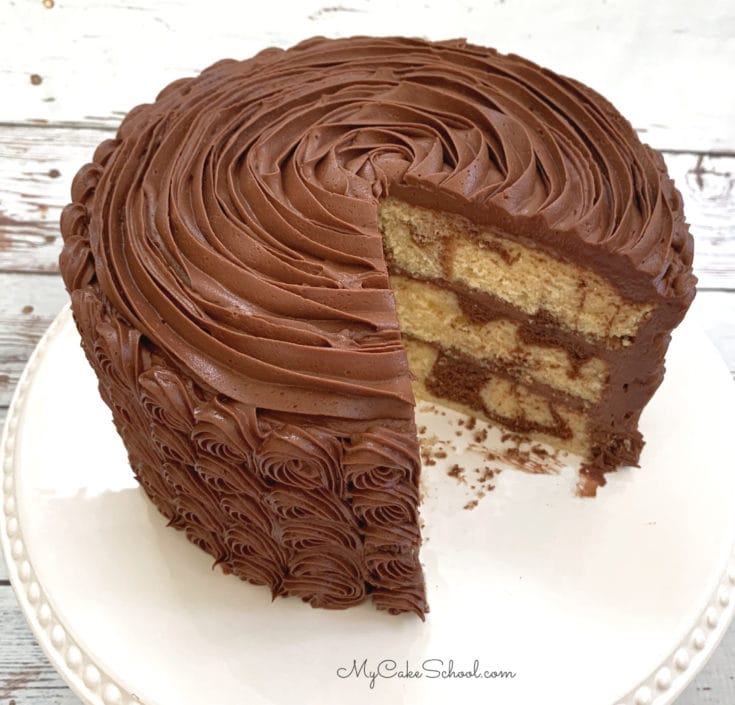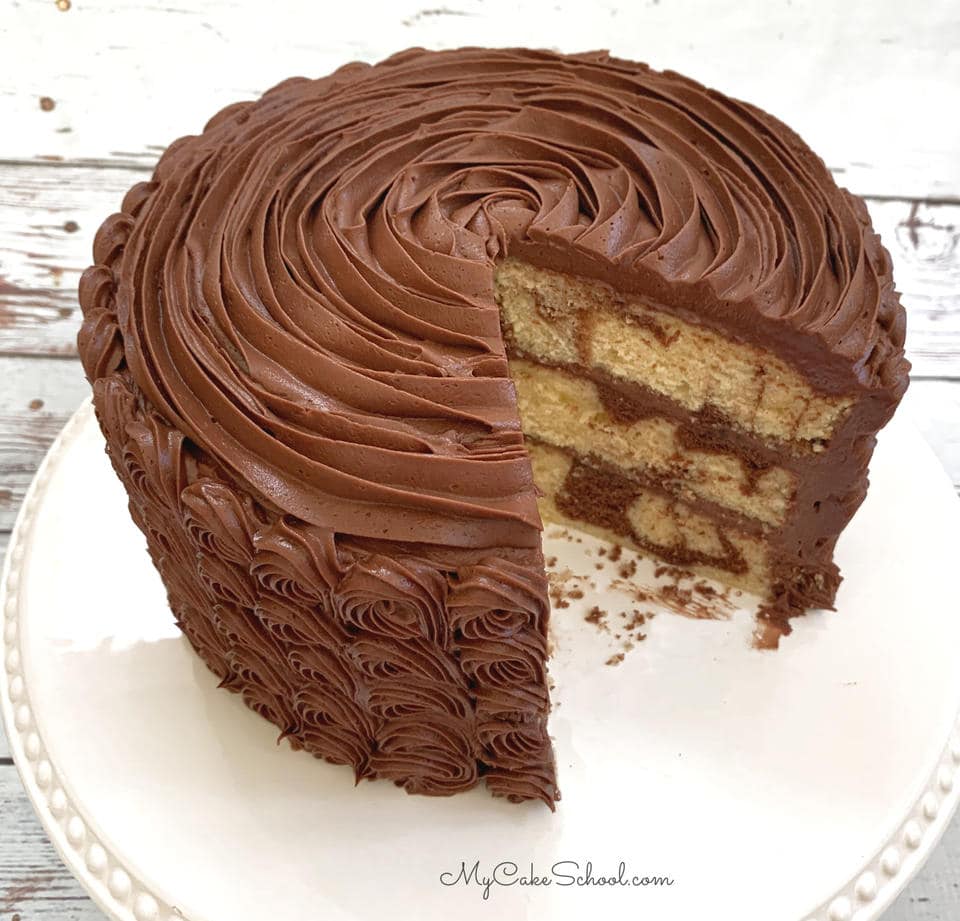 This moist and delicious Marble Cake recipe is always a crowd pleaser! Frost with your favorite chocolate frosting (we love it with our Classic Chocolate Buttercream)!
Ingredients
3 cups (342g) cake flour
2 cups (400g) sugar
2 teaspoons (8g) baking powder
½ teaspoon (3g) baking soda
½ teaspoon (3g) salt
2 sticks (226g) unsalted butter, softened
4 large eggs
1 ¼ cup (299g) buttermilk — **if you do not have buttermilk see note below
1 Tablespoon (12g) vanilla extract
4 Tablespoons unsweetened cocoa powder (measure then sift) + 3 to 4 Tablespoons very hot water (for marbling)
Instructions
Preheat the oven to 325 degrees. Grease and flour three 8x2 inch round cake pans. Place a piece of parchment in the bottom of each pan. (Note that we used three layers- this recipe has been updated since our photos were taken. We will update the photos soon!)
Put the first 5 ingredients into the bowl of your mixer. Mix on low speed for at least 30 seconds to combine.
Add the softened butter (cut into pieces) mix on low speed just until it looks like coarse sand. The dry ingredients will be moistened/coated by the butter and will stick to together if you press some between two fingers. Don't over-mix or it will turn into a large dough-like ball.
Add the eggs 1 at a time, mixing until blended.
Add the vanilla to the 1 ¼ cup buttermilk. With the mixer on lowest speed gradually pour into the mixer. Increase the speed to #2 or # 3 (on a KitchenAid mixer). Mix for about 2 minutes, batter will be smooth and fluffy. If you are using a hand mixer rather than a stand mixer, mix a bit longer.
MARBLING INSTRUCTIONS..
Mix 4 Tablespoons unsweetened cocoa powder with 3 to 4 Tablespoons very hot water. Stir until smooth & set aside.
Put 1 ½ cups cake batter into a medium sized bowl and stir in the chocolate mixture to create chocolate batter. Set aside.
Put about a cup of yellow batter into each of the three pans & spread, then add a few dollops of chocolate batter by the spoonful to each of the pans. Swirl with offset spatula or knife (we usually use something about ½ inch wide). Add more yellow batter by the spoonful, adding chocolate batter here and there until finished. Swirl this newly added yellow and chocolate. Be careful not to over-swirl- you'll lose the contrasting colors.
Bake at 325 degrees for 25-30 minutes or until a toothpick inserted in the center comes out clean. Let the cake cool in the pans 5-10 minutes, then turn out.
Notes
** Buttermilk Substitute: In a measuring cup add 2 Tablespoons white vinegar or lemon juice. Fill the cup with milk to the 1 ¼ mark, stir and let sit for 5 minutes. 
Recommended Products
As an Amazon Associate and member of other affiliate programs, I earn from qualifying purchases.