Orange Curd Cake Filling Recipe and Video Tutorial
Sometimes the filling can MAKE the cake, and I just love the Orange Curd Cake Filling recipe that we are sharing with you today!
This luscious orange filling has wonderful flavor, and is easy to make with just a few simple ingredients!
We recently used it in our Lemon Orange Layer Cake recipe and it added a boost of citrus flavor!

What is a Fruit Curd Filling?
Okay, so maybe "curd" isn't the prettiest of names for what has become one of my favorite fillings for cakes and cupcakes! If you've never made a fruit curd filling, you are missing out!
Fruit curds are used as cake and cupcake fillings as well as a flavorful spread or topping often used with bread or scones.
In England, homemade citrus curds are often used as an alternative to jam with afternoon tea, as well as a filling for small pastries.
Although jars of various fruit curd flavors can often be found at your local grocery store, you just can't beat the taste of a homemade recipe- plus, it is so easy to make!
While there is some variation in curd recipes, most of the fruit curd recipes on our site involve combining fruit juices, zest, sugar, egg yolks, cornstarch and a little butter over heat until you are left with a silky smooth and luscious fruit filling.
How to Make Orange Curd
First, wash and dry the oranges and lemon-- then zest them. If you have a microplane, it makes zesting much faster! A lot of the flavor from citrus fruits is in the peel, which is why this is an important step. Just be careful not to grate too far into the pith (the white part beneath the outer layer) as it is slightly bitter.
In a sauce pan, combine the sugar, cornstarch, egg yolks, orange and lemon juice, zest, and butter. The cornstarch thickens the filling and most of the vibrant color in this curd comes from the egg yolks.
Heat the ingredients until the mixture begins to thicken and bubble. It will take on a pudding-like consistency.
Allow to cool and then place in the refrigerator. It will thicken even more as it chills. (Find all of the details below, as well as our step by step video!)
Lemon zest may seem like an odd addition to orange curd, but it just give it a little extra zing! In tasting the curd, you don't taste lemon--just orange. So good!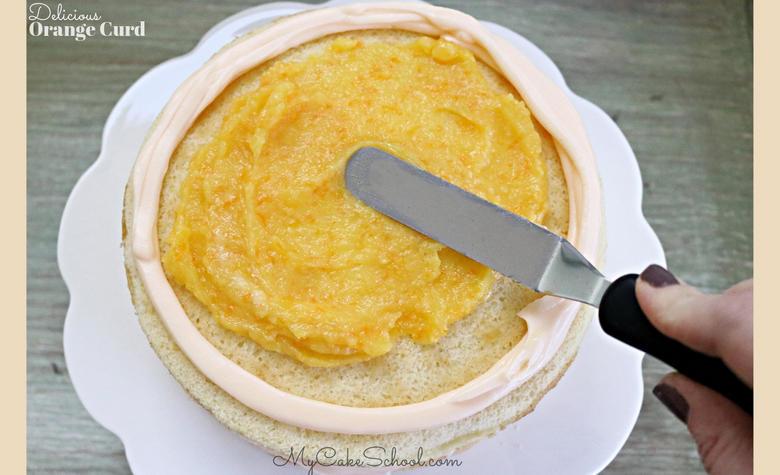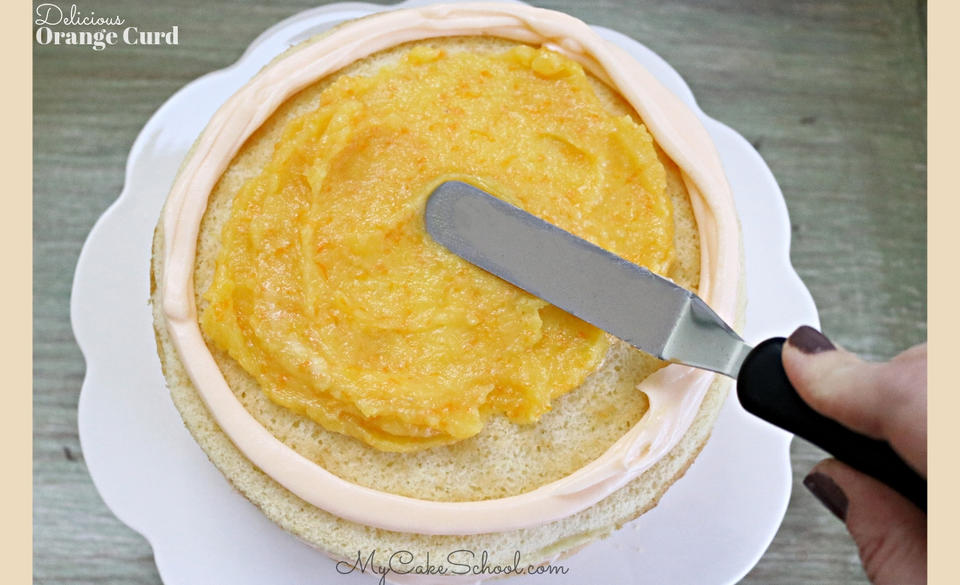 How to assemble cakes with soft fillings
Whenever my cakes have a soft filling like whipped cream, curd, mousse, etc., I pipe a dam of frosting about ¼ inch from the edge of my first cake layer, and then fill it. Then, repeat with the other layer(s) of cake.
The dam will keep filling contained as more weight is added from the additional layers of cake.
Once all of the layers are assembled, I use a piping bag to fill in any remaining gaps in between the layers with frosting to make sure that the filling is not going to be able to escape. This step also helps to prevent air pockets from forming.
Try not to over fill your cake layers as that can cause bulging and can also make the layers more likely to slide as you frost the cake.
**Remember that the freezer is your friend. I often chill my recently filled cakes for about 20-30 minutes before frosting to firm everything up.
We Have More Fruit Fillings to Share!
We love fruity cakes and flavorful fruit fillings! They are perfect year-round but I especially love them in the summer months! Here are just a few of our favorites from our Recipes Section!
Orange Curd Filling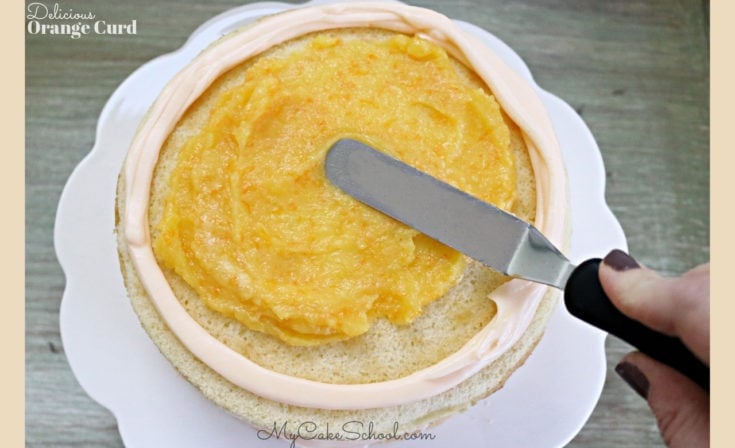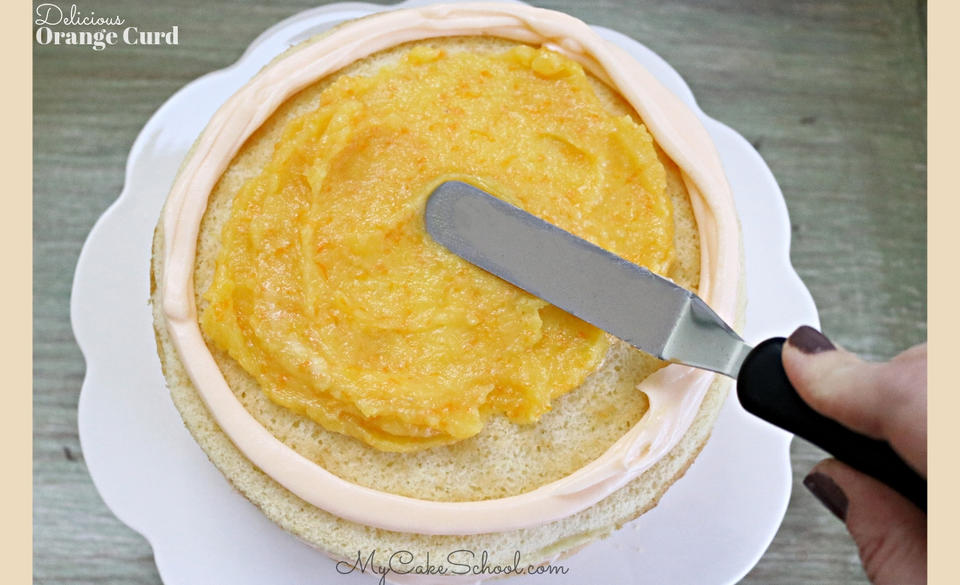 This delicious Orange Curd filling will add a burst of citrus flavor to your cakes and cupcakes!
Ingredients
Zest of 3 oranges and 1 lemon
2 egg yolks
¾ cup (150g) sugar
¼ cup (30g) cornstarch
¾ cup (180g) fresh orange juice (this is the juice from about 3 oranges)
3-4 Tablespoons (48g) Lemon Juice (this is the juice from one lemon)
2 Tablespoons (28g) butter
Instructions
Wash and dry the oranges and lemon — then zest all of them. It is best to use a microplane, being careful to get just the outside not the white beneath.
In a sauce pan add the sugar cornstarch, egg yolks, orange and lemon juice and zest and butter. Stir to blend.
Cook on medium low heat, stirring until ingredients are smooth and well combined. Increase to medium heat and stir constantly until the mixture begins to thicken and bubble. Reduce heat and stir for about a minute more- it will take on a pudding-like thickness/consistency.
Remove the sauce pan from the heat.
Pour curd into a heat proof bowl. Allow to cool 15 minutes, press a piece of plastic wrap onto the top of the curd to prevent a "skin" from forming. Refrigerate until cool, the curd will thicken further as it cools.
The curd can be refrigerated for a week. When ready to use, remove from the refrigerator and allow to warm a bit and stir for easier spreading. It can also be frozen for 3 months.
Sharing the BEST Recipes and Cake Tutorials!
Don't miss our full collection of favorite cake recipes, fillings, and frostings in our Recipes Section! We have so many cake recipes to share, including our Lemon Curd & Lime Curd recipes if you'd like to experiment with these flavors as well!
We also have a light and delicious Orange Cream filling which we used in our Orange Dreamsicle cake which has a mousse-like consistency. Put this on your list of recipes to try also!