Orange Cream Cheese Frosting Recipe
I absolutely LOVE Cream Cheese Frosting, and this Orange Cream Cheese Frosting recipe is amazing.
This flavorful, silky smooth recipe is just heavenly as a filling or frosting for cakes and cupcakes that call for a hint of citrus.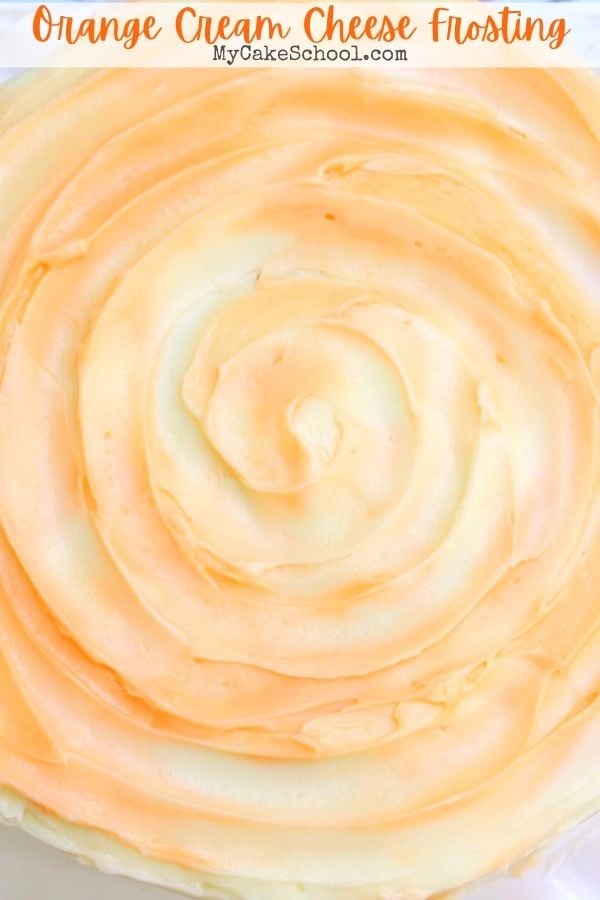 What Cake recipes Pair Well with Orange Cream Cheese Frosting?
Keep this Orange Cream Cheese frosting in mind for citrus cakes, spice cakes, vanilla cakes, and more! Here are a few favorites!:
Looking for more Cream Cheese Frosting Recipes? We have lots!
We happen to love cream cheese frosting recipes so much that we've made a roundup of our favorites!
We have a flavored cream cheese frosting recipe that will go with any cake flavor you can think of! Hop on over to see! Roundup of our FAVORITE Cream Cheese Frostings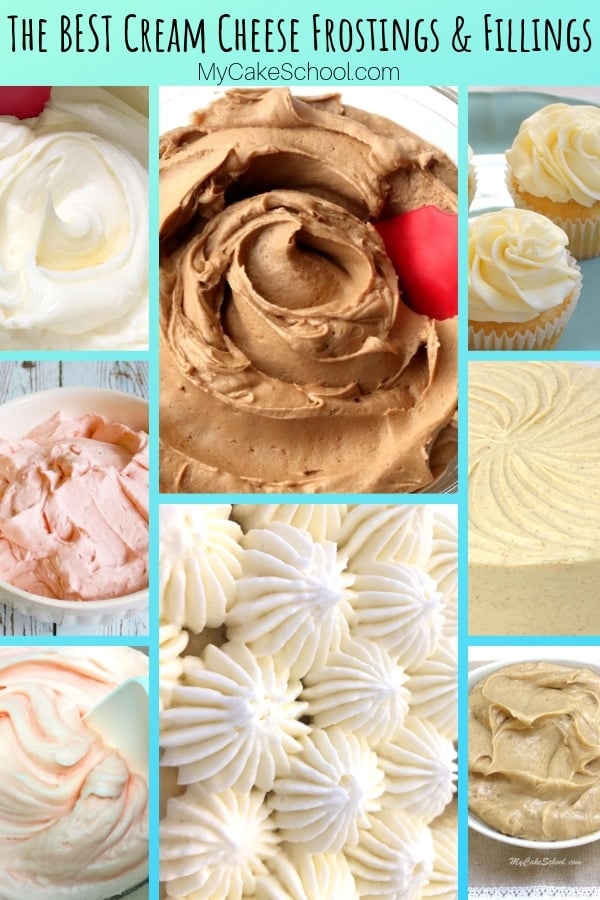 TIPS FOR CREAM CHEESE FROSTING
Soft Consistency: Cream cheese frostings are softer than your usual buttercream frosting. Because of this, you may need to add a little additional powdered sugar to reach the desired consistency, or pop it in the refrigerator to firm it up a bit before working with it.
Does Cream Cheese Frosting Require Refrigeration? Yes. Cakes and cupcakes that are frosted in cream cheese frosting should be refrigerated until within about 2 hours of serving.
Cream cheese frosting firms up when chilled and so removing from the refrigerator a couple of hours before your event will allow enough time for it to soften. Don't get me wrong, I have nothing against cold cream cheese frosting, haha- but most people like it nice and soft at the time of serving!
How Long can Cream Cheese Frosting Sit Out? A cake frosted in cream cheese frosting can sit out for 2-3 hours at room temperature (less if it's outside in the warm weather or if it is one of our lighter consistency whipped cream cheese fillings as it contains more heavy cream ).
Thanks so much for stopping by, enjoy the recipe!
Orange Cream Cheese Frosting Recipe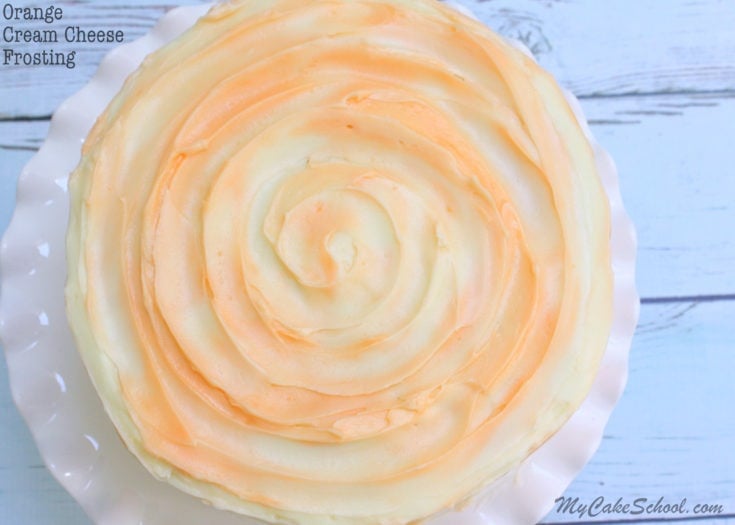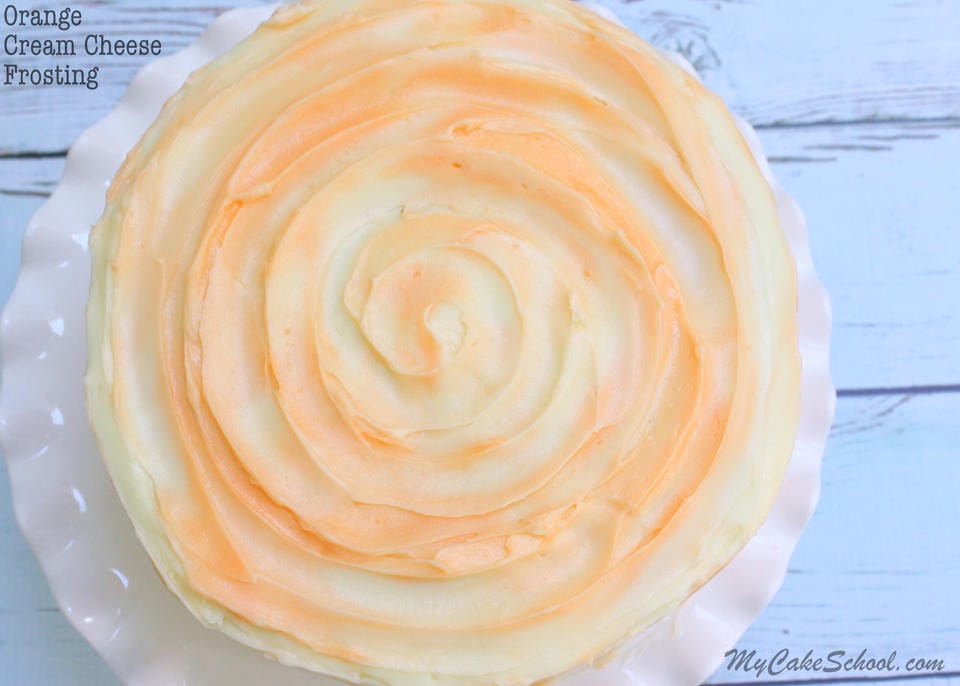 This easy and delicious Orange Cream Cheese Frosting tastes amazing with orange cakes, lemon cakes, spice cakes, and more!
Ingredients
2 sticks (1 cup) (226 g) unsalted butter, let it sit out approximately 10 minutes. It should feel very cool to the touch.
2 (8oz) packages cream cheese (total weight 452g) I use full fat cream cheese. Using reduced fat or the spreadable cream cheese will cause the frosting to be too soft. Do not soften the cream cheese.
1 teaspoon (4 g) clear vanilla extract (we used clear to keep color lighter)
1 teaspoon (4g) orange extract
½ teaspoon salt (2g) optional - it will cut the sweetness, popcorn salt is best to use because it is fine and dissolves faster
6 to 6 ½ cups (690g to 747g) powdered sugar
Orange Coloring Gel (optional) We used a very small amount for tinting.
Instructions
Cut the butter into slices and add to the bowl of your mixer. Beat on low to medium speed until the butter is softened and smooth.
Cut the cold cream cheese into pieces and add to the butter, beating at low to medium speed until incorporated.
Add the vanilla and orange flavorings. Gradually add the powdered sugar beating on low speed until blended. Cover the bowl with a towel to keep down the cloud of powdered sugar.
Increase mixing speed and beat until fluffy. Don't over beat.
This frosting will pipe best if used while still chilled. You can make it in advance, refrigerate and when ready to use let it soften slightly (do not microwave) and remix.
Will frost a 3 layer 8 or 9 inch cake. When decorating our Dreamsicle Cake, we frosted our cake and then when back in with swirls of lightly tinted orange frosting for a pretty effect.
Don't miss our Orange Dreamsicle Cake!
If you love citrus cakes, you are going to fall in love with this amazing Orange Dreamsicle Cake with Orange Cream Cheese Frosting and Orange Cream Filling! This cake tastes exactly like a Dreamsicle. It's a great year-round dessert but especially perfect for summertime birthdays and other special occasions!
Don't miss out! Hop on over to print a copy (or Pin for later!). Orange Dreamsicle Cake Recipe from Scratch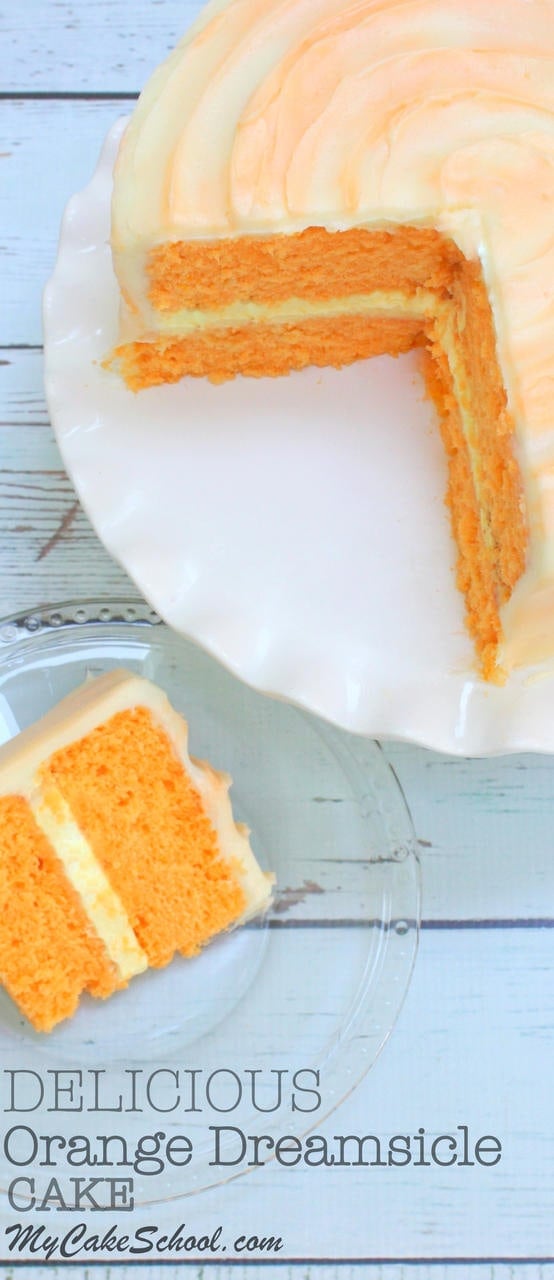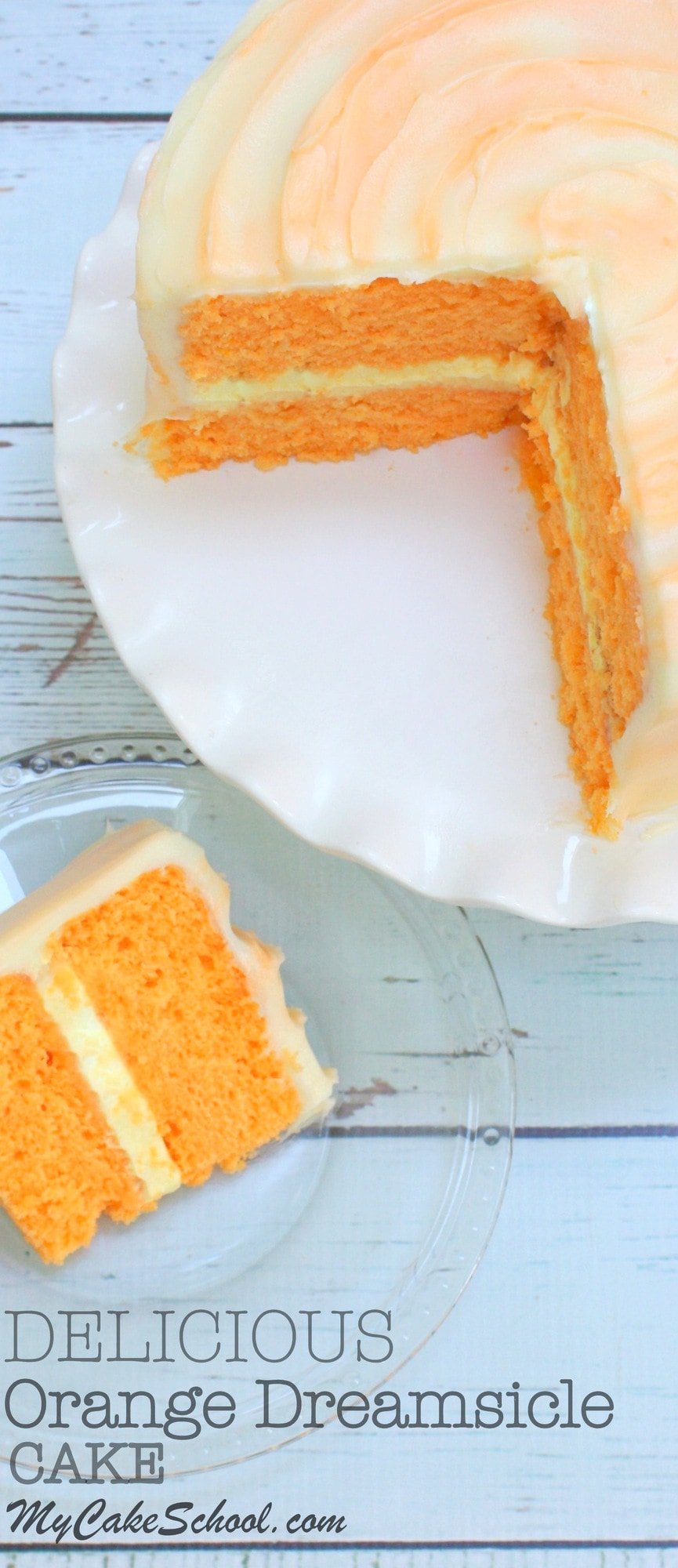 More Cake Recipes & Tutorials!
We have hundreds more delicious cake recipes and favorite cake decorating tutorials in our Recipes and Tutorials Section!