Today we're going to share a fantastic lime curd recipe with you! There's nothing like a silky, flavorful fruit curd filling to add a burst of flavor in cakes and cupcakes.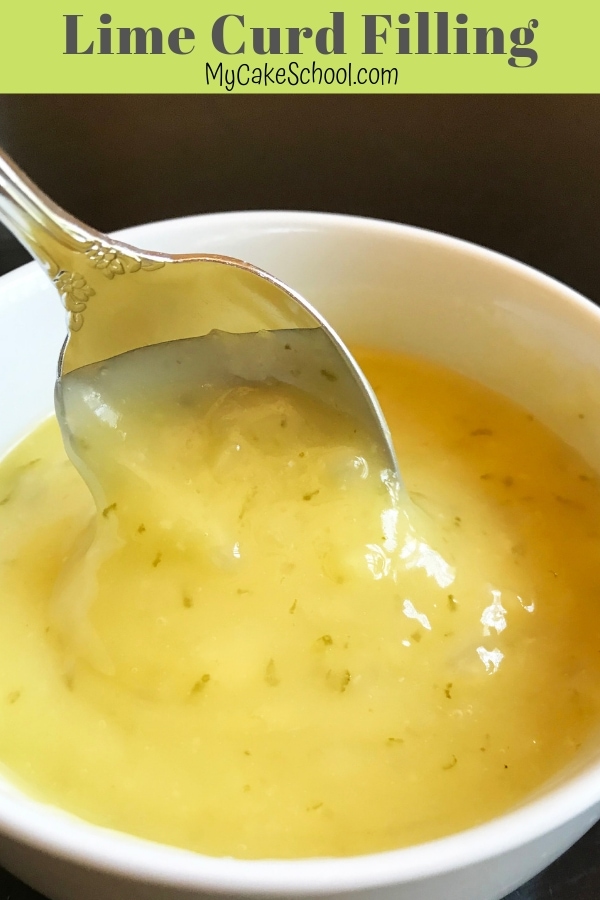 We have used this delicious Lime Curd recipe as a filling in our homemade Lime Cake recipe, but keep it in mind for any dessert that would benefit from a boost of refreshing lime flavor (from white cake to lemon cake or coconut cake and more)!
How to Make Lime Curd
There's more than one way to make a delicious curd filling, but most of our favorite recipes involve combining zest, juice &/or water, sugar, egg yolks, butter, and cornstarch as a thickener.
The ingredients are simple, but the end result is so luscious and indulgent, you'll want to spread it on everything from cakes and sweet breads to your morning toast!
You can find the full, printable recipe card further down in this post. Here is a quick rundown of our steps!
To make the lime curd, we first combined sugar and cornstarch in a saucepan, and add the water. Stirring constantly, we heated the mixture until it began to bubble.
We then spooned part of the hot mixture into a bowl with the egg yolks and stirred to combine. We then added this back to the saucepan.
Once ready, we removed the saucepan from heat and added the butter, lime juice, and lime zest. Allow the lime curd to cool before using!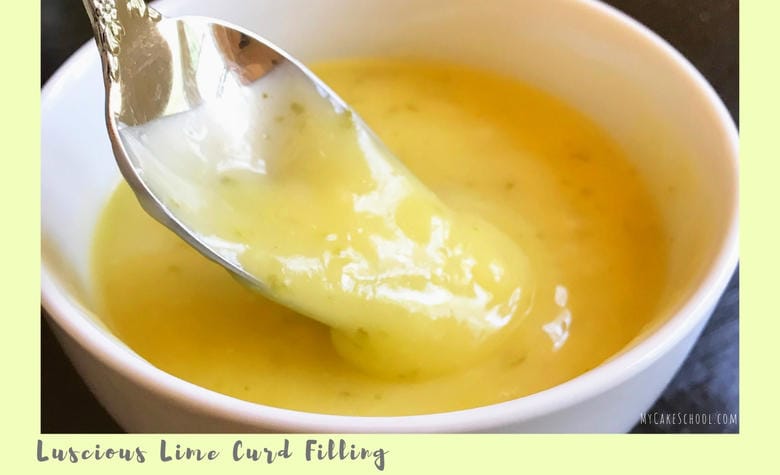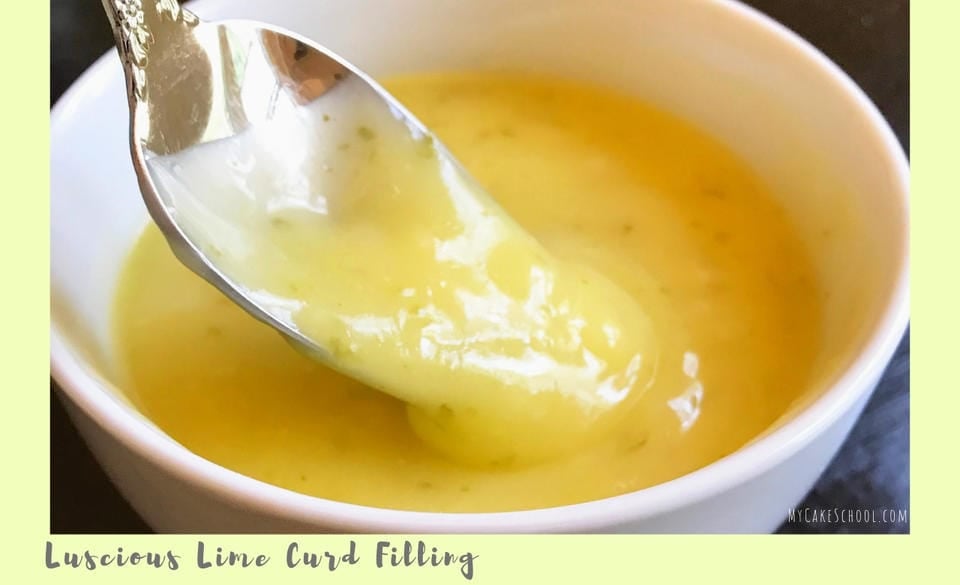 Looking for more Fruit Curd Fillings? Here are a few favorites!
The cake options are endless with delicious fillings like these. Have fun experimenting!
Why is Lime Curd Yellow?
The color in curd fillings comes mainly from the egg yolks. This is why most curd fillings are a lovely shade of yellow.
The yellow makes sense when you're making a lemon or pineapple curd, but for lime curd filling, you may have been expecting a shade of green.
You can tint your lime curd with a touch of green coloring gel if you'd like, but I prefer the shade just as it is, speckled with bits of green lime zest.
We hope that you enjoy this recipe as much as we have! If you've never tried a fruit curd filling, you are missing out! They are really easy to make and the taste is just heaven!
Fruity Cakes
Lime curd makes a wonderful addition to spring and summer cakes and cupcakes. Here are a few more fruity cakes for your "must-bake" list! We hope that you enjoy them!
Enjoy the Recipe!
We hope that you enjoy the recipe! If you give it a try, we would love for you to leave a comment below!
Lime Curd Filling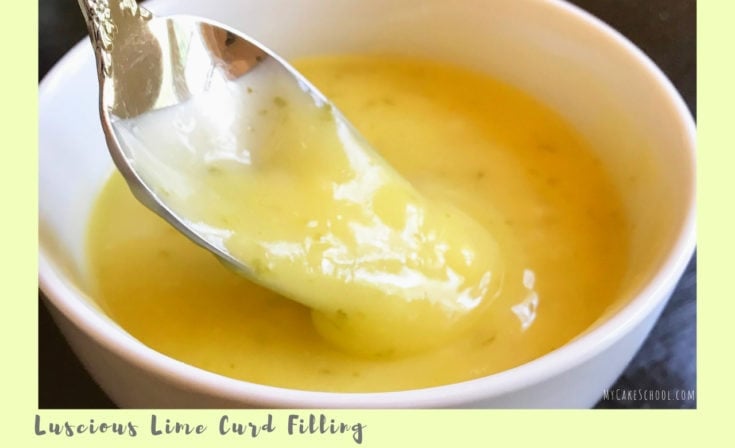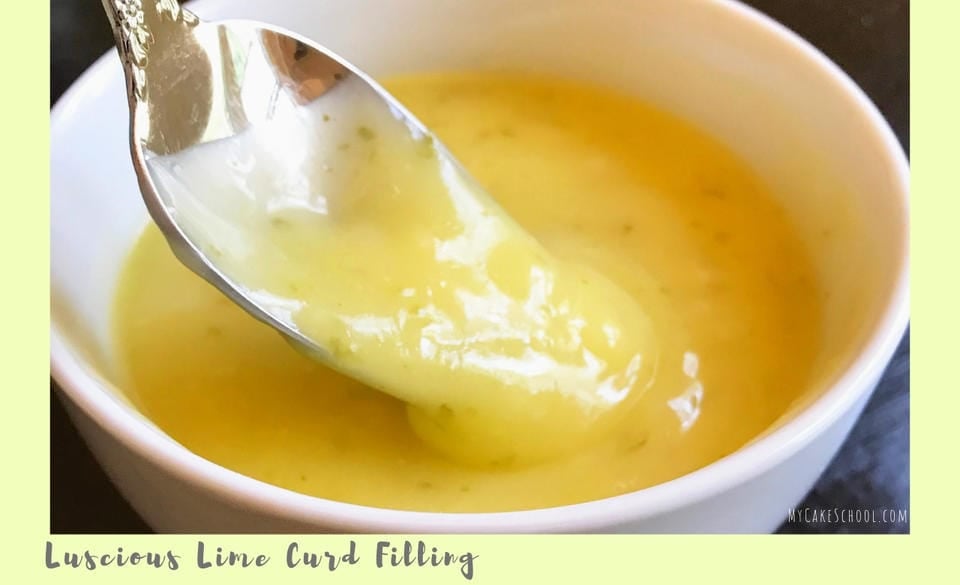 Silky, smooth and EASY lime curd filling for cakes and cupcakes!
Ingredients
¾ cup (150g) granulated sugar
¼ cup (30g) cornstarch (cornflour in UK)
1 cup (236g) water
2 egg yolks, slightly beaten
2 Tablespoons (28g) unsalted butter
1 Tablespoon grated lime zest
4 Tablespoons (55g) lime juice
Instructions
Combine sugar and cornstarch in a saucepan, pour in water. Over medium heat, stir the mixture constantly until it thickens and comes to a boil. Boil for 1 minute, remove the pan from the heat.
Spoon about ½ cup of the hot mixture into a small bowl containing the egg yolks and stir quickly until combined.
Pour the egg mixture back into the saucepan. Return pan to medium heat and cook, stirring constantly, approximately 1 min. The mixture will thicken slightly.
Remove from heat and stir in the butter, lime juice and lime zest. Cool before using.
Check Out Recipes & Tutorials