Looking for ideas for Baby Shower Cakes for Boys? We have you covered! In this boy baby shower cake roundup, I'm sharing some of our favorites that we've made over the years!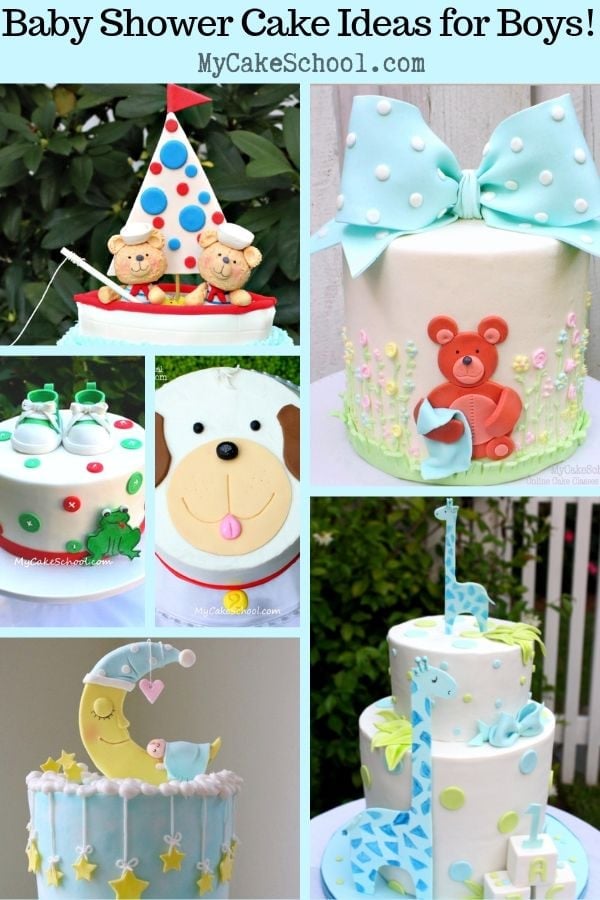 Although we've labeled these as "boy baby shower cakes", a color change or two would make them appropriate for baby girls or "gender neutral" themes as well! Many would also be perfect for young birthdays too. We hope that you enjoy scrolling through the cuteness!
My Cake School Online Cake Tutorials, Delicious Cake Recipes and More!
All of these cake tutorials can be found on our site– some are in our Free Cake Tutorials Section, and others are from our Member Cake Tutorials section. If you are interested in joining My Cake School to have access to every cake video tutorial that we've made, make sure to check out our Joining Information page!
For even more ideas, don't miss our Baby Shower Cake Ideas for Girls roundup as well as our roundup of the CUTEST Baby Shower Cake Ideas!
Baby Shower Cakes for Boys!
We've featuring CUTE baby shower cake ideas for boys! Many of these designs would work great for girls or gender neutral themes with a color change or two! We've also included some of our young birthday designs that would work for baby showers too! Some are from our free cake tutorial section and others are from our member cake tutorial section- we hope that you find an idea that you'd like to try!