Today, I'm going to show you how to make an ADORABLE Octopus cake!
Summertime means fun beachy patterns are everywhere- from beach towels to baby clothes.
I've seen some really cute octopus designs lately and it has put me in the mood for some octopus cake cuteness!
How to Make An Octopus Cake
This octopus cake design would be perfect for all sorts of summertime occasions, including pool parties, luaus, and beach themed gatherings! This would even be an adorable baby shower cake for summertime.
Let's get started!
First up, LEGS LEGS LEGS!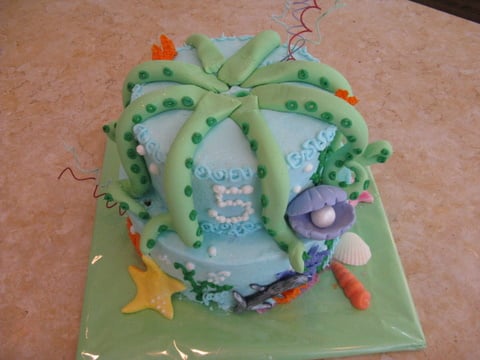 I've created eight fondant legs (mixed with a bit of tylose powder for faster drying).
You'll want to flatten the end of the leg that will go on top of the tier, so the head can lie flat. Taper and curl the end of the legs for movement. Any legs that hang over the edge can be propped up with something until dry--I used a clothespin.
You can make the legs fairly thick but keep in mind that you don't want them to be so heavy that they weigh the cake down.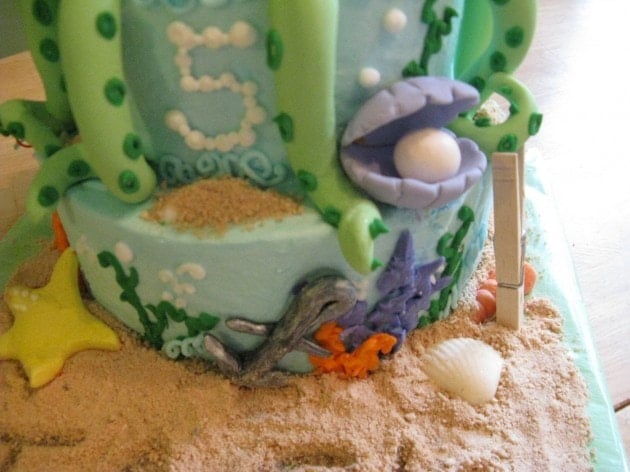 I also inserted a bubble tea straw into the center of the top tier. Something has to support this big noggin!...
Creating the Octopus Head
Hello Octopus! This octopus head is a Rice Cereal Treat---actually, about 6 of them. It measures approximately 3 ½" tall.
Press and shape your rice cereal treats into a ball (flattened on the bottom.) Then, rub a light coating of shortening of the cereal treat shape and cover with a layer of green fondant (rolled to about ⅛ inch.) If the head seems a bit too lumpy after covering, you can apply another layer.
Here's the underside...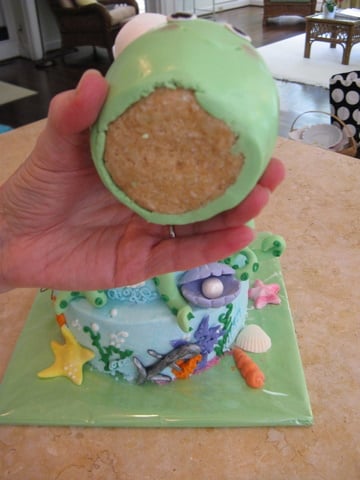 Assembling the Octopus Cake Topper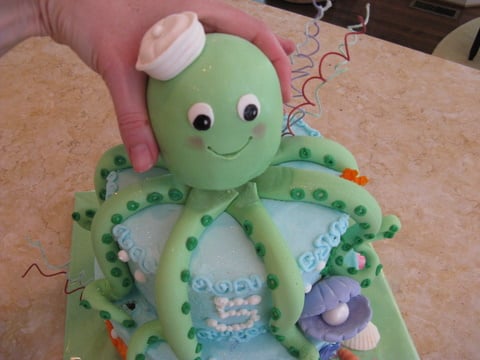 You can add a little icing to secure the head to the legs. Isn't he cute? The little suctions on the legs are piped circles royal icing. (You could also use a crusting buttercream for this.)
Making a Fondant Clam
Now for some cute little details! I was really excited with how the clam turned out. First, take some rolled gum paste (or fondant mixed with tylose), shape into an oval, and make lines with a toothpick...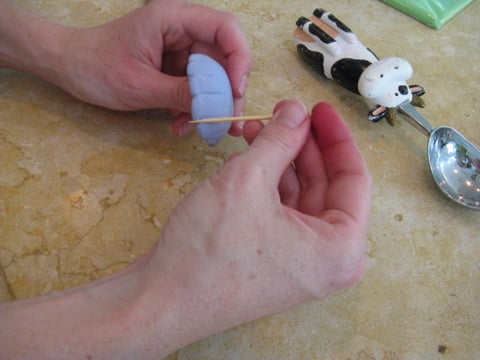 Now, for the big secret! .................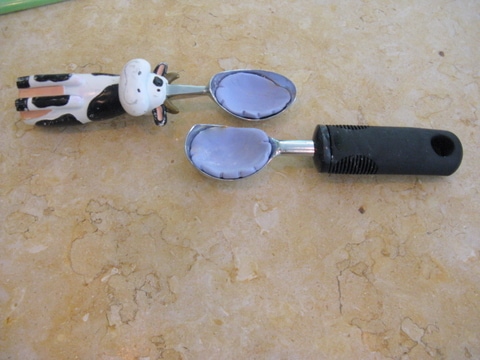 Ice cream scoops make perfect clam shell molds. Just remember to dust them with corn starch first.
Allow to dry several hours or overnight. Once dry, it's time to place onto the cake! Secure with a little icing....and don't forget a fondant pearl!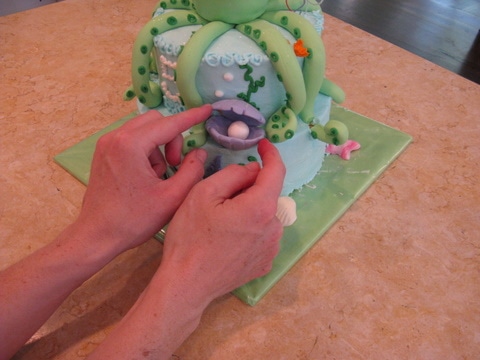 Creating the Final Details
I made seaweed, sea plants with various piping tips, including the tip 352 leaf tip and a crescent tip 81. Also, my trusty round 4 tip for bubbles and misc. plants. That's the fun thing making sea plants--anything goes! Reminds me of Dr. Seuss!
Now, time for sand. Sometimes sand is whatever vanilla cookies are around the house. Today, I pulverized Cheerios. To make the sand cooperate, I first spread the board with a little buttercream tinted brown.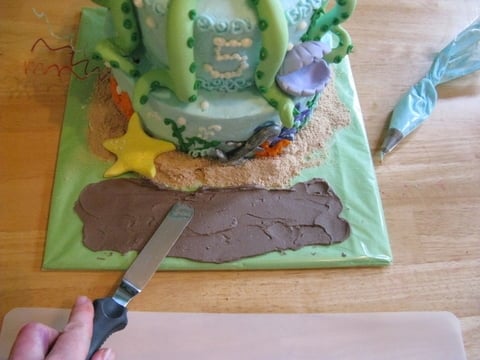 Then, press press press.....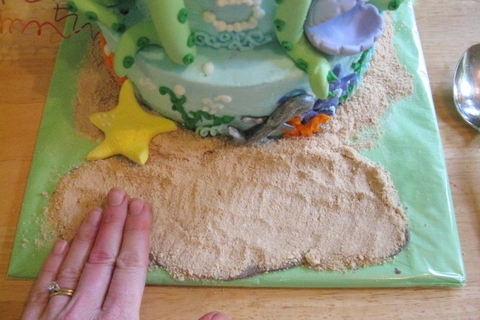 And write the birthday boy's name! I used a dry paintbrush for this....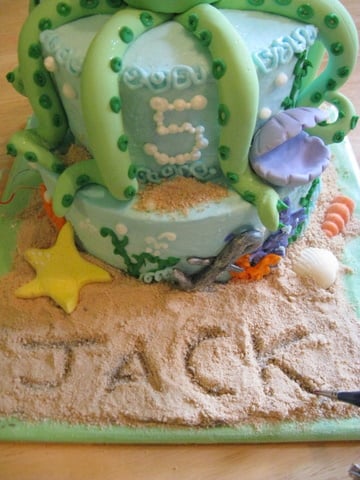 And here is our finished cake!! So much cuteness!
We hope that you enjoyed the tutorial! If you make an octopus cake, we would love for you to share a comment and photo below!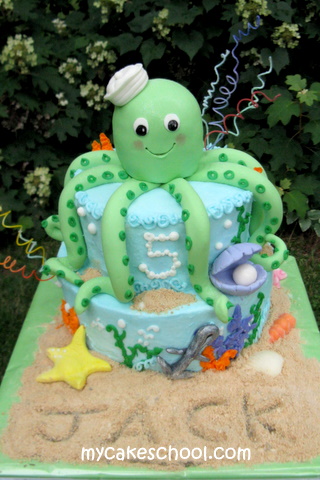 I hope that you enjoyed this cute little tutorial! Come back again soon!
Looking for even more beach themed cakes and cupcakes? Check out these tutorials!
Beach Cupcake Tutorial (featuring Crab Cupcakes and Lollipop Fish!)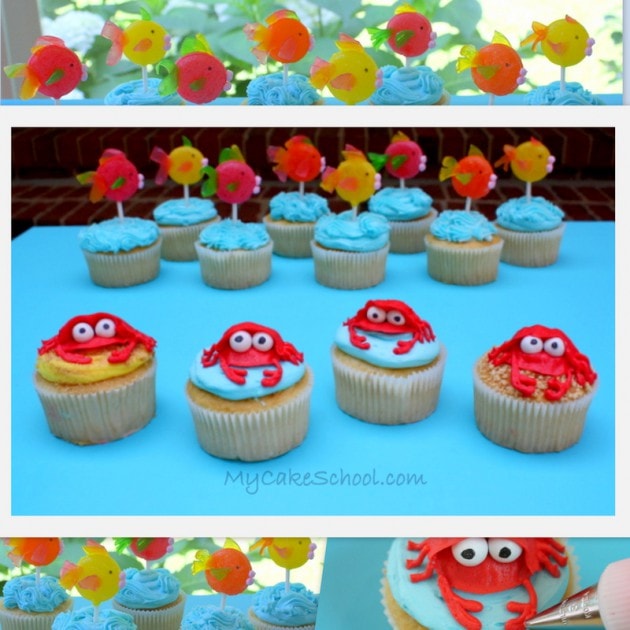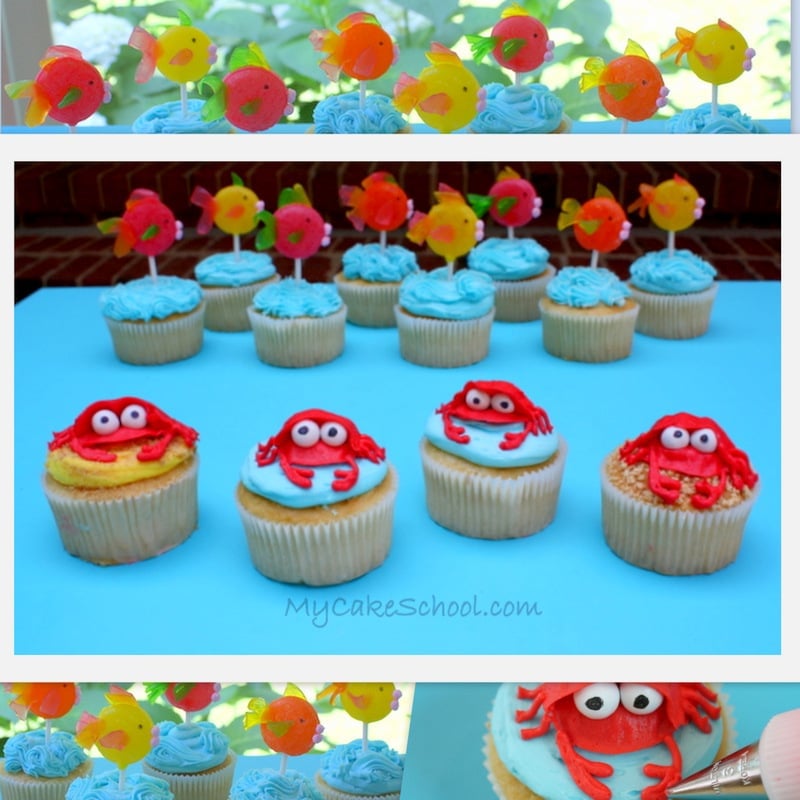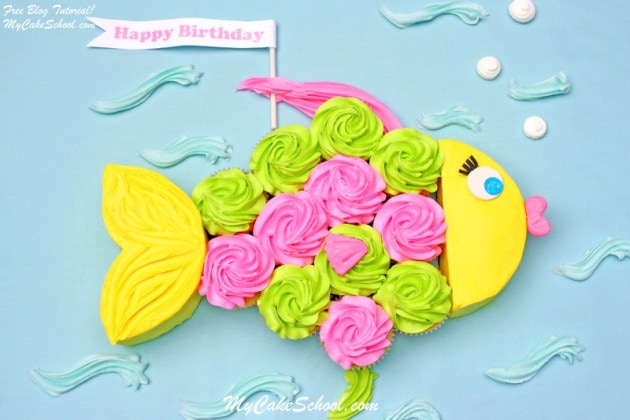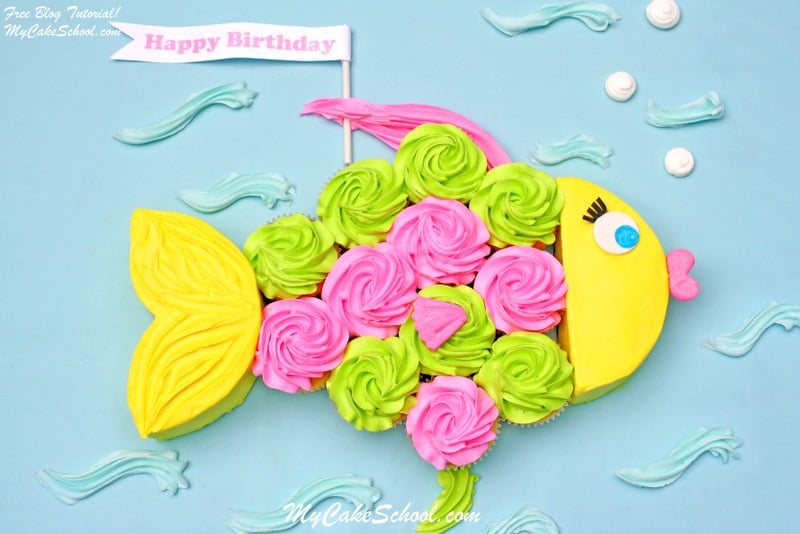 Cute, EASY Octopus Cake- Free Video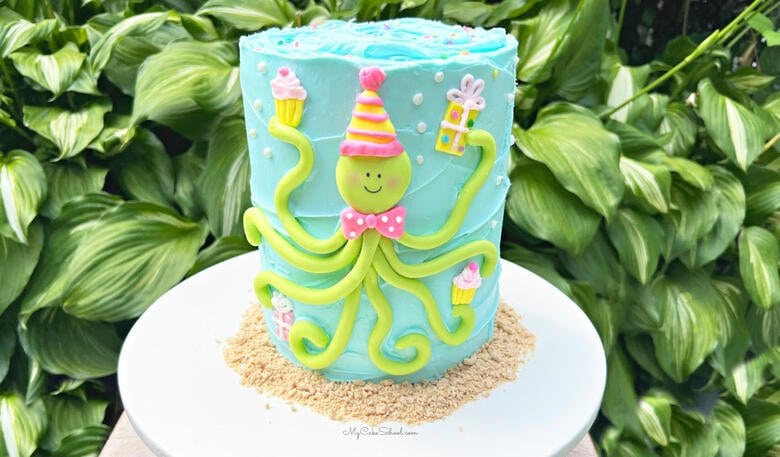 Boy Baby Shower Cake Ideas
This sweet octopus cake would work perfectly for baby shower cakes also! If you're looking for more ideas for baby boy shower cakes, don't miss our roundup of favorite boy baby shower cakes!