Toy Box Cake Topper- A Cake Decorating Video Tutorial
Hi everyone! In today's video tutorial, we're going to show you how to make the most adorable Toy Box Cake Topper!
I love how this sweet design turned out, and it would be perfect for young birthdays as well as baby showers!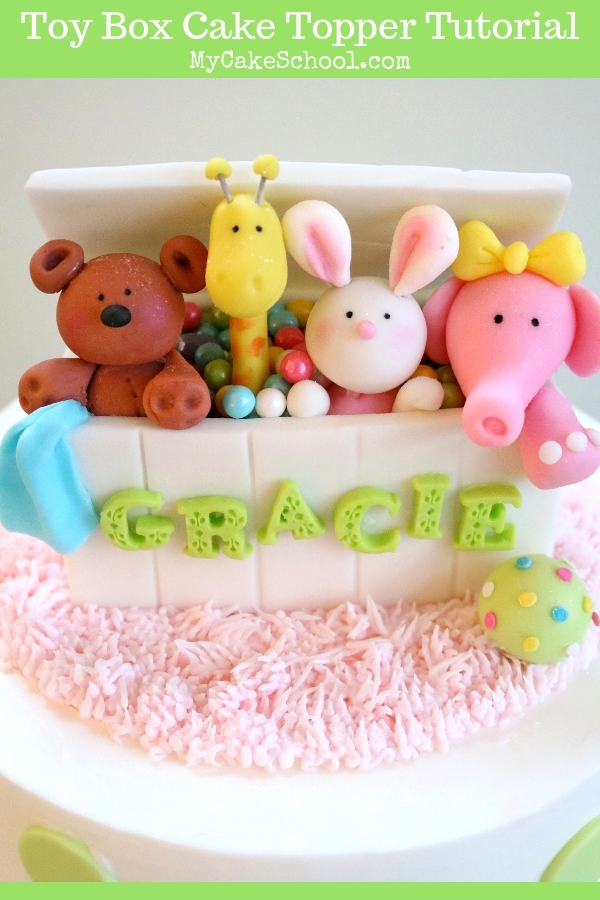 The sweet little modeled gum paste stuffed animals are not difficult to make, and as with so many of our cake toppers, it adds an instant dose of personality and cuteness! We hope that you are inspired to try this adorable cake design, and have fun experimenting with different toys and color schemes!
If you try it, we would love to see a photo!
Enjoy the Videos!
Part One
Part Two
nbsp;
If you are looking for even more baby shower cake inspiration, don't miss our Roundup of Favorite Baby Shower Cakes, Tutorials, Recipes, and Ideas! We're excited to have another post to add to the list! xo
Materials:
*For this toy box cake video, we decorated an 8 inch tier with fluffy vanilla buttercream frosting. As usual, the cake was frosted while sitting on a cardboard cake circle trimmed to the size of the cake.
We smoothed the frosting with a bench scraper while rotating it on the turntable, and chilled the cake in the freezer for about 10 minutes to firm up the frosting before moving it to it's final cake base (or in this case, a cake pedestal).
We used two bubble tea straws cut to the height of the tier to support the topper from beneath.
Gum Paste (or fondant with tylose kneaded into it to strengthen)
Piping Gels: Americolor Deep Pink, Electric Green, Lemon Yellow, Orange (for spots on giraffe), Warm Brown, Sky Blue
Black Food Writer Pen
Piping Gel
Floral Wire (giraffe horns)- 22 gauge or anything that holds it's shape. Toothpicks could work too.
Lollipop Sticks
Rice Cereal Treats: We used 4 of the 22g. size
Piping Tips: Tip 12 for border, Large Piping Tip to cut out polka dots, Grass Tip
Vodka, everclear, or lemon extract for mixing up the paint for giraffe spots (you could also use a foodwriter pen)
Sprinkles- We used colorful sugar pearls in the toy box and confetti sprinkles to decorate the ball.
Miscellaneous (some are optional but helpful): Small paintbrushes, piping bags, turntable, bench scraper, small angled spatula, parchment paper for drying gum paste, small sharp knife or xacto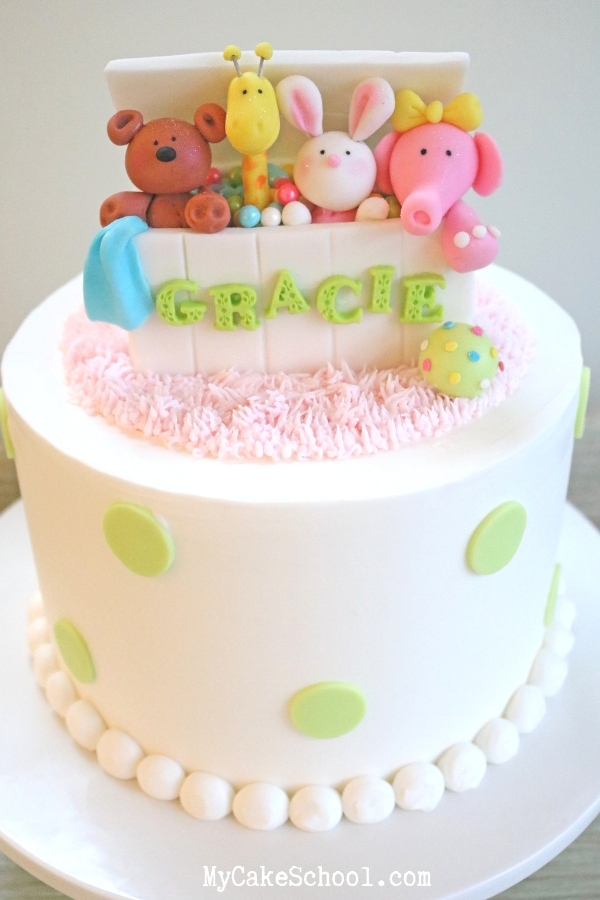 Notes for Toy Box Cake Topper:
For this toy box cake topper, as with most of my cake toppers, I like to use gum paste or fondant with tylose kneaded into it.
Gum paste is best if you have it on hand, but if you don't have gum paste, knead tylose powder into your fondant until you notice a change in consistency. It will become a bit less soft and instead will seem more elastic and a little firmer.
Gum paste (or fondant/tylose) is a must for the lid as it needs to dry very firm. I prefer it for modeling the animals too.
How to Turn Fondant into Gum Paste
When changing fondant to gum paste, I usually add approximately a half teaspoon of tylose powder at a time. A general rule of thumb is that it takes 1 rounded tablespoon of tylose powder to change 1 pound of fondant to a consistency close to gum paste.
Adjust as needed to whatever project you're working on. (I rarely actually measure amount the tylose..I just go by feel.)
Panels and Lid
Cut out your panels at least a couple of days in advance to be on the safe side. Especially the lid since it need to be nice and firm. Dry on parchment. You can flip the panels once the tops seem dry so that the underside can be exposed to the air.
Even More Baby Shower Cuteness!
Don't miss our full roundup of favorite baby shower cakes! Roundup of the Cutest Baby Shower Cake Ideas!
These are all free cake tutorials! Here are just a few of our favorites:
Teddy Bear Gift Cake- Free Video Tutorial
Sailboat and Teddy Bears cake- Free Video
Gum Paste Baby Shoes Cake Topper- Free Video Tutorial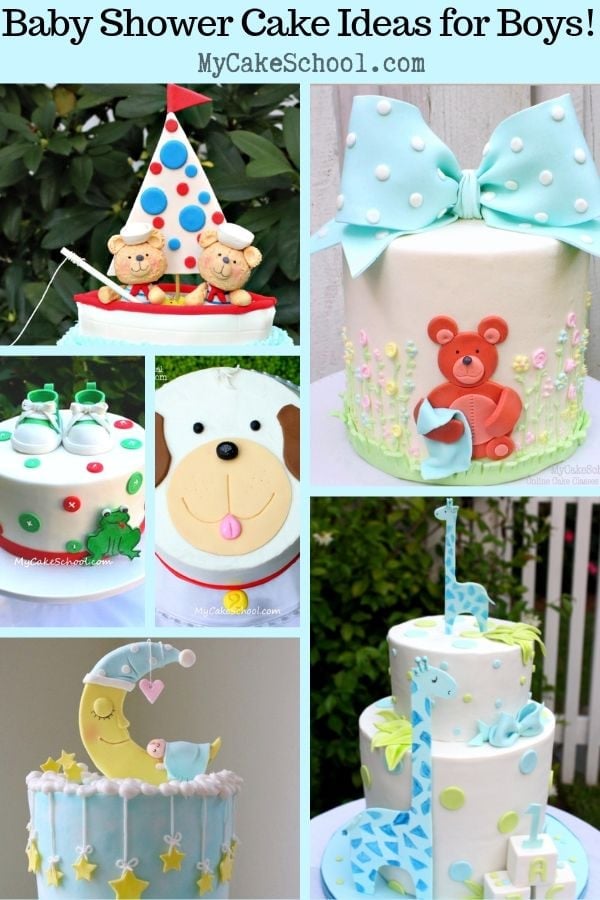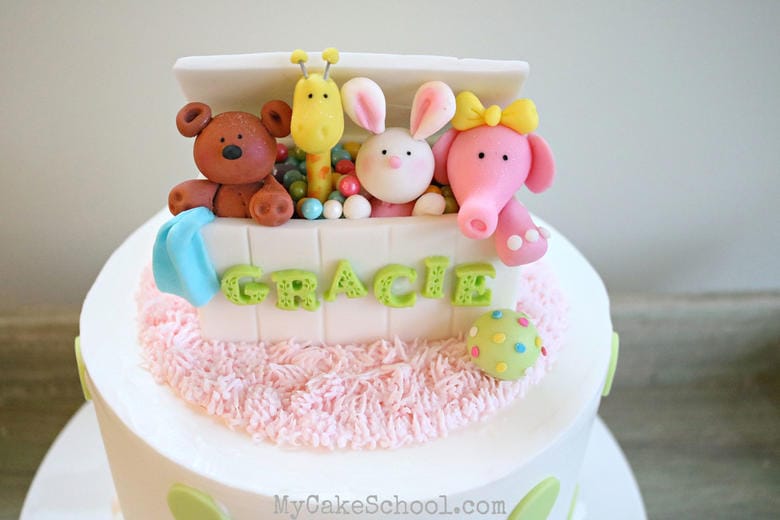 Enjoy the tutorials! If you give this cake a try, we'd love for you to add a photo in the comments below!