Teddy Bear and Rainbow Baby Shower Cake Tutorial
Today I'm going to show you how to create an adorable Teddy Bear Baby Shower Cake!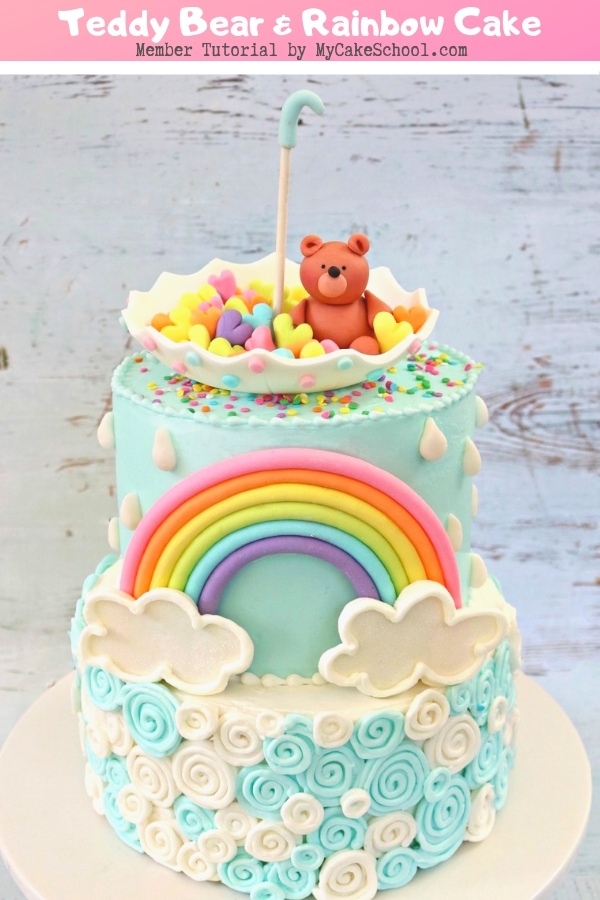 Why we Love it!
This is the first time that we've incorporated an umbrella cake topper into our theme and we just love how it came out.
You could easily switch out the fondant teddy bear for another sweet little animal (or even a cute fondant baby)!
Having the umbrella and raindrops gave us the perfect excuse to incorporate a colorful rainbow as well as rainbow hearts!
Don't miss our collection of other Favorite Baby Shower Cakes for even more baby shower inspiration!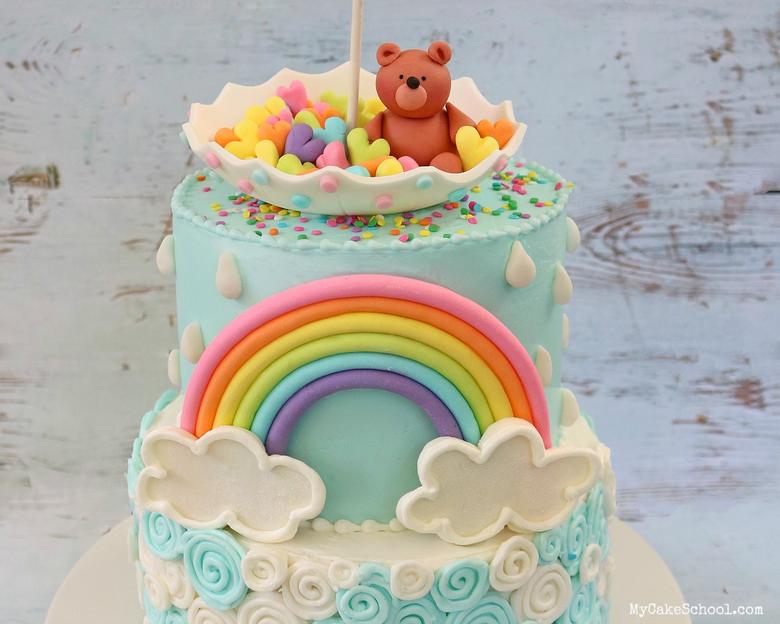 Make sure to scroll beneath the video for additional materials and notes!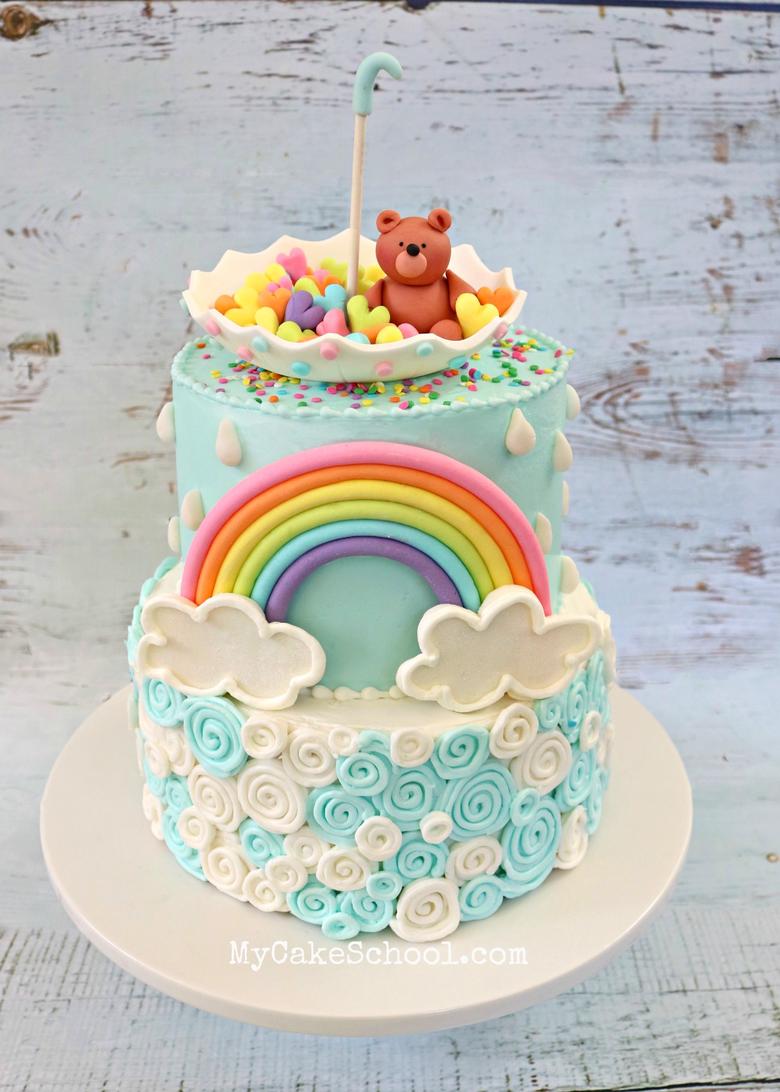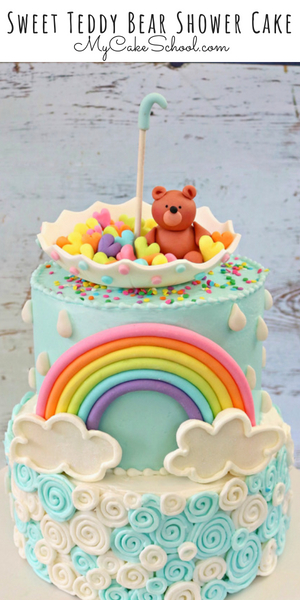 Materials for Teddy Bear Baby Shower Cake:
For this cake, we stacked an 8 inch tier and a 6 inch tier. As usual, each tier is on its own cardboard cake circle cut down to size, and there are 4 supports (bubble tea straws cut to the height of the bottom tier) beneath the top tier.
Umbrella template & your form of choice to dry it on. We used a small bowl (about 4 ⅜ inches in diameter)
Fondant or gum paste (we used fondant with tylose kneaded into it) for umbrella, bear and rainbow. We used straight fondant for the raindrops.
Coloring Gels: We used Americolor Warm Brown, Deep Pink, Orange, Lemon Yellow, Electric Green, Sky Blue, and Violet (with a bit of Deep Pink mixed in to create a prettier lavender)
Your buttercream of choice (We used our Fluffy Vanilla Buttercream Recipe)
Black food coloring pen for the bear's eyes
Piping Tips: I used a 6 for the first round of buttercream spirals on the bottom tier, and then I piped on top of these with a Tip 4.
Pink Petal Dust (optional for rosy cheeks on bear)
Extruder (optional, but helpful for creating the rainbow)
Lollipop stick for umbrella handle
Multi-colored small confetti sprinkles (optional)
Miscellaneous: Piping gel (or edible food-safe adhesive of choice), vegetable shortening, small paintbrushes, we like to use a turntable and bench scraper when applying frosting to the cake, as well as a small angled spatula.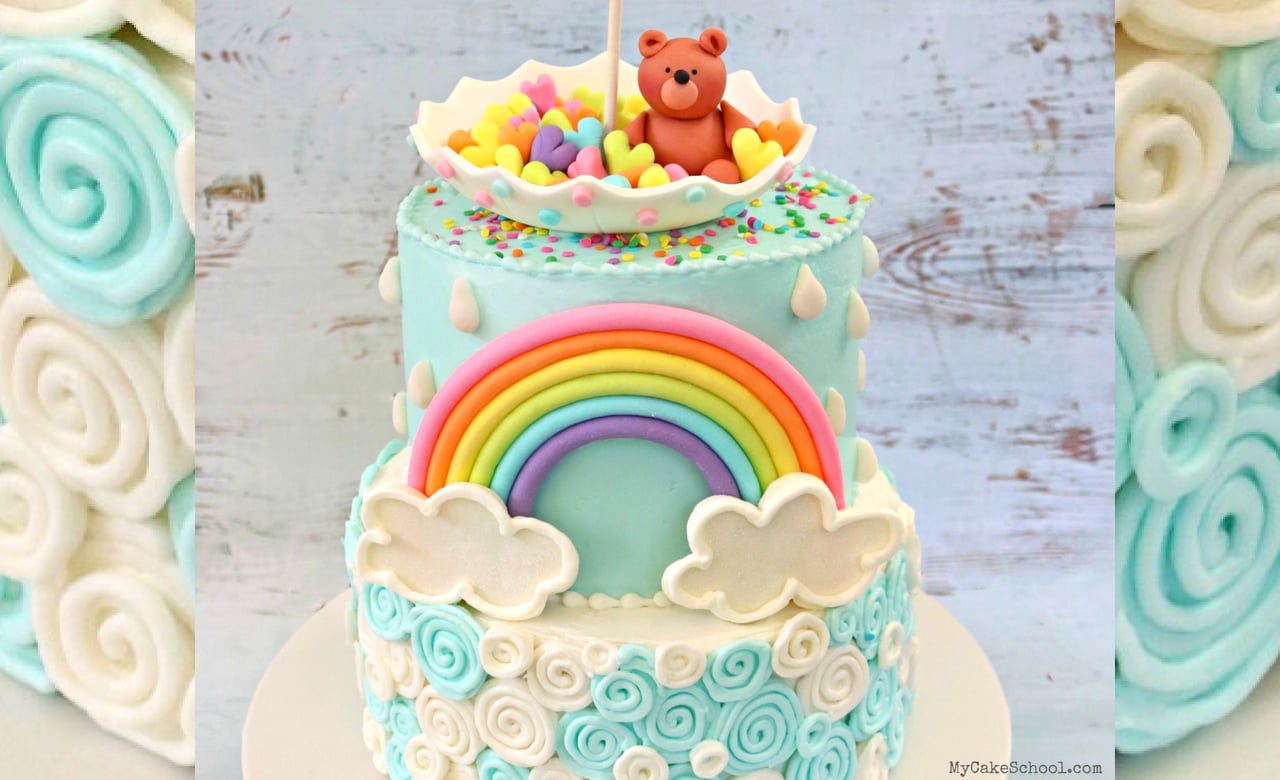 Notes: Teddy Bear Baby Shower Cake
The rainbow and cake topper are easy to make but you'll want to make them at least a day or two in advance (especially the umbrella).
For the Fondant Rainbow Decoration
Rainbow: I mixed up about 20g of each color fondant (with tylose kneaded into it) for the rainbow & used the leftover colors to make hearts. The longest rope of fondant was about 11 inches long. Each one after that is slightly smaller.
For the Umbrella Cake Topper
For the umbrella, you'll want to use either gum paste or fondant with enough tylose powder kneaded into it that it becomes a similar consistency to gum paste. This ensures that the umbrella will dry fairly quickly and also nice and firm. Gum paste decorations are not meant to be consumed.
Cut out your gum paste umbrella shape using the template provided in the materials list above. I rolled my gum paste to approximately ⅛ inch thickness.It's always a good idea to make a backup just in case.
More Teddy Bear Cakes!
If you love teddy bear themes, don't miss these other favorite cake designs from our tutorials section! These would be great for baby showers or young birthdays!
Sailboat and Teddy Bears Cake Topper
Teddy Bear Cake with Gum Paste Bow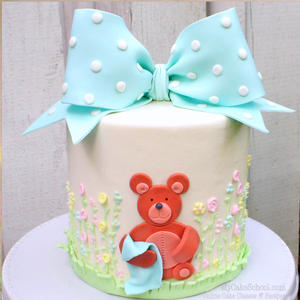 Enjoy the Video!
Thanks so much for stopping by! We hope that you'll give this Teddy Bear Baby Shower Cake a try!
The teddy bear and umbrella cake topper, the fondant rainbow, and the fun buttercream spiral technique, could be used altogether or separately to create fun and beautiful cakes!
If you give any of these cake decorating techniques a try, we would love for you to leave a comment and photo below!