Converse Baby Shoes Cake Topper
In today's video, you will learn to make the CUTEST baby shower/young birthday cake topper-Converse-style Baby Shoes!
This gum paste cake topper is much easier than you would think to put together, and the design options are endless! Just think of the great patterns, colors, and cut-outs that you can experiment with!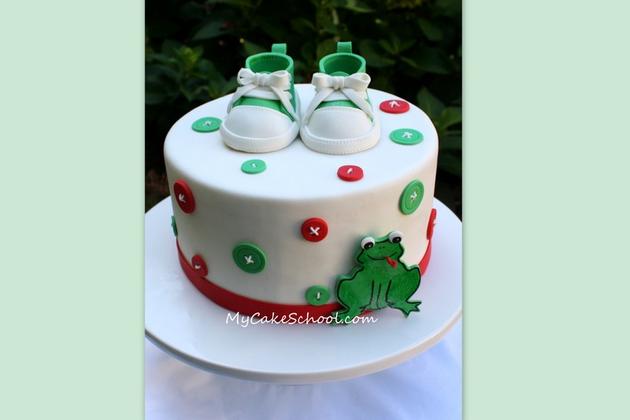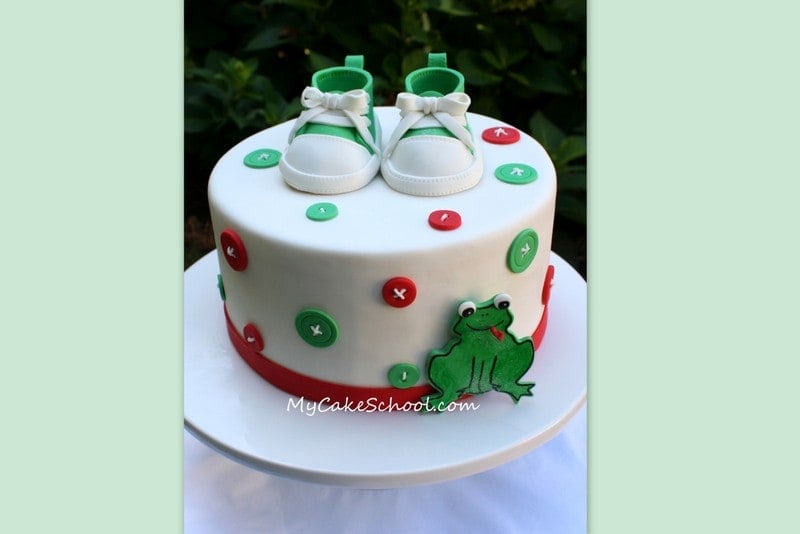 Our cake in this tutorial is covered with fondant buttons, and accented with a sweet frog! I'll demonstrate how I made these also. I hope that you enjoy this simple, fun, yet impressive design.
Materials for Converse Baby Shoes Cake Topper
We used 2 fat (2 inch) White Almond Sour Cream cake layers (Cake was approx 4" tall.) This is an 8" cake.
Fluffy Vanilla Buttercream- For filling & frosting beneath fondant as well as button "thread". (Royal icing could also be used for thread.)
White Fondant (your preferred recipe/brand) I used Satin Ice brand to cover my cake.
Gum Paste-If you do not have gum paste, knead tylose powder into fondant. (I don't recommend Duff's or Fondarific brand for this baby shoe project...too soft, even with tylose.) I use Satin Ice gum paste.
Colors: Whatever shade/brand you like--but I used: Americolor Leaf Green, Pre-colored Satin Ice Red (but Super Red coloring/white fondant would work too!),
Piping Tips- Wilton 3 (or any small round) for piping thread, and for creating holes in buttons, etc., Wilton 2D (optional) for cutting large fondant buttons
Stitching Wheel- I used Wilton's, but there are others. You could also create stitch impressions by hand with a toothpick, scriber needle, etc.
FMM Multi Ribbon Cutter- I used this to cut even strips of fondant, especially helpful for the long strip around the base of the shoe. (You could also do this by hand with a ruler.)
Tylose Glue/"Sugar Glue" - (or your glue of choice.) --This glue is made by combining 2 Tablespoon water with ¼ teaspoon tylose
Floral wire for frog's tongue (optional). I used 20 gauge but it was a little hard to bend. 24 or 26 would have been easier.
Vodka or Lemon Extract (flavoring)- optional. I used this to create a "paint" for my frog.
Americolor Black Food Coloring pen (or any brand)-- optional. I used to outline my frog.
Miscellaneous: X-acto knife/sharp knife, rolling pin, vegetable shortening (optional) for preventing sticking, pedestal or cake cardboards for your cake
**TEMPLATES: Click for BABY TENNIS SHOE template & FROG template
A Few Notes
Allow at least a few days for your gum paste shoe to dry, to be on the safe side. I dried my sole cut-outs 24 hours before starting. (Making several soles at a time for later use would be a great idea.) - My shoes were firm enough to pick up and use after 24 hours, but I used straight gum paste and there was little humidity to deal with. You may need longer than I did.
Look up baby tennis shoes or baby Converse shoes online for more design ideas!
I didn't mention this, but to be on the safe side, secure your shoes to your fondant covered cakes with a small amount of dampened fondant, gum paste, or royal icing. If attaching to a buttercream cake, apply just before the event to be on the safe side, and attach to crusted buttercream with a little bit of fresh buttercream as your "glue".
Measurements that you may have missed as I assembled my shoe:
-- The white gum paste band around the bottom of the shoe-- ½ inch wide, approx. 10 inches long.
-- My shoelaces were approximately ¼ inch wide. Each loop for the bow was formed from a strip approx 1 ¾ inches long.
Please let me know if you have any questions!
Did you know that we have another great video tutorial on CUTE baby shoes? Find it here!: Sweet Gum Paste Baby Shoes