We're excited to have a cute and easy baby shower cake for you, featuring a flying stork!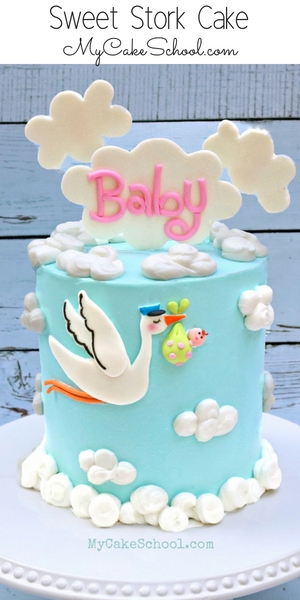 Although I love modeling gum paste figures for cake decorations, I think that fondant or gum paste cut-outs can be every bit as cute (and so much simpler)!
How is it possible that in eight years of posting baby shower cake tutorials, we've never had a stork theme? Well, now we do and I love how it came out!
Keep this design in mind the next time that you need a baby shower cake idea. It's great for any skill level of cake decorating! Enjoy!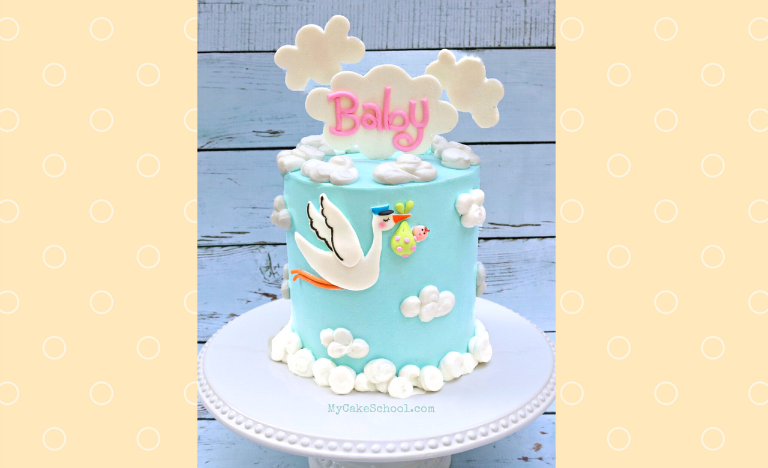 Materials:
We used four 6 inch cake layers to create a double barrel cake. As usual, we used 4 supports (bubble tea straws) in the bottom half of the cake, added a cake cardboard cut down to size to support the upper two filled layers. I frosted the cake with fluffy vanilla buttercream frosting.
Templates for Stork and Clouds
Coloring Gels: Americolor Sky Blue, Electric Green, Deep Pink, Orange, Copper (skin tone), Warm Brown (baby's hair)
Food Coloring Pens: Black, Pink, Orange * If you don't have coloring pens, you can create a paint with coloring gels mixed with a touch of vodka and apply with a small paintbrush
Lollipop Sticks
Piping Gel or adhesive of choice (used for attaching letters to cloud)
Disposable Piping Bags
Pink Petal Dust (applied dry for rosy cheeks)
Fondant or Gum Paste. If using fondant for the stork, you can knead in a little bit of tylose powder so that it will dry more quickly and firmer. Especially if you want the wing to have movement.
Confetti Sprinkles- Optional for polka dots on bundle. You can also cut out tiny circles of fondant with a piping tip.
Extruder- Optional but helpful for the lettering. I use a Makins Ultimate Clay Extruder.