Teddy Bear Cake with Classic Gum Paste Bow
In today's cake tutorial, I'll show you how to make a gorgeous classic gum paste bow for your cakes! We are also featuring a sweet teddy bear cake design.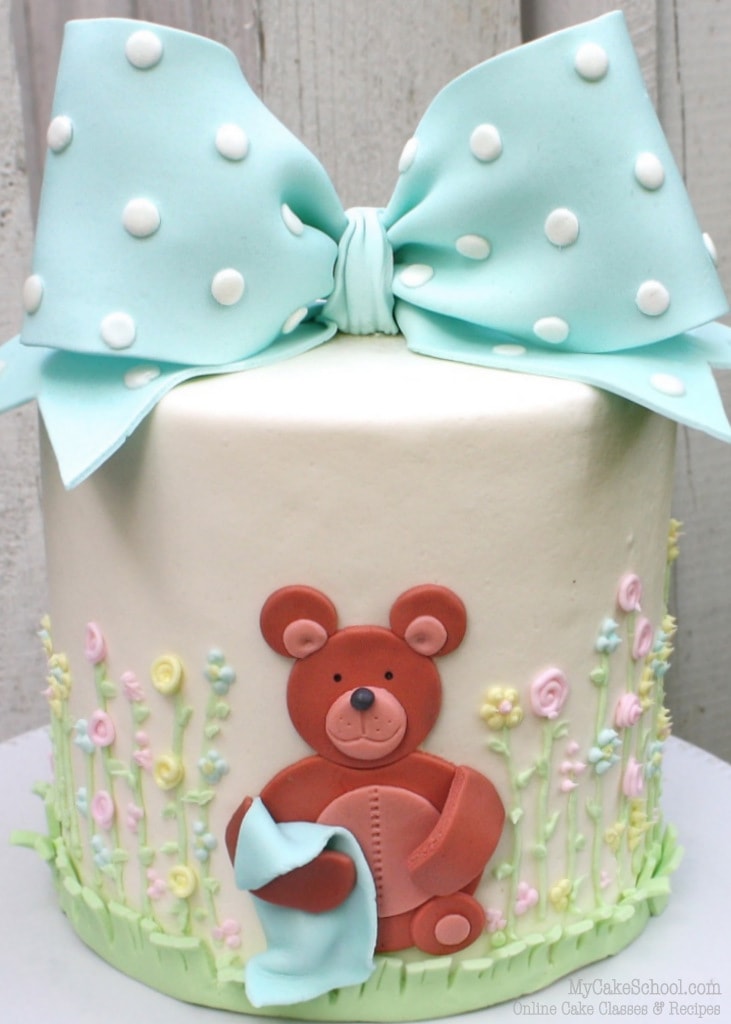 We just love bows on cakes. They are not only beautiful, but can be tailored to fit just about any occasion, from baby showers to birthdays and weddings.
In Part One, you will learn how to create a classic gum paste bow with two loops. In Part Two, you will learn to create the bear design on the front. Enjoy the tutorial!
Looking for More Baby Shower Cake Designs? Don't miss our full roundup here: The CUTEST Baby Shower Cake Designs and Tutorials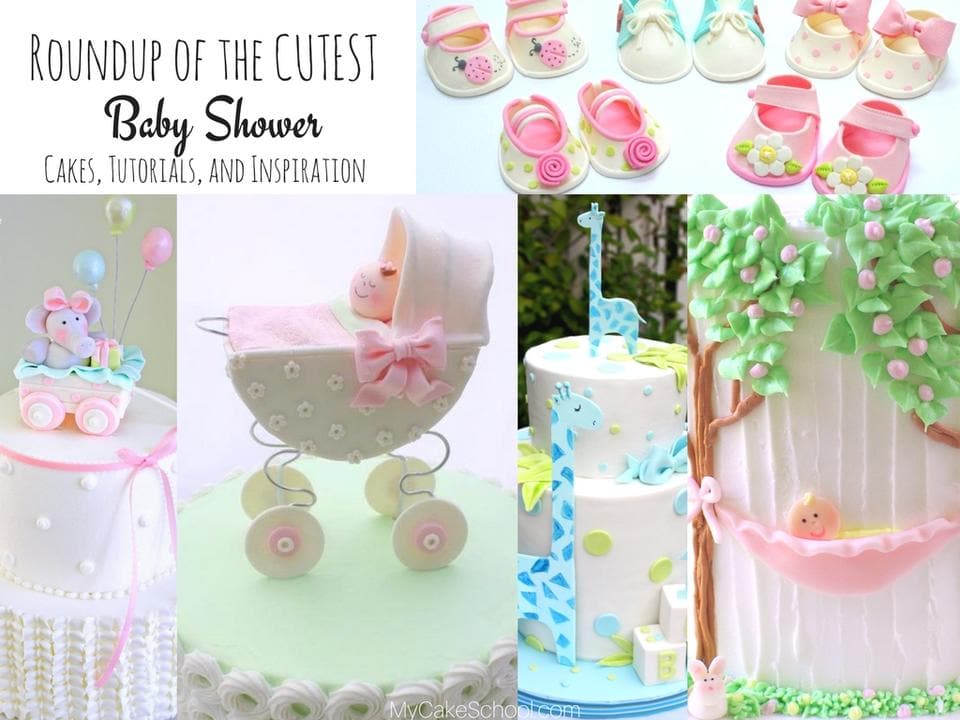 Materials:
For the Bow:
160 g of gum paste for the bows & tails (you may have a bit of extra)
Coloring Gels: Americolor Sky Blue
Piping Gel
Piping tips: I used a Wilton tip 12 for the polka dots
Miscellaneous: We prepped the counter with shortening before rolling out the gum paste. Rolling pin, sharp knife or x-acto knife, piping gel
Filler to hold the gum paste loops in place (We used pillow fluff but paper towels & saran wrap work also.)
For the Bear Design:
(We are decorating a fondant covered 6 inch double barrel cake that has been covered in white fondant. Buttercream would work equally well for this design.)
Fondant for bear (you won't need much) & Grass border
Coloring gels: Americolor Warm Brown, Deep Pink, Yellow, Wilton Leaf Green (use your colors of choice)
Piping Tips: We used a Wilton 2 tip for the stems, and 2 & 3 tips for the rest of our flowers. Any small round tips will do.
Circle Cutters for bear body
Misc: Piping gel, Food Coloring Pen, Wilton Stitching Wheel (optional)
Use cardboard cake circles & supports as usual if doing a double barrel cake.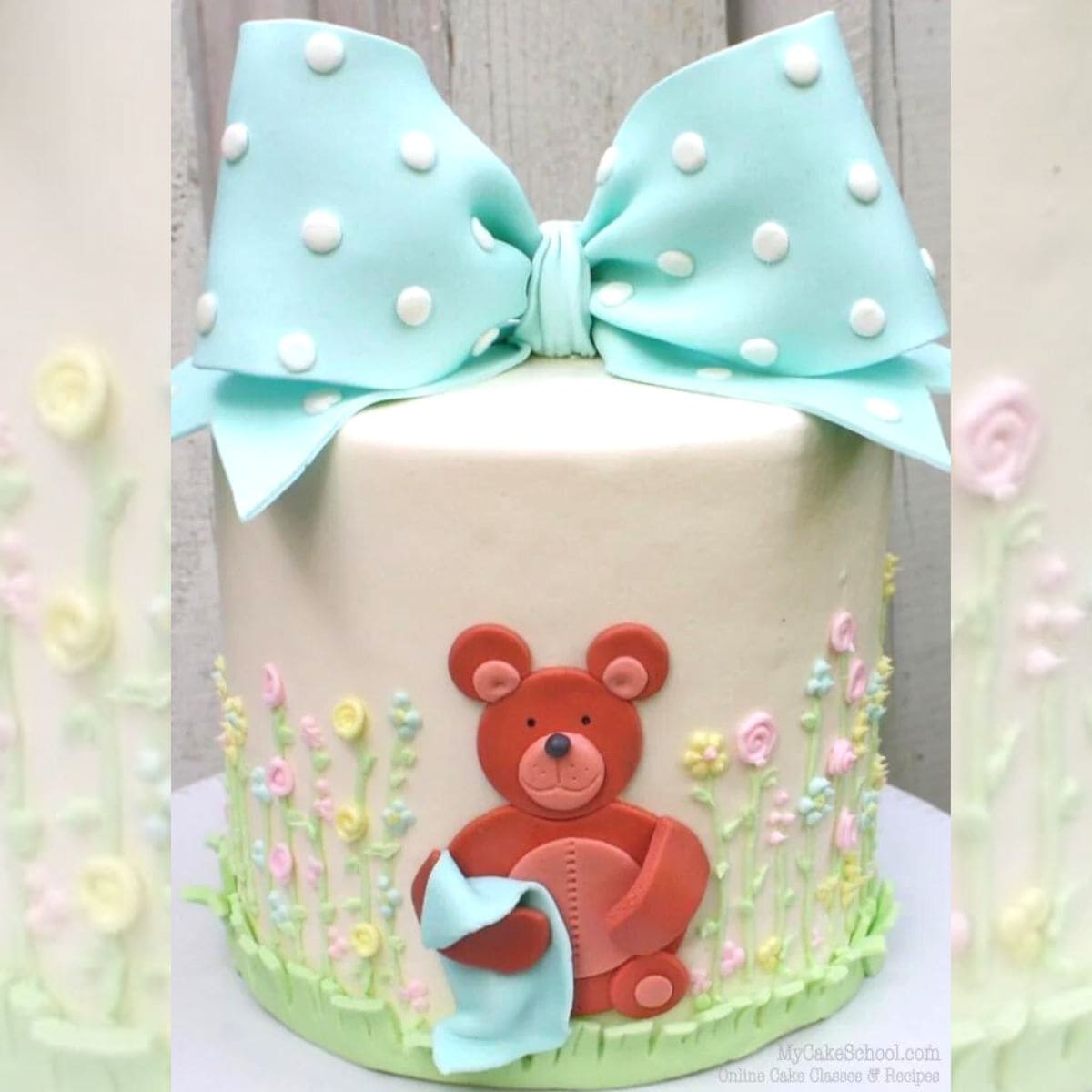 More Gum Paste Bows!
When it comes to gum paste bows on cakes, the design options are endless. The size, number of loops or coils, and colors make each bow unique.
Here are just a few of our favorite cake tutorials that feature gum paste bows!
Teddy Bear Gift Cake (with Curly Bow)
Ruffled Buttercream Cake with Striped Bow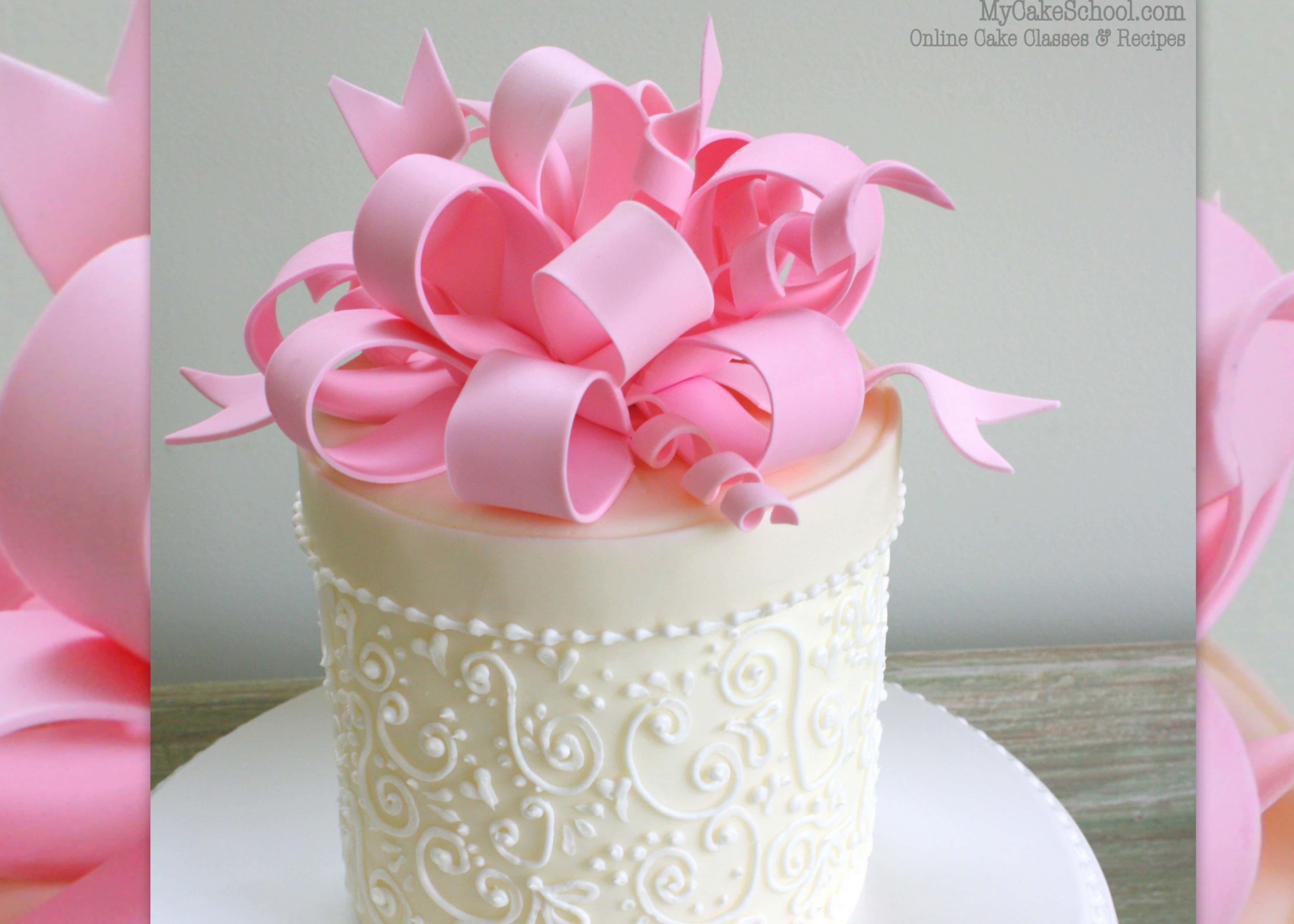 Enjoy the Tutorial!
Thanks so much for stopping by. If you give this cake design or gum paste bow a try, we would love for you to leave a comment or photo below!
Part One: Creating the Bow

Part Two: Creating the Bear and decorating the cake!