Sailboat and Teddy Bears Cake
I love today's Sailboat and Teddy Bears cake tutorial!
This design would be perfect for baby showers and young birthdays.
In this free cake video, I'll show you how to create a sweet and simple sailboat, CUTE gum paste teddy bear sailors, and lovely ruffled buttercream waves.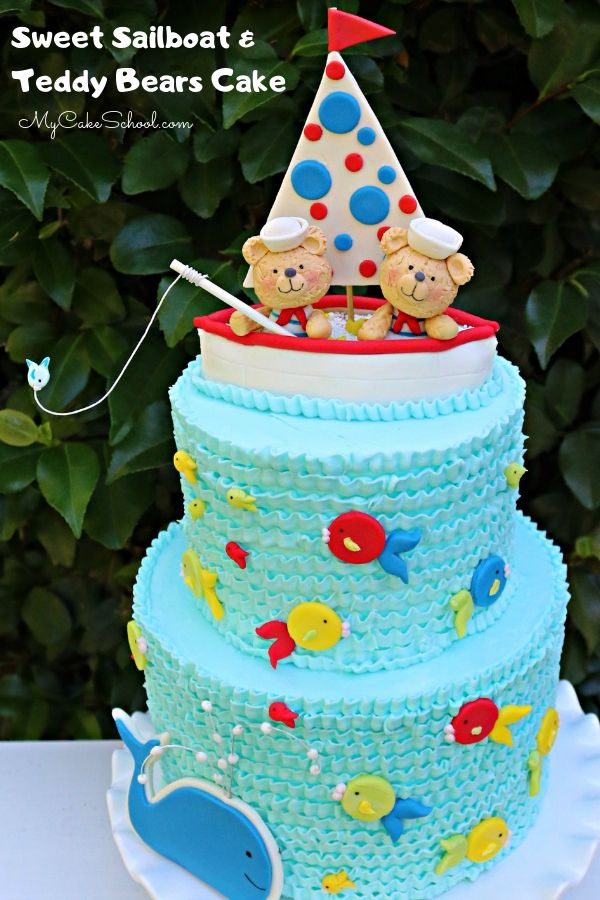 As with so many of our designs, this cake topper would be great on cakes of all shapes and sizes, including sheet cakes!
It's amazing how a sweet cake topper can transform a cake from ordinary to the cutest cake ever.
You can also play around with the color scheme or even give the teddy bears a bow instead of a sailor hat to make it more girly. There are so many fun options!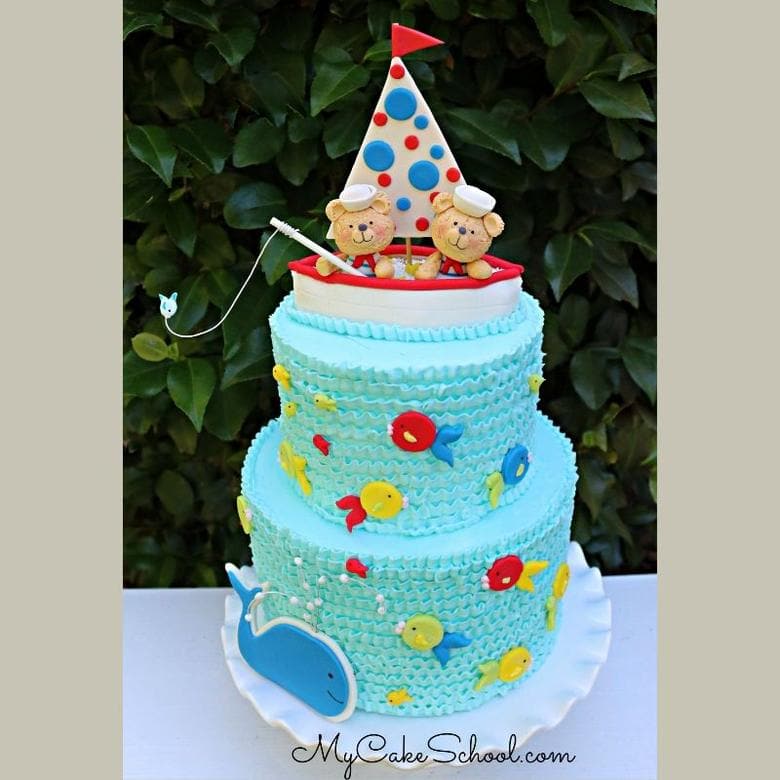 Materials:
In this video, I'm decorating 8 inch and 6 inch tiers, frosted with our Fluffy Vanilla Buttercream Frosting. (Classic Vanilla Buttercream is a good choice too).
As usual, our tiers are resting on cardboard cake circles cut down to the size of the cake. The top tier is supported by 4 bubble tea straw supports cut to the height of the bottom tier. An additional bubble tea straw is cut to the height of the top tier to support the cake topper.
Gum Paste for Teddy Bears (or fondant with tylose powder kneaded into it)
We used 20 grams for each bear head, and 20 g for each body with arms, etc. (adjust to your liking), plus additional for sail and boat.
Sailboat and Teddy Bear Cake- Templates
Rice Krispies Treats- we used 3 of the 22g size.
Tylose Glue (tylose powder + water) or your edible glue of choice.
Fondant for different colors of fish
Coloring Gels: Americolor Ivory, Super Red, Black, Sky Blue (buttercream), Royal Blue (dots and whale), Yellow, Electric Green
Pink Petal Dust (optional) for rosy cheeks
Black Food Writer Pen for eyes, and blue food writer for stripes
Piping Tips- 101 for ruffle waves, Tip 12 (for cutting large and small polka dots for sailboat), 1M or any large piping tip for cutting circles for fish.
Small scissors for texturing gum paste bears (you can improvise with other tools also)
Wooden Skewer for sailboat
Lollipop Stick for fishing pole
Floral wire for fishing line (24 gauge or any pliable gauge)
Extruder: I used an extruder to create red trim for boat. (Makins ultimate clay extruder is what I've had for years)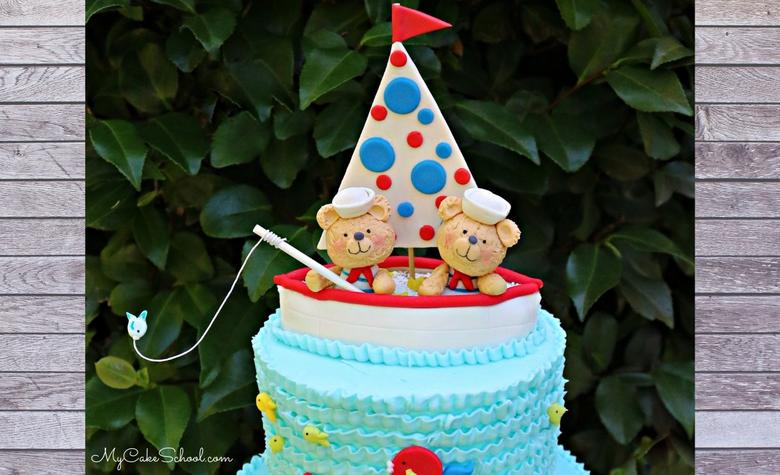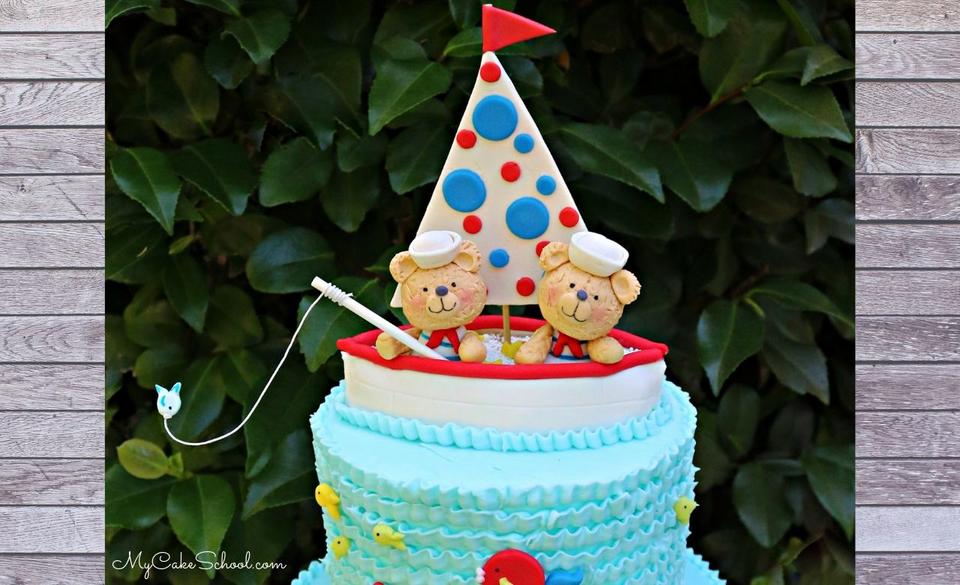 Looking for more baby shower cake ideas?
Here is a roundup of our favorite baby shower cake designs! Hop over to see! Roundup of Favorite Baby Shower Cakes!
You can also find our roundup of favorite Baby Boy Shower Cakes here!: Roundup of Baby Shower Cakes for Boys
More Teddy Bear Cakes!
Teddy bears are such a cute theme for cakes! Here are just a few of our favorites:
Sweet Teddy Bear in a Dress Cake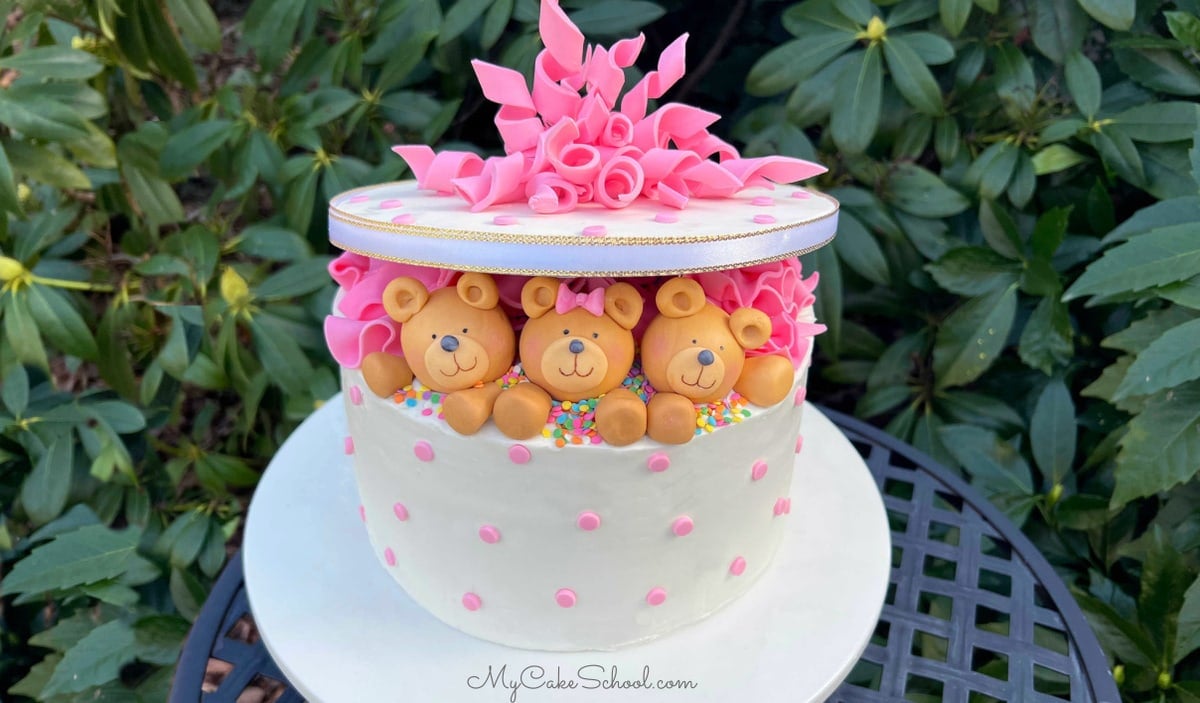 Enjoy the Video!
Thanks so much for stopping by! If you give this Teddy Bear Sailboat Cake a try, we would love to see a photo!