Today we are sharing a moist Cookies and Cream Cake with Oreo Whipped Cream Filling. This vanilla cake recipe with flecks or Oreo tastes amazing and is perfect for so many occasions!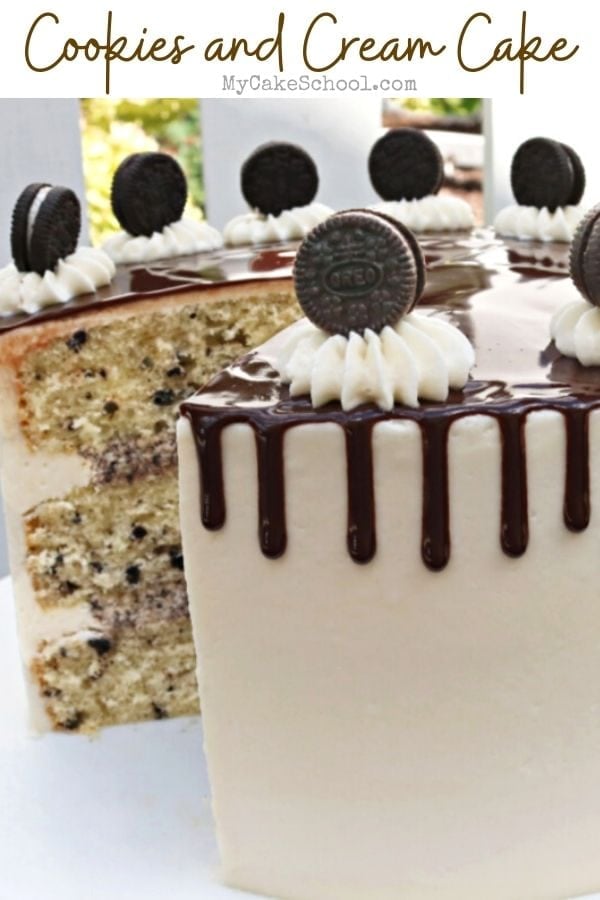 How to Make a Cookies and Cream Cake
*See full printable recipe below..
For our cookies and cream cake, we folded Oreo cookie crumbs into our Vanilla Cake batter and divided between three prepared 8 inch cake pans and baked.
(*If you prefer working with boxed mixes, you can substitute your favorite white or vanilla doctored recipe, like our White Almond Sour Cream Cake, etc.)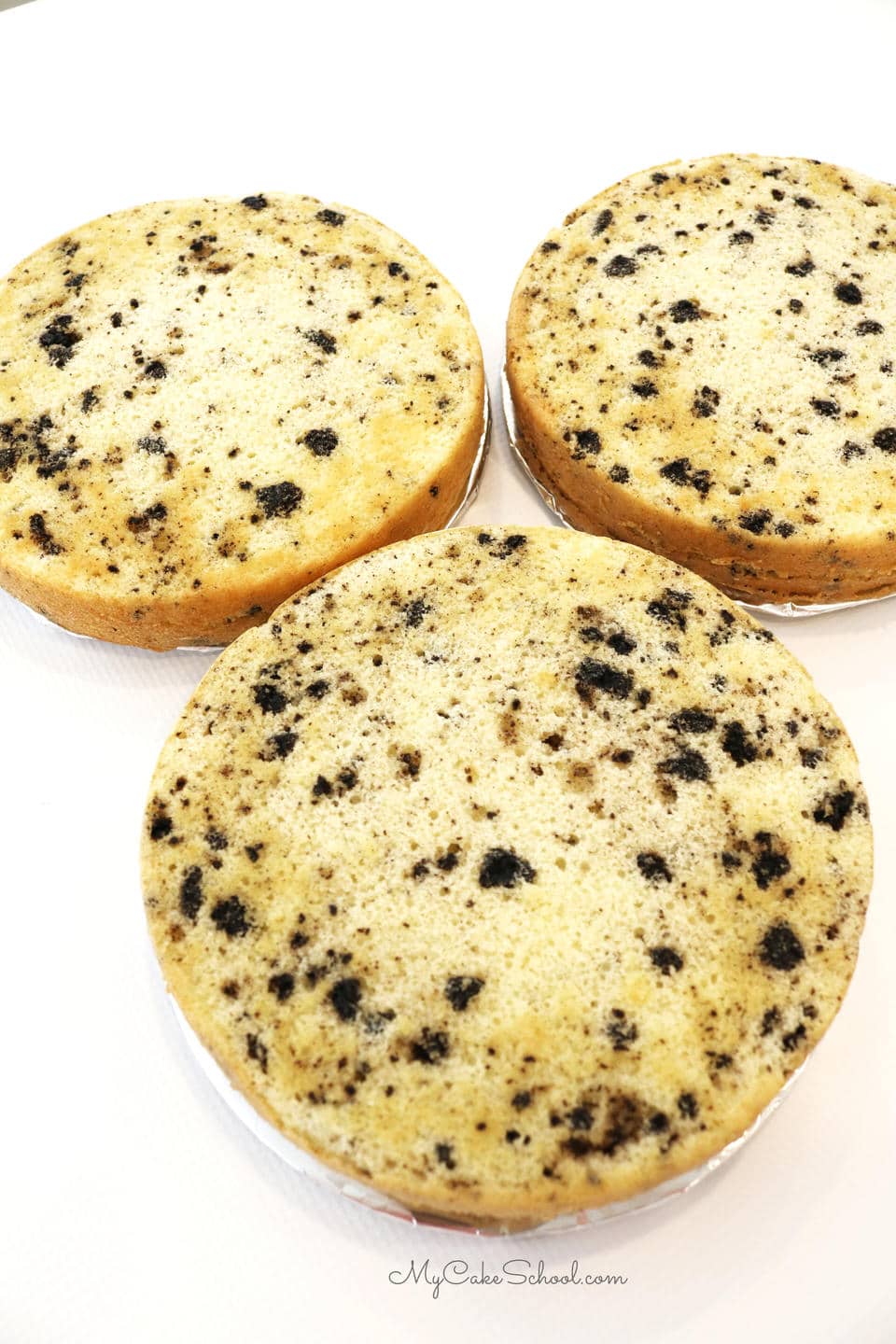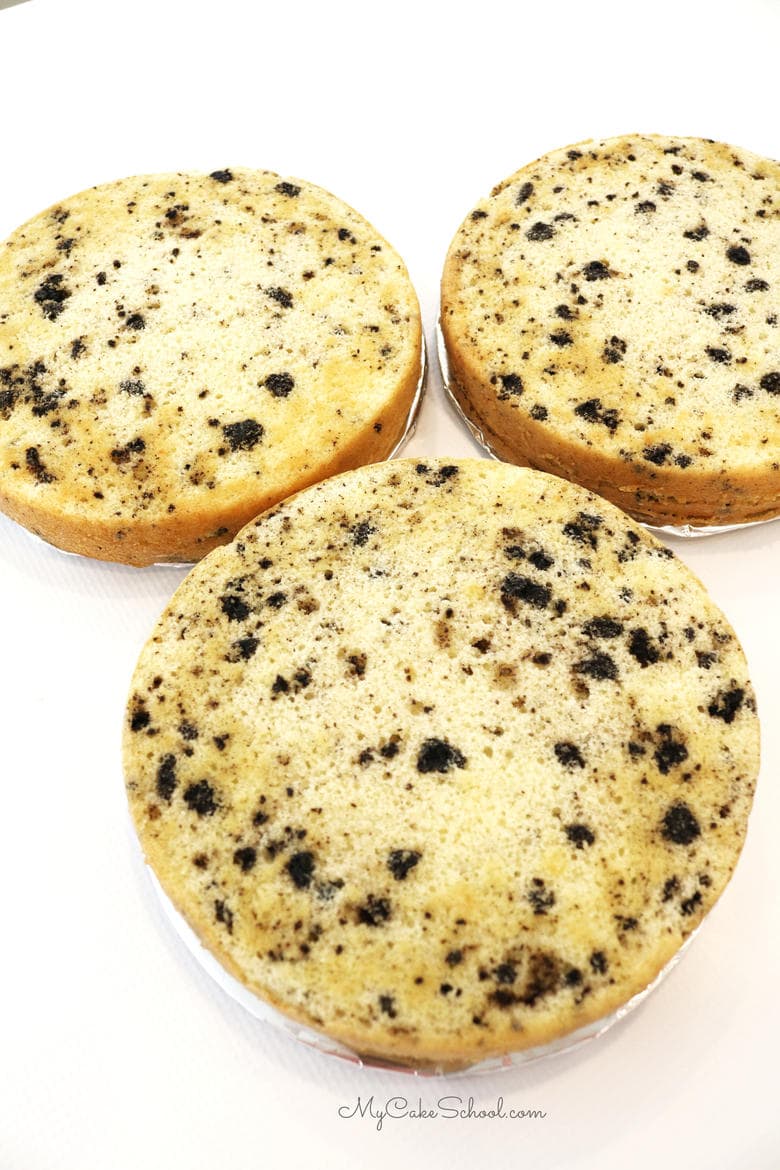 Oreo Whipped Cream Filling
After baking the cookies and cream cake layers, we chilled the whisk attachment for our stand mixer as well as our mixing bowl until very cold. This is in preparation of our our Whipped Cream Filling.
Add the cream to the bowl, mix at medium to high speed. When the mixture begins to thicken, add the powdered sugar and vanilla. You can stop mixing anywhere from medium soft to firm peak stage.
Next, we folded in our Oreo Crumbs (we placed our Oreos in a food processor for this step). By the way, when making Oreo crumbs for recipes, there is no need to remove the cream filling in the cookies (thank goodness)!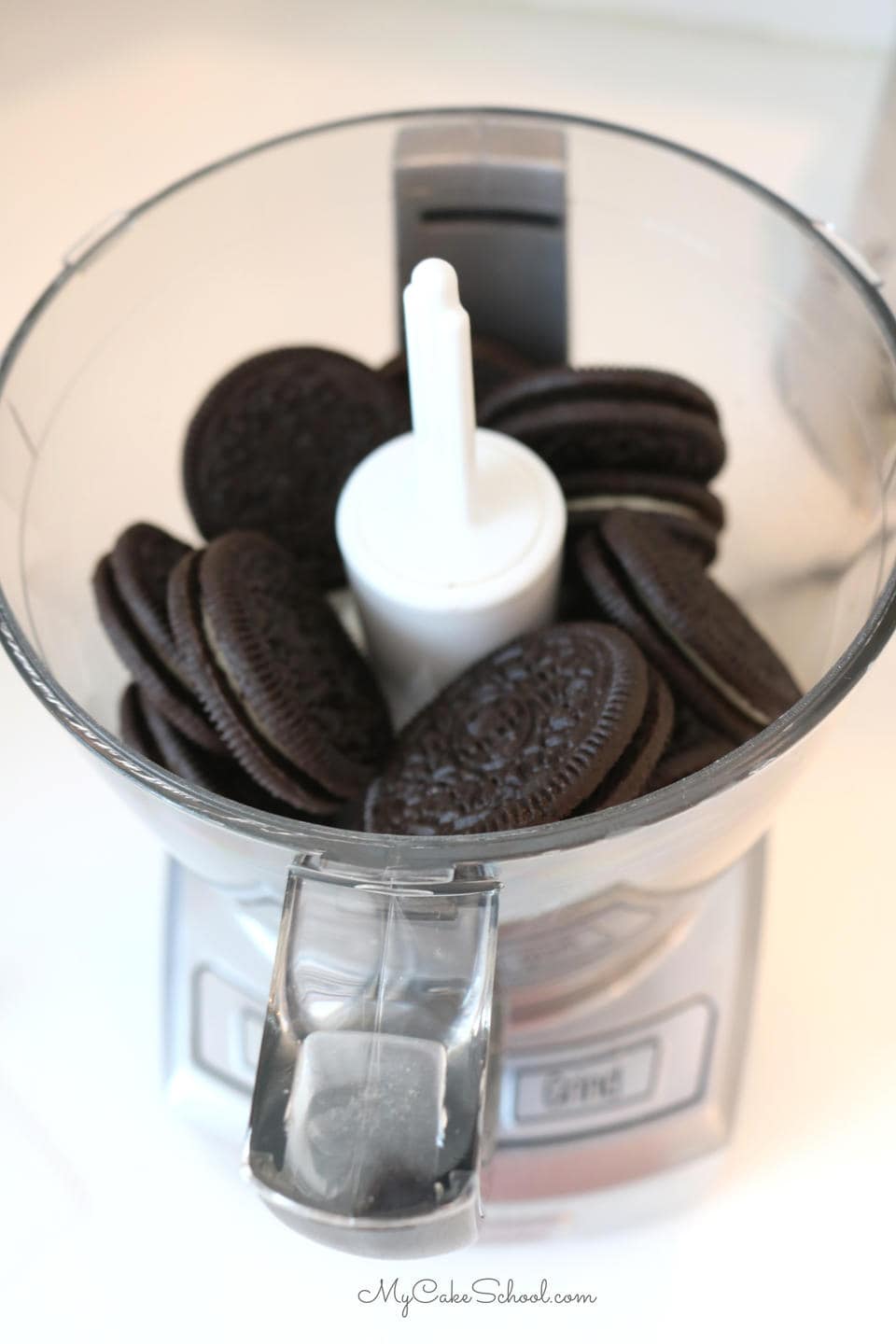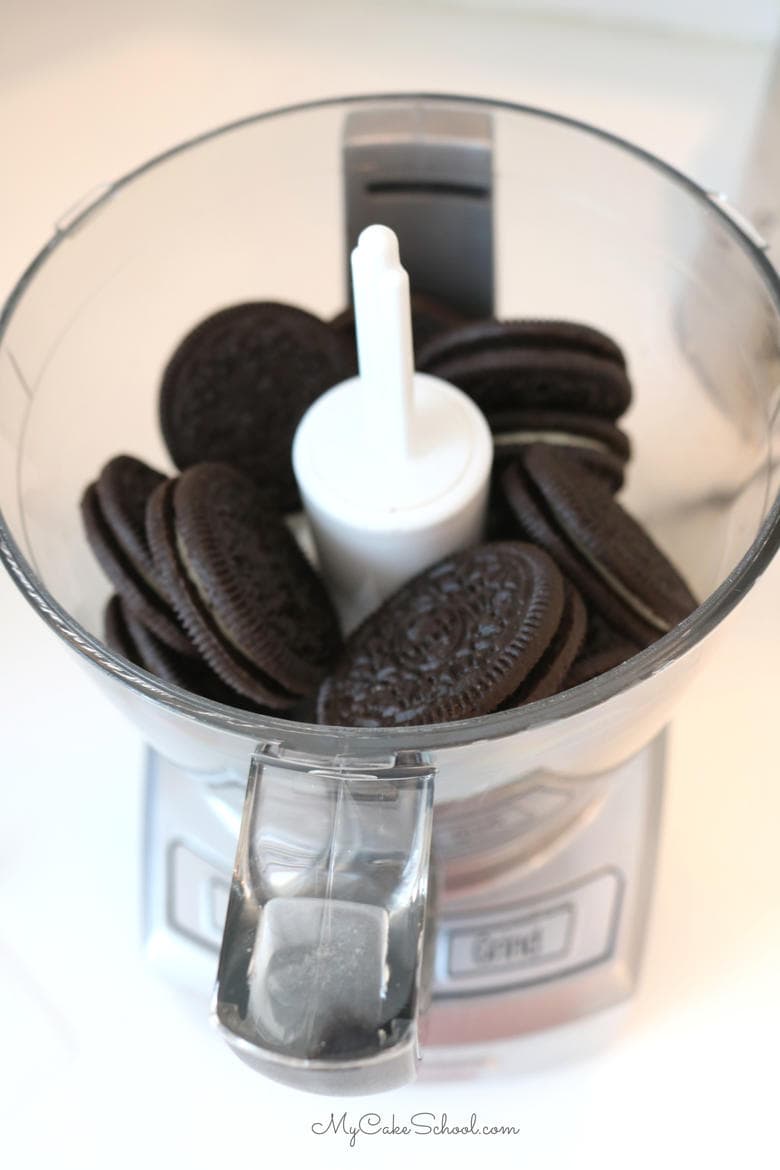 Gently fold the Oreo Crumbs into the whipped cream filling until well combined- yum!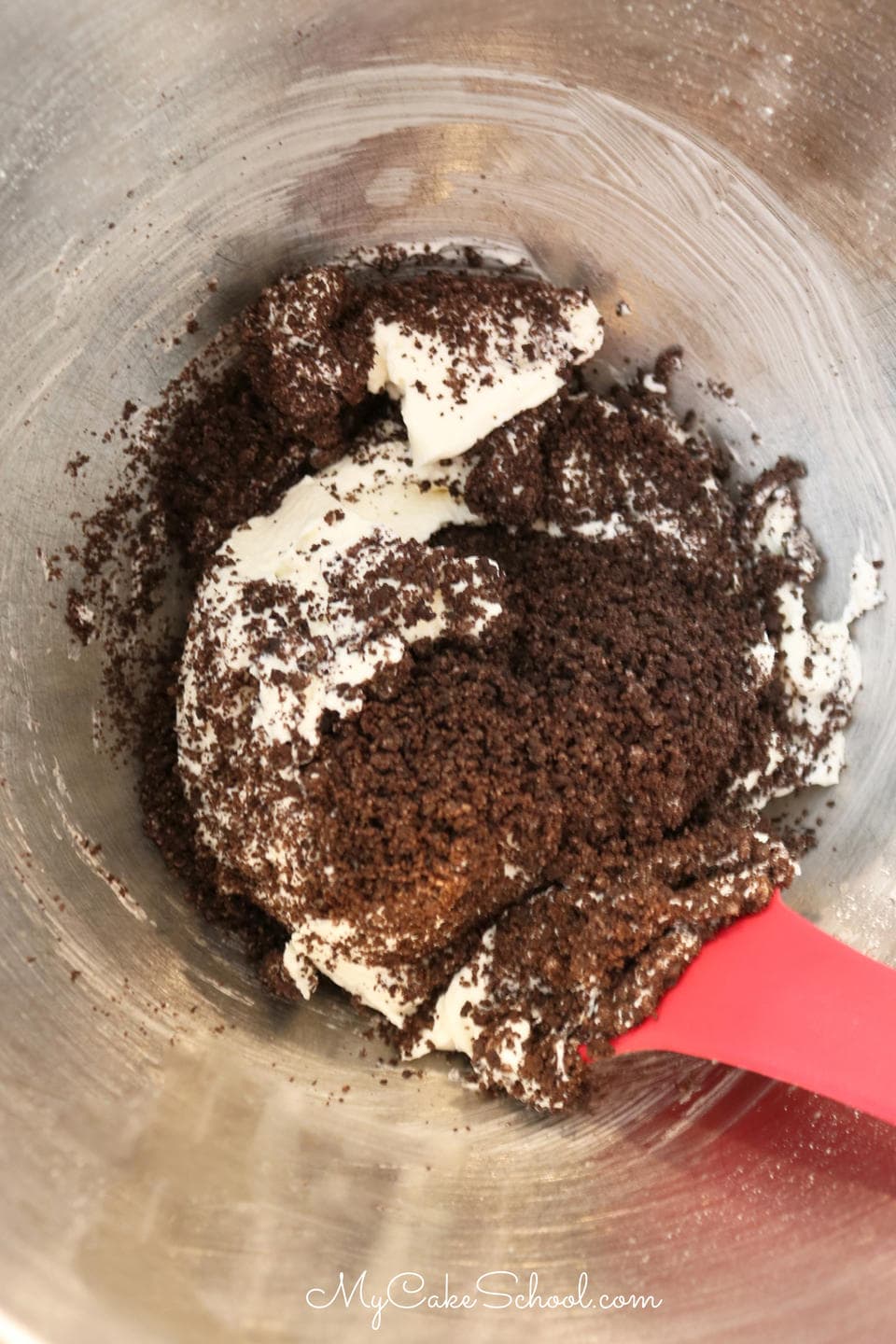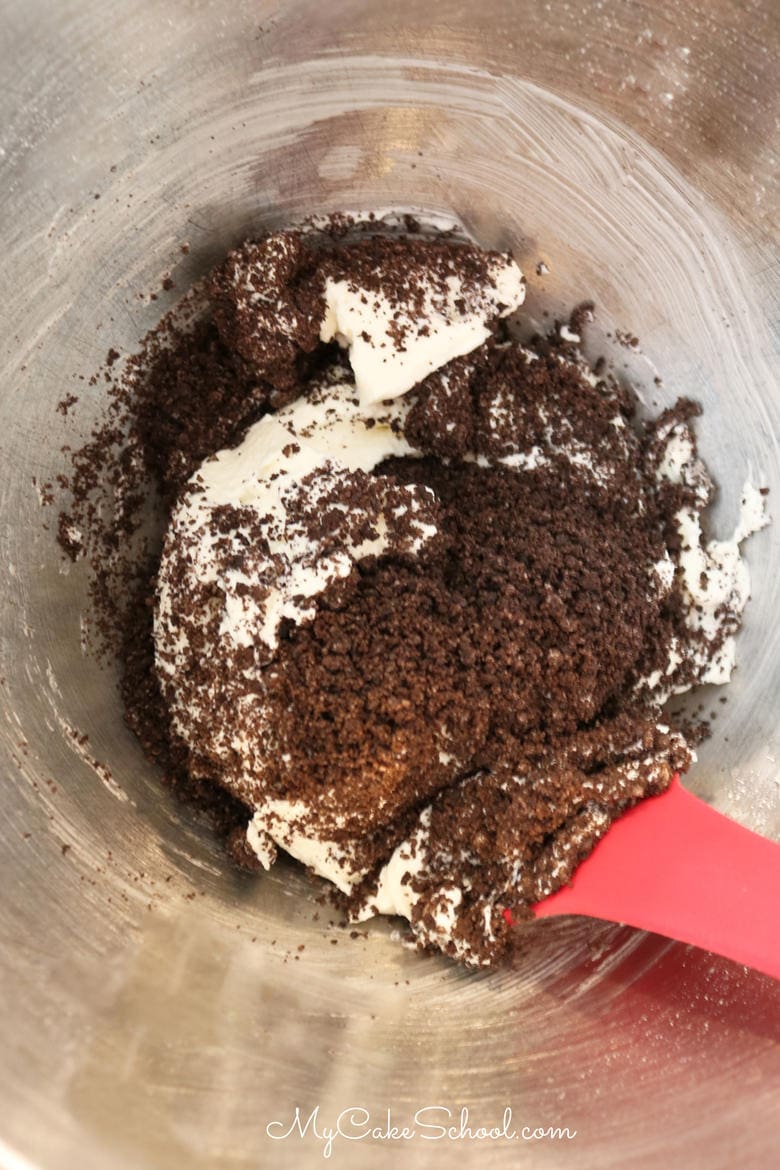 Classic Vanilla Buttercream
For the outside frosting, we decided to use our Classic Vanilla Buttercream frosting which is quick, easy, and delicious! This is an American Buttercream frosting that is simply a matter of combining butter, powdered sugar, milk or cream, and vanilla. The result is a delicious, lightly crusting frosting.
Other Frostings that Pair Well with Cookies and Cream Cake
Classic Vanilla Buttercream frosting is a great choice for this cake, but you will also love these easy and delicious alternatives!
Chocolate Cream Cheese Frosting
How to Assemble the Cookies and Cream Cake
When you're ready to assemble the Cookies and Cream Cake, add the bottom cake layer to a cake base or pedestal. Next, I piped a dam of buttercream frosting about 1/4 inch from the edge of the bottom layer and filled with Oreo Whipped Cream Filling.
What is the Purpose of Creating a Dam for the Cake Filling?
The purpose of creating a "dam" of buttercream for our softer cake fillings is to keep the filling contained so that it will not escape from the sides of the cake as you begin stacking your cake layers.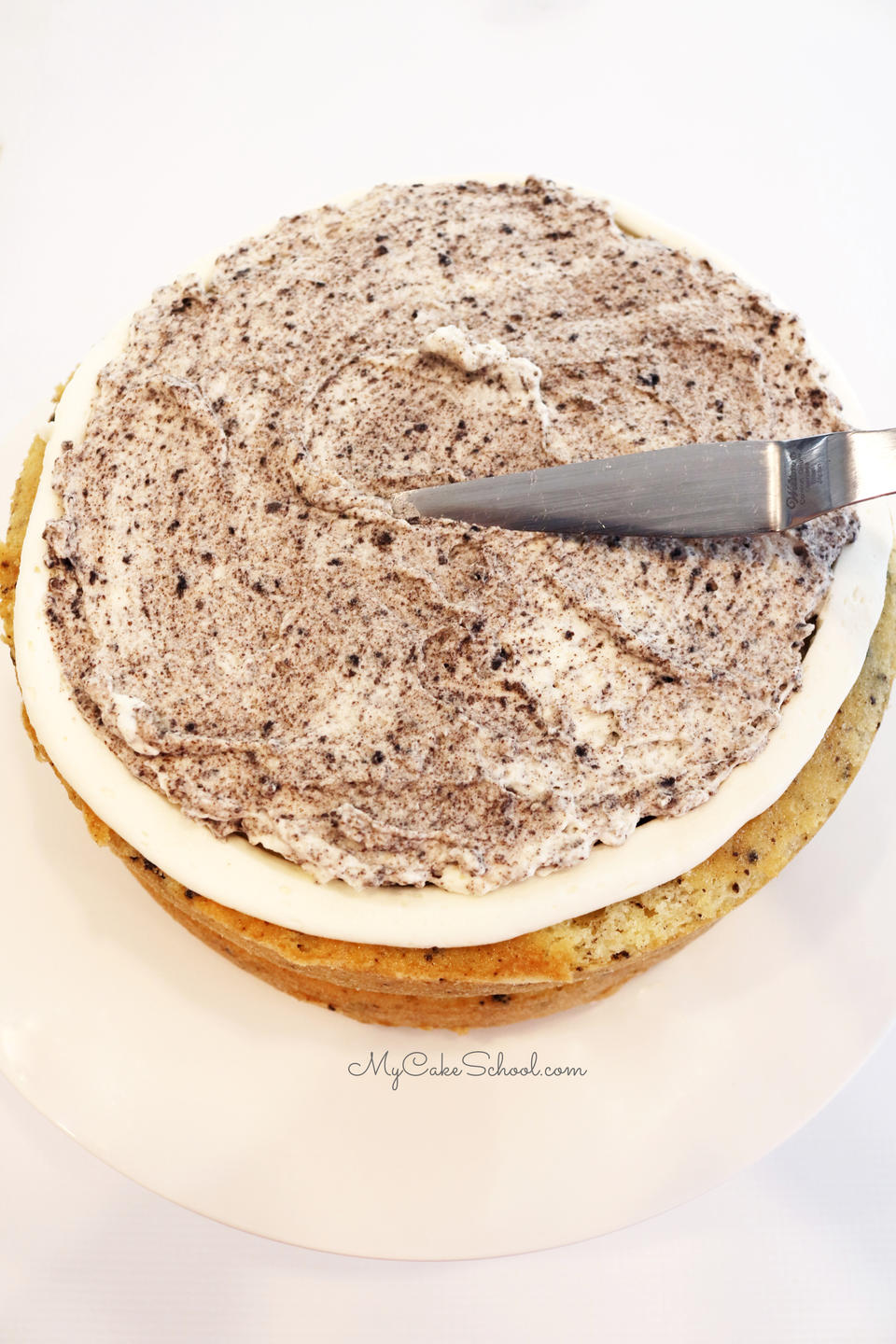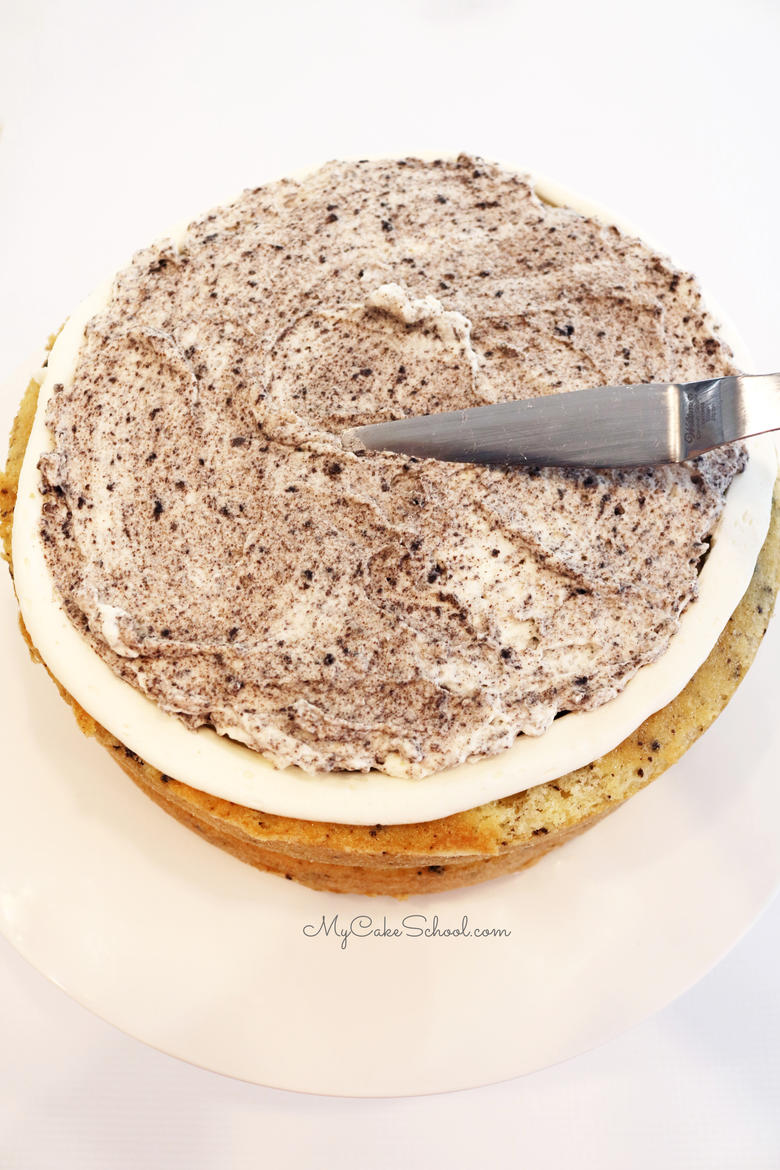 Add the next Cookies and Cream Cake layer, and repeat. Top with the final cake layer and fill in any gaps between the cake layers by piping in a little extra buttercream. (I do this step by snipping the end off of a disposable piping bag and filling with buttercream).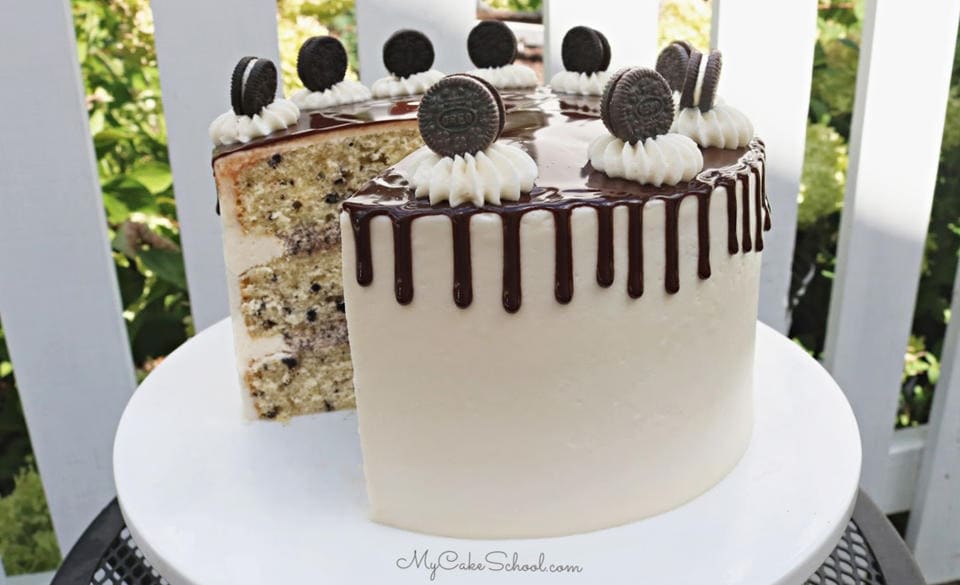 Settling the Cake
Settling the cake is an optional step, but it is a helpful way to ensure that your cake doesn't develop frosting bulges around the sides over time. To settle your cake tier, wrap the unfrosted, filled cake with plastic wrap and then place a weight of some sort on top.
This weight should not be a crushing weight–just something that will apply a light, steady pressure- like a couple of cake pans, a book, etc. After a few hours or overnight, frost the cake as usual. ****If using a perishable filling like we are, you will need to settle the cake in the refrigerator rather than at room temperature.
Frosting the Cookies and Cream Cake!
I applied a thin crumb coat of frosting to the cake, firmed it up in the freezer for about 15 minutes (optional), and then proceeded to apply the final coat of frosting.
To make the finish on the frosted cake extra smooth, I frosted the final coat and then smoothed over it with a hot bench scraper (which I ran under very hot water). Repeat the chilling/smoothing steps as needed until the cake is as smooth as you like.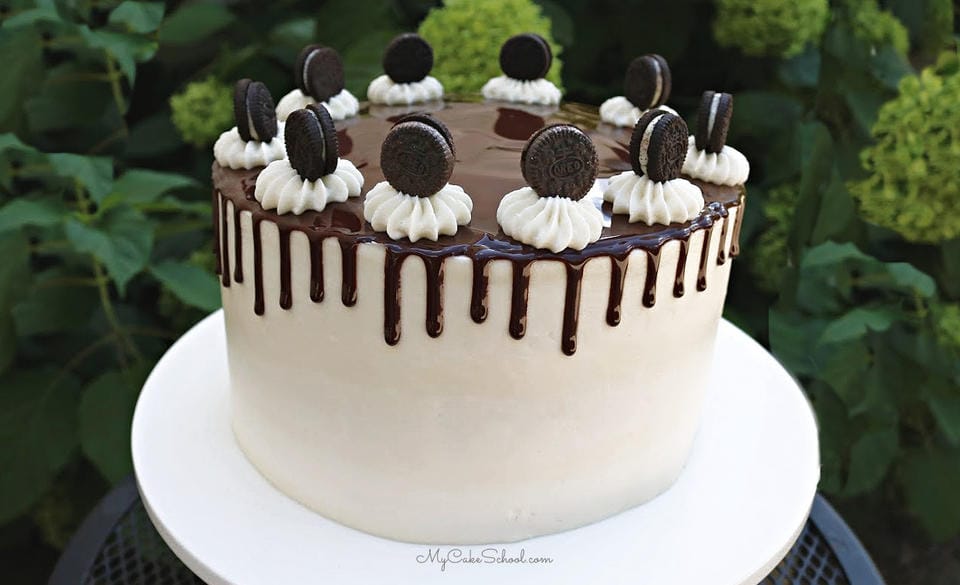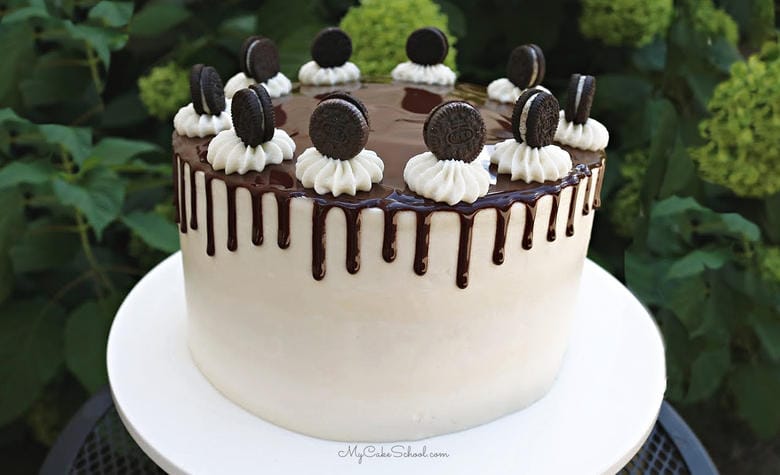 Ganache Drip
There's nothing like a dramatic Ganache Drip, and luckily it is SO easy to make!
Our ganache drip recipe is just a matter of combining equal parts (by weight) of semi-sweet or dark chocolate and heavy cream. Heat in the microwave in small increments, stirring a bit as you go, until the mixture is melted and well combined.
Finally, I added my ganache drip around the top edge of the Cookies and Cream Cake, and then spooned on and spread additional ganache on top.
To apply the ganache drip, I spooned the ganache into a disposable piping bag with the tip snipped away, creating a small opening so that I could more easily create the drip around the edges.
(If the ganache is too warm, it will travel further down the cake–just allow to cool for several minutes until the drip travels more slowly– I also apply my drips to freshly chilled cakes.
**If you need to see a Ganache Drip Video for a quick visual of the process, you can find it here! Easy Ganache Drip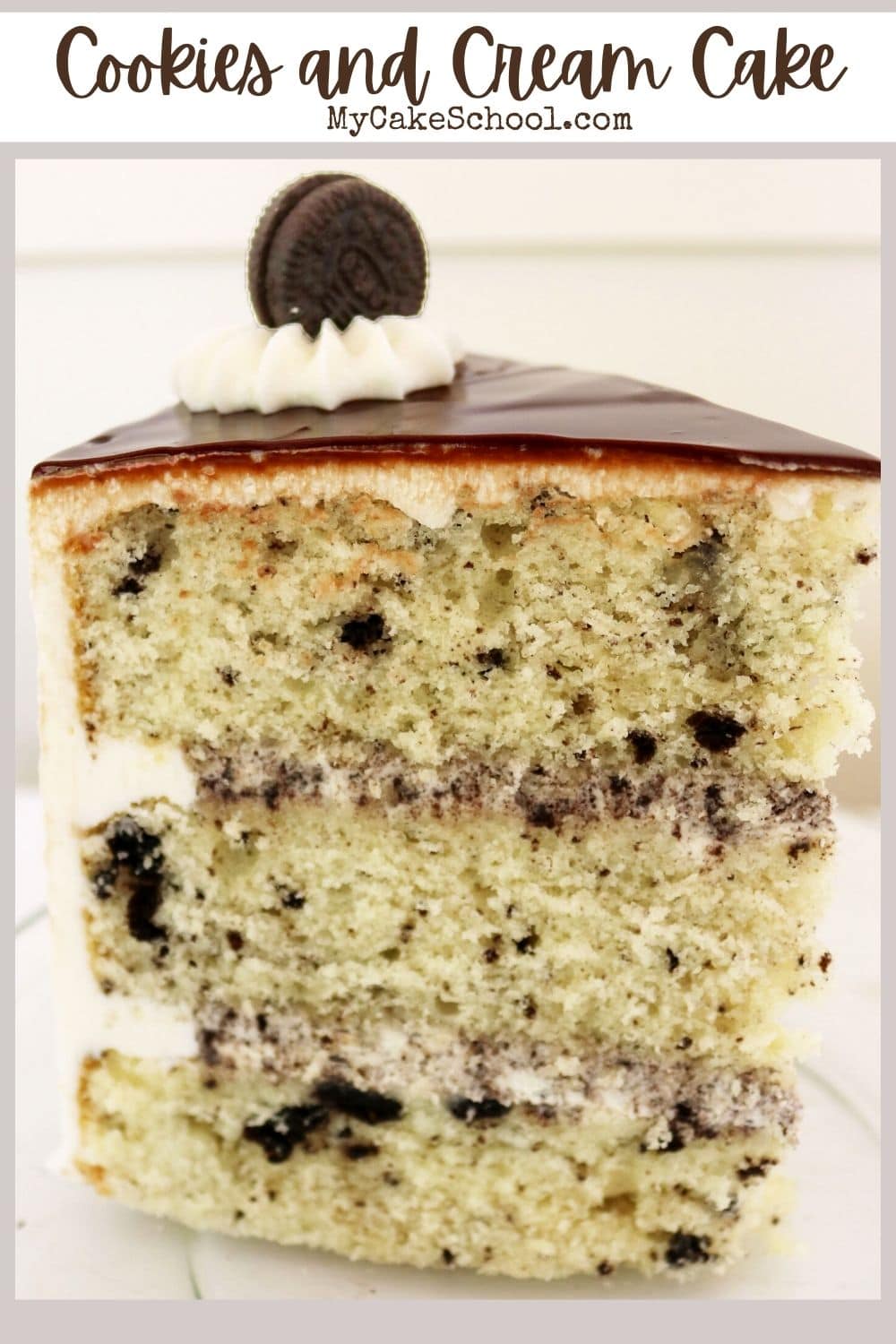 If you Love Chocolate, Don't Miss these Other Great Recipes!
Find these and so many more in our Roundup of the BEST Chocolate Cake Recipes!
We hope that you enjoy this Cookies and Cream cake recipe! If you give it a try, we would love to hear what you think! Leave comments and photos below!
Cookies and Cream Cake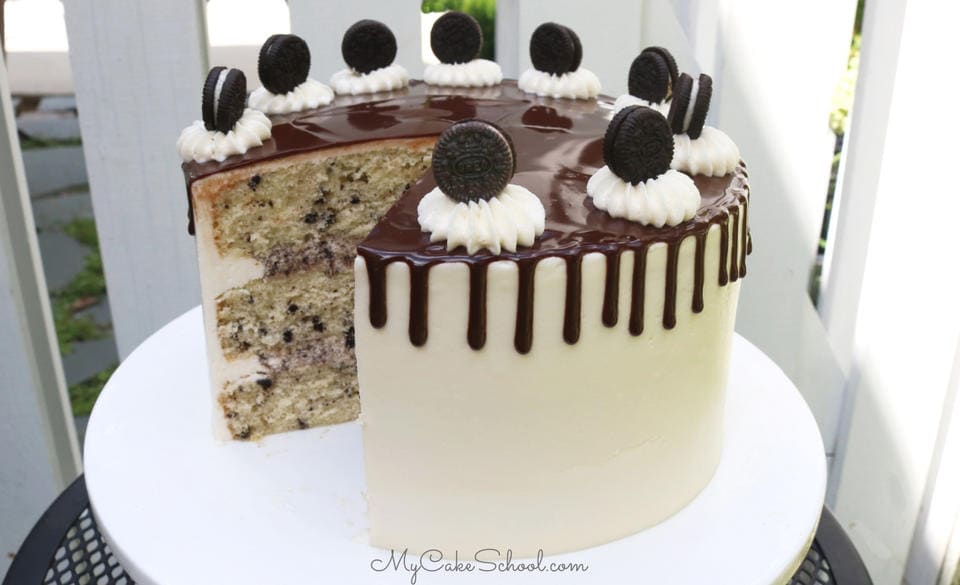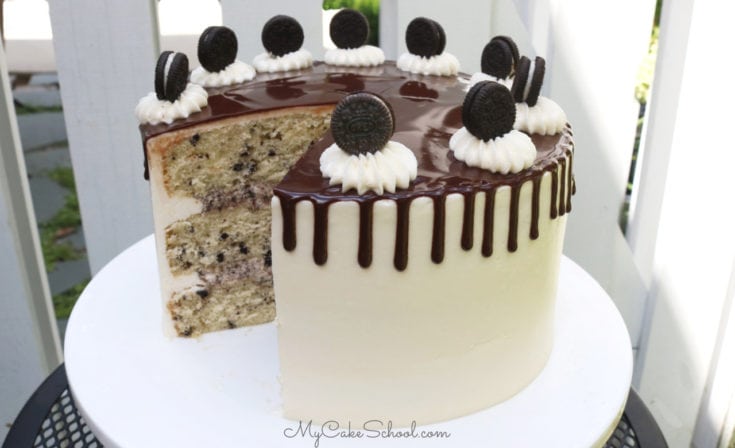 This moist Cookies and Cream Layer Cake is so delicious! We love it with Oreo Whipped Cream Filling.
Ingredients
For the Cake
1 1/2 sticks (170g) unsalted butter, softened ( holds it shape but dents when pressed)
2 cups (400g) sugar
4 eggs
3 cups (342g) cake flour (spooned into measuring cup and leveled off) If you do not have cake flour see substitution in Notes below.
2 teaspoons (8g) baking powder
1/2 teaspoon (3g) baking soda
1/2 teaspoon (3g) salt
1 1/4 cups (296g) buttermilk — if you do not have buttermilk, see substitution below
1/4 cup (54g) vegetable oil
1 Tablespoon (12g) vanilla extract
10 Oreos, crushed (109g) (crush cookies in food processor or plastic bag crushed with rolling pin)
Oreo Whipped Cream Filling
1 cup (232g) cold, heavy cream or whipping cream
1 teaspoon (4g) vanilla extract
1/4 cup (27g) powdered sugar, sifted
5 (55g) Oreo cookies, crushed (put cookies in a plastic bag and crush with rolling pin or food processor)
For the Vanilla Buttercream Frosting
2 sticks (226g) unsalted butter, slightly softened but cool to the touch and holding it's shape
6-7 cups (690-805 grams) powdered sugar (depending on desired consistency. More sugar=more crusting).
2 tsp. vanilla (8 grams), use clear imitation vanilla if you like a whiter frosting
1/4 c. (60g) whole milk or more if needed
1/2 teaspoon salt (3g) to cut the sweetness (preferably fine grain or popcorn salt). Adjust to taste.
For the Ganache Drip
6 oz (171g) Chocolate (Semi-sweet or Dark) We used Ghirardelli Dark Chocolate Chips
6 oz (171g) Heavy Cream
Decoration
I used mini Oreos for decoration on top of the cake, as well as piped stars of buttercream using a Wilton 8B french tip.
Instructions
Preheat the oven 15-20 minutes to 350 degrees, grease and flour three 8×2 inch round pans, adding a circle of parchment paper in the bottom of each pan.
Place Oreos in a ziploc bag or between two sheets of waxed paper and crush with a rolling pin.
In a medium bowl, whisk the flour, baking powder, baking soda and salt for 30 seconds. Set aside
In another bowl, add the buttermilk, oil and vanilla. Set aside..
In the bowl of your mixer, add the butter and mix at medium speed until smooth. Gradually add the sugar and continue to mix on medium speed for 3 to 5 minutes until lightened in color and fluffy. Add the eggs one at a time mixing until the yellow of the yolk disappears.
Alternately add the flour mixture and buttermilk mixture, beginning and ending with the dry ingredients (3 additions of dry ingredients and 2 of liquid).
Do not mix above medium speed or over mix the cake batter.
Fold in the Oreo crumbs. Divide batter between your pans.
Bake at 350 degrees for 25-30 minutes or until a toothpick inserted in the center comes out clean or with just few crumbs attached. *If baking in 9 inch pans, bake 25-30 minutes. Let cool 10 minutes and turn out.
This recipe makes 8 cups of batter
Oreo Whipped Cream Filling
Chill the mixing bowl and beaters in the freezer for 10 minutes or refrigerator for 20 minutes. You can use a hand mixer or stand mixer with the whisk attachment.
Add the cream to the bowl, mix at med to high speed. When the mixture begins to thicken, add the powdered sugar and vanilla. You can stop mixing anywhere from medium soft to firm peak stage. I usually mix until firm peak (peaks that sand straight up when pulling the beater out of the bowl). Do not mix beyond firm peak, after that point it will have a grainy appearance.
Fold in the crushed Oreos
Makes 2 cups
For the Classic Vanilla Buttercream Frosting
Cream the (slightly softened) butter until smooth. Blend in the vanilla.
Add half of the powdered sugar and most of the milk. Beat at medium speed until the powdered sugar is incorporated.
Add remaining powdered sugar and milk and mix at medium speed another 3 to 4 minutes scraping the sides of the bowl occasionally. I slow down the mixer to very slow. (#2 on the Kitchenaid) for 1 to 2 minutes. This will help eliminate air pockets in the buttercream. The texture will become very smooth.
This recipe can be doubled or halved.
Yields approximately 4 1/2 cups of frosting. Enough to frost a two layer 8 or 9 inch cake.
Can be frozen in air tight container for at least three months . Thaw on countertop.
If your buttercream is too thin, add more sugar. If the consistency is too thick, add a bit more milk.
For the Ganache Drip
Place your chocolate into a microwave safe bowl.
Pour heavy cream over the chocolate and place in the microwave for 1 minute. (Times may vary, see our note below).
Remove and stir. Microwave for 30 seconds more and when the chocolate has melted almost completely, allow it to sit for 1 minute more before stirring. Stir until you've reached a silky smooth consistency.
*Microwave times may vary. If you are making a smaller amount of ganache, you will reduce the microwave time. If your chocolate hasn't melted after the 1 1/2 minutes recommended in the instructions, simply microwave in small 10-15 second increments until it has nearly completely melted. Let sit one minute, then stir until smooth.
Notes
Cake flour substitute:  Using all purpose flour — for each cup of flour in a recipe, remove 2 Tablespoons and replace with 2 Tablespoons cornstarch (corn flour in the UK).  This recipe has 3 cups flour - using all purpose  flour, measure out 3 cups, remove 6 Tablespoons and replace with 6 Tablespoons cornstarch.  Whisk to blend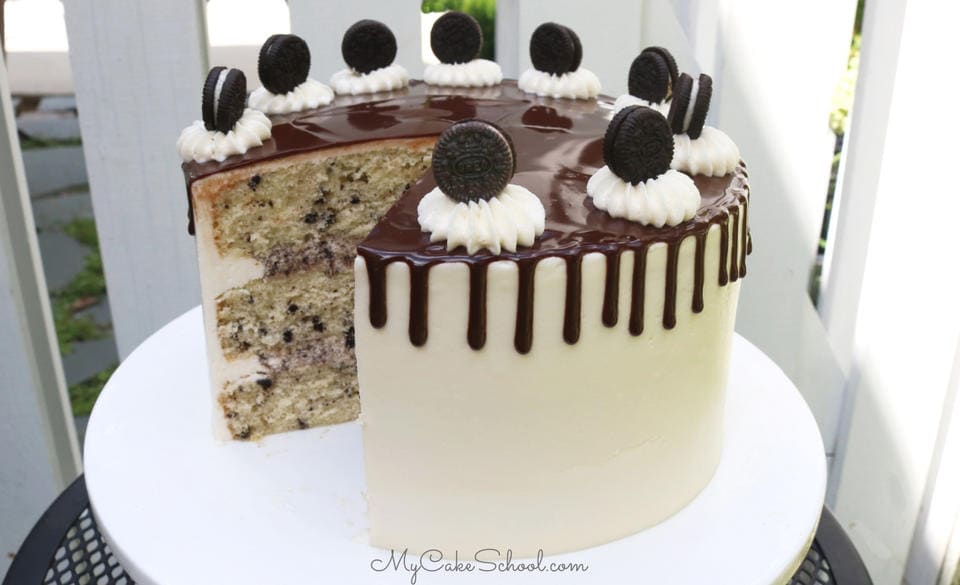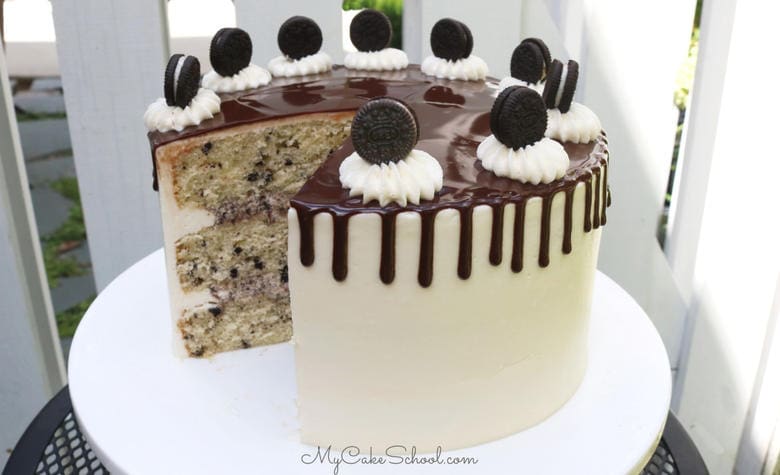 Learn Cake Decorating Online!
If you love finding new cake recipes, don't miss our full collection of tried and true cake and frosting recipes from our Recipes Section!
If you would like to learn about cake decorating, hop over to our Free Tutorials Section. Or, if you are interested in accessing our entire collection of hundreds of cake decorating tutorials, you should consider becoming a member of My Cake School!
Memberships are $30/year and will give you access to every video we've made for as long as you are a member. You can find the joining details here: Joining Information for My Cake School. We would love to have you!