Today I'm sharing a super easy, fabulously delicious two-ingredient ganache drip recipe which not only can be prepared in the microwave, but can also be whipped for cake and cupcake fillings or swirled onto cupcakes.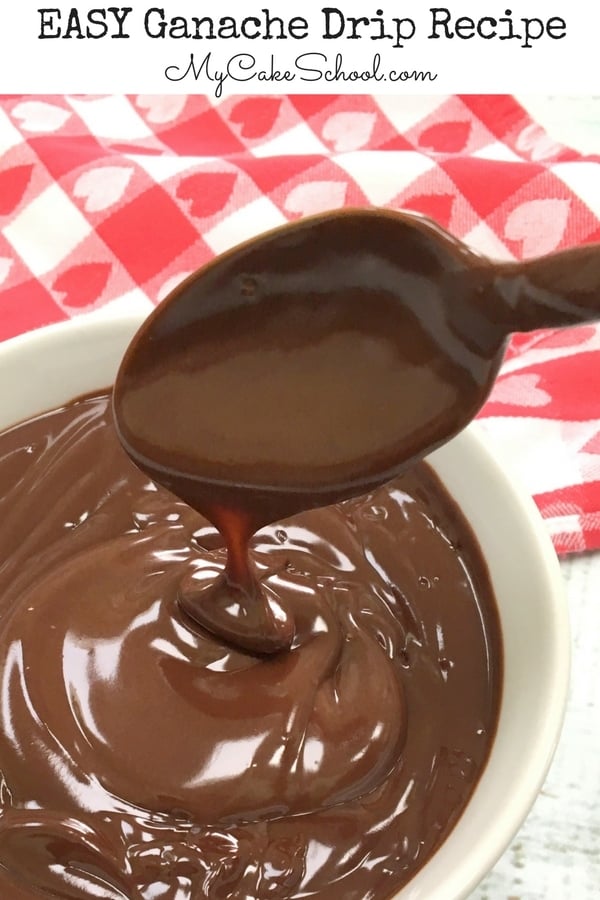 Ganache sounds so sophisticated and fancy, doesn't it? Before I became a "cake lady", I never would have guessed how simple it is to make.
Really, this ganache drip recipe has just two ingredients!
Two simple ingredients for Ganache Drip
Beautiful chocolate drip cakes continue to be hugely popular and thankfully, this trending cake design is surprisingly easy to achieve no matter what your level of cake decorating!
The two ingredients that we're working with today are heavy cream and dark chocolate.
Ganache- What is the Best Ratio of Chocolate to Cream to Use?
Since we are making a glaze suitable for a beautiful decorative drip, I'm going with a 1:1 ratio of chocolate to cream.
This will give us an easily pourable (and drip-able) consistency. Since we are using equal parts of chocolate to cream, the ganache is not going to set firm.
If we needed a thicker, more spreadable ganache frosting that will set up firm (often used beneath fondant), I would use a 2:1 ratio of chocolate to cream for a semi-sweet or dark chocolate ganache. You could even adjust to 3:1 for an even firmer result.
How to Make an Easy Ganache Drip and Whipped Ganache: Video
Dark chocolate Ratios are different than White chocolate and milk chocolate
When creating a white chocolate or milk chocolate ganache drip, you'll want to increase your ratio of chocolate to cream. Otherwise, the resulting ganache will likely be too soft and runny.
For a white or milk chocolate ganache drip, increase the ratio to 3:1. (This is the ratio that we used in our pastel Reverse Drip Cake (free cake video).
How to Make a Chocolate Ganache Drip
Making a chocolate drip for cakes is SO easy , delicious, and adds such a dramatic final touch to cakes!
Here are our key players for our ganache: heavy cream, chocolate, and a scale. You'll want equal amounts of chocolate and cream by weight.
***Note that in my video above, we used semi-sweet chocolate, which also works well.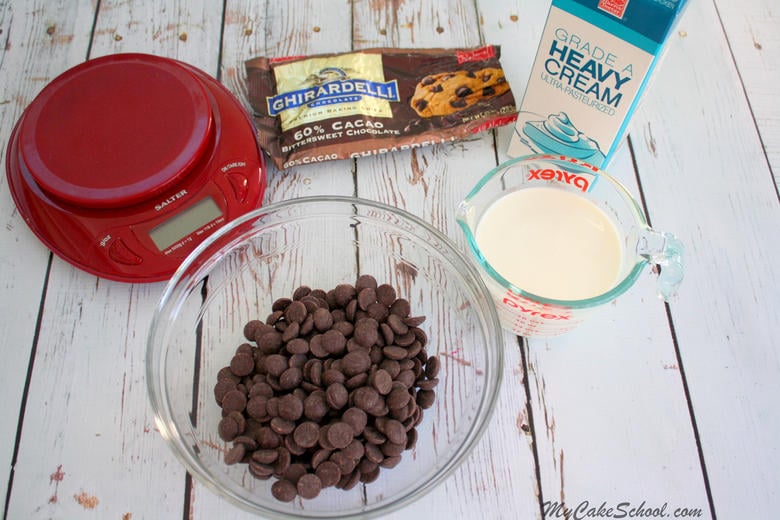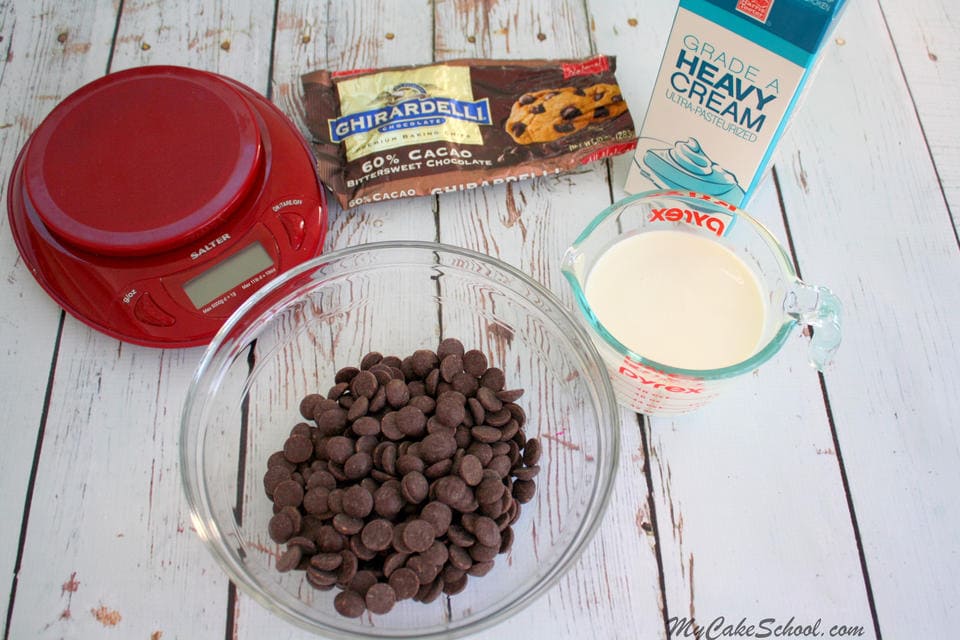 Proportion of Chocolate to Heavy Cream
This basic recipe calls for 10 oz (283 g) chocolate & 10 oz (283 g) heavy cream. This will give us plenty for a ganache drip around the sides of a cake as well as the top, plus a bit of leftover for glazing cake layers, a whipped ganache filling, or a little chocolatey snack ;0)
If you only need enough ganache to cover the top of a cake plus a ganache drip, you could get away with using 8 oz. of chocolate to 8 oz cream, but I'm always happy to have a little leftover!
My favorite way to make this simple ganache is in the microwave.
Simply pour the cream over a bowl of your chocolate, and microwave for about 1 minute.
*We used 10 oz chocolate and 10 oz cream. If you are using smaller amounts, you will not need to microwave this long. Sometimes we go with 12 oz chocolate, 12 oz cream as in our video. The important thing is the 1:1 ratio.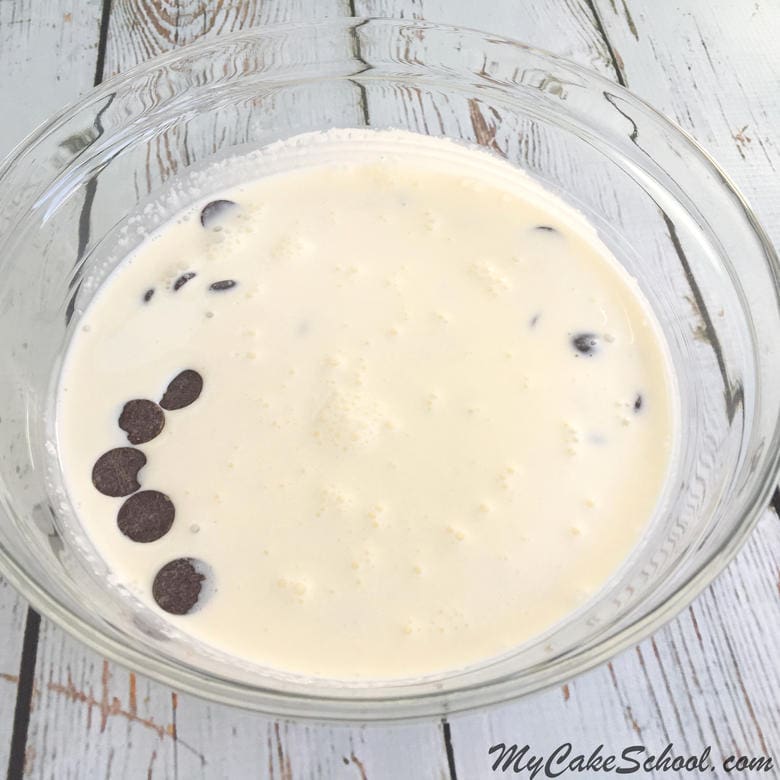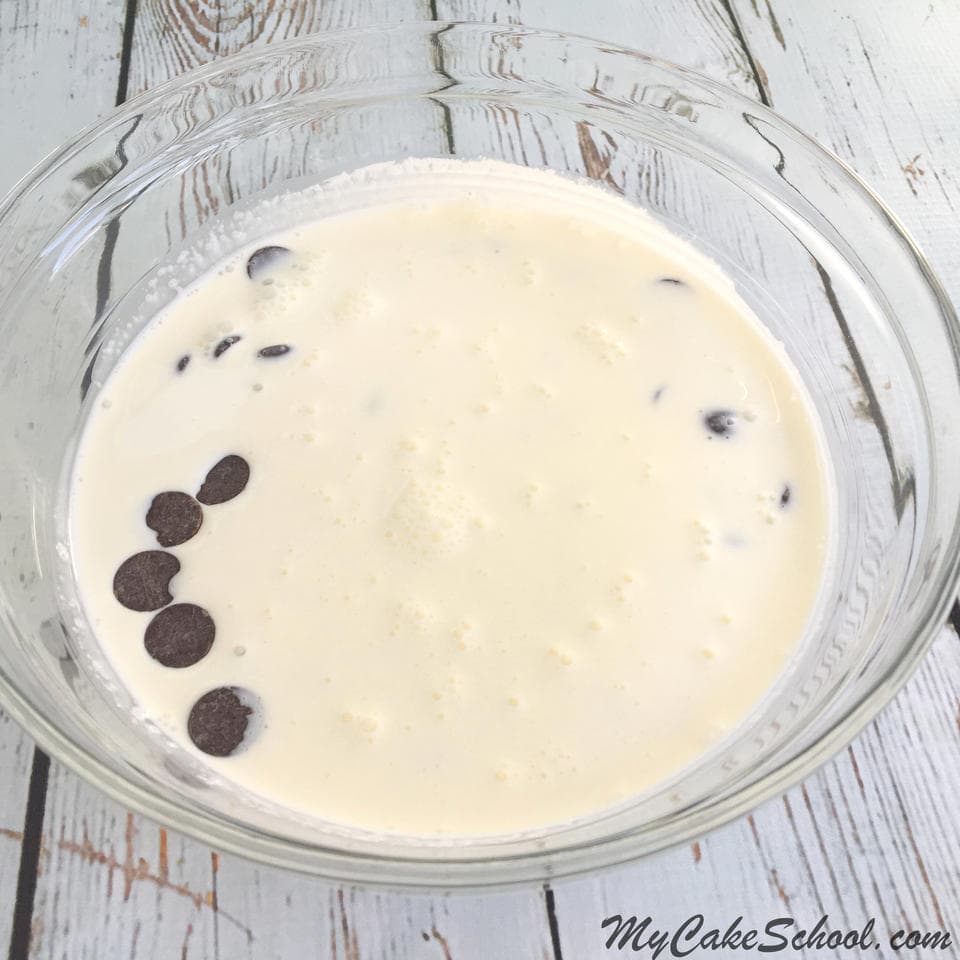 Give it a stir. It's getting melty but still needs more time!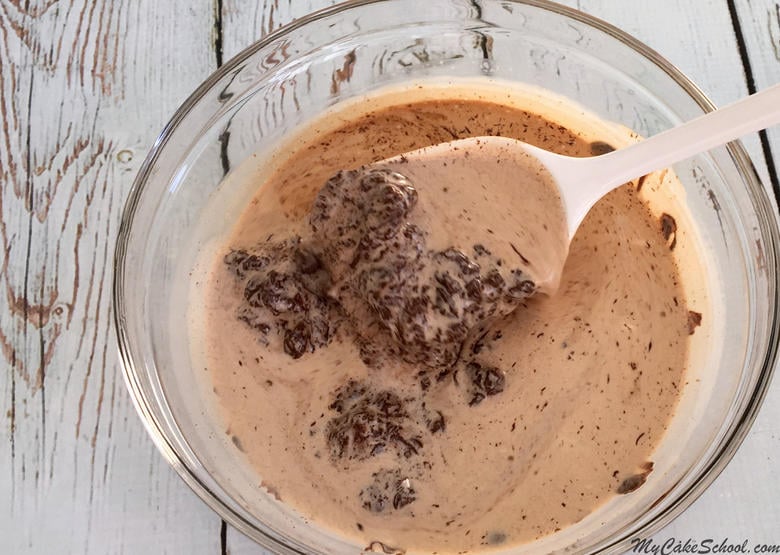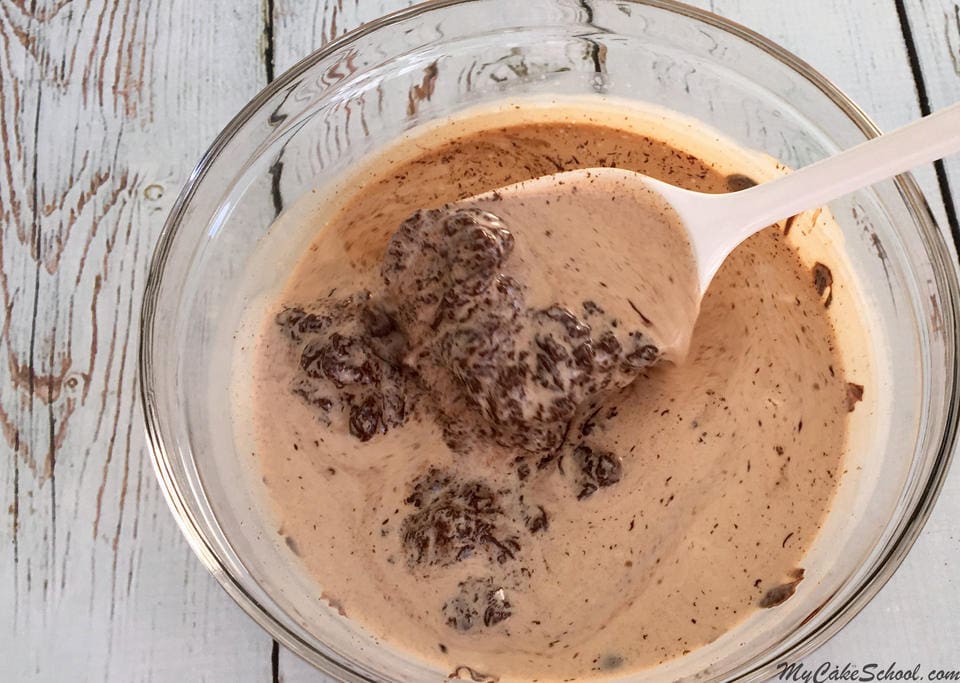 After 30 more seconds in the microwave, the chocolate pieces had almost melted. I allowed it to sit for a minute before stirring so that it could melt a bit more.
I always try to stir by keeping my spoon beneath the surface of the ganache so that I won't create too many air bubbles.
Almost ready! Just needs a bit more stirring.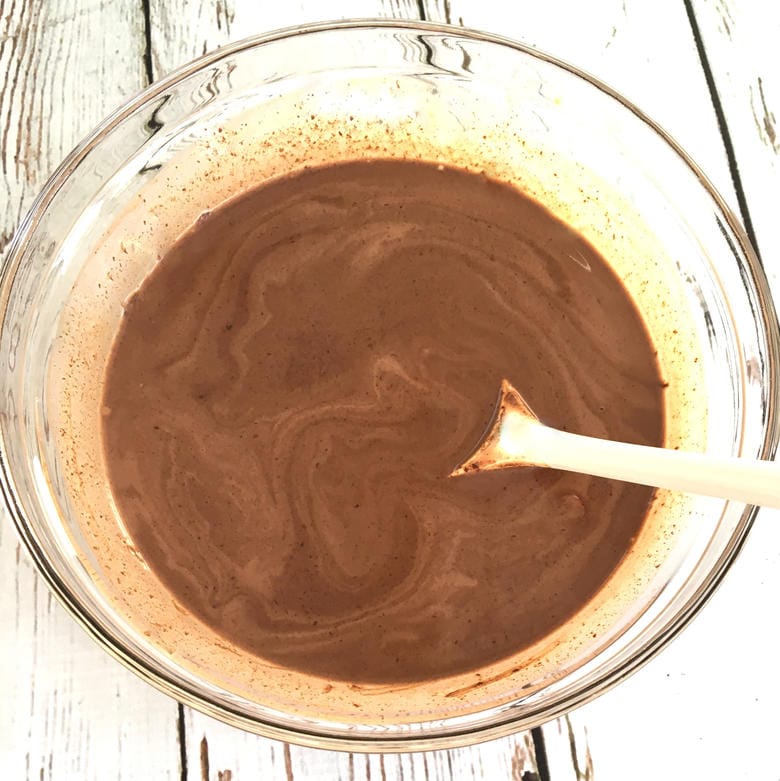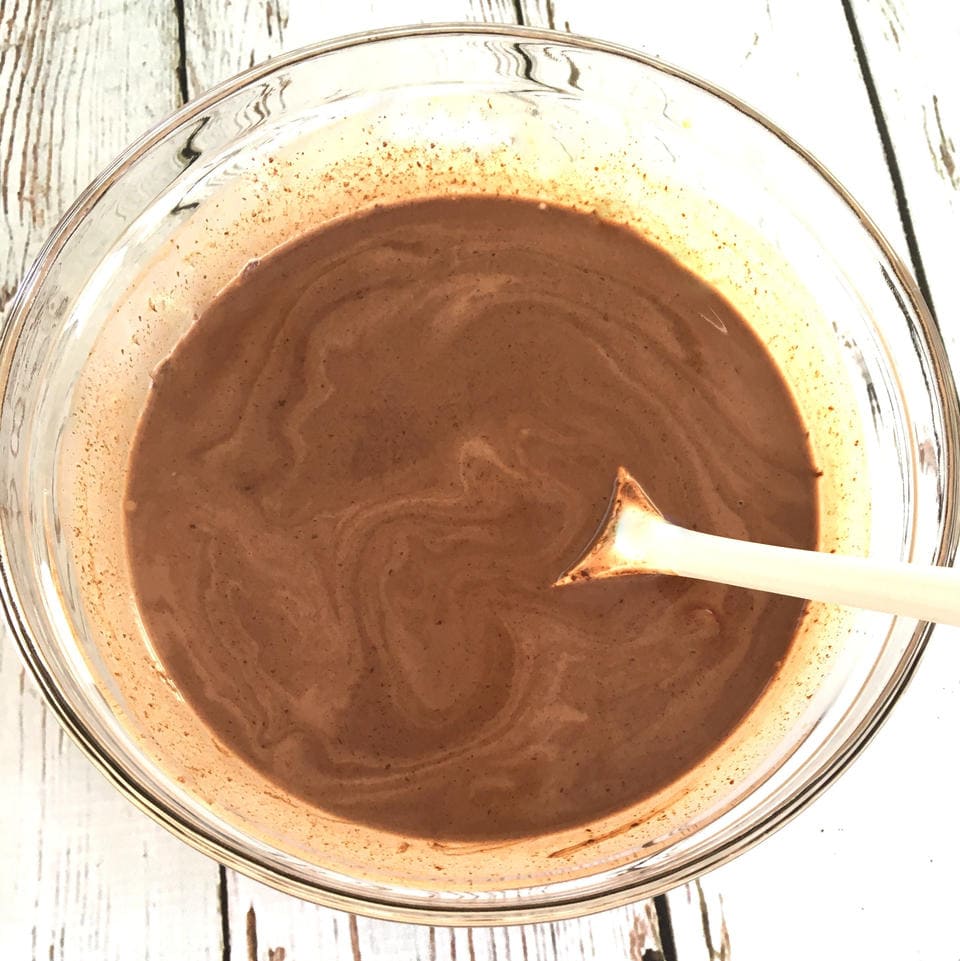 Before you know it, with a bit of stirring the cream and chocolate mixture will suddenly transform into a luscious, silky smooth ganache!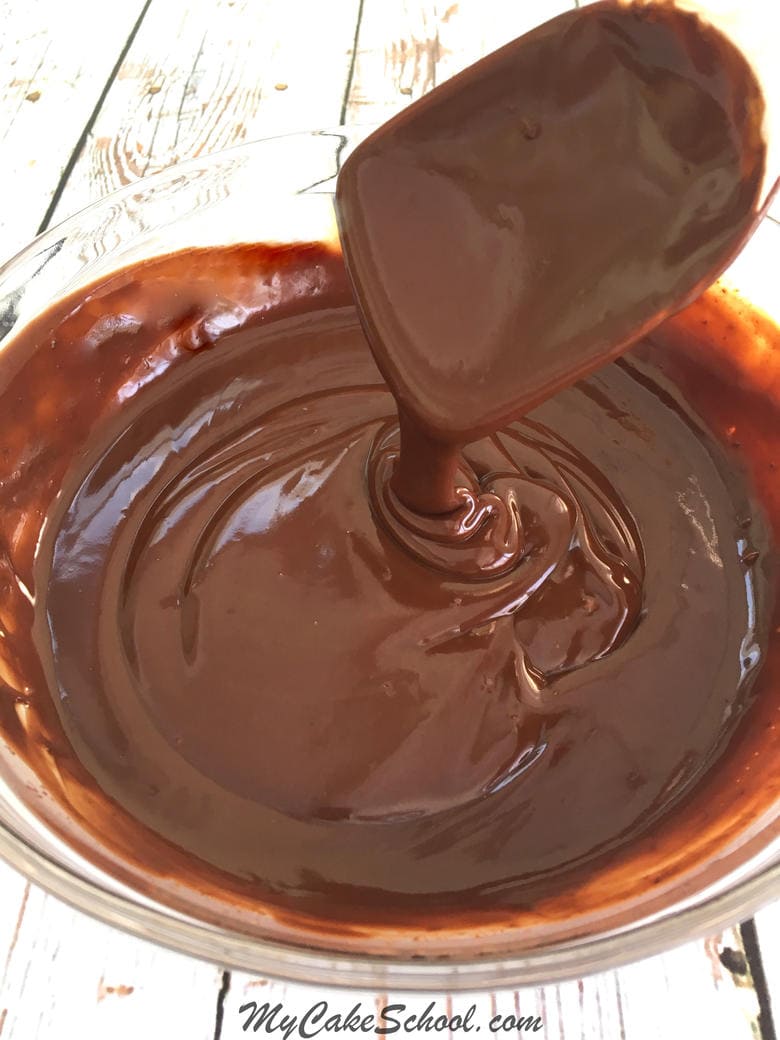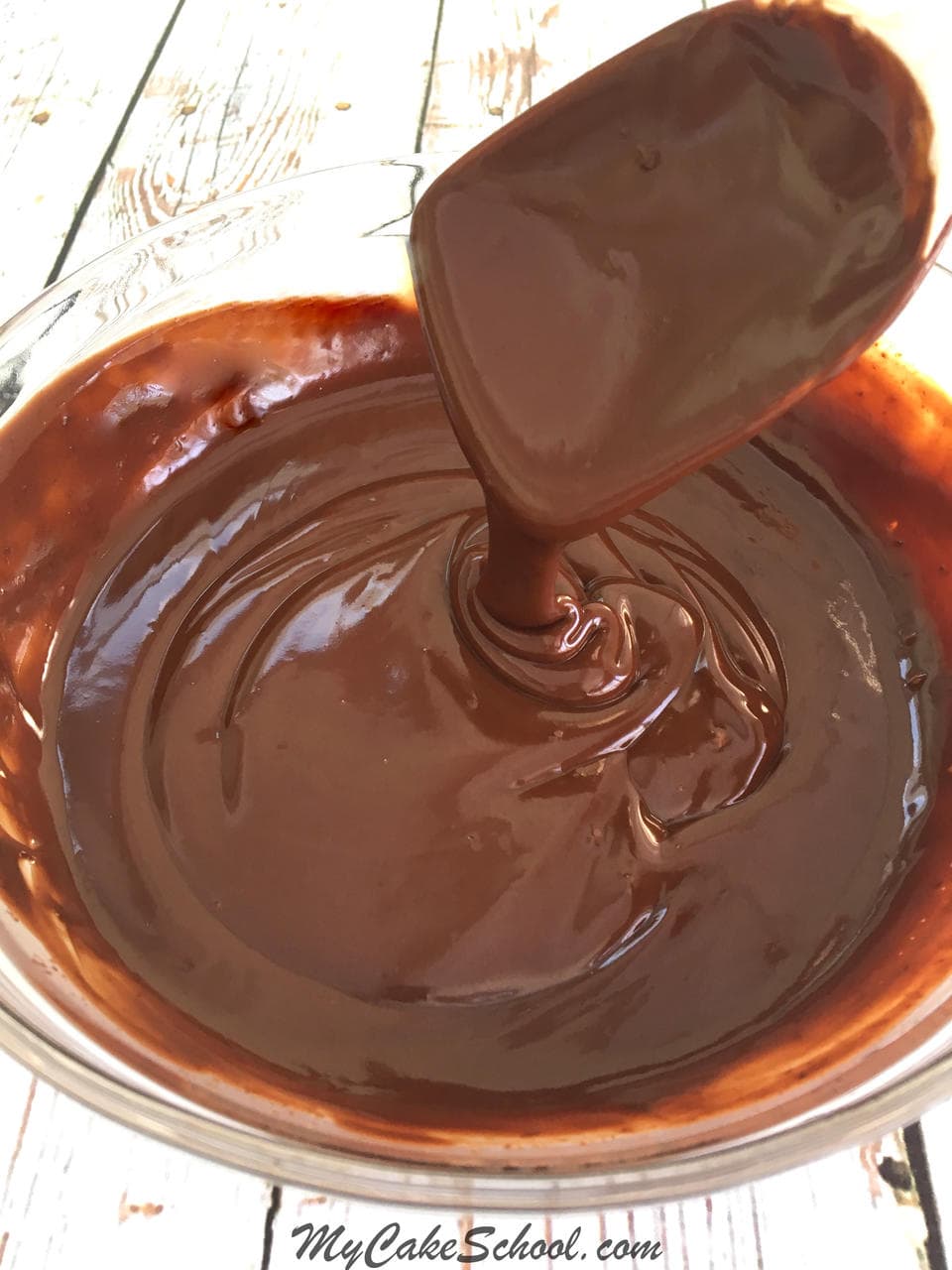 The consistency is perfect for a ganache drip while just barely warm, and it is also perfect for glazing cupcakes.
As it sits, it will set up a bit and begin to thicken but will remain soft. If it cools off and becomes too thick before you have a chance to decorate your cake, simply reheat the ganache in small increments until it's reached the desired consistency.
How to Know if the Ganache Drip is the Right Consistency
When the consistency of the ganache has begun to thicken slightly (it doesn't take long), I like to use my spoon to dot a few drips on the inside edge of my ganache bowl to see if they quickly run all the way down, or if they stop midway down. This will give you an indication of what will happen when you apply your drips to the cake.
If the ganache runs quickly from top to bottom of the inside of your ganache bowl, it needs to cool a little longer. If the ganache barely moves, or comes out extra thick, it has cooled too much and needs to be reheated slightly.
We hope that you enjoy this sinfully delicious, EASY ganache! It's always a crowd pleaser and is so beautiful when dripped and drizzled over cakes and cupcakes. Nobody has to know how easy it is to make, it'll be our little secret!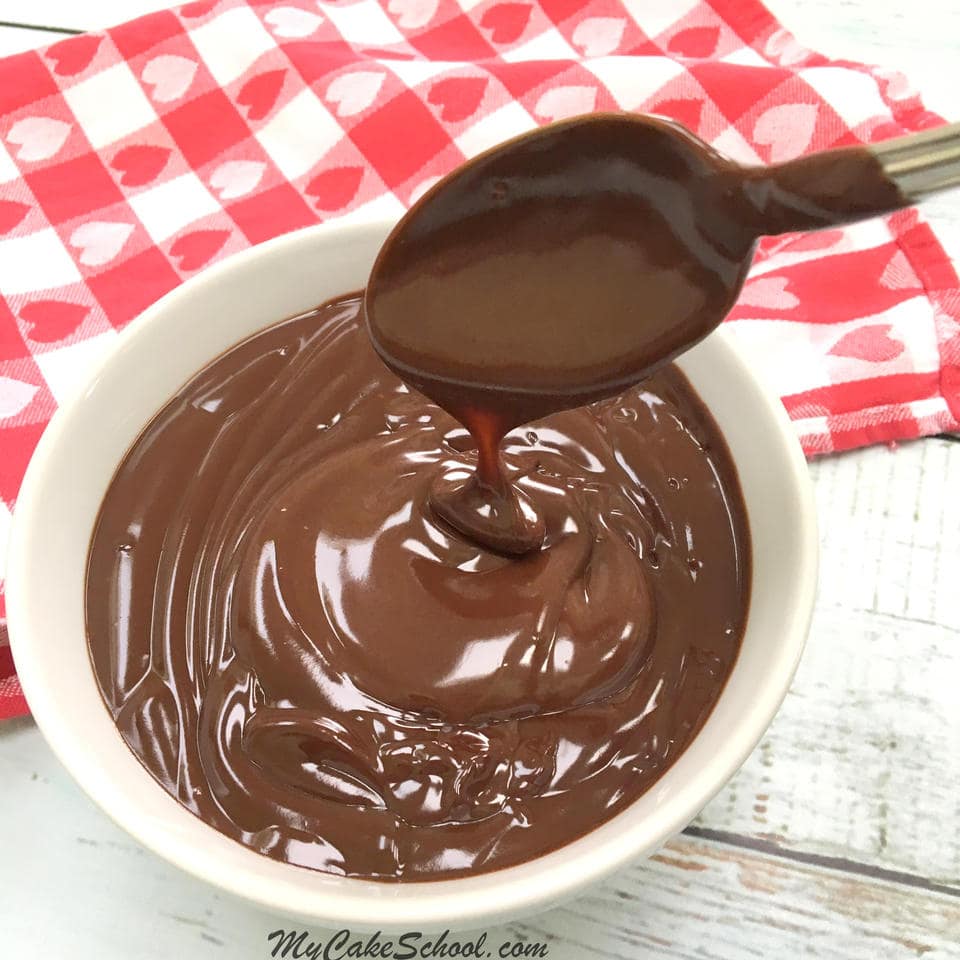 Here's a peek at our beautiful, easy ganache drip in action...
In the photo below, I've filled a disposable piping bag with our ganache and snipped the tip away so that the drip can easily be piped.
If the ganache drip is warm, it should flow easily and fairly quickly. Apply slight pressure to create long drips as you work your way around the cake.
A cake turntable is optional, but helpful for rotating the cake as you work.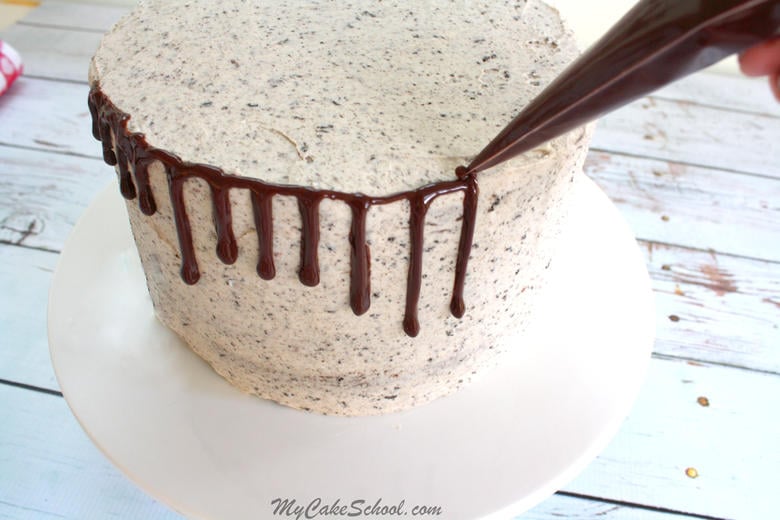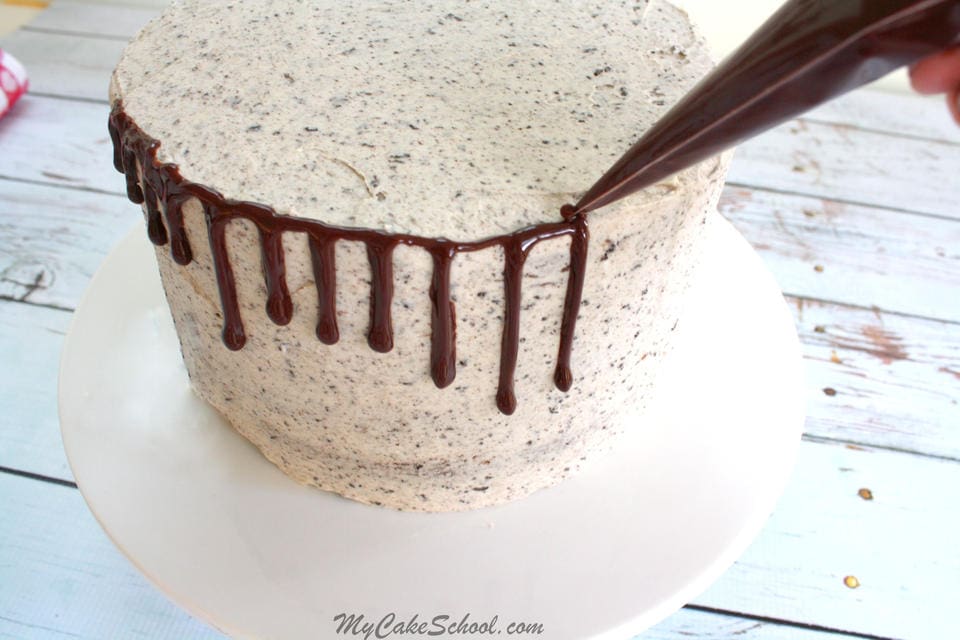 Simple Whipped Ganache
To do this, allow the ganache to set up at room temperature for about 2-3 hours or until it has thickened to a good frosting consistency (some describe it as a peanut-butter consistency). Then, whip with a hand mixer until it fluffs up-- sometimes this can take as little as 30 seconds.
Do not over beat your ganache or it could split or break, giving it a very grainy consistency.
Whipped ganache makes a wonderful filling for cakes and cupcakes, and also for frosting cupcakes with swirls!
These were piped with a 1M tip (a 2D tip works well too.) This whipped ganache is not an ideal consistency for frosting over an entire cake, but it is great for a little decorative piping or swirling onto cupcakes.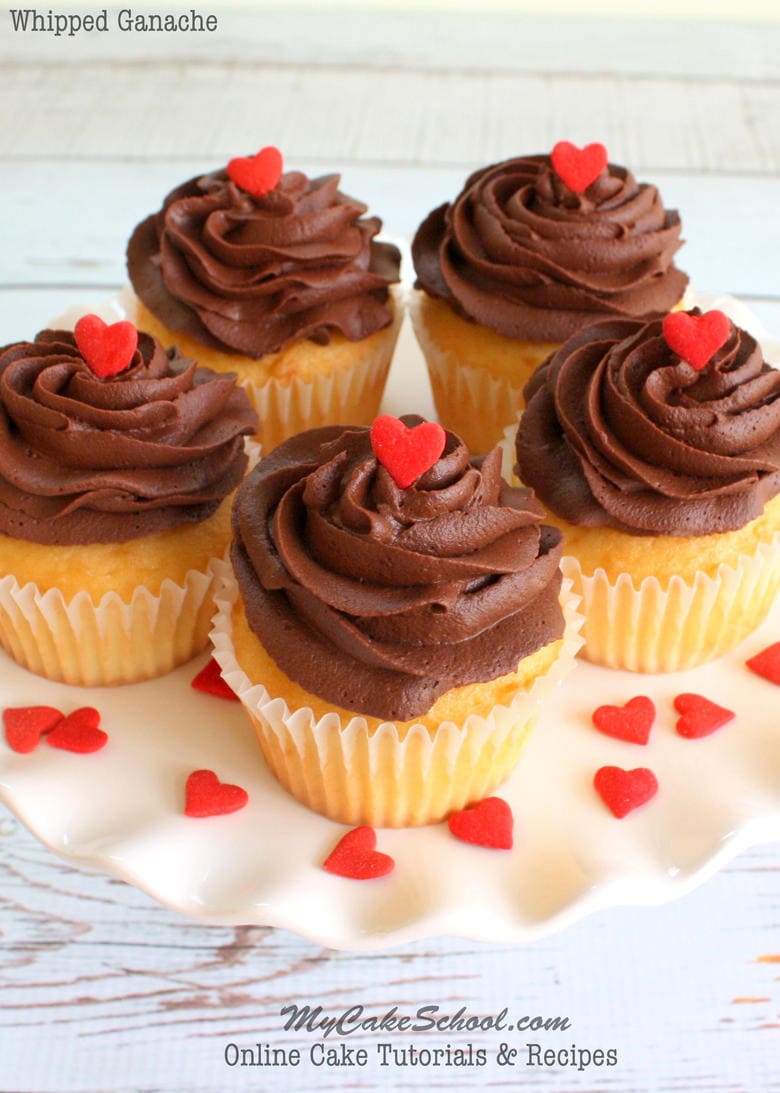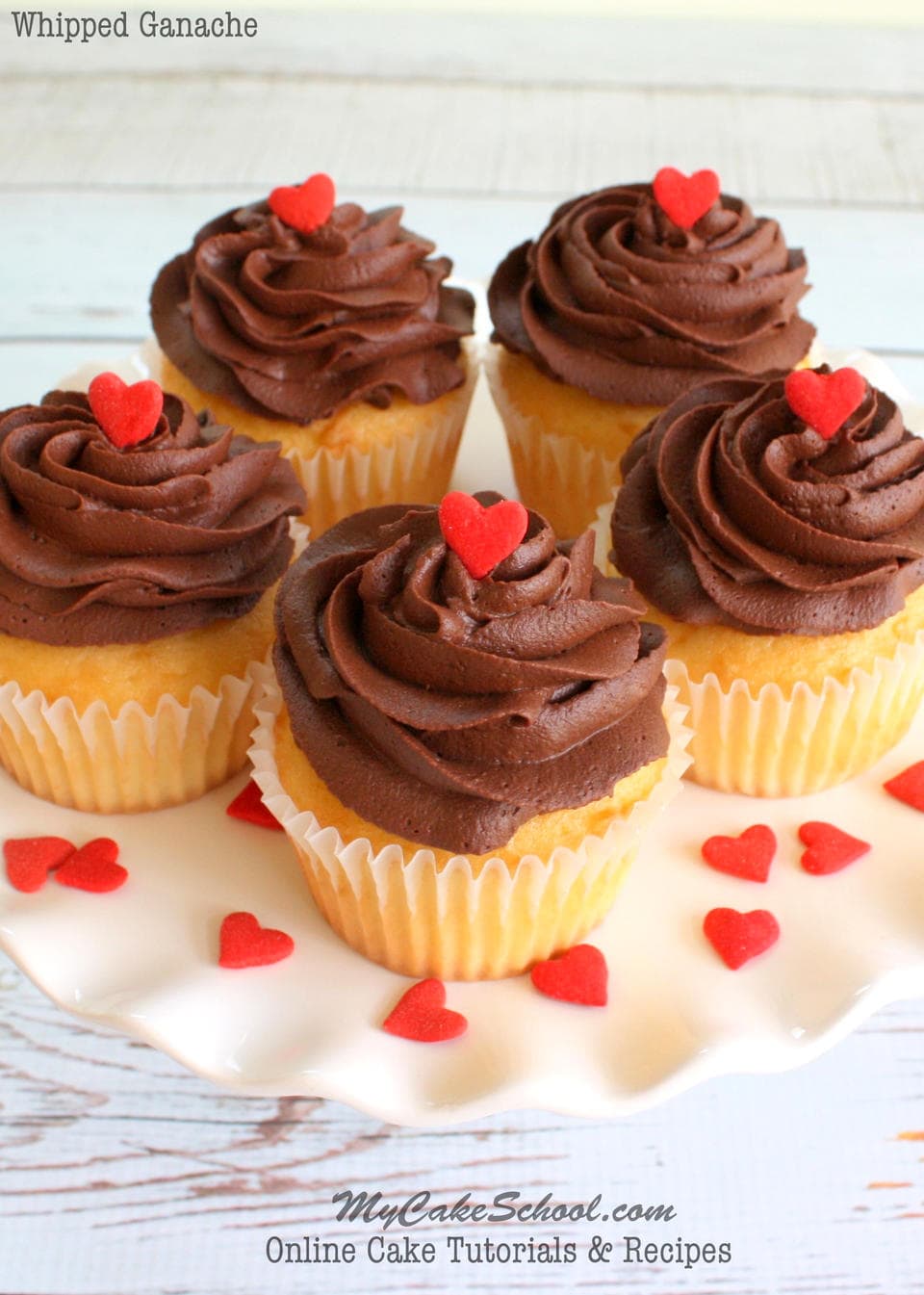 Hop on over to find our amazing scratch Oreo Cake recipe, featuring this simple and easy ganache drip! SO good!: Scratch Oreo Cake Recipe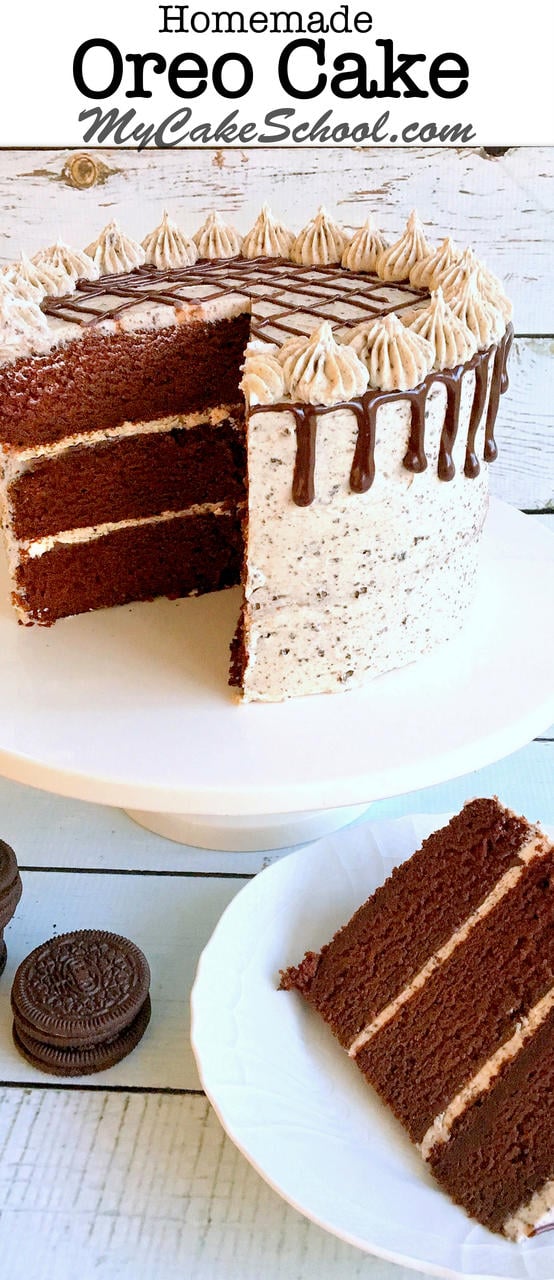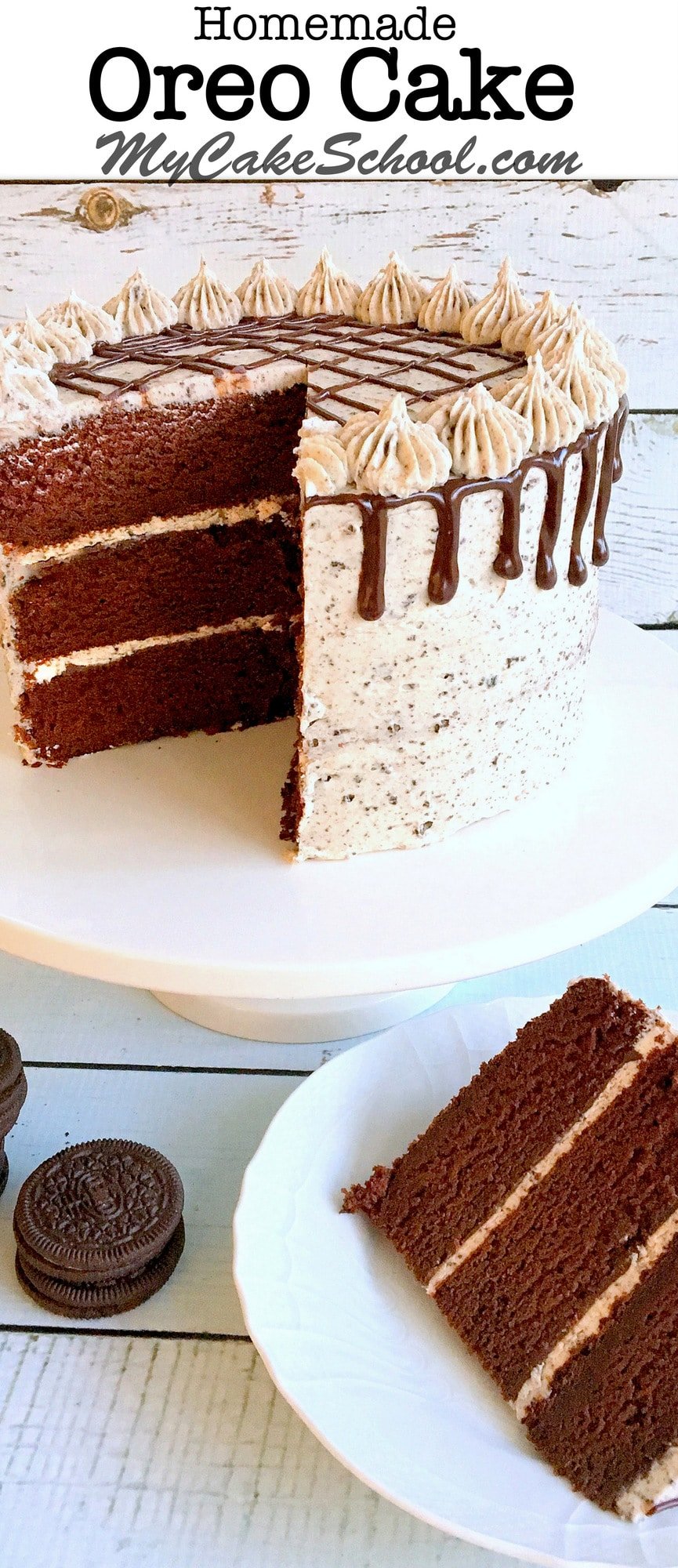 Finally, here's our Ganache Drip in action! We created a quick minute-video when we decorated our DELICIOUS Mint Chocolate Chip Cake so that you could see how easily a ganache drip can be applied to a cake by just loading it into a piping bag, snipping away the tip, and giving it a whirl on the turntable! Oh the drama!
Ganache Drip Recipe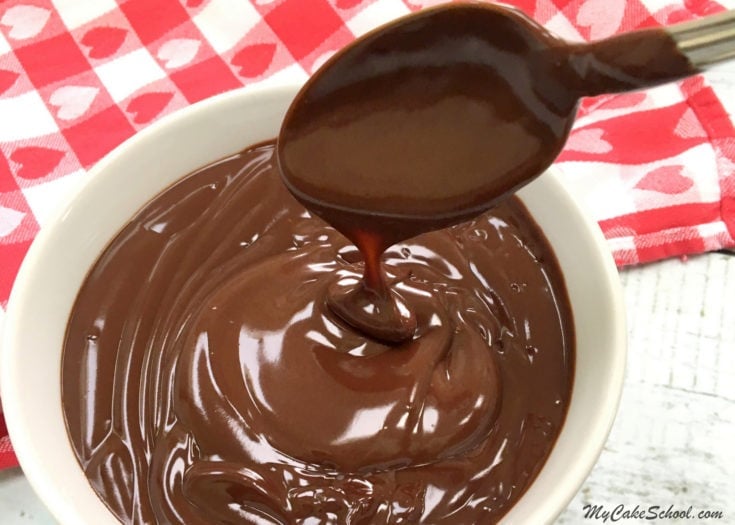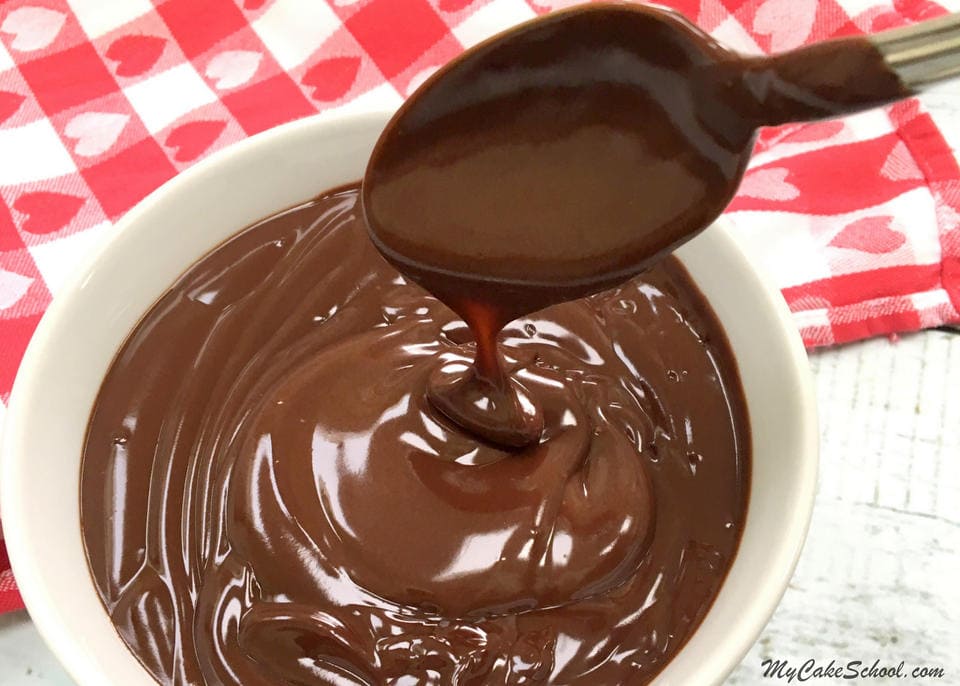 This decadent and dramatic ganache drip recipe is SO easy to make! We love to add it to our cakes for an added wow factor (plus, it's delicious)!
Ingredients
10 oz. (283g) Chocolate (Semi-sweet or Dark) We used Ghirardelli
10 oz. (283g) Heavy Cream
Instructions
Place your chocolate into a microwave safe bowl.
Pour heavy cream over the chocolate and place in the microwave for 1 minute. (Times may vary, see our note below).
Remove and stir. Microwave for 30 seconds more and when the chocolate has melted almost completely, allow it to sit for 1 minute more before stirring. Stir until you've reached a silky smooth consistency.
*Microwave times may vary. If you are making a smaller amount of ganache, you will reduce the microwave time. If your chocolate hasn't melted after the 1 ½ minutes recommended in the instructions, simply microwave in small 10-15 second increments until it has nearly completely melted. Let sit one minute, then stir until smooth.
The ganache will cool as it thickens. Cool for about 15-20 minutes or until you can pipe drips along the inside of your bowl and get the look that you are going for. (If the ganache is too warm, the drips will run all the way down. If they only drip part of the way down the bowl, it is ready. Some of this comes down to personal preference.)
I load my ganache into a disposable piping bag and snip the end away (start with a small hole, you can always make it larger).
Thanks for stopping by! Don't forget to check out our full collection of FAVORITE cake recipes in our Cake Recipes Section! As well as our ever-growing collection of free cake decorating tutorials in our Free Cake Tutorials Section!